Inside The Tangled Lawsuit Prompted By Vic Morrow's Tragic On-Set Death
In mid-April 2023, The New York Times reported that charges were dropped against actor Alec Baldwin related to the 2021 accidental shooting death of cinematographer Halyna Hutchins and the on-set injury of director Joel Souza while filming the movie "Rust." Similar injuries and deaths related to film production are not uncommon, as The New York Times elsewhere notes. One of the most well-known incidents happened In 1982. Actor Vic Morrow (pictured) and two child actors, Renee Shin-Ye Chen and Myca Dinh Le, died in a horrific helicopter accident while making a feature-length movie adaptation of the "Twilight Zone" TV series, Slate explains.
As a result of that accident, a $200 million damage suit was filed against the film's production company, Warner Brothers, the movie's producer Steven Spielberg, and several others (via The New York Times). Among them was the movie's director, John Landis, who was charged with involuntary manslaughter. In 1985, Landis and the other defendants were acquitted of the criminal charges against them, but that gruesome tragedy forever changed how movies get made. Meanwhile, civil suits stemming from the on-set deaths were settled out of court. Morrow was 53, Chen was 6, and Le was 7 years old when they died.
[Featured image by ABC Television via Wikimedia Commons | Cropped and scaled | CC BY-SA 3.0]
Morrow and Le were decapitated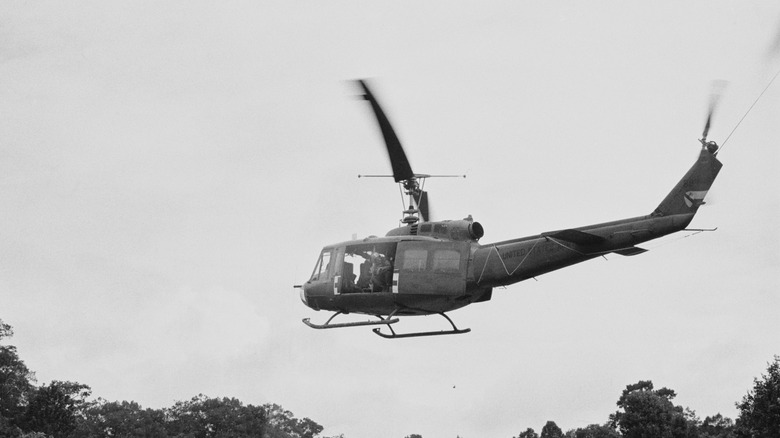 Michael Ochs Archives/Getty Images
On the night that the terrible deaths occurred, an actor named Dorcey Wingo was behind the controls of a helicopter in a scene set during the Vietnam War (similar to the one pictured here). Amid movie explosions, the helicopter Wingo piloted unexpectedly lost altitude while cameras rolled and then crashed into a river where Morrow and Chen were wading. Chen was crushed by the right skid of the helicopter. The aircraft then fell over and both Morrow and Le were decapitated. It would be the first time a director would face criminal charges for an on-set incident.
It was later determined that special effects interfered with the helicopter's operation, destroying the tail rotor. Some involved in the production, including the film's director John Landis, were reportedly aware of the risk, according to testimony from Steve Lydecker, a camera operator involved in the shoot. Warner Brothers admitted that child labor laws were broken, but the crash was an unforeseen accident and therefore, they weren't responsible. One parent of the two children killed in the wreck said on the stand she was not informed of the nature of the filming, nor was she warned of any potential safety hazards.
Stricter safety standards were adopted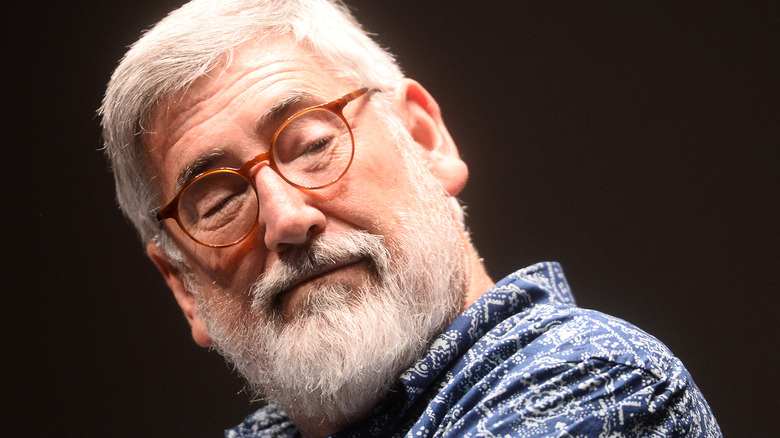 Roberto Serra - Iguana Press/Getty Images
Although civil lawsuits related to the deaths of actor Vic Morrow, and child actors Renee Shin-Ye Chen and Myca Dinh Le, were settled out of court (and director John Landis, above, and his co-defendants were acquitted on criminal charges of involuntary manslaughter), the nature of movie production was forever changed by the accident. In the wreck's aftermath, with collaboration with other studios and film production union representatives, Warner Brothers sought to make movie-making safer, and stricter rules and regulations around explosions, pyrotechnics, and gunfire were adopted. Those rules were gathered in something called Safety Bulletins, now called the Illness Prevention Program.
Sadly, as the Alec Baldwin "Rust" case proves, filmmaking remains a risky business, and on-set accidents and deaths clearly continue to happen. Each time they do, the Illness Prevention Program gets updated in hopes that in the future, similar tragedies might be prevented. Because of Morrow and the death of the two child actors, Warner Brothers were ordered to pay $5,000 in civil fines, primarily for child labor law violations. Morrow's two daughters reportedly accepted the Warner Brothers out-of-court settlement related to their father's death, according to United Press International. "Twilight Zone" producer and co-director Steven Spielberg settled a civil suit against him for an undisclosed amount (via History).