How Joel Rifkin's Family Reacted To His Crimes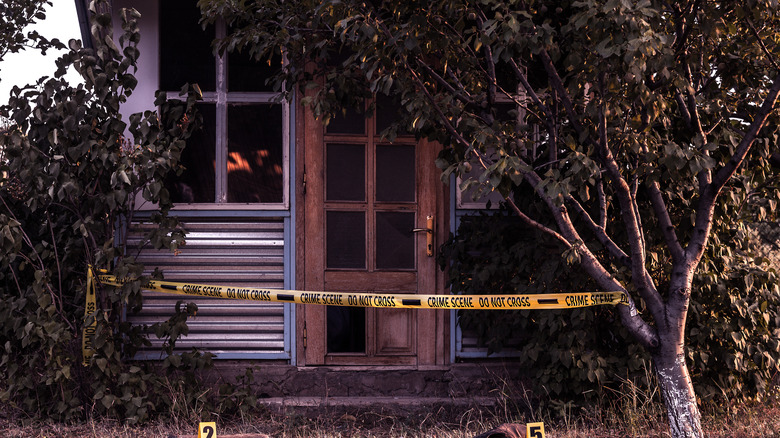 Openfinal/Shutterstock
Several women were murdered and dismembered inside a Long Island home, and none of the occupants noticed. A truck was driven with a decomposing body in the back, and no one smelled anything. It's hard to imagine that any of that could be true. But those two things were the case, according to serial killer Joel Rifkin's mother, Jeanne Rifkin, in her testimony. 
In 1993, Joel Rifkin, now considered New York's most prolific serial killer, confessed to the murder and dismemberment of 17 victims, most of them sex workers. Some of the women were killed and dismembered in the home that Rifkin shared with his mother and sister. Rifkin's crimes were only discovered when police tried to pull him over for driving without a license plate. Rifkin fled the scene, and crashed the vehicle.
In the back of the truck was Rifkin's latest victim covered in plastic, a sex worker named Tiffany Bresciani, The New York Times reported in 1993. An odor emanated from the vehicle, alerting officers to the remains, but according to Rifkin's mother Jeanne's testimony at Rifkin's trial, she, too, had recently driven the vehicle and didn't smell anything. 
Rifkin now serves a 203-year sentence for his crimes at the Clinton Correctional Facility in Dannemora, New York. Rifkin's father, Bernard Rifkin, died by suicide a few years before his son's crimes were discovered, as Maria Eftimiades writes in her book, "Garden of Graves: The Shocking True Story of Long Island Serial Killer Joel Rifkin." 
Rifkin's mother never went into the 2nd floor bedroom
In addition to killing and dismembering a number of women before disposing of their remains in the New York area, Joel Rifkin reportedly kept grim mementos from his victims in the second-floor bedroom of the home he shared with his sister, Jan Rifkin, and their mother. According to The Times, state police called those personal items "trophies." Rifkin, who was adopted and described by those who knew him as kind and mild-mannered if a loner, recorded his crimes in writing and with photographs. He made no effort to keep those things hidden.
Before his arrest, Rifkin stored Tiffany Bresciani's body, the sex worker discovered in the back of his pickup, in the unlocked garage of his home. His own bedroom, where items related to the murders were kept in full view, was also kept unlocked and anyone could enter. At Rifkin's trial, his mother, Jeanne was questioned on the stand, and she said she knew nothing of the heinous acts her son confessed to; she simply never entered his bedroom.
According to Joy Reiter, Rifkin's neighbor, "You only have to go in there and take one look at her to know she had no inkling of this," referring to Rifkin's mother, Jeanne, The Times reported. Not everyone involved in the case agreed. According to prosecutor Fred Klein (via NYT): "Mrs. Rifkin is completely lying to protect her son, who she knows killed all those girls. She knew about what Joel was doing."
Rifkin's 'not evil,' his sister said
Like her mother, Jan Rifkin also said she was unaware of the murders her brother confessed to, per the Daily Mail. With their brother and son in custody and on trial for serial murder, Jan and Jeanne regularly called and visited Rifkin in prison. They were also reportedly in the courtroom when his sentence was read, both visibly emotional when Rifkin offered his apology to the victim's families. "I am sorry for what I have done to you and your daughters," Rifkin said. 
In a conversation with New York Post reporter Jan Peyser (via "Garden of Graves"), Rifkin's sister said: "He's not evil. I'm not either. All I can say is I love my brother. I love him." 
The Buffalo News reported in 1995 that Rifkin's mother Jeanne, who died in 2010, sold the rights to a jailhouse interview with her son to cover legal fees stemming from the case (via Oxygen). Jeanne lived in the Rifkin family home in East Meadow, New Yorkuntil her death, according to Huff Post. 
At Rifkin's trial, Jeanne said she spoke with her son when she learned of his crimes and said he confessed everything. "I did question my son," Jeanne said on the stand. Rifkin assured her there were no more than 17 victims, and she believed him.