The Cross-Country Crime Spree Of 'Evil Elmo'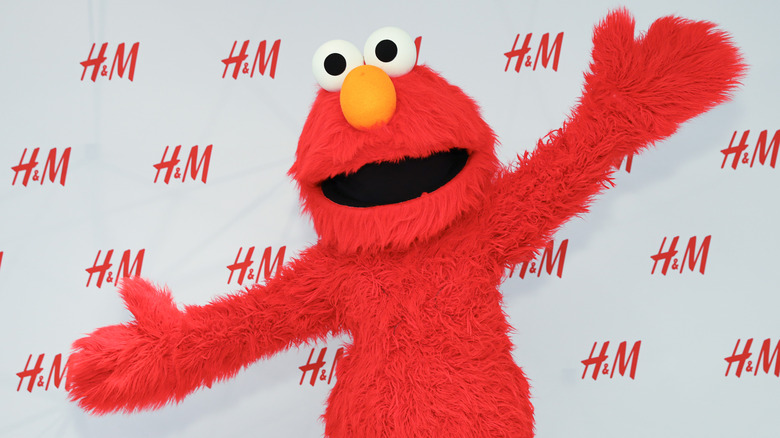 Anna Webber/Getty Images
Elmo is a sweet-tempered red Muppet who is 3 years old, lives on Sesame Street, and is known for his enthusiasm. But unfortunately for the real Elmo, someone hijacked his name and likeness for their own nefarious ends. The media dubbed him "Evil Elmo" since, for several years in the early 2010s, he was known for his racist and expletive-filled rants, harassing tourists, and, eventually, a stint in jail for trying to extort the Girl Scouts of the United States of America. And he also once ran a pornographic website in Cambodia before being kicked out of that country.
The man behind "Evil Elmo" — Dan "Adam" Sandler, originally from Ashland, Oregon — first rose to infamy in 2012 in New York City where, dressed as the iconic Muppet, he hustled tourists for tips for taking photos with him. But over the course of the next decade, he would pop up on the West Coast and wind up with criminal charges on both sides of the county.
Times Square tirades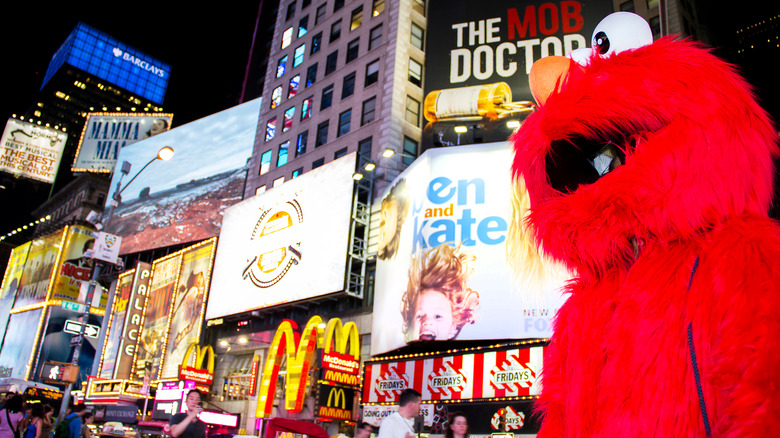 Jon Rehg/Shutterstock
Dan Sandler, sometimes known as Adam Sandler (no relation to the comedic actor), first ran afoul of the law while working in Manhattan's Times Square, where there is a slew of folks who work for tips dressed in various costumes. "I saw how these Elmo guys were working in Times Square," he told The New York Times in 2012. He bought a costume online and went to work. But unlike most of the others, Sandler's obnoxious behavior crossed the line and ended with police charging him with disorderly conduct and resisting arrest in September 2012. The officers arrested him after he went on an anti-Semitic tirade and refused to leave the area. A judge sentenced him to six hours of community service. He told the New York Post he was himself Jewish and was mobbed by tourists who refused to tip him on the day of his arrest. He claimed they represented "Jewish business interests."
In September 2013, Sandler ended up with several felony charges for stalking an employee of the Girl Scouts in Manhattan where he had been a temporary employee before becoming "Evil Elmo." He also attempted to extort $2 million dollars from the organization, telling them that unless they paid him money, he would falsely claim the Girl Scouts arranged sexual encounters between men and its members. He served a year in jail on the charges.
A new (Muppet) identity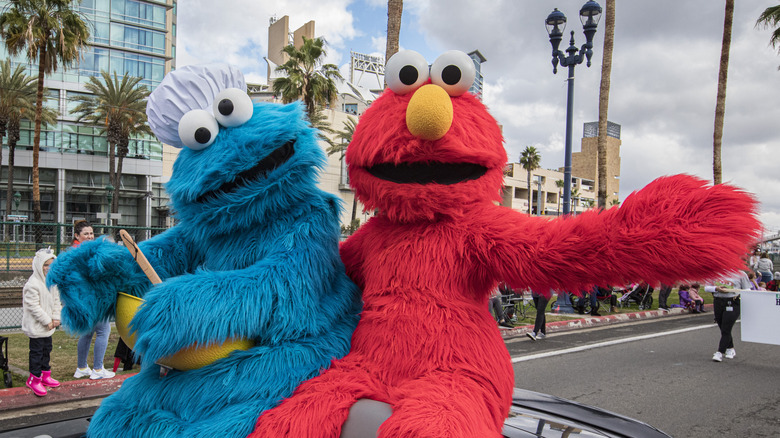 Daniel Knighton/Getty Images
In between his two arrests in New York City, "Evil Elmo" headed out to San Francisco, where his reputation preceded him, and he once again began scaring tourists at Fisherman's Wharf with his tirades against Jewish people along with convoluted conspiracy theories. After serving his jail sentence in New York for the attempted Girl Scouts' extortion, Sandler returned to San Francisco's Fisherman's Wharf, where he again ran afoul of the law for threatening to rip someone's throat out. 
Sandler later turned up in Los Angeles after switching his trademark Elmo costume for Cookie Monster, the blue Muppet famous for its appetite. In February 2023, Sandler appeared in Santa Cruz and continued to scare tourists with his behavior. The Santa Cruz police warned the public about the infamous performer. "We are getting calls from people who say he is 'creepy,'" the police told KRON4. "Based on his history, we advise the public to not engage with this individual. Steer clear from him."