Why Drunk History Was Canceled (And What Really Happened To Season 7)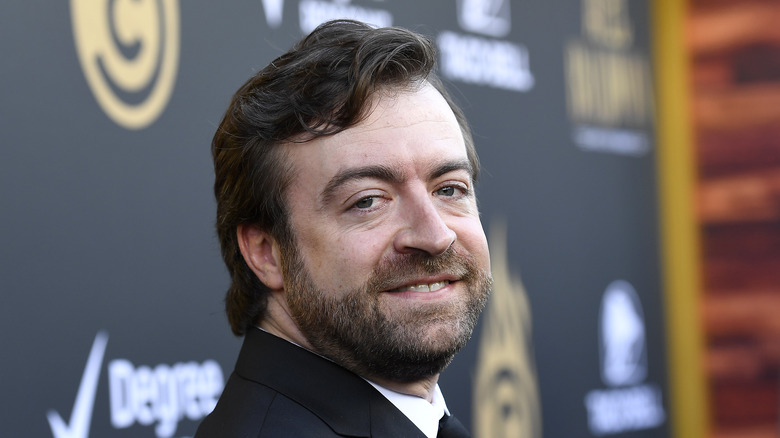 Kevork Djansezian/Getty Images
To the delight of fans everywhere, a 2019 Comedy Central press release announced the wildly popular "Drunk History" series was renewed for a 7th season. One year later, that mood was tempered when "Drunk History" was canceled by Comedy Central, despite strong ratings, 17 Emmy nominations, and one win. At that time, Season 7 episodes were reportedly in pre-production. Why, then, was "Drunk History" axed when the cast and crew were seemingly at the top of their game, and will Season 7 stories ever see the light of day? 
"Drunk History" began life on the YouTube channel of series co-creator Derek Waters before moving to the "Funny or Die" web platform. Comedy Central picked it up in 2013. In all its different versions, celebrities, comedians, and actors gave their take on real historical events to the best of their knowledge, having had a bit too much to drink. After those tipsy tales were recorded, the voiceover was used as a backdrop for other stars as they reenacted and lip-synced the story, all the alcohol-fueled embellishments included.
Needless to say, "Drunk History" took narrative license with history, but the results were hilarious, and the show was generally considered pretty accurate, per NPR. Waters' show even earned accolades for its representation of typically disenfranchised views on history. So what went wrong? According to Deadline, "Drunk History" met its fate in a confluence of worldwide events and a shift in programming priority from the Comedy Central front office.
Derek Waters was just as surprised as everyone else
As news spread that "Drunk History" had ended, Derek Waters was left in the dark as to why, based on further 2020 reporting from Variety. At that time, the slurry historical narration for Season 7 was complete, and early on, Waters said no one at Comedy Central informed him what happened or if the bad news was even real. "[N]o one's called me. I have no idea. I have no verification of it," Waters told the publication. "It sounds a little dramatic, but it's like a funeral without any music, I would love to finish what I started. It would just be nice to end on your own terms, to say goodbye and not just be like, 'that's it,'" said elsewhere.
Offering some consolation, Waters reportedly maintained a "first-look" deal with Comedy Central and would focus on other projects. As of this report, no new Waters Comedy Central properties have been announced. As it turns out, "Drunk History" was not the only film and TV franchise shuttered around that same time. When the global COVID-19 pandemic hit, all film and TV production halted, and Waters' show was no exception. And as Deadline reports, "Drunk History" was just one of many popular TV show series to conclude in the 2020-21 season.
Joining dismayed "Drunk History" fans was actress Ashley Nicole Black, who narrated an episode that featured the classic "Star Trek" star Nichelle Nichols in Season 5 of the show (Nichols was portrayed by Raven-Symoné). In a tweet, Black wrote (via Newsweek): "I'm really gonna miss Drunk History. But actually I wouldn't be surprised if another network picks it up."
Without Drunk History, only one Comedy Central live action show remains
As of this writing, "Drunk History" star actress Ashley Nicole Black's prediction for "Drunk History" has not yet come to pass — Season 7 episodes of the show remain incomplete and unseen. Among other topics reportedly covered in those lost "Drunk History" episodes were martial arts action movie star Bruce Lee, baseball's first openly-gay player Glenn Burke, and the Harlem Hellfighters, an African-American World War I regiment. Comedian Patton Oswalt was also set to be involved.
Also contributing to the end of "Drunk History," Comedy Central decided to shift focus toward adult animation and away from live-action production, such as Waters' show. When the news broke of "Drunk History's" end, only one Comedy Central live-action series was in production — "Awkwafina Is Nora From Queens," starring comedian and actress Awkwafina. Meanwhile, another Comedy Central series, "Corporate," was in the midst of airing its final season. Another popular live-action series, "Tosh.0," also ended in 2020.
In 2020, "Drunk History" co-creator Derek Waters shared his thoughts on the series' end in a tweet: "Beyond disappointed with Comedy Central cancelling [sic] Drunk History. Sad to see it end but my god am I thankful for all it did." Though "Drunk History" remains canceled in the U.S., international spin-offs were produced, including "Drunk History: Black Stories" from Comedy Central International, covering the African diaspora. That show premiered in 2021 and ran for one season, according to CNN.