Why Dust Storms Can Be So Deadly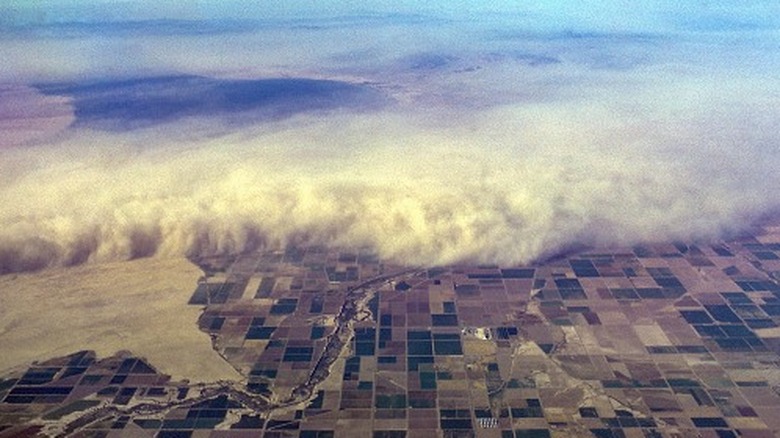 Nnehring/Getty Images
Once rare and limited to desert areas of the country, dangerous dust storms have grown more common in other parts of North America, according to data from the National Oceanic and Atmospheric Association (NOAA). On May 1, 2023, seven people died when at least 70 vehicles crashed in a dust storm in central Illinois, The New York Times reports. Around 40 people were injured in the incident.
Meanwhile, more than 200 people were killed in dust storm-related accidents over a 10-year period, from 2007 to 2017, based on NOAA research. The previous average of dust-storm-related deaths had been one per year over a similar timeframe. A drier, warming climate has contributed to dust storm intensity, and for obvious reasons, it's dangerous to be caught in those "zero-visibility" conditions while driving, such as what happened during the Illinois tragedy (via USA Today).
From respiratory risks related to dust particulates in the air, to hindered crisis response in the aftermath of dust-storm-related pileups, or the potential collapse of other vital infrastructure until conditions improve, there are additional hidden risks associated with dust storms and dust storm exposure, as The Washington Post explains.
Dust storms also cause respiratory issues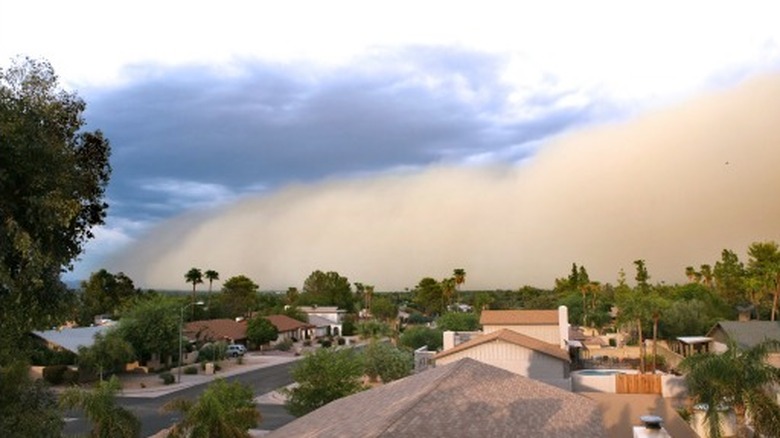 Jeff1farmer/Getty Images
Whether driving or not, this type of natural disaster is risky for those with sensitive respiratory systems, or anyone who lives with issues like asthma, COPD, or bronchitis. Dust storms can also cause dangerous allergic reactions as well as respiratory distress in those who otherwise might not be sensitive to poor air conditions. After dust storms, emergency rooms grow crowded, and overall hospital admissions tend to spike, according to the American Thoracic Society. 
Prolonged exposure to particulates in the air can also cause a number of long-term cardiovascular and respiratory issues, including fungal, viral, and bacterial infections. Moreover, roadways are not the only type of infrastructure affected by dust storms. Airports cannot operate normally until conditions improve, with a number of far-reaching consequences (via Fox Weather). 
What's more, dust storm conditions and low-to-no visibility can prevent first responders from safely reaching those injured, which can delay possible life-saving care, CNN writes. In the case of the Illinois dust storm, the response was further hampered as several vehicles involved in the accident caught fire.
In the US, dust storms were once primarily limited to the Desert Southwest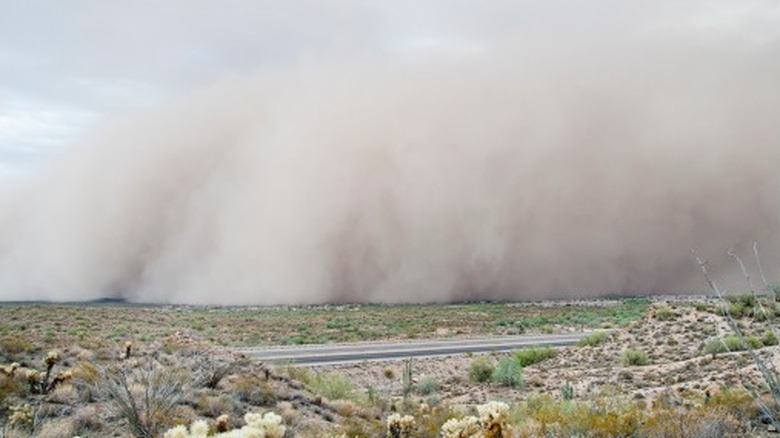 Lokibaho/Getty Images
Dust storms are typically caused when high winds, often related to thunderstorms and dry conditions, combine to kick dust and debris into the atmosphere. When this happens, miles-wide walls of dust sometimes grow thousands of feet into the air, according to the National Weather Service. Meanwhile, winds associated with dust storms can sometimes reach speeds of up to 60 mph ormore in only a matter of seconds. In a dust storm, temperatures also tend to drop.
In the U.S., dust storms were once most common in the desert southwest, especially in the springtime, but have recently happened more often in other, more unexpected areas, such as the plains region, like what was witnessed in central Illinois. North Africa and the Middle East also see serious dust storm activity, according to SciJinks from NOAA. The NWS offers a dust storm warning available via cell phone, and to underscore the immense risk dust storms create on roadways, the NWS says "pull to the side and stay alive" if trapped in a dust storm while driving.