What We Know About Atlanta Shooting Suspect Deion Patterson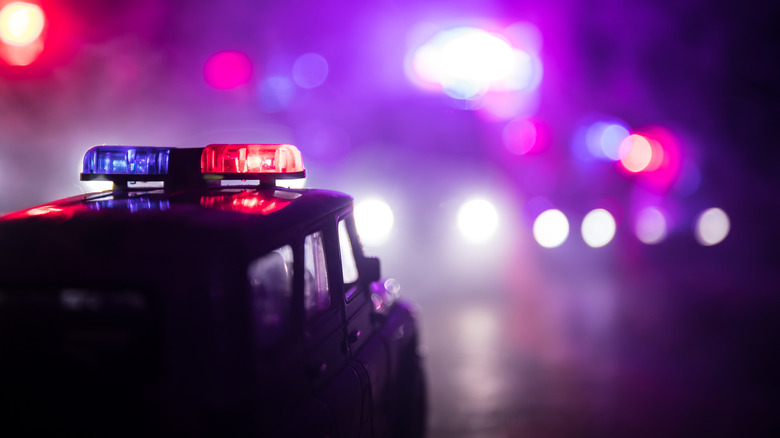 zef art/Shutterstock
One person was killed and four people were hurt in a mass shooting at Northside Medical Midtown hospital in Atlanta, Georgia, according to CNN. After an hours-long manhunt, suspect Deion Patterson, age 24, was apprehended in connection with the crime. Authorities have identified U.S. Centers for Disease Control and Prevention employee Amy St. Pierre as the person killed in the attack. The other four women shot on Wednesday May 3, 2023 were Lisa Glynn, Georgette Whitlow, Jazzmin Daniel, and Alesha Hollinger, NBC News reports. Three of them were critically injured.
Patterson's possible connection to the victims or whether they were specifically targeted was unclear. In the immediate aftermath, a possible motive for the attack was also undetermined, per NPR. The victims, all women, ranged in age from 25 to 71 years old, according to Atlanta police. A former U.S. Coast Guardsmen, Patterson was reportedly at the facility with his mother for a scheduled appointment. His mother confirmed to the Associated Press that he had previously sought care from the Department of Veterans Affairs, and Patterson's sister told The New York Times that he faced mental health issues dating to his time in the service.
Patterson's mother was not injured in the shooting, and his family cooperated with the police. The hospital shooting took place around noon, and Patterson was in custody about eight hours later. On Thursday, May 4, Patterson was charged with murder and four counts of aggravated assault. That same day, Patterson waived his first expected court appearance, according to Atlanta News First.
Patterson used a handgun
According to CNN, suspect Deion Patterson became "agitated" and opened fire with a handgun inside the waiting room at Northside Medical Midtown hospital in Atlanta. Before the attack at the Georgia facility, Patterson was not eating regularly and was having trouble getting out of bed, his sister told The Times. Patterson was at the Midtown hospital for help, she said. Per WGCU, Atlanta Police Chief Darin Schierbaum called Patterson's previous contact with law enforcement "minimal."
Speaking with the Associated Press, Patterson's mother, Minyone Patterson, said her son had recently started new medication — provided by the Department of Veterans Affairs — after he was denied Ativan, an anxiety drug, on the grounds it was too addictive. Minyone, a nurse, told the VA he would take the correct dosage. Misuse of Ativan can lead to addiction, according to WebMD.
After the shooting, Patterson remained inside the hospital for several minutes before escaping on foot. He fled in a stolen pickup truck, left running and unattended at a nearby gas station. Patterson's arrest was aided by the license plate of the vehicle, which was picked up by an automated license plate reader. The Patterson search was citywide and spanned several nearby counties. Still armed, he was apprehended inside Waterford place, a gated condominium community a short distance from where the shooting happened. 
Patterson's previous criminal record involved marijuana and traffic infractions
According to The Atlanta Journal-Constitution, Georgia law enforcement records show that Deion Patterson's previous criminal record involved several traffic violations, including driving under the influence and leaving the scene of a crash, as well as marijuana possession and two arrests for violating probation. Most previous charges against Patterson were dropped. Patterson was discharged from U.S. Coast Guard active duty only four months before the shooting took place. The reason for his discharge was unclear.
With her son in custody, Patterson's mother, Minyone Patterson, released a statement via CBS Atlanta affiliate WANF (posted on Twitter). In it, she apologized to the victims and their families: "He doesn't know. He doesn't know right now. Please. This mental illness is real, and when we say it's real, from the medical standpoint, it is real. And when someone is saying they need help, or you see that they are acting out of sorts, they need help. Help them, just don't disregard them. They need help, and as I'm trying to advocate for my son, he was turned away."
If you or someone you know needs help with mental health, please contact the Crisis Text Line by texting HOME to 741741, call the National Alliance on Mental Illness helpline at 1-800-950-NAMI (6264), or visit the National Institute of Mental Health website.
If you or anyone you know needs help with addiction issues, help is available. Visit the Substance Abuse and Mental Health Services Administration website or contact SAMHSA's National Helpline at 1-800-662-HELP (4357).