The Special Tie The Horses Leading The Cavalry Have To Queen Elizabeth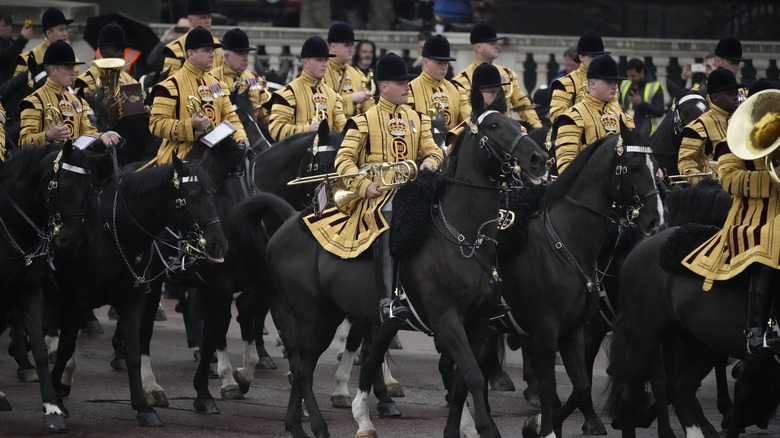 Christopher Furlong/Getty Images
There seems to be a bit of significance to nearly every aspect of King Charles III's coronation, and the folks who are a part of it are certainly no exception. Did you know, though, that even the horses that were a part of the ceremony were chosen for very important reasons? A lot happens during a British royal coronation, and it all aims to show the direction that the monarchy is taking with its new monarch, as well as honoring the ones who came before. 
Since the heart-wrenching death of Queen Elizabeth II, Charles has technically taken over as king, but this ceremony marks the official start of his reign. Understandably, it's important to Charles, as well as the people he leads, to honor his mother and her historic reign. So, what better way to honor her than by posthumously following her guidance on a very key detail? It seems that Charles was fond of this idea, as a horse that played an important role in his coronation was hand-picked years ago by Queen Elizabeth. 
Queen Elizabeth II chose the Coronation's head of Household Cavalry herself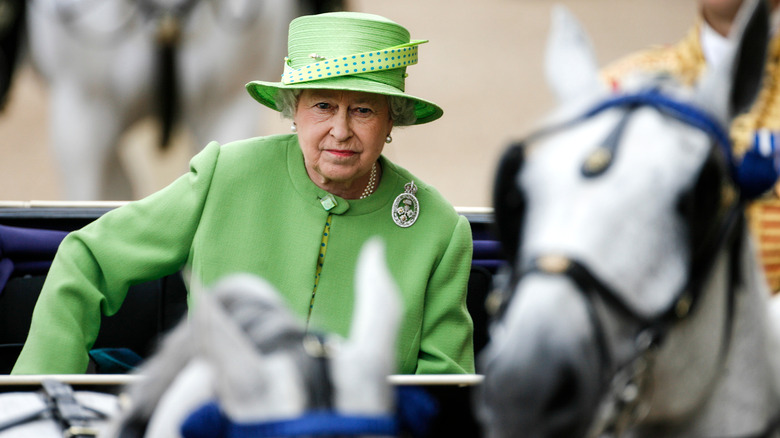 Alessia Pierdomenico/Shutterstock
The Household Cavalry is an important part of British history. Its horses, known as the Cavalry Blacks, have had important roles among the royals since 1660. They protect the royal family, as well as take part in important occasions. A horse needs to meet some criteria in order to become a member of the Household Cavalry; once they're selected, they take part in training and then receive a new name before reporting for duty. One of the horses that appeared at King Charles III's coronation was put on the track to be a Cavalry Black by a very significant influence.
One Drum Horse named Apollo headed up the Household Cavalry at Charles' coronation. To receive the ultimate honor for a horse, it's clear that Apollo is pretty special, and Queen Elizabeth II certainly thought so. When Queen Elizabeth II first met the Pembrokeshire-bred horse, his name was Ed. During a 2018 visit to his farm, he pulled the queen around in a cart. Apollo was calm and gave the queen a particularly smooth ride around the farm. Consequently, she noted him as an ideal candidate for the Household Cavalry. He has since been promoted, and five years after the chance meeting, Apollo is doing Queen Elizabeth II proud at her son's coronation. We're sure that if she could be here today, she'd be watching Apollo thinking something along the lines of "I told you so."