What Would Happen If Prince William Abdicated After King Charles' Death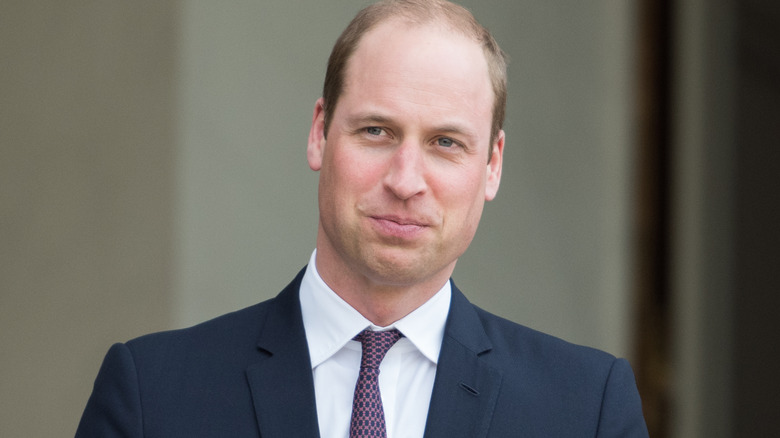 Frederic Legrand - COMEO/Shutterstock
On May 6, 2023, Westminster Abbey hosted the first coronation of a new monarch since Queen Elizabeth II's 1953 ascension, and the world watched in fervor as the former Prince of Wales officially settled into the title "His Majesty the King." Now, as all things in life run in circles, people are left wondering what will happen when King Charles' reign ultimately ends. Though it could still last a couple of decades — the new monarch is 74 years old, and the late Queen Elizabeth ruled until she was 96 — the minds of folks around the world grew curiouser and curiouser, in the words of a hometown hero.
Naturally, Charles' first-born son, Prince William of Wales, is first in the order of succession, with his sons following suit. Second in line for the throne is 9-year-old Prince George, while his younger siblings, Princess Charlotte and Prince Louis, follow after him. Only then does the order of succession pick back up with Prince Harry, the Duke of Sussex. However, should William relieve himself of his royal duties, would his and Kate Middleton's children still act as his successors?
As it turns out, little George would still ascend to the throne in the case of a potential abdication by William, though it would come with a slight twist.
William's children are secure in their royal standing
Neil Mockford/Getty Images
Thankfully for the Prince and Princess of Wales, George, Charlotte, and Louis' positions in the British succession order are firmly planted regardless of what happens to William. However, if George's time were to come while still a child, a regent would rule for him until he turned 18. Then and only then would he fully claim the inherent power of the king title. The same applies to Charlotte and then Louis after her. Essentially, the succession order would move forward as planned — and as if William had died (via Insider).
Not everyone is safe, however. Like Camilla Parker Bowles' relationship with King Charles, Kate Middleton's position relies on William's, so if he were to give up the throne, she would be stripped of her titles and power as well. This isn't a surprise, though, and we can't imagine that she'd stay behind without him anyway, even if it was an option. Nevertheless, the odds of this happening are slim, with royal historian Marlene Koenig confirming to Insider, "It's just not in the British nature." Well, who can argue with that?