Oldest Heavy Metal Icons Still Alive Today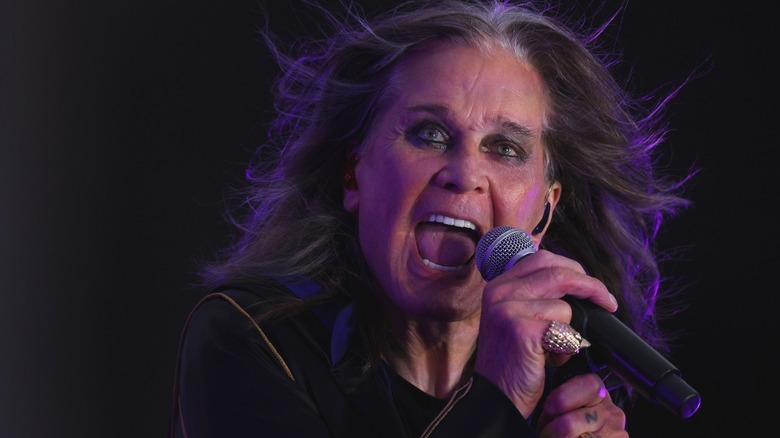 Harry How/Getty Images
Most metalheads consider the birth of heavy metal to have begun with Black Sabbath in the 1970s. Formed in England in the late-1960s, Black Sabbath redefined what it meant to be "heavy" in terms of rock and roll. In the wake of their metal masterpieces like "Paranoid," "Vol. 4," and "Heaven and Hell," formed countless heavy metal bands which owed their metal education to the likes of Ozzy Osbourne, Bill Ward, Geezer Butler, and Tony Iommi.
For several years in the 1970s, Sabbath was one of the few metal bands that tasted mainstream success, but metal took off in the 1980s and has never looked back. American bands like Motley Crue, Van Halen, and Guns N' Roses, competed against the new wave of British heavy metal like Judas Priest, Iron Maiden, and Def Leppard for metal supremacy. Soon, heavy metal was just as mainstream as pop, and guys wearing spandex and tights with teased hair became the new sex symbols in the music scene.
Today, heavy metal has vastly expanded and grown since its infancy in the 1970s–1980s, but it is still widely popular today. It spawned a host of subgenres like hair and glam metal, thrash metal, and later extreme metal genres like death metal and black metal. Many of the elders of metal continue to rock, watching over like proud parents, and these are the oldest heavy metal icons still alive today.
The following article includes allegations of substance misuse.
Tony Iommi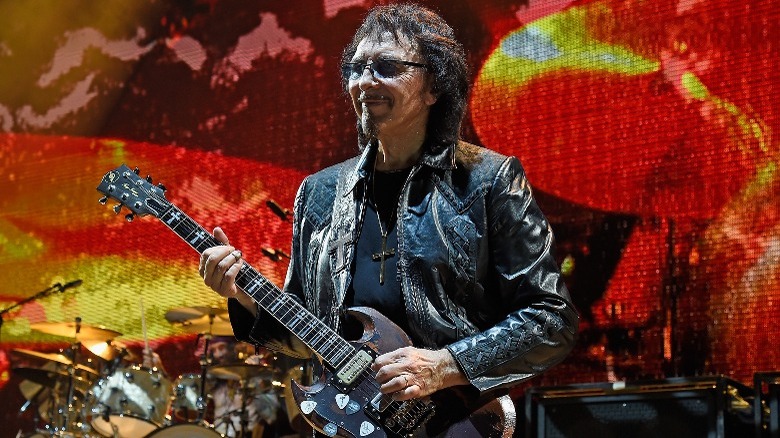 Kevin Mazur/Getty Images
Without Tony Iommi, we might not have heavy metal music today. Known for his groundbreaking work in Black Sabbath, Iommi was born in 1948, in Birmingham, England. According to an interview Iommi gave with The Musicians Institute in 2017 (via Loudwire), in the early days of the band Iommi was also working as an arc welder, but an accident one day ripped the tips of his fingers off. Though he did not realize it at the time, the accident would play an important role in shaping Sabbath's sound. It temporarily left Iommi unable to play the guitar like he had prior, but he eventually learned how to replay using artificial fingertips that he created himself.
At first, Iommi found the string tension to be too much for his artificial fingertips, so he found lighter gauged strings and detuned them, which eased the pressure and allowed him to play. The lighter strings and unique detuned sound of his guitar are what set Sabbath apart from the rest. It gave them a heavy and evil vibe that was missing from other guitarists, creating the now classic heavy metal sound.
Iommi stayed with Sabbath throughout their entire career, and in 2017 he appeared with them for their final concert in Birmingham. He entered the U.K. Music Hall of Fame in 2005 and the Rock and Roll Hall of Fame the next year. In addition to his time in Sabbath, Iommi has also had a successful solo career.
Rob Halford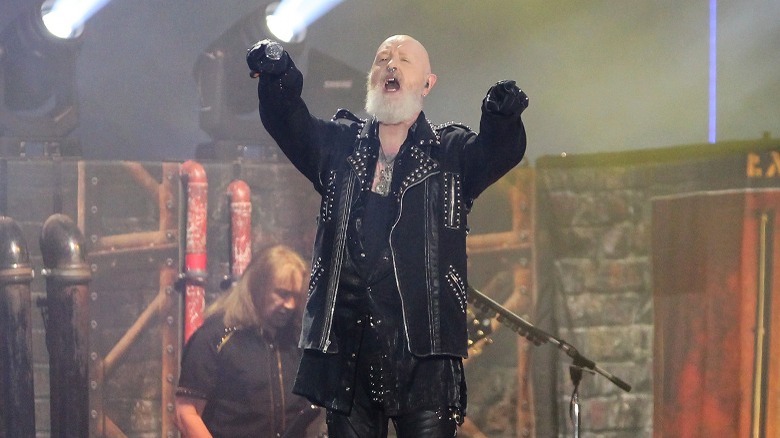 Medios Y Media/Getty Images
For many old-school fans, their introduction to heavy metal came courtesy of British fireballers Judas Priest. For most of their history, the band has been fronted by Birmingham native and lead singer Rob Halford, who is known for his biker-esque leather and chains outfits and falsetto vocal talents. Halford, born on August 25, 1951, joined Judas Priest in 1973 after his sister started dating the bass player. 
Throughout the 1970s-1980s, Judas Priest was one of the biggest names in British heavy metal, with Halford imparting vocals on such memorable anthems like "Hell Bent of for Leather," "Breaking the Law," and "You've Got Another Thing Coming." As the frontman, people identified Judas Priest with Halford, and metalheads everywhere tried to imitate his iconic leather and chains look. In 1992, Halford left the band and embarked on a solo career, and in 1998, he shocked many by publicly coming out as gay on MTV, becoming one of the few gay heavy metal icons. 
During an interview with Ultimate Classic Rock, Halford noted that he was dismayed by much of the homophobia present in the 1980s, which made him reluctant to address his sexuality publicly at the time. He contrasted this with other metal musicians at the time from the glam/hair metal scene who dressed in women's clothing and wore makeup, yet did not face similar backlash. In the early 2000s, Halford rejoined Judas Priest after a decade away, and they are still rocking, with a tour of Europe scheduled for 2024.
Mick Mars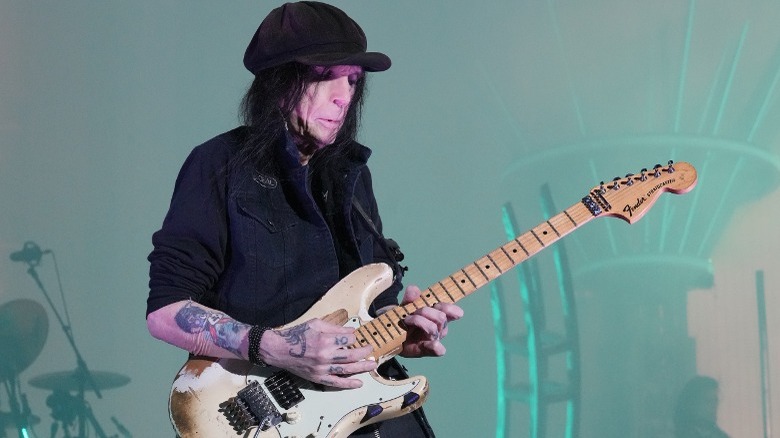 Kevin Mazur/Getty Images
As the kings of the 1980s hair metal scene, Mötley Crüe is one of the biggest and most successful of all the LA heavy metal bands. Wearing spandex and makeup, and sporting massive teased and styled haircuts, the Crüe was synonymous with the excess and decadence of the glam/hair metal scene. Born on April 4, 1951, in Terre Haute, Indiana, guitarist Mick Mars was the brains behind the heavy riffs that fueled staples like "Girls, Girls, Girls," "Shout at the Devil," and "Kickstart My Heart."
When he was just a teenager and before he joined the Crüe, Mars was diagnosed with ankylosing spondylitis, which is a degenerative condition that affects the bones. That did not stop him from rocking and touring, but it made it incredibly painful for him at times, making his contributions to metal over the past four decades truly remarkable. In late-2022, at the age of 71 and after 41 years of service, Mars officially retired from touring with the band, citing his struggles with ankylosing spondylitis as his main reason.
Unfortunately, Mars' retirement created a rift with his former brothers in Mötley Crüe. The band replaced Mars with guitarist John 5, touching off a messy financial dispute between them. Still, that didn't erase the gargantuan impact Mars and the Crüe made on heavy metal over the years.
Ozzy Osbourne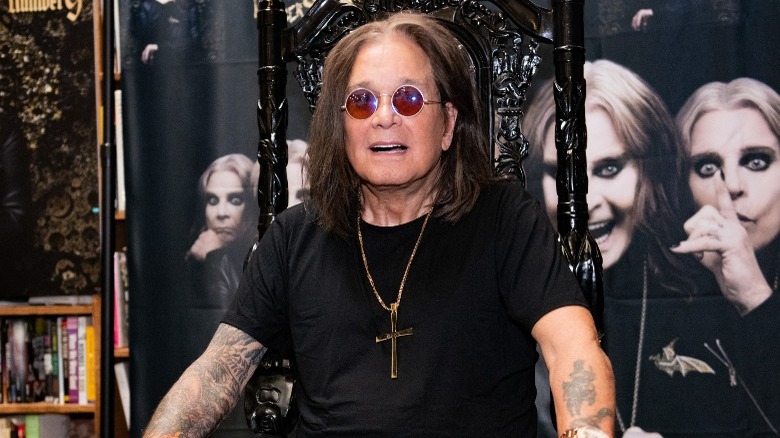 Scott Dudelson/Getty Images
Known alternatively by his moniker the "Prince of Darkness," Ozzy Osbourne is one of the most influential heavy metal musicians of all time. Born in Birmingham, England, on December 3, 1948, Osbourne has solidified himself as one of the gods of metal of the years. He first came to prominence in the 1970s as the lead singer and frontman of Black Sabbath, but he eventually parted ways with them and embarked on an incredibly successful solo career. His first two solo albums were back-to-back hits in 1980–1981, and his career later commercially culminated in a Grammy Award in 1993 for best metal performance.
He endeared himself to younger fans when he created Ozzfest in 1996, which helped now legendary metal acts like Slipknot first gain their footing. Despite officially retiring in 1992, Osbourne continued to produce music, eventually reuniting with Black Sabbath, which netted him another Grammy for best metal performance.
After experimenting with reality TV for a few years, Osbourne found himself inducted into the Rock and Roll Hall of Fame in 2006. In 2017, Black Sabbath played their final show with Osbourne at the microphone, ending a nearly 50-year run. In 2020, he announced that he had been diagnosed with Parkinson's disease, but Osbourne has kept releasing solo albums, including "Patient Number 9" in 2022. Osbourne has since retired from touring, but he is still widely revered today by metalheads everywhere.
Bruce Dickinson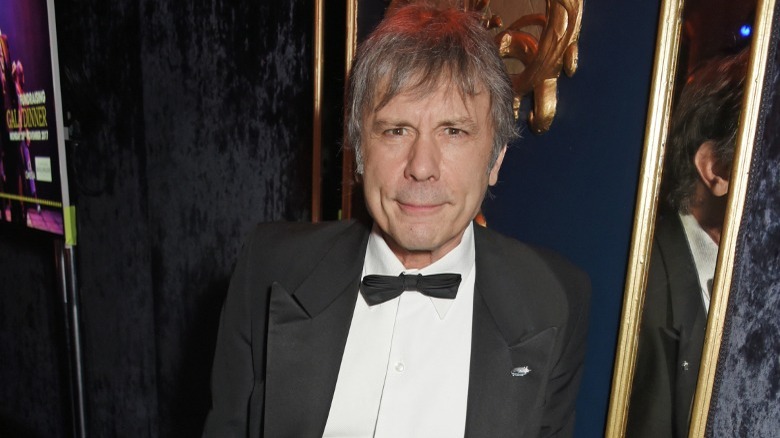 David M. Benett/Getty Images
As the lead vocalist for Iron Maiden since 1981, Bruce Dickinson has more than secured his place in the annals of heavy metal history. Dickinson, born August 7, 1958, in Worksop, Nottinghamshire, England, is known for his distinctive voice that is incredibly powerful and almost operatic. Though Iron Maiden was already popular before Dickinson joined in 1981, he brought them to new heights with his vocals. The first album he appeared on was "The Number of the Beast," which brought the band international success and solidified them as heavy metal icons.
During the '80s, Maiden released some of the most acclaimed metal albums of all time with Dickinson at the helm, including "The Number of the Beast," "Piece of Mind," and "Powerslave." After leaving the band for most of the 1990s, including playing a famous 1994 concert in Sarajevo, Bosnia, he returned to Maiden before the new millennium. Maiden quickly put out a string of new albums with him back on vocals and resumed their international touring.
As Maiden has kept performing amidst the changing metal landscape, Dickinson noted in a 2022 interview with Louder that the band has managed to keep adding fans and connecting with younger audiences, ensuring Maiden will forever be played on metalheads' stereos. In addition to being a musician, Dickinson is also an author and radio host.
Joe Elliot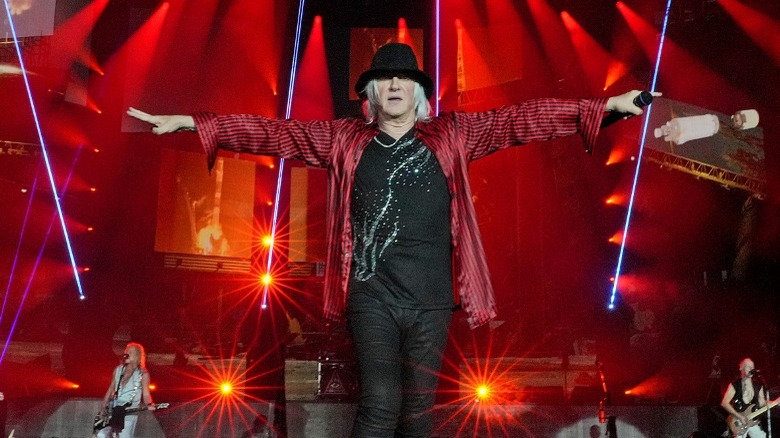 Kevin Mazur/Getty Images
They might not have been the heaviest band of the era, but no one can doubt the popularity and impact of Def Leppard on 1980s heavy metal. Even today, "Pyromania" and "Hysteria" are beloved as metal classics, boasting such anthems like "Pour Some Sugar On Me" and "Photograph." The band is fronted by iconic singer Joe Elliot, who was born on August 1, 1959, in Sheffield, England. In addition to his work with Def Lep, Elliot has also had a successful solo career and collaborated with rock icons like Ronnie Wood and Alice Cooper.
As a frontman, Elliot wowed fans each night with his powerful voice and eccentric stage antics. Even COVID-19 could not stop Elliot from continuing to rock, as Leppard released three albums during the pandemic, all with Elliott on vocals. During a 2023 interview with Louder Than War, Elliot noted that the pandemic impacted the release of their 2022 album "Diamond Star Halos," because they were unable to tour like they used to. In 2023, Elliot and Leppard released "Drastic Symphonies" and started touring with fellow icons Mötley Crüe, in a tour of pure '80s-heavy metal nostalgia.
Dave Mustaine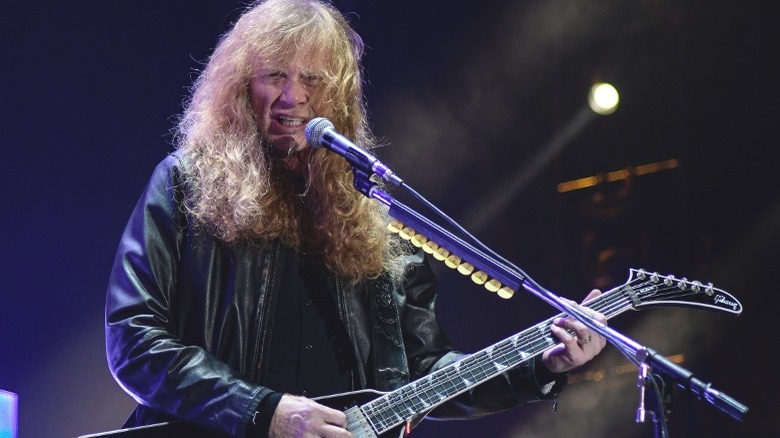 Medios Y Media/Getty Images
Few names in heavy metal carry the respect of Dave Mustaine, the legendary founder and guitarist of Megadeth. Mustaine is from La Mesa, California, and was born on September 13, 1961. After being inspired by British heavy metal bands like Iron Maiden, he later formed part of the early lineup for Metallica. Unfortunately, tensions in the band and alcohol use soon led to Mustaine's dismissal, which eventually developed into a public feud. Rather than rest on his laurels or retire, Mustaine countered his firing from Metallica by forming Megadeth, and in 1985 they released their debut album "Killing is My Business... And Business is Good!"
As the main songwriter for Megadeth, Mustaine continued to churn out legendary metal albums throughout the 1980s and 1990s, including "Peace Sells... But Who's Buying?", "Rust in Peace," and "Countdown to Extinction." He is widely known for his virtuoso guitar skills, solid songwriting, and lyrics that range from war, to politics, to partying. Unfortunately, his substance use started to eventually take a toll, and he found himself regularly using drugs while playing in Megadeth. However, he has been clean and sober since the early 2000s, and has never abandoned Megadeth. He recently survived throat cancer, and released "The Sick, The Dying...And The Dead" in 2022 with Megadeth.
If you or anyone you know needs help with addiction issues, help is available. Visit the Substance Abuse and Mental Health Services Administration website or contact SAMHSA's National Helpline at 1-800-662-HELP (4357).
David Lee Roth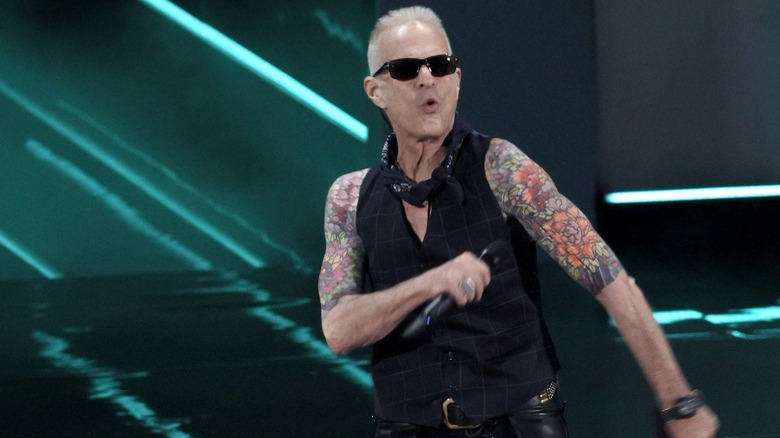 Michael Loccisano/Getty Images
Born on October 10, 1954 in Bloomington, Indiana, David Lee Roth has long been one of heavy metal's most iconic singers and frontmen. Roth made his bones performing in Van Halen, where he managed to carve out his own unique niche despite standing next to one of the most legendary guitarists in music history. His voice was ferocious and electric, complementing guitarist Eddie Van Halen's pop-oriented heavy metal riffs. In addition to his incredible voice, Roth imbued the heavy metal lifestyle with his flamboyant dress and eccentric stage theatrics. Heavy metal hits like "Hot For Teacher," "Runnin' With the Devil," and "Panama," would not nearly sound the same without his iconic voice.
In the mid-'80s, Roth departed Van Halen to make a string of solo records, which started off well but soon became less well-received. In 1996, Roth and Van Halen had a one-night reunion for MTV, but it was not until more than a decade later that they would resume touring together. Together, they released the final Van Halen studio album, "A Different Kind of Truth," in 2012, and the final live album, "Tokyo Dome: Live in Concert," in 2015. Since Van Halen's official end in 2020 following the guitarist's death, Roth has continued to perform, including a short residency at the House of Blues in Las Vegas in 2020–2021.
Axl Rose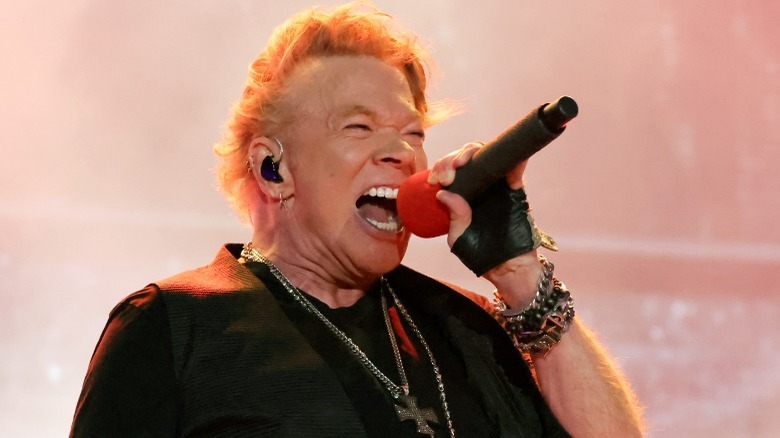 Amy Sussman/Getty Images
As the at-times volatile lead singer for heavy metal band Guns N' Roses, Axl Rose is as controversial as his voice is golden. His high-pitched wails on the band's debut album, "Appetite for Destruction," instantly turned songs like "Sweet Child O' Mine," "Welcome to the Jungle," and "Paradise City" into instant all-time metal classics. However, after a string of successful albums, GNR fell by the wayside in the 1990s, fading largely into obscurity with Rose as the only original member. Despite a few reunions in the early 2000s, it was not until 2008 that they released a new album, "Chinese Democracy," which Rose had been working on for years.  
Rose continued to mix and match different members to replace the Appetite-era lineup that was so revered, until 2016, when the iconic GNR lineup once again took the stage. For his entire career, Rose has only been a member of GNR, being one of the founding members with Izzy Stradlin. He has run into controversy due to his stage antics, which have included frequently storming off stage (via the LA Times) or canceling shows to avoid being arrested (via The New York Times), as well as the vastly problematic song "One In a Million." Still, it's hard to say anyone has truly lived the lifestyle of a rock and roll star more than Rose, making him one of the all-time great heavy metal frontmen.
Tom Araya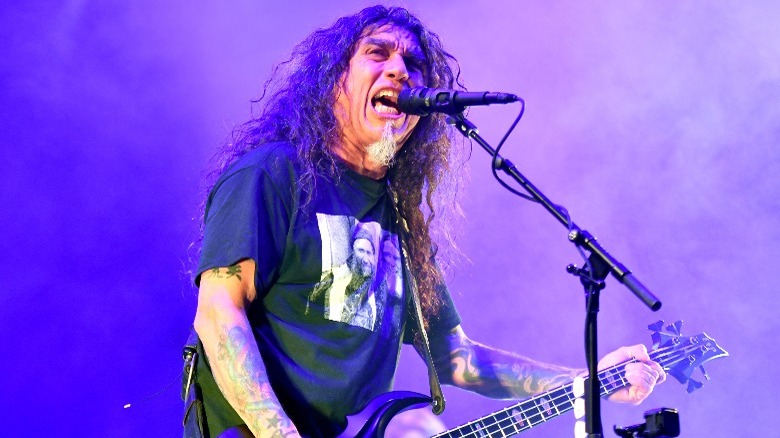 Scott Dudelson/Getty Images
Since the early-1980s, thrash band Slayer has redefined what it meant to be truly heavy with heavy metal. Led by bass player Tom Araya, who was born on June 6, 1961 in Viña del Mar, Chile, Slayer became one of the biggest names in 1980s heavy metal within a few years of their debut. Their brand of metal was much faster, much more raw sounding, and featured Araya's trademark screams for vocals. They were the antithesis of the glam and hair metal bands that dominated the mainstream, carving out a solid following within the underground before eventually tasting mainstream success in the 1990s.
Araya remained in Slayer throughout their entire career, which ended with a farewell tour in 2019. During their run, Araya and the band were nominated for five Grammys and won two , all for best metal performance. He is a staple among metal bass players, and even has a signature bass from the company ESP. According to an interview with Louder in 2020, Araya said that though he wants to, he can no longer headbang onstage in his trademark fashion. This is due to serious neck surgery that Araya received several years earlier, which involved putting a plate in his neck. Though Slayer no longer tours, Araya will always be revered as a metal icon, and he still gets recognized frequently by fans on the street.
Lita Ford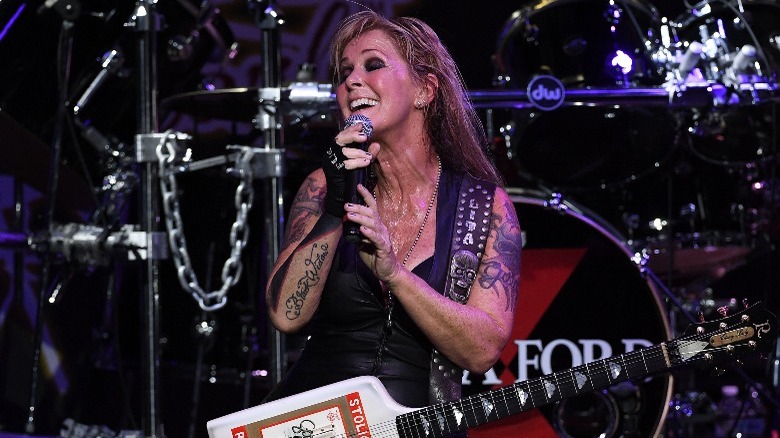 Michael S. Schwartz/Getty Images
Though males have largely dominated heavy metal since its beginnings, there have been many female rockers that managed to make a serious impact on the genre. For an example, look no further than Lita Ford, one of the most legendary and recognizable female heavy metal icons of all time. Ford was born on September 19, 1958, in London, England, and got her start in the rock band the Runaways with fellow future female icon Joan Jett. After the band split, Ford embarked on a solo career, shifting from rock to heavy metal of the glam/hair variety.
Ford found huge success in the late-1980s as an iconic and talented heavy metalhead, and her successful hits included "Close My Eyes Forever," a Top Ten single she recorded with metal god Ozzy Osbourne. Ford continued to produce music through the 1990s and 2000s, though without the commercial success she enjoyed in the 1980s. Some of her other big-time metal hits included "Kiss Me Deadly," "Falling In and Out of Love," and "Can't Catch Me" — the latter two of which metal icons Nikki Sixx and Lemmy Kilmister helped to write.
According to a 2022 interview Ford gave with Metal Edge, she was writing metal music for a new album, a follow-up to her 2016 release "Time Capsule." Ford is also still touring and performing live as of 2023, inspiring legions of new metal fans with her music.
Al Jourgensen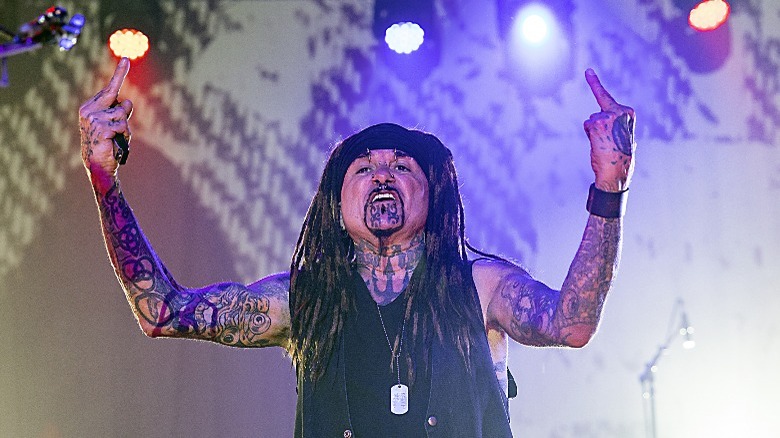 Jeff Hahne/Getty Images
Fans of industrial heavy metal have long known the name Al Jourgensen, the founder of the band Ministry. Jourgensen was born on October 7, 1959, in Havana, Cuba, and got his start in music playing new-wave-oriented pop with the band Special Effect. In 1981, he formed the band Ministry, which first played mainly electronic music, before becoming darker with the addition of more metal riffs and heavier vocals, creating industrial heavy metal in the process. Their true breakthrough was their third album, "The Land of Rape and Honey," released in 1988, and from then on, they became synonymous with their new unique brand of metal.
In addition to his work in Ministry, Jourgensen has also released a solo album and collaborated with several other bands. During a 2022 interview with Metal Edge, Jourgensen commented about being as dedicated to Ministry as ever, and talked about the tour the band was currently undergoing and the new album he was writing. Still an icon after more than four decades in the business, Jourgensen has surely claimed his spot in heavy metal's pantheon.