Why Queen Charlotte And King George III Got Married The Same Day They Met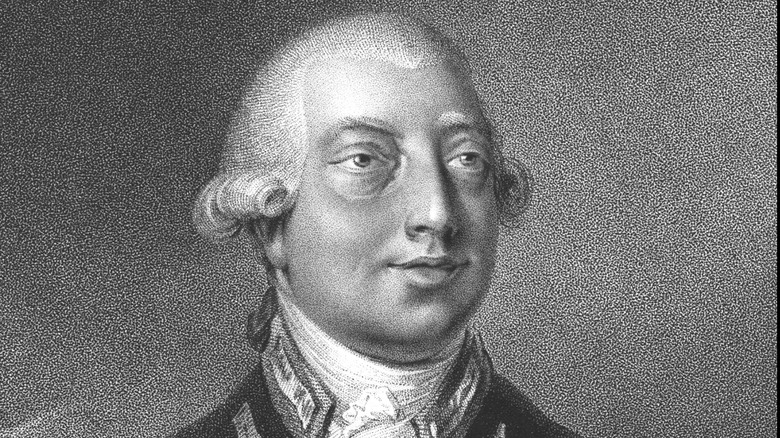 Smith Collection/gado
The May 6, 2023 coronation of King Charles III put British royal history on the minds of millions worldwide. For a one-two royal punch, add to that, "Queen Charlotte: a Bridgerton Story" a Netflix mini-series that premiered around that same time. A continuation of the hugely popular 2020 series "Bridgerton," inspired by the Julia Quinn novels, "Queen Charlotte" is based on the true story of Great Britain's King George III and Queen Charlotte, George's wife.
As the Netflix show relates, King George III and Queen Charlotte were married in 1761, and from the sounds of things, their royal ceremony took place in a hurry. George and Charlotte's marriage, in fact, was held the very same day she arrived in England from her home in Germany. George was only 22 years old at the time, and Charlotte was just 17. Moreover, the wedding happened the first day the couple met, and only a matter of hours after Charlotte stepped foot on dry land — so, why the big rush?
George, who ruled over England until 1820, had taken the British throne one year earlier, unmarried. The reason it all happened so quickly — George needed an heir to carry on the royal line. At least at first, the pairing of George and Charlotte was a matter of royal necessity, according to Smithsonian Magazine. Luckily, though, George and Charlotte grew close despite those hasty nuptials, Vogue writes. This remained true until the mental health challenges George famously faced drove a wedge between them late in life.
King George III needed a protestant wife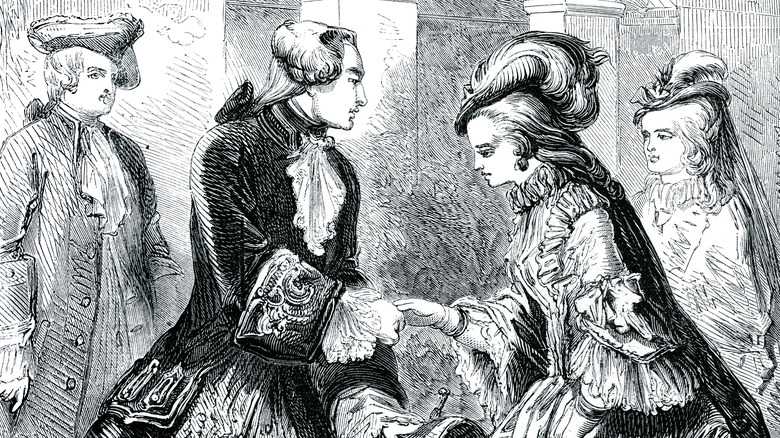 Duncan1890/Getty Images
As king, George was head of the Church of England, and as such he could not marry a Catholic, which narrowed down the selection process for his queen. Luckily, Charlotte, the daughter of a German duke, was a protestant. Being an aristocrat and a member of the right church — Charlotte was the perfect fit.
Like George, Charlotte was also intellectually curious, with creative interests, and a passion for nature and the outdoors. Both Charlotte and George loved music. Charlotte was also kind and even-tempered, based on accounts from the era. So although their courtship was brief and largely formal, the marriage between George and Charlotte worked out pretty well. They had 15 children together, and naturally, one of them became the next king of England, George IV.
A letter to King George from Charlotte, written 30 years after their wedding, read (via Vogue) "I have this instant been made very happy with Your very Affectionnate [sic] & kind letter, for which I want words to Express both my joy & happiness, but I can say with great Truth that tho my Pen cannot express my feeling my Heart most does most deeply feel."
The happy relationship between King George III and Queen Charlotte became troubled, though, as George famously developed behaviors later on in his life consistent with bipolar disorder and chronic mania. At that time, George's mental health challenges were described as "madness," and modern scholars believe an arsenic treatment may have played a part in his decline.
Charlotte cared for George in his later years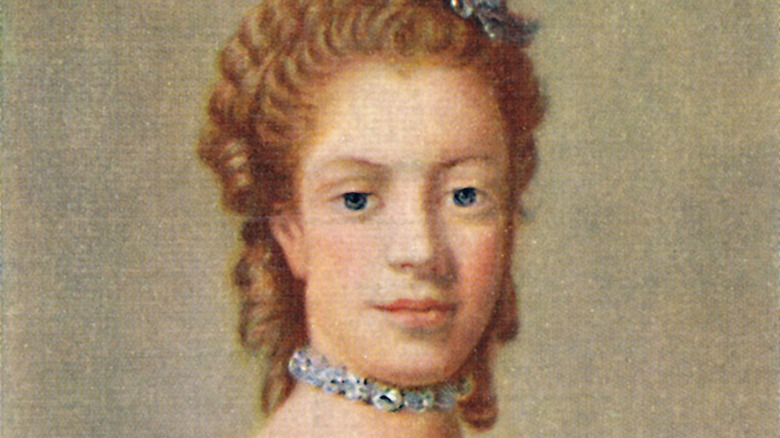 Print Collector/Getty Images
Despite the fortuitous nature of their arranged marriage, the love story between George and Charlotte has a sad end. According to Historic Royal Palaces, George's plummet into mental illness started in 1788, and it's said that by 1789 Charlotte's hair went completely gray as a result of the strain of what was happening to her husband. The couple along with some of their daughters moved to Kew thinking it may be good for him, but his doctors insisted on keeping the king secluded, even from Charlotte. Meanwhile, whatever they were doing wasn't helping him to improve. 
Near the end, George failed to recognize his wife, and later on, he was prone to bouts of violence so extreme, Charlotte could no longer be left alone with him. Still, she cared for her husband the best she could until her own death in 1818 at 74 from pneumonia and dropsy – a period term for edema or swelling caused by fluid under the skin.
In the final few years of his life, George worsened to such a degree, the future King George IV became regent in 1811 and eventually succeeded his father on the throne when George III's died in 1820. In the course of George and Charlotte's relationship, from unfamiliar newlyweds to a satisfied married couple to their tragic final few years, a witness at their wedding later said, "[N]o couple had ever been happier than they were before this greatest of all misfortunes" (via Historic Royal Palaces). King George III and Queen Charlotte are buried side by side in St. George's Chapel at Windsor Castle.