The Charges Against George Santos Explained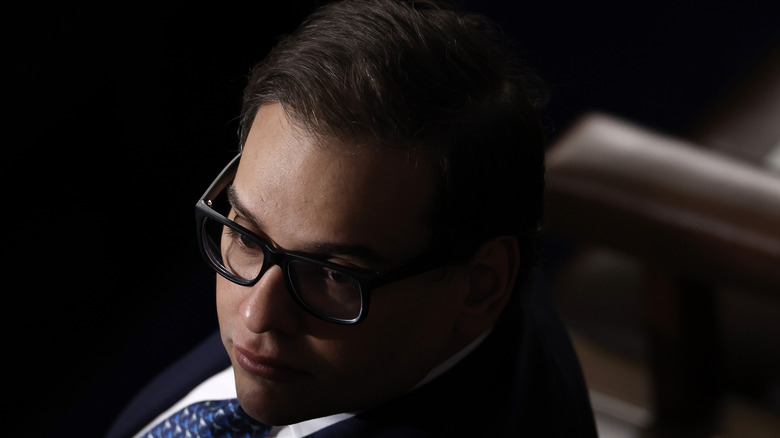 Anna Moneymaker/Getty Images
On Wednesday, May 10, 2023, Rep. George Santos, a 34-year-old Republican representing parts of Queens and Long Island, N.Y., surrendered to the FBI who arrested him and took him to the Long Island Federal Courthouse in Central Islip, CNN reported. Federal prosecutors hit the scandal-plagued freshman house representative who ran on a lie-filled biography to victory during the 2022 midterm election with 13 charges, including money laundering, wire fraud, and theft of public funds, according to The New York Times.
The charges stem from three separate crimes prosecutors allege Santos committed. The 20-page indictment mainly focuses on a scheme involving siphoning off money meant for Santos' campaign into his own pockets and spending the money on things like "luxury designer clothing and credit card payments," according to the indictment. The other alleged crimes involved lying about his employment status so he could get enhanced unemployment benefits during the coronavirus pandemic and also making false written statements to the House of Representatives.
An alleged scheme to steal from supporters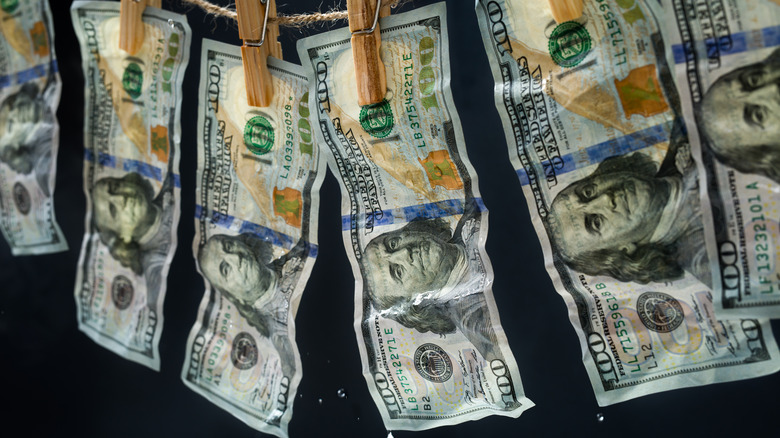 Alexsava/Getty Images
The bulk of the charges against Rep. George Santos — seven counts of wire fraud and three counts of money laundering — stem from what federal prosecutors are calling a "Fraudulent Political Contribution Solicitation Scheme" in which Santos allegedly used campaign funds on personal expenses beginning in September 2022. Santos, through an unnamed political consultant from Queens, convinced two political donors to part with $25,000 each by telling them "their money would be used to help elect Santos to the House, including by purchasing television advertisements," per a press release from the U.S. Attorney's Office.
Santos allegedly used an LLC he operated, claiming it was a legitimate campaign fund, to receive the money, which he then moved into his personal accounts, according to the press release. Each time he emailed or texted the unnamed political consultant in regard to the alleged scheme or moved the money to his personal counts is considered a separate charge.
Pandemic relief and false statements to the House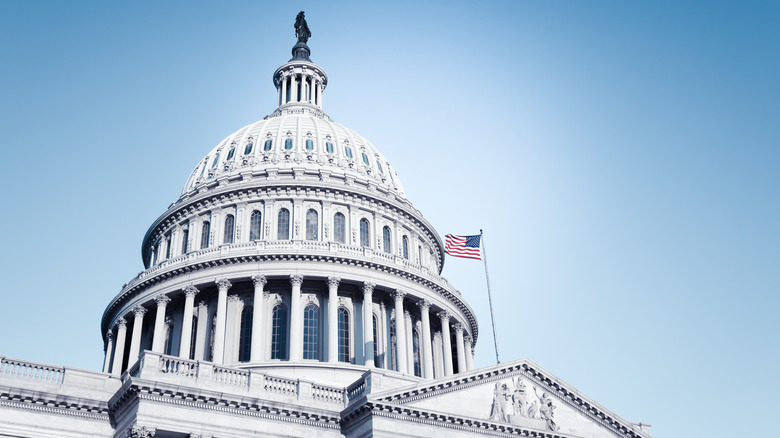 Uschools/Getty Images
Besides this alleged scheme to steal campaign money, federal authorities also charged Rep. George Santos with one count of theft of public funds and two counts of making materially false statements to the House of Representatives, per CNN. Santos, while making around $120,000 a year working for a Florida-based investment firm, allegedly lied to the New York State Department of Labor claiming he was unemployed and received more than $24,000 in enhanced unemployment insurance benefits from mid-June 2020 to April 2021, according to the U.S. Attorney's Office.
The final two charges are related to Santos' financial disclosure statements to the House of Representatives during his unsuccessful run for the House in 2020 and his second campaign which thrust him into office two years later. In the statements, prosecutors allege, he lied about his income in order to make it appear he made more than he really did. 
Santos is facing up to 20 years in prison on the most serious charges, per the U.S. Attorney's Office. "Taken together, the allegations in the indictment charge Santos with relying on repeated dishonesty and deception to ascend to the halls of Congress and enrich himself," U.S. Attorney Breon Peace said in the release. "He used political contributions to line his pockets, unlawfully applied for unemployment benefits that should have gone to New Yorkers who had lost their jobs due to the pandemic, and lied to the House of Representatives."