What Happened To Natalee Holloway's Parents?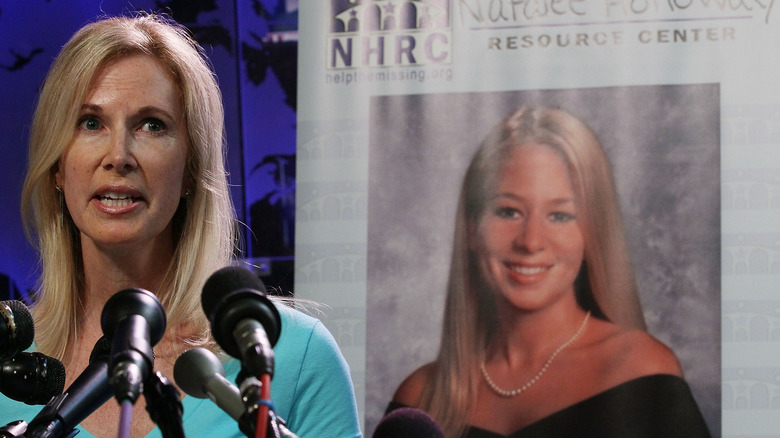 Mark Wilson/Getty Images
It's every parent's worst nightmare. In 2005, 18-year-old Natalee Holloway, daughter of Dave and Beth Holloway, had the opportunity of a lifetime: to travel to Aruba with friends on a senior class trip. While there, the Alabama teen disappeared, last seen in a car with three males, among them Joran van der Sloot. In 2012, an Alabama judge declared Holloway legally dead. In the meantime, her remains were never found, and to this day, Natalee's whereabouts are unknown, according to CNN.
With their daughter missing, Dave and Beth — who divorced before Natalee disappeared (via the Daily Mail) — did what any parent would do: They searched for information regarding their daughter and tried to bring the person responsible for her probable death to justice. In early May 2023 there was progress in the case when it was announced that van der Sloot, the prime suspect in Natalee's disappearance, would be extradited from Peru to the U.S. on extortion and fraud charges.
Van der Sloot was serving a 28-year prison sentence in Peru for the 2010 murder of Stephany Flores, related to Natalee's disappearance. Van der Sloot, a Dutch national, allegedly tried to extort $250,000 from Beth for information regarding Natalee's remains. Once provided, that information led to a dead end. With van der Sloot extradited, Beth — who in 2015 divorced Natalee's stepfather, George "Jug" Twitty (via Fox News) — said at that time, her daughter was gone as long as she had been alive.
Beth Holloway met with van der Sloot in prison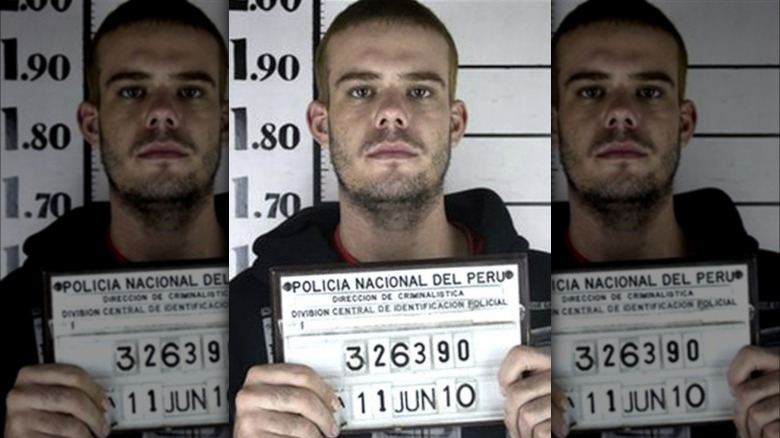 Kypros/Getty Images
In 2010, with Joran van der Sloot accused of Stephany Flores murder and held in a Peruvian prison, Beth Holloway reportedly traveled to the South American country to covertly meet with him in hopes of gathering information regarding her daughter. At that point, Beth's attorney had already paid van der Sloot $25,000 for information related to Natalee Holloway's whereabouts, but it turned out to be false, relating to the U.S. fraud and extortion charges, ABC News reports.
One year later, Natalee's father, Dave, asked a judge in Alabama to declare his daughter dead, a move which reportedly surprised Beth, as ABC News elsewhere writes. Beth said at the time, "I had no idea Dave was filing this petition ... I don't know what this is about, or why Dave is taking this action at this time." The next year, Natalee was officially dead, according to an Alabama judge, despite her mother's disagreement."
Since 2005, there has been intense media scrutiny on the case, such as the 2017 documentary series, "The Disappearance of Natalee Holloway," produced by Oxygen Media. More recently, Beth participated in a 2021 Fox Nation series "A Natalee Holloway Investigation with Nancy Grace." There has also been good news for the Holloway family. In 2015, their granddaughter Rylee Holloway, daughter of Natalee's younger brother and only sibling, Matt Holloway, was born. "I had no idea the love I could have for a grandchild," Beth said (via Daily Mail).
Natalee Holloway's mother sued TV show producers
Regarding the 2017 NBC Universal documentary series about Natalee Holloway's disappearance, "The Disappearance of Natalee Holloway," Beth Holloway was asked to provide DNA samples to potentially match with remains the series producers said they found. Beth later filed a lawsuit alleging that series' producers knew the bone fragments found were not Natalee's. 
According to Beth's suit filed in Alabama, the show exposed Beth to "agonizing weeks" of uncertainty. She asked for $35 million in damages, according to the AP. Dave Holloway, Natalee's father, participated in the NBC Universal documentary and reportedly asked Beth for a DNA sample but was not listed as a defendant in Beth's litigation. As well as searching for information regarding her daughter's case, Beth has founded the International Safe Travels Foundation and the web-based Natalee Holloway Resource Center to help prevent similar tragedies. 
As for Natalee's father, he's also tried to find closure. In 2015, Dave told Mississippi news outlet The Meridian Star, "The first year Natalee went missing, I was there three or four months off and on. And then I would go there several times a year in the following years as new leads would come up." 
With prime suspect Joran van der Sloot extradited to the U.S. in 2023, Beth said (via the AP), "It has been a very long and painful journey, but the persistence of many is going to pay off. Together, we are finally getting justice for Natalee."