Paul McCartney's Heartbreaking Final Words To His First Wife, Linda McCartney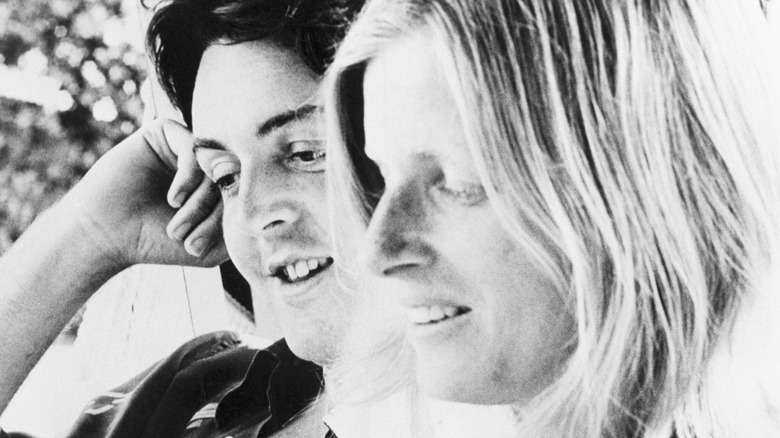 Bettmann/Getty Images
On a bright spring desert afternoon, Linda and Paul McCartney went horseback riding for the last time on the ranch they'd owned for a decade near Tucson, Arizona. The ex-Beatle put down a hay bale so his wife of 29 years, who had been weakened by cancer, could mount her horse, according to "Fab: An Intimate Life of Paul McCartney." It was April 15, 1998, and Linda would be dead in 48 hours.
On Linda's deathbed, surrounded by her husband and children — Mary, Stella, James, and Heather (Linda's daughter from an earlier marriage) — Paul looked back to the couple's horse rides as his wife began to slip away. "You're on your beautiful Appaloosa stallion. It's a fine spring day. We're riding through the woods. The bluebells are all out, and the sky is a clear blue," he recalled telling her (via the Associated Press). As he finished saying this, Linda closed her eyes and died. She was 56.
The McCartneys' relationship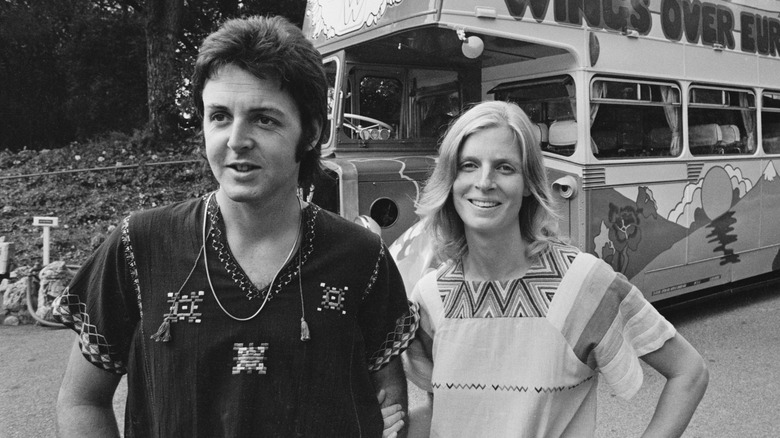 Reg Lancaster/Getty Images
Paul McCartney met Linda Eastman, a well-respected rock photographer, at the launch of The Beatles' "Sgt. Pepper's Lonely Hearts Club Band," but they didn't get together until the following year. They were married in 1969 and, as opposed to the media representations of the couple having a perfect marriage, the McCartneys had their rocky points. "We had a very big fight the night before the wedding and we almost canceled it," Paul later wrote (via El País). "We had many ups and downs — they were very hectic compared to that image of 25 years of marital bliss."
Even so, the couple loved each other deeply and were rarely apart in their three decades together. "People may not realize that with the exception of one occasion, Paul and Linda have never spent a night apart in the 30 years they loved each other," Geoff Baker, McCartney's London spokesperson, told the Tucson Citizen after Linda's death.
Final days
Fluxfactory/Getty Images
Linda McCartney was diagnosed with breast cancer in December 1995 after discovering a lump that turned out to be malignant, per The Columbian. At first, it seemed the chemotherapy treatment was working, but in March 1998 doctors found that the cancer had spread to her liver. "The past two years we spent battling her disease have been a nightmare," Paul said in a statement after Linda died (via the Associated Press). "She never complained and always hoped to be able to conquer it. It was not to be." 
At the time of Paul and Linda McCartney's final horse ride through the Arizona desert, he knew she didn't have long to live. The doctors had told Paul in early April that Linda's liver was failing and that she only had days left, per "Fab: An Intimate Life of Paul McCartney." He kept it from his wife, believing she wouldn't want to know. The next day she was too sick to get out of bed. The day after that was her last. Afterward, Paul and the children scattered her ashes on their English farm in East Sussex, per the Black Country Evening Mail.