Lori Vallow Daybell's Guilty Verdict Explained
The jury in the "Doomsday Cult Mom" case against defendants Lori Vallow Daybell has emerged from deliberation to deliver a verdict — guilty on all counts. Per The Independent, the seven-man, five-woman juror team in Boise, Idaho's Ada County Courthouse receded on Thursday afternoon, May 11, to speak together for four hours before finishing for the day. On Friday morning, May 12, they resumed discussions and deliberated for several more hours. Although cameras were not allowed into the courtroom, the verdict for the case was live streamed on May 12 at around 3:00 pm EDT (via East Idaho News). The case, which centered on the murders of Daybell's children – 7-year-old Joshua "JJ" Vallow and 16-year-old Tylee Ryan — made headlines not just for the allegations of a mother murdering her children, but for the grotesque manner in which the children were killed and their bodies hidden, and bizarre elements like Daybell's cult affiliation.
The jury found Vallow Daybell guilty across the board — conspiracy to commit first degree murder as well as first degree murder for the death of Tylee, and conspiracy to commit first degree murder and first degree murder for the death of JJ. She was also found guilty of grand theft, as she continued to collect social security payments on the children after they went missing. She also received a guilty verdict for conspiracy to murder her husband's former wife. According to NPR, these convictions could carry a life sentence (something that will be decided at a later date). 
Justice for the dead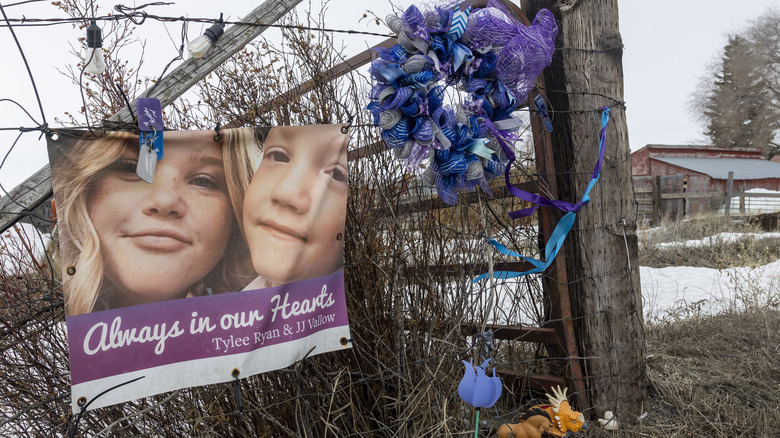 Natalie Behring/Getty Images
As the Independent explains, Lori Vallow Daybell's children, JJ and Tylee, went missing back in September 2019. Their bodies were discovered in June 2020 in the yard of Chad Daybell, Lori's lover-turned-husband. USA Today describes the prosecution's depraved findings. Tylee was "burned and buried in Chad Daybell's backyard. What was left of her body they dumped in a green bucket and buried in a pet cemetery on top of a piece of her skull." JJ, meanwhile, had duct tape strapped around his mouth and a plastic bag tied around his head.
Back in 2018, Lori Vallow — as she was then named — met Chad Daybell for the first time. As NBC News says, Daybell grew up Mormon but split from the church and started preaching his own, fringe apocalyptic teachings. He launched his own website, wrote books about near-death experiences and being able to glimpse "the Spirit World," and East Idaho News says, drafted a colossal chart about the past lives of friends, family members, celebrities, and ranked them according to their "dark" and "light" spirits. Vallow was apparently a fan of Daybell's, and eventually, the two started a relationship and got married.
The prosecution's closing arguments claimed that Lori Vallow "groomed" and "manipulated" Chad Daybell into helping her murder her children in order to steal Social Security and life insurance money. The defense, meanwhile, blamed Chad Daybell and said, "One year after meeting Chad, four people are dead."