Why Medina Spirit Was Such A Controversial Kentucky Derby Winner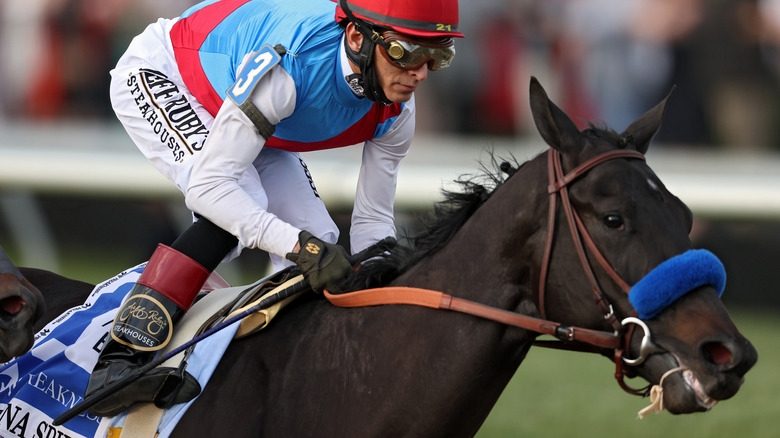 Patrick Smith/Getty Images
The Kentucky Derby hasn't just been around for a long time — it's the United States' oldest ongoing professional sporting event. Started way back when Ulysses S. Grant was president in 1875, the race has ballooned from its original, 10,000-person crowd to its current 14.8 million TV and internet viewers in 2023, and another 150,000 people in-person at the race's Louisville track, Churchill Downs. Prize money in 2023 equaled $1.86 million. Betting on the outcome is another big part of the racing tradition — so much so that in 2012 combined bets reached an astounding $133.1 million. 
Much like with human athletics, the Kentucky Derby has gotten vastly more competitive over its history. Horses are pushed to higher and higher standards, trained harder, given drug tests to check for doping, and at times even driven to death. Such was the case with 2021 Kentucky Derby winner Medina Spirit, who died at the age of 3 during training on December 6, 2021, from what was likely a heart attack. As The New York Times gruesomely describes, he had "swollen lungs, foam in his windpipe, and an enlarged spleen." Sometime before death, drug tests revealed that Medina Spirit had been doped leading up to his championship race. After death, he was disqualified and lost his title, as The Guardian explains.
None of this can be blamed on Medina Spirit. Unless a horse is wild, it isn't exactly making its own decisions about its life. This is why Medina Spirit's story has become a cautionary tale of usury, abuse, ambition, and greed, as former horse exerciser Elizabeth Banicki explained in The Guardian.
Born to run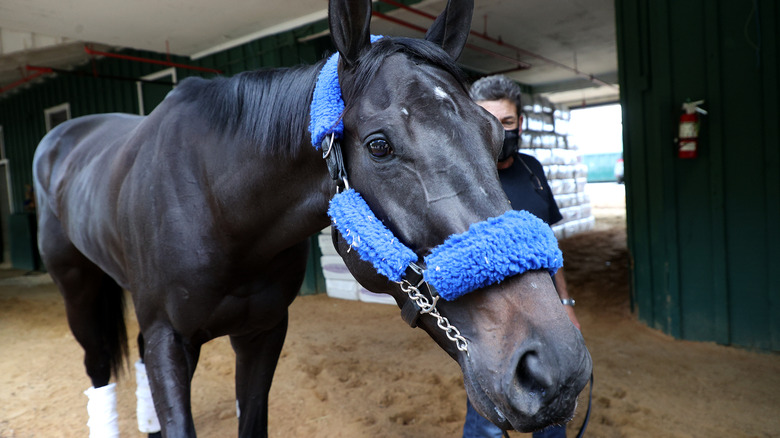 Rob Carr/Getty Images
There's a reason that horses are so often romanticized and lauded for their beauty and power. Any random selection of wild horse videos, like that on Mustang Wild depicting free horses in Oregon, illustrates precisely how strong, social, swift, and even silly they can be. So when a team of trainers takes a newborn horse and funnels all of its natural instincts into one purpose — running as fast as possible — the results can be as awe-inspiring as they are destructive.
The New York Times explains how Medina Spirit was built to run. Breeder Emily Rice describes a difficult birth for the colt, and hand-nursing him for the first three hours of his life. Within days he was running and frolicking. Rice said, "He was smooth like he was running on clouds, but he also had this bounce that showed he had power. You looked in his eye, and you just knew you had a freaking racehorse." And yet, despite such promise he sold for a mere $1,000. 
From there, Medina Spirit got passed to Bob Baffert, a trainer worth $30 million who is as renowned for producing champion horses as he is for harmful practices. According to The New York Times, he's had six Kentucky Derby winners and two Triple Crown winners, but Baffert's horses failed drug tests 30 times over the past 40 years, including five times within a 13-month period that encompassed the period that Medina Spirit won the Kentucky Derby and died. 
Lawsuits and countersuits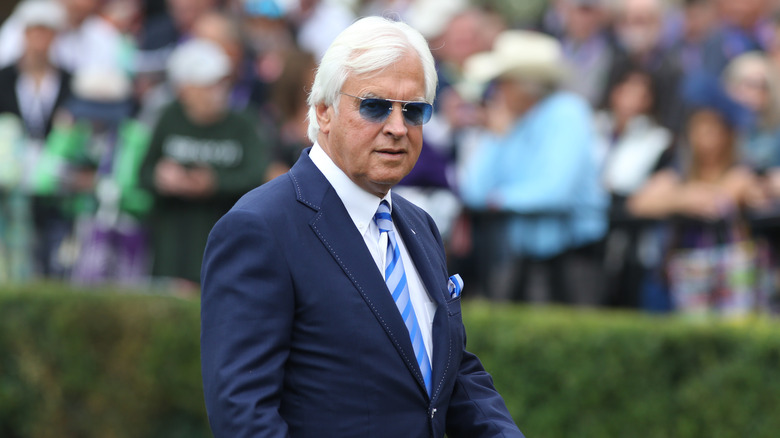 Horsephotos/Getty Images
As The New York Times explains, Medina Spirit tested positive for betamethasone, a corticosteroid, same as another of Bob Baffert's horses did in 2020. Corticosteroids are a type of commonly used anti-inflammatory medicine different from the kind of steroids we refer to when talking about human athletes bulking up, per My Cleveland Clinic. As veterinarian Mary Scollay says on Horse Racing Nation, the use of anti-inflammatories — either topical or injected — needs to be strictly controlled, as they can mask signs of strain and injuries. The Guardian says that Dancer's Image was disqualified from the Kentucky Derby in 1968 for testing positive for anti-inflammatories, making that horse one of three in the Kentucky Derby's history — along with Medina Spirit — disqualified from the race.
Baffert has denied any and all culpability for the death of Medina Spirit, and in fact, has doubled down. The New York Times explains that he's threatened to sue in retaliation for being banned from the Kentucky Derby for a minimum of two years. NPR quotes Baffert's attorney Clark Brewster as saying, "This ruling represents an egregious departure from both the facts and the law." 
In response, Churchill Downs chief executive Bill Carstanjen said, "This threatened lawsuit is yet another tactic from Mr. Baffert's well-worn playbook of obfuscating the facts, inventing excuses to explain positive drug tests, and attempting to blame others to avoid responsibility for his own action" according to The New York Times. Carstanjen also said that countersuing is a possibility.