Why 1973 Is Considered The Indy 500's Worst Year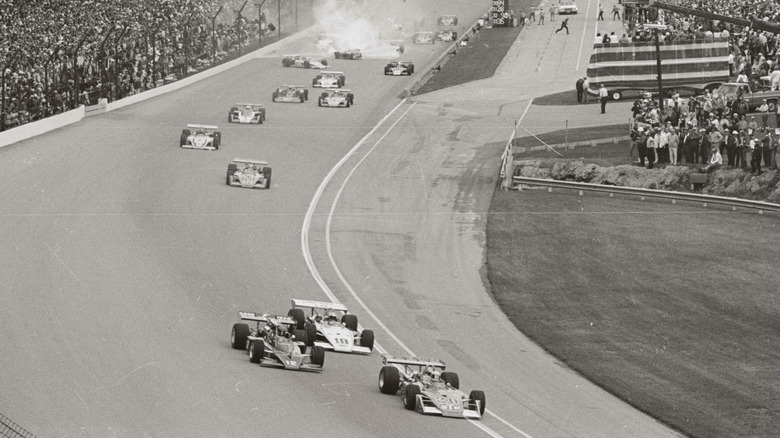 Bettmann/Getty Images
Death, disfigurement, and bad weather: These three things combined to make the 1973 Indy 500 the worst in history, USA Today reports. Each year, the Indy 500 happens on the Sunday of Memorial Day weekend at the Indianapolis Motor Speedway. The first Indy 500 took place in 1911, and it's a 500-mile race where speeds now often exceed 200 mph.
The famous race typically lasts around three hours, but the '73 Indy 500 took three days to finish. Things went so wrong, in fact, that 13 spectators were injured and some were hospitalized, according to Sports Illustrated. Meanwhile, one crewman died, and two drivers were badly burned. Another driver had already lost his life in practice — all combined, they were the first race fatalities at the competition since 1937.
As well as bad weather, race cars that year traveled at speeds never before seen in IndyCar racing, with the average speed nearing 200 mph. One wrong move and the hundreds of gallons of explosive fuel contained within each vehicle could become a death trap. Referring to the race four decades later, Pat Patrick of Patrick Racing, whose car — driven by Gordon Johncock — came in first, said (via USA Today), "I still feel bad about it."
The Indy 500 happened on a Monday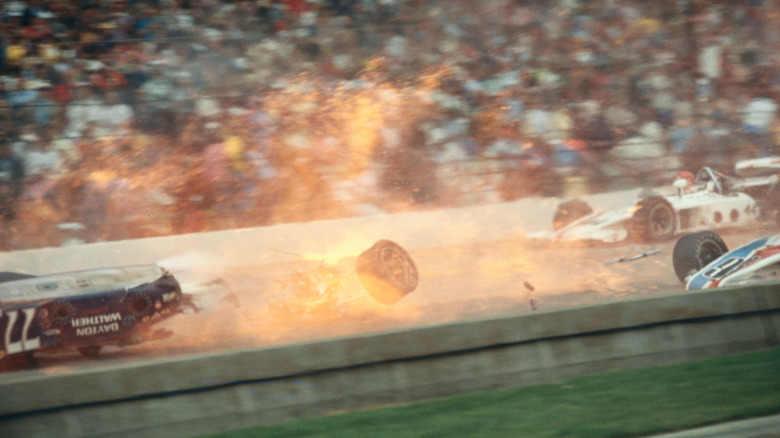 Bettmann/Getty Images
Today, the Indy 500 is always on Sunday, but in 1973, engines revved on a Monday. From the start, bad weather threatened the proceedings. Storm notwithstanding, participants and spectators, estimated to be around a quarter-of-a-million strong, were already on edge: Driver Art Pollard sadly lost his life in practice. After a four-hour delay, the race started, but before long, things went from bad to worse.
Having traveled just a short distance, the wheels of driver David (Salt) Walther's car inexplicably made contact with driver Jerry Grant's vehicle, smashed into the debris fence, and burst into flaming methanol fuel (seen above). Walther, badly burned over a quarter of his body, survived the accident, but 12 cars were caught in the pile-up. Some other drivers were injured, but no one died, and as the rains came, crews attempted to clean up the track.
With that, the race was delayed until Tuesday. Because of Walther's accident, 13 spectators were injured, some of them critically. At that time, race announcer Jim McKay said (via USA Today), "This is what everybody feared. This is why there has been such a terrible atmosphere of fear here, all weekend long."
Stormy weather continued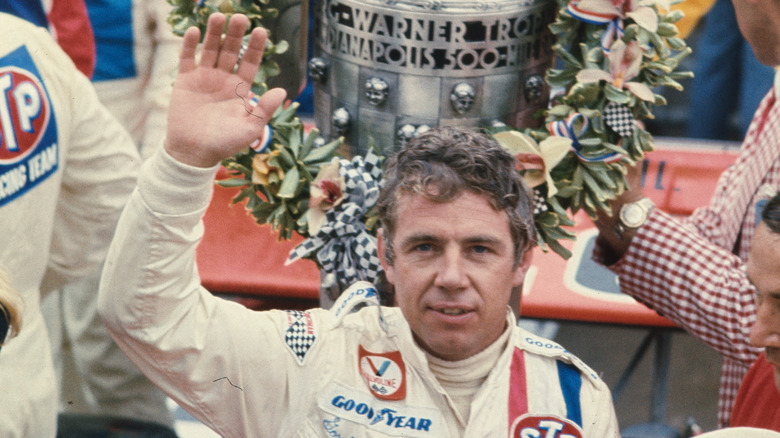 Bettmann/Getty Images
On Tuesday, the weather was still disagreeable, and the Indy 500 was once more delayed until Wednesday. That day, there was a break in the clouds, and at long last, the race began again. After lap 57, though, driver Swede Savage's car spun out of control, hit the wall, and was engulfed in a fiery conflagration, much like Walther. Incredibly, Savage survived, but he later died, possibly from a contaminated blood plasma transfusion at the hospital — or other issues related to his injuries.
In a sad twist of fate, as the flames roared around Savage's vehicle, crewman Armando Teran rushed to help. Teran was struck and killed by a fire truck also racing to the scene for the second death at the racetrack that year. After the track was cleared from the Savage accident, racing recommenced, and mercifully, the 1973 Indy 500 ended after only 133 laps and around 330 miles traveled.
Gordon Johncock (pictured) was declared the winner, but the typical festivities were called off as Johncock rushed to the hospital to check on Savage's condition. The seemingly cursed 1973 Indy 500 resulted in a number of safety precautions still in use today, both in the vehicles and in the spectator areas at the speedway. In the end, Johncock's car sponsor Andy Granatelli put it well when he said (via Sports Illustrated), "[T]his has been an ugly day."