Lynyrd Skynyrd's Tragic Real-Life Story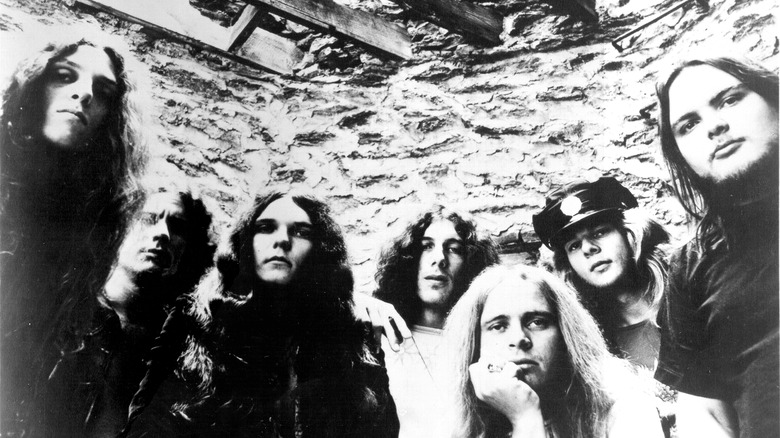 Michael Ochs Archives/Getty Images
It is difficult to name a band that has persevered through more tragedy than Southern rock legends Lynyrd Skynyrd. Formed in Jacksonville, Florida, the band rehearsed and honed their craft in the sweltering swampland they called home, eventually venturing to destinations outside the area and gaining a reputation for great shows and their twangy yet hard-rocking sound. After signing to MCA Records, they began making albums that stand even today as classics of the genre, with songs like "Sweet Home Alabama," "Simple Man," "Gimme Three Steps," and "Free Bird," songs that defined an era and gained millions of fans around the world.
But there was a constant state of dissension within the band, led by singer Ronnie Van Zant. He acted like a father figure to most of his bandmates, but he was also prone to drunkenness and violence. Band members would hit the stage with bruises, black eyes, and broken bones, inflicted upon them by other bandmates; drugs and alcohol made the situation worse. When, at the height of their popularity, a plane crash took the lives of Van Zant, guitarist Steve Gaines, and his sister Cassie, most thought Skynyrd would play no more. They came back after a few years, but tragedy continued to follow them and continues to this day. Here is the tragic story of Southern rock's brightest light, Lynyrd Skynyrd.
Artimus Pyle's father died in a plane crash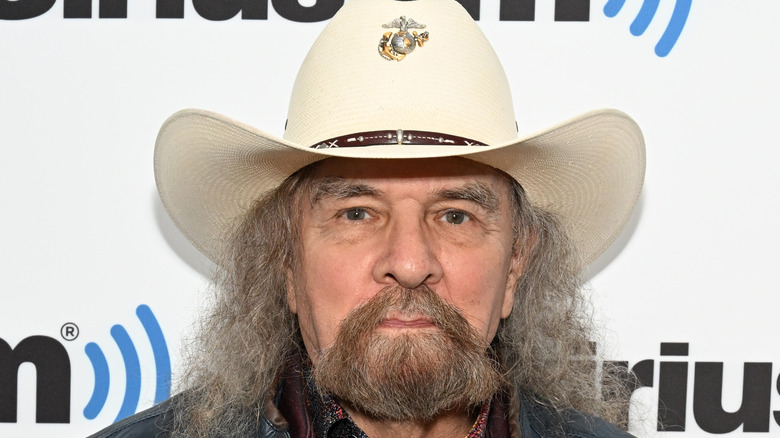 Slaven Vlasic/Getty Images
It is quite the tragic coincidence that drummer Artimus Pyle survived a horrific plane crash — one that had lasting implications on popular music and culture. Aviation was a passion he shared with his father, Del Pyle, a retired Marine awarded a Purple Heart for injuries sustained while fighting in the South Pacific during World War II. Artimus Pyle followed in his father's footsteps, enlisting in the Marines and working as an avionics mechanic, hoping to pursue a career in civil aviation after the service. He took flying lessons in the Marines, and his father, then a civilian, did as well.
Del was killed in a midair plane crash over Albuquerque in 1971. "Dad was in his Cessna 150 flying over some property that he was going to build houses on," Artimus Pyle recalled in an interview with radio personality Eddie Winters. "He liked to do that; he liked to look at pieces of property from the air." Pyle said his father was hit from above and behind by a B-57 weather reconnaissance bomber flying in the same airspace. "He was killed instantly," Pyle remembered. "That kept me from really losing my mind because Dad never suffered. He was doing what he loved and then he was gone."
Bandmates were violent toward one another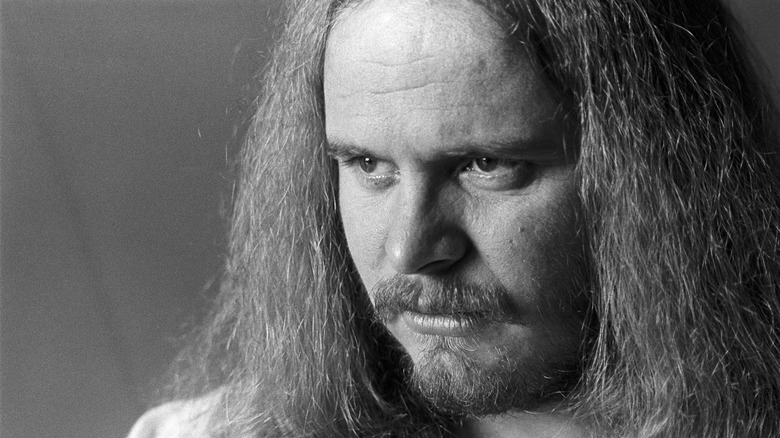 Tom Hill/Getty Images
A lengthy feature story in Spin magazine back in April 1999 detailed the rough road Lynyrd Skynyrd took to achieving their dreams as a band, as well as the rough ways bandmates treated one another all along the way, often resorting to violence to address their issues. It started before anyone knew who the band was, as they worked on their mixture of country twang and amplified hard rock while rehearsing in what they called the Hell House, a non-air-conditioned tin-roofed shack south of Jacksonville. Singer Ronnie Van Zant would lock the band in the Hell House, then they whipped themselves and one another into shape while they wrote their first two albums.
The same brutal drive that set them up for success caused problems once they achieved it. Introducing seemingly endless tours and a stable supply of drugs and alcohol into the proceedings didn't help. There's the story of a bar fight in Munich that followed the band back to the hotel, where Van Zant broke a bottle over the head of a Skynyrd roadie and used the shards to slice up guitarist Gary Rossington's hands. The show went on, though — Rossington played the next night with bandaged hands, as did Van Zant, who broke some bones punching someone. This was just one example of the intra-band fighting that made the Skynyrd brotherhood a strange and volatile rock 'n' roll family.
Drugs and car crashes inspire 'That Smell'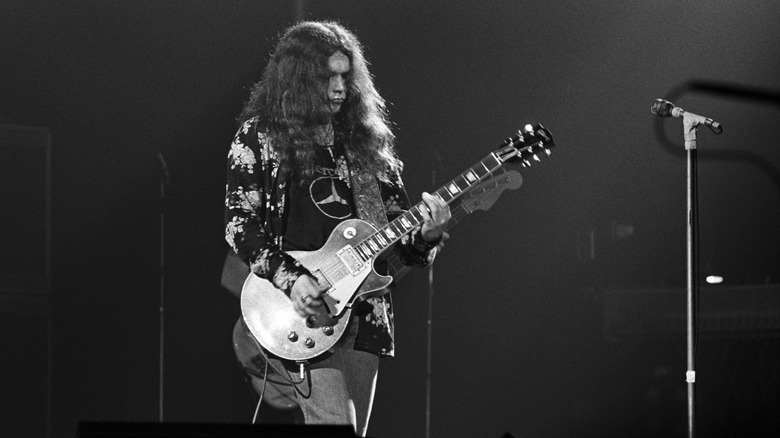 Tom Hill/Getty Images
One of Ronnie Van Zant's last great songs, "That Smell," starts with the lines "Whiskey bottles and brand new cars / Oak tree you're in my way." It was in direct reference to the Labor Day weekend in 1976 when Gary Rossington drove drunk and wrapped his new vehicle around a tree, injuring himself badly in the process. "He passed out at the wheel of his brand new Ford Torino with his foot on the gas," Ronnie Van Zant told the Los Angeles Times (via The Uncool). "He knocked down a telephone pole, split an oak tree and did $7,000 worth of damage to a house. That's being just plain stupid. I told him that on his hospital bed." He also told him so in "That Smell," which he wrote with guitarist Allen Collins.
Some speculate, though, that Van Zant was speaking as much to himself about "the smell of death" as he was to Rossington and his other bandmates when he wrote "That Smell." Skynyrd biographer Mark Ribowsky wrote in "Whiskey Bottles and Brand New Cars" that the singer was an avid indulger of cocaine and Quaaludes, "which he popped into his mouth like jelly beans." "For the first time I'm really thinking about the future," he told the Los Angeles Times. "I'm 27 now and I've got a baby girl and I plan to stick around and watch her grow up."
Plane crash takes Ronnie Van Zant, Steve Gaines, and Cassie Gaines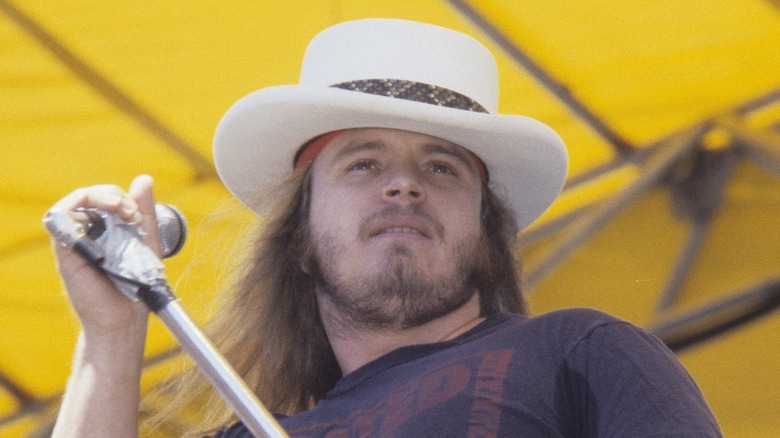 Richard Mccaffrey/Getty Images
On October 20, 1977, as they prepared to embark on a flight to Baton Rouge, several members of Lynyrd Skynyrd and their entourage were nervous about flying in the band's leased Convair 240 and had expressed reservations to Ronnie Van Zant. "Hey, if the Lord wants you to die on this plane, when it's your time, it's your time," Van Zant reportedly replied. "Let's go, man. We've got a gig to do." According to reports, almost two hours into the flight, both of the plane's engines died, and it began a ten-minute freefall into a dense forest of pine trees close to the Mississippi/Louisiana border. When it was all over, the cockpit and tail had separated from the cabin, and the plane had cut a 500-foot path through the woods. Of the 27 people aboard the flight, seven were dead, including Ronnie Van Zant, guitarist Steve Gaines, and his sister Cassie, a background singer for the group.
The original band's final studio album, "Street Survivors," had been out three days and the cover featured the band members standing between burning buildings; Steve Gaines, in particular, seemed to be engulfed in flames, his eyes closed. The record was pulled from shelves until Skynyrd's record company could manufacture an alternative cover. It all seemed prescient, but of course no one had known the crash would happen, stunning the music community and silencing the leading voice and songwriter in Southern rock.
Allen Collins suffers tragedies before his untimely death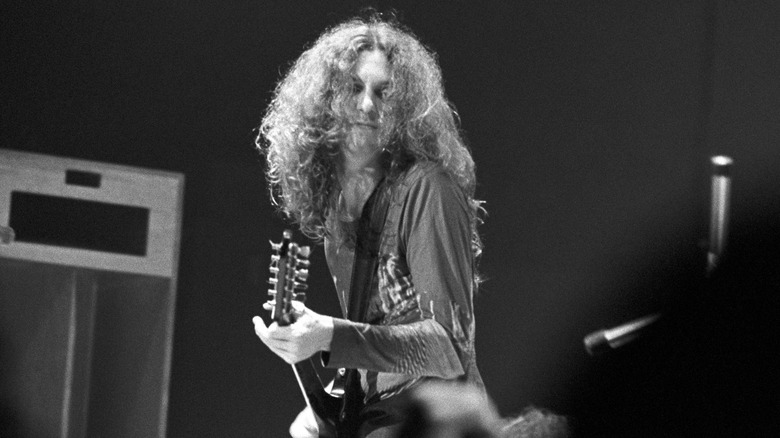 Tom Hill/Getty Images
Of all the survivors of the Lynyrd Skynyrd plane crash, Allen Collins seemed to be the most "snakebitten" — unlucky — and also the most self-destructive. Doctors had wanted to amputate his right arm after the crash, but his father, acting on Collins' behalf, refused to give them permission. According to the band's biographer, even after recovering, Collins and Gary Rossington suffered from terrible nightmares and survivor's guilt, and both self-medicated with copious consumption of cocaine, booze, and Quaaludes. They also eventually made music again, forming the Rossington-Collins Band with several other Skynyrd bandmates, making a record, and hitting the road on yet another rock 'n' roll tour.
Days into the band's first tour, Collins' wife, Kathy, suffered a hemorrhage during a miscarriage and died, devastating the already vulnerable guitarist. His drinking and drug use accelerated, and a rift developed between him and Rossington. The Rossington-Collins Band lasted only two years, after which Collins' indulgences wound up having dire consequences. He had a number of alcohol-and barbiturate-fueled car crashes, one of which, in 1986, took the life of his girlfriend and left him paralyzed from the chest down. When surviving Skynyrd members went out on a "tribute" tour in 1987, Collins was unable to perform, relegated to being wheeled out onstage several times per show to give speeches on why he couldn't play, and on the dangers of drugs and alcohol. Collins died in 1990 of complications from pneumonia. He was 37 years old.
Leon Wilkeson holds on as long as he can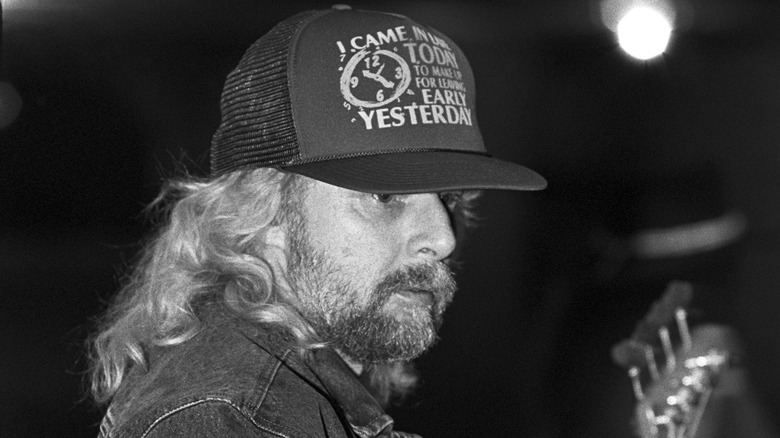 Tom Hill/Getty Images
Bassist Leon Wilkeson was among the most severely injured in the Skynyrd plane crash. Reports indicated he suffered massive internal injuries, dislodged teeth, and a broken left arm and leg. He lost a tremendous amount of blood, and his heart stopped twice on the operating table. The left arm injury was of particular concern; it was his fretting arm when he played bass, and his wounds had gotten infected, nearly necessitating the arm's amputation. Even after he recovered, he had severe nerve damage and minimal range of motion in that arm, causing him to hold his bass guitar almost upright for the remainder of his performing days.
Other issues affected his health in the years after the crash. On tour in the early '90s, Wilkeson awakened in the tour bus in a pool of his own blood, his throat having been cut by someone on the bus, as per Spin. He survived, but the perpetrator was never identified (suspects included guitarist Ed King and Wilkeson's then-wife). In 2001, he was cited for driving under the influence in Florida, a charge he was preparing to face in July of that year when he was found dead in a hotel room in Ponte Vedra, Florida. According to the autopsy, Wilkeson was suffering from emphysema and cirrhosis of the liver at the time of his death, with drug intoxication as a contributing factor.
Skynyrd's 'outlaw' Hughie Thomasson dies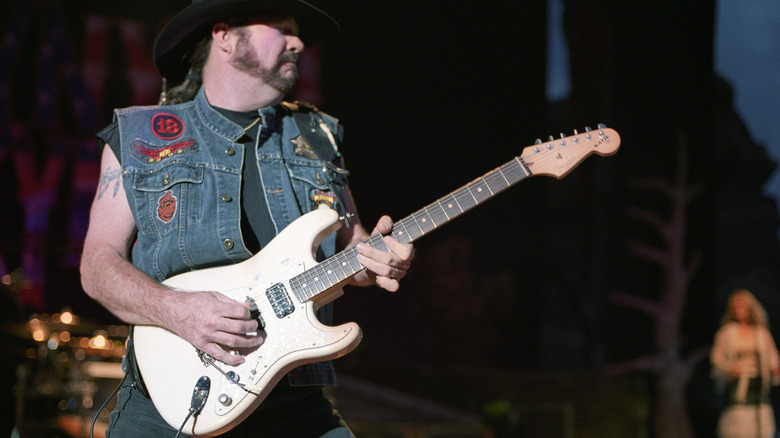 TDC Photography/Shutterstock
Hughie Thomasson was Southern rock royalty even before he joined Lynyrd Skynyrd in 1996. As one of the founders, chief songwriters, and singers of the Outlaws, he was responsible for a number of the genre's classic songs, including "Green Grass and High Tides," "There Goes Another Love Song," "Hurry Sundown," and their version of the cowboy anthem "(Ghost) Riders in the Sky." Legend has it that the Outlaws were signed in 1974 by Arista Records president Clive Davis after he saw the band open for Lynyrd Skynyrd, and at the suggestion of Ronnie Van Zant.
Thomasson claimed he joined Skynyrd on a six-month contract and wound up staying nine years. When he left in 2005, he did so on good terms, and for the right reasons. "I just felt like I needed to do something different," he told Classic Rock Revisited. "I really didn't do any singing with Skynyrd. ... I wanted to get back to doing what I love to do." He re-formed the Outlaws and hit the road, headlining small venues and opening for bigger bands. Hughie Thomasson died of a heart attack in his sleep on September 9, 2017.
Billy Powell's 'Gifted Hands' are stilled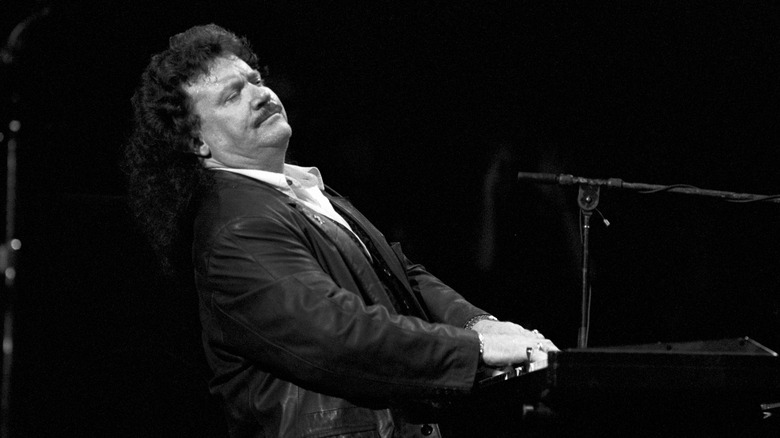 Tom Hill/Getty Images
Billy Powell nearly lost his nose in the plane crash that ended Lynyrd Skynyrd for a decade. "'I remember my seat belt breaking," he recalled, "and I crashed through a table face-first." Of all the passengers on the plane, however, he was among the least grievously injured. He was the only member of Skynyrd to attend the funerals for his bandmates Ronnie Van Zant and Steve Gaines; the rest of the survivors were still in the hospital.
Powell played in the Rossington-Collins Band after the crash, and was one of the first Skynyrd members to sign on for the 1987 reunion and subsequent tours, but he was not always well. In the early morning hours of January 28, 2009, Powell called police in Orange Park, Florida, complaining of dizziness and difficulty breathing. By the time police and paramedics arrived at Powell's home, he was unconscious and unresponsive. He was pronounced dead after repeated attempts to revive him failed. According to one report, he had failed to show up for a cardiologist appointment the previous day. The next Lynyrd Skynyrd album, "God & Guns," included "Gifted Hands," a song dedicated to Powell.
Cancer takes Leon Wilkeson's replacement
Filling Leon Wilkeson's spot in Lynyrd Skynyrd was not an easy task. Wilkeson was a fan favorite, a stalwart member of the band, a man who had sustained horrible injuries in the plane crash and lived to play with the band for years. His death in 2001 shocked Skynyrd and their fans, but the band was able to move on by bringing in Ean Evans to replace him. Evans had previously bopped around the Atlanta area in a series of locally popular cover bands and earned a living as a studio musician before being asked by then-Outlaws leader Hughie Thomasson to join that band in the early '90s. When Thomasson quit the Outlaws in 1996 to join Skynyrd, Evans hooked up with a touring version of Humble Pie and pursued other musical projects.
Evans was asked to join Skynyrd in August 2001, days after Wilkeson's death; he quickly learned the band's set of classic tunes and made his debut with them August 11. He played with them through multiple tours over the course of eight years, even while receiving treatment for lung cancer, which was diagnosed in 2008. On April 19, 2009, Skynyrd headlined the Mississippi Kid Festival, which the band staged to raise money for Evans and his family. Ean Evans died on May 6 of that year. He was 48 years old.
[Featured image by jayuzi via Wikimedia Commons | Cropped and scaled | CC BY-SA 2.0]
Ed King's death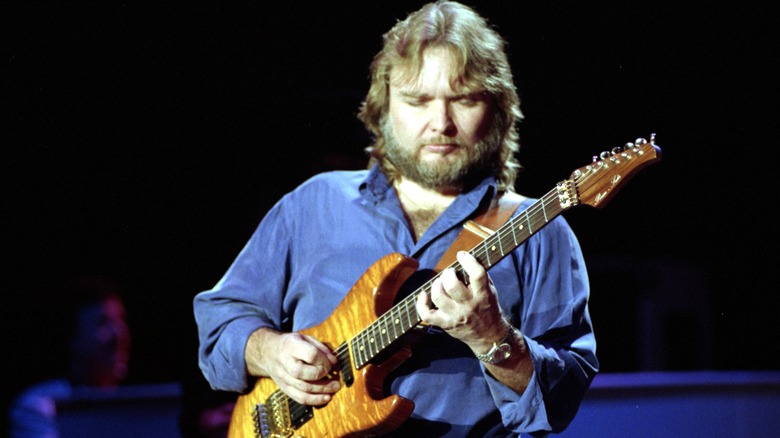 Tim Mosenfelder/Getty Images
One of Lynyrd Skynyrd's most distinctive musical features is its three-man guitar section. This wasn't an element of their sound from the beginning but came in 1972, when a Californian boy named Ed King joined the band. King's own group, Strawberry Alarm Clock, opened for Lynyrd Skynyrd in Florida a few years earlier, and they initially reached out to him to replace their bassist, Leon Wilkeson. But after Wilkeson rejoined, King switched over to third guitar.
While with the band, King wrote or co-wrote several songs, including their hit, "Sweet Home Alabama." But King, who was not a childhood friend of band leader Ronnie Van Zant, didn't appreciate Van Zant's temperamental, sometimes violent, leadership style. "I'm the hippie from southern California," he said in the documentary "If I Leave Here Tomorrow: A Film About Lynyrd Skynrd" (via Rolling Stone), describing the culture shock. "I'm not into the violence." After a heated exchange over broken strings in Pittsburgh in 1975, King left the band.
He joined the reformed Lynyrd Skynyrd in the late 1980s and stayed for just under 10 years, leaving again in 1996. In the 2010s, he was diagnosed with lung cancer and was reported to have been hospitalized for it shortly before his death. He passed away on August 22, 2018.
Gary Rossington's death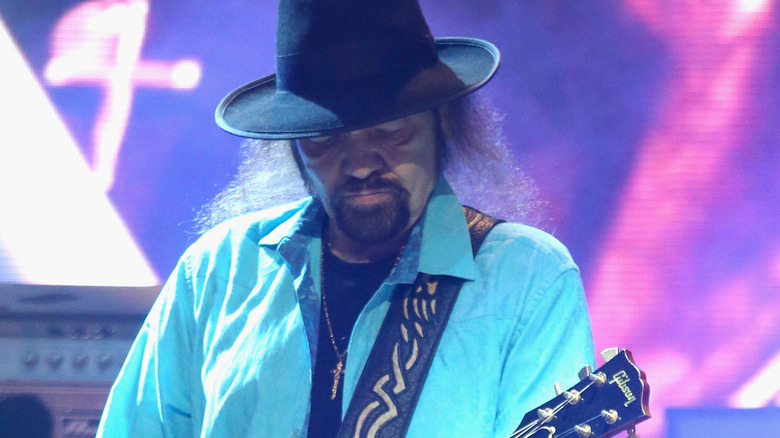 Gary Miller/Getty Images
Gary Rossington had several brushes with death during his time with Lynyrd Skynyrd. In 1976, he was in a serious car crash that set back the band's touring schedule. In their infamous 1977 plane crash, he broke three limbs and punctured two internal organs and later became addicted to painkiller medication. He also had issues with his heart, which has been through a lot, particularly in recent years. In 2003, Rossington had quintuple bypass surgery, after doctors discovered during routine screening that he was suffering from coronary artery disease. Rossington needed more surgeries following a heart attack in 2015.
While Johnny Van Zant seemed to say it wasn't that serious ("He got in and got it taken care of," the singer told CMT), his family wrote in a Facebook post they "were very close to losing him this time and just pray that they will develop even better techniques soon to deal with heart disease."
Then, in August 2017, Lynyrd Skynyrd announced that Rossington "had to undergo a procedure to address some blockage in his arteries to his heart," causing the band to cancel some dates on that year's tour. With their leader's health a concern, Lynyrd Skynyrd announced a "Farewell Tour" in 2018. "I've had heart attacks on stage a lot," Rossington told the Tampa Bay Times. "I don't want to just say, 'Well, we're never going to end' because I don't want to die and then it end that way. Which is a heavy thing to talk about, but I have to."
Through all his injuries, illnesses, and tragedies, Rossington kept up his guitar playing. By the 21st century, he was the last of the founding members to still play with Lynyrd Skynyrd. His declining health took away his stamina for touring but not his musicianship. He was still with the band when he died on March 5, 2023.
The band's questionable decisions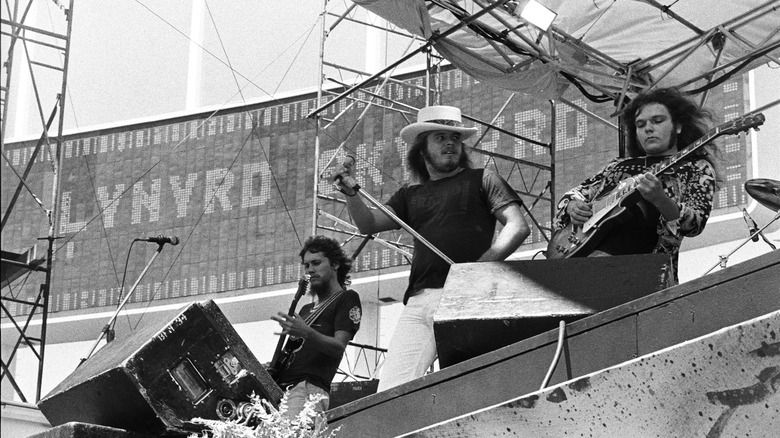 Richard Mccaffrey/Getty Images
Many creative acts have material in their catalogue that can raise eyebrows as tastes, manners, and mores change. Lynyrd Skynyrd's use of the Confederate flag throughout their career in stage shows and on promotional material has often been criticized, and just what facet of the American South the band most speaks to has been debated. Other choices beyond the creative realm left more permanent, literal marks on the members of the band. Their fights with one another left keyboardist Billy Powell short two teeth.
The band's choice to lead such a wild and violent lifestyle at the height of their fame came to have serious professional and personal consequences. Gary Rossington's 1976 car crash delayed touring and earned him a fine by the band. And by the time Lynyrd Skynyrd needed a plane to get them to a tour date in 1977, their reputation for unruly behavior meant they were effectively banned by private airlines. Their behavior in the air was so bad, they were believed to have tried to throw someone out of a plane mid-air. Rather than curtail the band's antics or book a commercial flight, their manager arranged for them to have their own aircraft, an aging Convair 240 with an uninspiring technical reputation and crew. That was the plane that crashed in Mississippi on October 20, 1977.