Unsung Heroes Of Modern Pop Music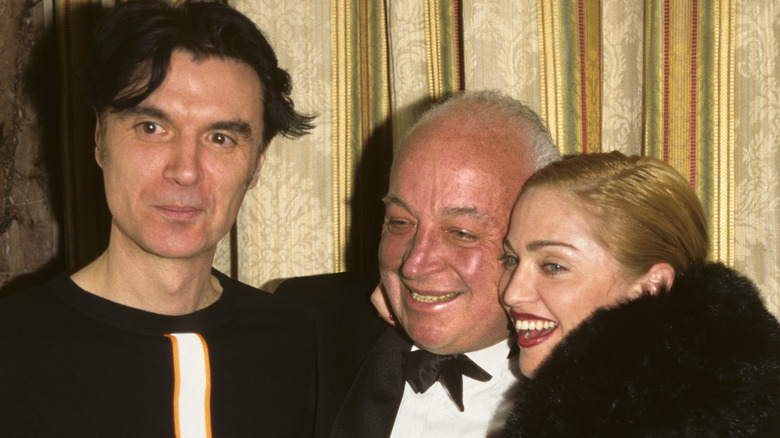 Kmazur/Getty Images
The annals of pop music history are absolutely lousy with artists that have changed the sound of their craft forever. Many of them are so insanely awesome that they only needed one, instantly recognizable name (Madonna, Prince, Cher), while others are so mind-blowingly great that you only need one name to recognize them (John, Paul, George, Ringo). Innovative, forward-thinking, and ahead of their times — these are the artists that came to define their eras, and they all deserve those heaping piles of recognition. But enough about them.
Instead, let's consider a different type of innovator altogether — folks whose names don't roll immediately off your tongue, but who made contributions to popular music that were utterly, ridiculously game-changing. Not many of them ever strutted on a stage in front of thousands of screaming fans; several were never even in the music business at all. Without any one of these folks, though, modern pop would look a heck of a lot different today — so if you've ever jammed out to '80s music, bobbed your head to hip hop, enjoyed a music video, or listened to pop radio like, at all, here's a few much less well-known people who you should thank.
Dave Simmons
If you were around in the '80s, the look and sound of Simmons electronic drums — with their iconic hexagonal pads and deep, punchy sounds — likely induces a rush of nostalgia. The drums could be heard on recordings by the likes of Duran Duran, INXS, Culture Club, Def Leppard, and Van Halen — pretty much anybody who made a hit record in that decade at least experimented with them, and their distinctive appearance made them a natural fit for music videos. As detailed on the Simmons Drums website, they came into being when English musician and engineer Dave Simmons, wanting to create something new for his band's drummer, rigged components from an ARP Odyssey synthesizer to pieces of a tubular bell — a setup that quickly evolved, with input from musicians Richard Burgess and Dave Lawson, into a unit using actual drum heads, and then another with custom pads.
In 1981, that four-piece unit, the Simmons SDS5, became the first commercially marketed, complete electronic drum kit. It took no time at all for the SDS5 and subsequent Simmons models to become ubiquitous, helping to shape the sound of '80s pop music in the process. In an interview with Drum Magazine, Simmons revealed that he departed his company after evolving musical tastes essentially killed off electronic drums in the '90s — but he returned in 2006, and has had a hand in developing the new electronic drum technology that powers the kits of today. Pretty impressive, considering that Simmons admits that he has never been able to actually play drums.
[Featured image by Wolfgang Stief via Wikimedia Commons | Cropped and scaled | CC BY 2.0]
Kurtis Mantronik
Many casual rap fans don't know the name of Kurtis "Mantronik" Khaleel, and that is a crying shame. As the production side of duo Mantronix in the mid-'80s, Khaleel threw the then-current rules of Hip Hop production right out the window, blending synthesizers and elements of electronica with aggressive, hard-edged sampling to create a sound quite unlike that of his peers. In the '90s, he would move into EDM in earnest — but his '80s hip hop work left a mark that echoes through the genre to this day. 
Specifically, two of his tracks — 1986's "Bass Machine" and 1987's "(You Are My) All And All," which he produced for vocalist Joyce Sims — featured foundational elements of modern trap music: deep, booming bass and crisp snares accompanied by precisely quantized, rapid-fire triplets on the hi-hat. These tunes have been acknowledged as precursors to the Miami bass sound of the late '80s and early '90s, as well as trap — a sound that has dominated hip hop for close to two decades. Khaleel is still active, cranking out new tracks and dope remixes, including a pair of trap mixes of his 2021 single "Good Woman" — and in an interview with Music Radar, he gave a pretty simple reason for his longevity. "There's a lot of good music out there, but there's also a lot of very ordinary music. Maybe that's why I keep making tunes," he said. "I hear stuff and think, 'I can do better than that.'"
Hugh Padham
Ace British producer Hugh Padham produced smash records for the likes of The Police, Phil Collins, and David Bowie during the '80s. But perhaps his most important contribution to the era came when, while working as a recording engineer on former Genesis frontman Peter Gabriel's self-titled debut solo album, he bent Townhouse Studios' brand new SSL-400 mixing console to his will in order to create the decade's most indelible drum sound: the gated reverb.
According to Music Radar, one day while Collins (who contributed to the record) was playing drums, Padham noticed that the new console's cutting-edge, in-channel compressors (which basically squash the audio spectrum, fattening up the sound) and noise gates (which cut the sound entirely when it falls below a certain level) were producing a unique, punchy drum sound which went from super-fat to nonexistent immediately. But when he activated the console's "listen mic" — which was used to talk to Collins in the room, and which featured an even more robust compressor — while Collins was still playing, everyone's jaws dropped. Padham had a maintenance engineer feed the listen mic to a main channel, gated the drums which were made lively by the room's natural reverb and fattened up by that big compressor, and — magic. "[Gabriel] wrote the song 'Intruder' around that, and that's ... [the] genesis of that drum sound, to make a pun out of it," Padham recalled — a sound which would define how drums were mixed in the '80s, and which is still in use today.
Dr. Andy Hildebrand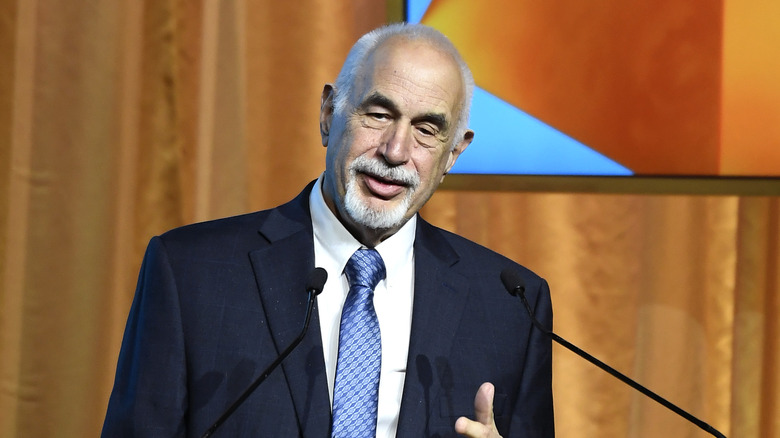 Kevork Djansezian/Getty Images
Dr. Andy Hildebrand is a geophysical engineer by trade, but as a very smart and cultured man, he is also a musician and flutist who put in time as a session musician from the young age of 16, not to mention a composer and expert in digital signal processing. "Dr. Andy" has created numerous audio processing applications, both for use by musicians (like sample loopers) and other geophysical engineers (he invented an algorithm that uses seismic waves to seek out sites for oil drilling). For all of his accomplishments, though, he will likely be remembered forever among audio aficionados for just one: He is the inventor of Auto-Tune, the flagrant abuse of which has dominated vocal processing in popular music for decades now.
Inspired by a jokey request from an acquaintance to make something that could let them sing in tune, Hildebrand modified one of his existing pitch-detection algorithms to help create a processor that could naturally, undetectably correct the pitch of an incoming signal. It was employed in that fashion for only a short time before producers figure out that, by flattening all of its settings, one could produce the artificial, robotic effect that we all know and love-slash-hate. Auto-Tune has been called the most important development in pop music in the last 20 years, and Hildebrand won a special merit Grammy for its invention.
Coke La Rock
As hip hop celebrates its 50th anniversary, you may have heard quite a bit about the party that many say started it all: a "Back to School Jam" thrown by legendary DJ Kool Herc in the rec room of an apartment building at 1520 Sedgwick Avenue in the Bronx on August 11, 1973. Hardcore rap fans all know about Herc, a Rock Hall of Famer who is often referred to as the founding father of hip hop — but fewer know about his partner in crime, Coke La Rock, who has a very solid claim to being the first MC there ever was.
Coke was present at that party and for pretty much all of Herc's subsequent parties, which inspired all of the DJs and MCs that created the culture in the mid-to-late '70s. Pioneering MC Grandmaster Caz, who was also present on that August night, explained its impact to New York Magazine: "That first party was epic," he said. "Afterwards, everybody attempted to recreate the energy of that night." Speaking with Wax Poetics, legendary DJ Red Alert called Coke "an unsung hero ... he was a party rocker who could keep the party going." As for Coke himself, he admitted that it can be hurtful being left out of the conversation around how hip hop began. "A lot of wrong history has been written about those days," he said, "and some history hasn't been written at all."
Gregory Coleman and The Winstons
In 1970, Richard Spencer — a saxophonist and composer for R&B outfit The Winstons — won a Grammy for his work on the band's single "Color Him Father," an accolade which was bittersweet. The band had already broken up, and before long, Spencer would leave the music industry for good. Years later, though, the B-side of that single  — a lively instrumental tune titled "Amen Brother" — would take on an unlikely and monumental life of its own.
A seven-second, four-bar drum salvo from the song, performed by drummer Gregory Coleman, was included in a 1986 compilation titled "Ultimate Breaks and Beats," which was chock-full of clean drum loops for use by DJs. Coleman's solo, with its crisp snare, lush ride cymbal, and jumpy, urgent rhythm, was a standout — and '80s rap producers were quick to throw it into the mix on tracks like Salt-N-Pepa's "I Desire" (1986), NWA's "Straight Outta Compton" (1988), and Mantronix' "King of the Beats" (1988), which used layered segments of the break to create a sonic collage. Soon, Jungle and Drum and Bass producers were likewise breaking the sample down into increments, chopping and rearranging it to provide a rhythmic foundation for huge swaths of their respective genres. The "Amen Break" is today recognized as perhaps the most sampled beat of all time — all thanks to the crack drumming of Coleman, who passed away in 2006.
Death
In 1975, brothers Bobby, David, and Dannis Hackney, three young Black musicians from Detroit, rolled into that city's Groovesille Productions to record several of their self-penned songs — sessions that were, according to the band's surviving members, commissioned by legendary executive Clive Davis. Davis loved what he heard in the band: a blistering, aggressive brand of rock unlike anything anyone else at the time was coming within shouting distance of. There was only one problem — the band's name, Death. As Dannis Hackney would decades later tell The New York Times, Davis insisted on a name change before he'd do a deal with the brothers, and David — the oldest brother, and therefore the de facto leader — told the exec exactly where he could stick said name change.
With no other deal forthcoming, the group pressed 500 copies of their single "Politicians in My Eyes" on their own label. Those records became highly-prized items — particularly among other musicians, who recognized that Death were basically playing punk rock several years before that term was even coined. After the advent of the internet, MP3s of several of the band's tunes began appearing online — and after hearing one of the tracks at a party, Bobby's son convinced his dad to drag the masters out of storage. In 2009, the seven incendiary, masterful songs the brothers recorded way back in 1975 were released as "...For the Whole World to See." David's death in 2000 precludes any reunion, but the brothers' legacy lives on in the band Rough Francis — comprised of Bobby's sons Bobby Jr., Julian, and Urian.
Seymour Stein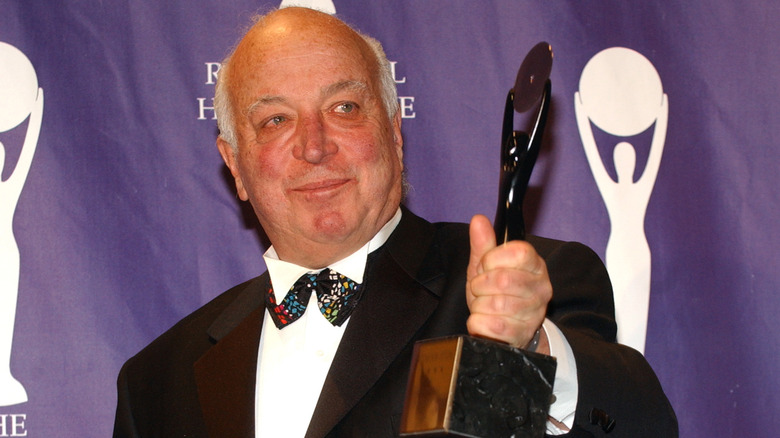 Carvalho/Getty Images
Not many music executives have ever been household names, but if there's one who should have been, it's Seymour Stein. A 2023 retrospective on his career for The New York Times recounted how, when Stein was a teenager, his father got some bad news from record producer Syd Nathan, who had tentatively offered the young man a mentorship. "Your son has shellac in his veins" was Nathan's assessment — but Stein's father successfully pleaded his case, saying that his son would never amount to anything if he couldn't get into the music business.
It turned out to be a pretty good career choice. Over the years, Stein demonstrated an unerring ear for talent, mining the late '70s New York scene (anchored by the legendary CBGB club) to discover the likes of the Ramones and Talking Heads, signing them to the label he co-founded, Sire Records. He also brought international talent to the label, including Echo and the Bunnymen, The Smiths, The Cure, and English-American rockers The Pretenders; he worked with legends from genres outside of rock, including k.d. lang, Seal, and Ice-T. Perhaps his proudest achievement: signing Madonna, who had been turned down by every label in New York. So convinced was Stein of her potential that he summoned the future superstar to his hospital bedside, where he was recovering from a heart procedure, and promised her a deal on the spot. In 2005, he was inducted into the Rock and Roll Hall of Fame — an institution that, in 1983, he helped to found. Stein passed away in April 2023 at 80 years old, after a battle with cancer — but his musical legacy is nothing short of immortal.
Ikutaro Kakehashi and Tadao Kikumoto
Electronics manufacturer Roland helped to pioneer early drum machines; according to its website, its CompuRhythm CR-78 (released in 1978) was the first such device that could create and save user-composed patterns. It was the follow-up to that device, though, that would make music history. To create the new model, Roland founder Ikutaro Kakehashi formed a team led by engineer Tadao Kikumoto with an eye toward producing a device capable of being used in pro-level demo recordings. The initial goal was to create realistic drum sounds — but when a batch of out-of-spec transistors was purchased for use in the unit, that went out the window. The hardware lent to the machine's voices an incredibly unique, undeniably hot sound — and so was born the Roland TR-808, the single most influential drum machine of all time.
If you listen to popular music, you have heard the 808's crisp snare, sizzling hi-hats, plinking cowbell, and deep, booming kick drum in dozens, if not hundreds, of songs across all genres. Its use in Hip Hop helped shape the sound of rap's golden age; fans of EDM can thank Kikumoto's device for some of their favorite tracks, and to this day, the unit's sounds (particularly that snare and kick) surface in songs by everyone from Taylor Swift to Kanye West (who actually titled one of his albums "808s and Heartbreak," and now you know why). Only about 12,000 units were ever produced, between 1980 and 1982 — but the singular sounds of the TR-808 continue to power pop tracks over four decades later.
Evan Brooks and Peter Gotcher
Friends since high school, Evan Brooks and Peter Gotcher were musicians who were also interested in the recording side of things. In an interview with The Software Chronicles, Brooks remembered how they recorded their musical dabbings on a TEAC 4-track recorder, soon supplementing that with an Emu Drumulator, an early drum machine released in 1983. Gotcher, a drummer, became interested in how he might change out the unit's sounds — and with some guidance from the company, they figured out how to do it. In no time, the duo was in business producing upgrade chips to expand the Drumulator's sound library — and not long after that, their company Digidrums was producing sound editing software applications for the Apple Macintosh.
Working with Emu, the pair harnessed the upgraded power of the newer Mac models to produce a visual-interface sample editor, Sound Designer, in 1985 — and in 1989, the newly-rechristened Digidesign introduced Sound Tools, billed as the first tapeless recording studio, according to "Perfecting Sound Forever: An Aural History of Recorded Music." Just two years later, in 1991, Sound Tools morphed into the very first version of Pro Tools — the software-based Digital Audio Workstation, or DAW, that has come to utterly dominate professional studio recording. In 1999, Ricky Martin's "Livin' La Vida Loca" became the first #1 song to be recorded and mixed entirely in Pro Tools, beginning a trend that shows no signs of slowing down today.
Dagge Volle
In the mid-'80s, a Swedish DJ by the name of Dagge Volle began making noise on the Stockholm club scene. According to one of his contemporaries, DJ Stonebridge, Volle had his eyes on bigger things from the beginning — as reflected in the name he chose for himself, Denniz Pop. "For Denniz the challenge was always to create the perfect pop song," Stonebridge told the BBC in 2019. "He never thought twice about being cool." Pop envisioned Sweden as an international pop music force — and in 1992, he brought together the country's most forward-thinking producers to form Cheiron Studios, with the aim of making that happen.
Experimenting with different mixes in Stockholm's clubs, Pop and his band of producers discovered how to get big reactions by mixing the simple melodies and big hooks of '80s hair metal with Hip Hop and pop production, creating a new sound that quickly bore fruit with releases by the likes of Ace of Base and Robyn. Soon, Cheiron was producing records for *NSYNC, the Backstreet Boys, and Britney Spears — with many of their biggest hits helmed by Pop's protégé, a young producer named Martin Sandberg who christened himself "Max Martin." Pop died of stomach cancer in 1998, but Martin has carried on in his wake — and you have heard his work countless times, whether you know it or not. In co-writing smash hits for Spears, P!nk, Maroon 5, Katy Perry, Taylor Swift, and many others, Martin has amassed more #1 hits as a writer than anyone in history not named Lennon or McCartney.
Robert Pittman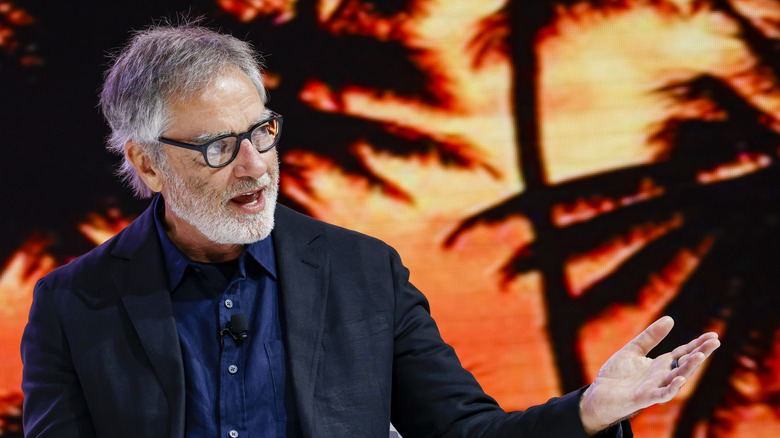 Bloomberg/Getty Images
In 1979, young radio and television executive Robert Pittman accepted a new position as a senior vice president at Warner Bros. As cable television was just beginning to take off, Pittman brought with him into this position a vision for a totally different type of cable network — one based around music programming, leaning on the barely-existent format of the music video. Given the green light to give it a whirl, Pittman continued to develop the concept — and on August 1, 1981, the network he co-founded, MTV, hit select markets.
Speaking with CNN in 2001, Pittman remembered that it wasn't immediately smooth sailing. "The reality was that no basic-cable TV network had ever ... made money," he said. "There was a real question mark as to whether any advertising-supported basic-cable network could ever be a profitable venture." But by 1983, MTV was not only profitable, it was dictating the course of the music industry and popular culture in general, making the careers of artists like Madonna, Prince, Duran Duran, and countless others. As Syracuse University professor Robert Thompson explained to CNN, "It's the only television entity of any kind that ever had a generation named after it. We don't even have the CNN generation, but we have the MTV generation." Today, Pittman is the Chairman and CEO of iHeartMedia, the largest radio broadcaster in the U.S. — a post in which he continues to shape the musical experiences of a new generation of listeners.