The Messed Up World Of Andrew Tate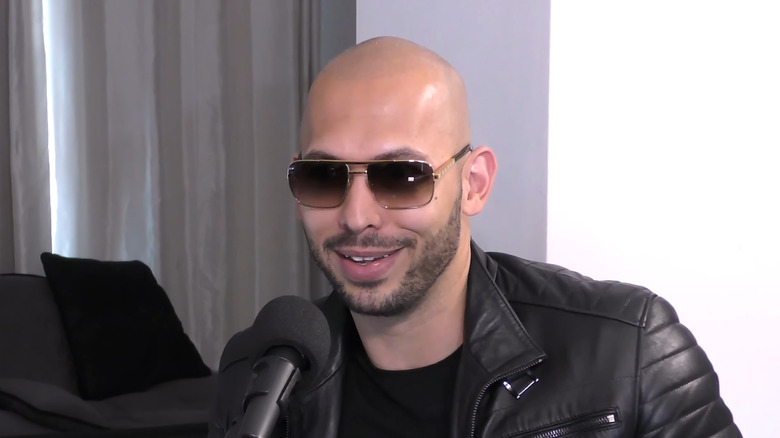 Anything Goes With James English/Wikimedia Commons
When former kickboxer Andrew Tate became one of the world's most googled search terms in 2022 — ahead of the likes of Donald Trump and Kim Kardashian – it took many people by surprise. Indeed, despite Tate's burgeoning popularity, his name was a new one for many. But younger Gen Z internet users — those in their teens and early 20s — knew Tate very well, especially through TikTok, the social media platform through which Tate's fame had reached astronomical levels.
Tate was born in the United States in 1986 to an American father – the pioneering Black chess player Emory Tate Jr. — and an English mother, who relocated to the U.K. with Tate and his siblings after the couple's divorce. In his early years, Tate made a name for himself in the ring before attempting to make it as a reality TV star. Tate later rebranded himself as a self-help guru offering disenfranchised young men tips on making money, attracting women, and achieving physical fitness. He has built a loyal following of millions who collectively spread his worldview, and earn Tate a fortune in course fees and subscriptions. 
There is just one problem: Tate's worldview has been widely criticized as misogynistic and harmful, running the risk that the next generation of young men may grow to embrace a dangerous brand of toxic masculinity. Meanwhile, Tate himself has also been accused of problematic behavior toward women. Here is the inside story of one of the biggest names on the internet, and why many argue his influence over his followers is a cause for concern.
The following article includes allegations of domestic abuse and sexual assault. If you or anyone you know has been a victim of sexual assault, help is available. Visit the Rape, Abuse & Incest National Network website or contact RAINN's National Helpline at 1-800-656-HOPE (4673).
[Featured image by Anything Goes With James English via Wikimedia Commons | Cropped and scaled | CC BY-SA 3.0]
Tate was kicked off Big Brother
Following on from his career as a kickboxer, Andrew Tate's first brush with notoriety came in 2016, when he made headlines after being removed from a British TV competition show.
The show in question was "Big Brother," a long-running reality TV contest in which participants are made to live together under 24-hour surveillance. Tate spent several days in the "Big Brother" house before producers of the show announced that he was being abruptly removed. All the producers said, in a press release, was that their decision was not in response to anything that happened in the house, but was based on other information that had come to light. Tate – who just a week earlier had been in the news after historical posts of a sexist and homophobic nature came to light — blamed it on a video that had emerged showing him hitting a woman with a belt.
Tate claimed that the interaction was entirely consensual, and even released testimony from the woman in question supporting his version of events. But as revealed by Vice News, the real reason was a police investigation into allegations of sexual assault by Tate, which was ongoing at the time of his entry into the Big Brother house. Either way, it meant the end of Tate's reality TV career, which he'd started with an earlier 2010 appearance on a budget British show "Ultimate Traveller," but left after developing an eye condition.
Tate's shady webcam business
Most people would consider the negative headlines Andrew Tate attracted while attempting to break into reality TV as nothing short of a disaster. But if anything, Tate embraced his notoriety and divisiveness in the years that followed. Looking to grow his internet presence, Tate began to generate engagement through inflammatory social media posts, including those that claimed female victims of sexual assault bear some of the responsibility, and describing how he would threaten a woman with a machete if she accused him of an affair. But behind the scenes, Tate and his brother, Tristan, were also developing a new way to make money through a webcam business, exploiting dozens of young women to do so.
As revealed by Vice News, who spoke to several of the women involved, the Tates began their webcam business in the U.K. as early as 2015. The brothers allegedly coerced women, emotionally and physically, to perform on camera for paying customers, from whom they would extract cash with faux emotional connections. The Tate brothers have done little to hide the exploitative nature of the webcam business, however. In an interview with the British tabloid The Mirror, Tristan admitted that the business was a "scam," and that the site's male users were being fed bogus stories to make them form emotional attachments to the girls on camera, making it easier to part them from their money.
The Tates later relocated their webcam business to Romania, where they bragged that laws were less stringent and they could enjoy greater freedom with their treatment of women.
A dubious 'university'
Andrew Tate has sought multiple sources of revenue as his fame grew. One was the so-called "Hustler's University," a subscription-based learning platform that has earned the Tate brothers millions of dollars in just a few years.
Tate's social media channels are largely populated with images and footage of Tate and his clique enjoying a luxury lifestyle, characterized by alcohol and cigars, high-end cars and planes, enormous properties, and glamorously-dressed women. It is this lifestyle that Tate promised his followers, who pay $49.99 a month (or $149 from October 2022) for courses that purport to offer insights into how to make money in fields such as e-commerce and online marketing — and how to be successful with women. The "University" has gone through several iterations, and has recently been rebranded "The Real World." 
In the parlance of the courses and Tate's social media content, the dream on offer is to "escape the matrix," referring to a life of low-paying jobs and sexual frustration that some commentators have identified as a symptom of contemporary life for many modern young men.
A far-right, misogynistic community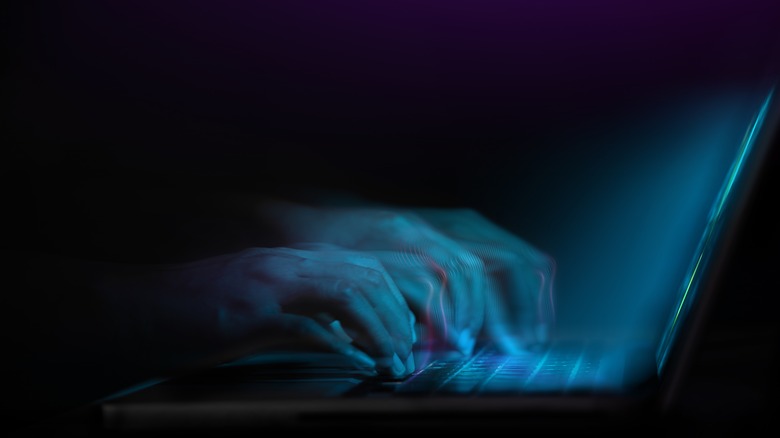 Black Salmon/Shutterstock
While the core promise of "Hustler's University," aka "The Real World," is that it offers easy ways for its subscribers to acquire wealth, the platform also works to amplify the hyper-capitalist worldview of Andrew Tate's social media channels. The platform instructs users to adopt the "Top G" attitude of continuous work — which seemingly goes against the overall purpose of the platform — as a path to achieving the level of wealth that Tate displays online. Chief among the guidelines laid down by Tate are the so-called "41 Tenets," a philosophical framework that offers simple rules for life, but has been criticized as misogynist in nature.
Critics of Tate's business courses have identified the same threads of misogyny and homophobia that made his social media channels so divisive, driving the engagement — both positive and negative — that made him such a viral sensation. Such views are seeded into the official content of the platform, but more worryingly proliferate on community message boards frequented by subscribers, where they also mingle with far-right sentiment and conspiracy theories.
Disturbingly, an investigation by BuzzFeed News into the community message boards populated by Tate's followers found that a large proportion of commenters were only in their mid-teens, and showed antipathy toward traditional education, women, and modern life in general; in other words, "the matrix." Many of his followers believe that it is only through Tate and his teachings that they might achieve the kind of success that Tate himself enjoys. 
Tate's 'university' explains his social media reach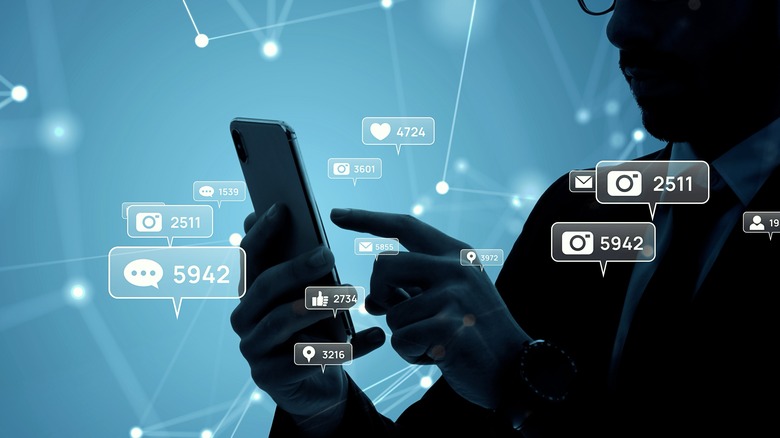 metamorworks/Shutterstock
There exist countless platforms that offer dubious business and relationship advice. So why did Andrew Tate's "Hustler's University" manage to grow so popular, reportedly at one point earning Tate millions per month from hundreds of thousands of subscribers?
As The Guardian's sister paper the Observer revealed, a large part of Tate's popularity comes down to his tactics of exploiting social media algorithms, especially on TikTok, where his content was highly visible. Tate actively encouraged his "Hustler's University" sign-ups to repeatedly repost his most divisive and offensive video clips, knowing that those that spread misogyny and homophobia were more likely to attract engagement. This effectively gamed the system to maximize his visibility. And while millions of viewers were undoubtedly incensed by the repugnant views Tate espoused — for example, that women are men's "property" — among those millions, there emerged a hardcore of thousands with whom such views resonate, and who continue to absorb Tate's content. 
Tate's platforms have also encouraged users to recruit new sign-ups via an affiliate referral scheme to earn a commission, helping spread "Hustler's University" and its later iterations around the globe.
Banned from social media ... then reinstated
In August 2022, Andrew Tate was officially banned from TikTok, though his content continued to circulate on the platform in the weeks following his removal.
The move came amid a growing backlash against social media platforms that continued to circulate Tate's offensive video clips — particularly those espousing sexist ideology — with platforms including YouTube, Facebook, and Instagram banning him around the same time.
Tate had already been banned from Twitter for several years by the time his growing visibility became a concern for other social media platforms. "I don't agree with being banned, people get banned from Twitter all the time and make new profiles," he told the Independent. "I'm not inciting violence, promoting terrorism or harassing anyone. This is censorship of free speech. I've never had specific tweets banned or been cautioned." However, Tate's Twitter account was reinstated in November 2022, after Tesla owner and billionaire Elon Musk's purchase of the social media platform earlier in the year. Following its reinstatement, Tate's Twitter account — which had fewer than 50,000 followers prior to his ban — ballooned in popularity, gaining more than 6 million new followers in a matter of months.
Tate's self-own in a spat with Greta Thunberg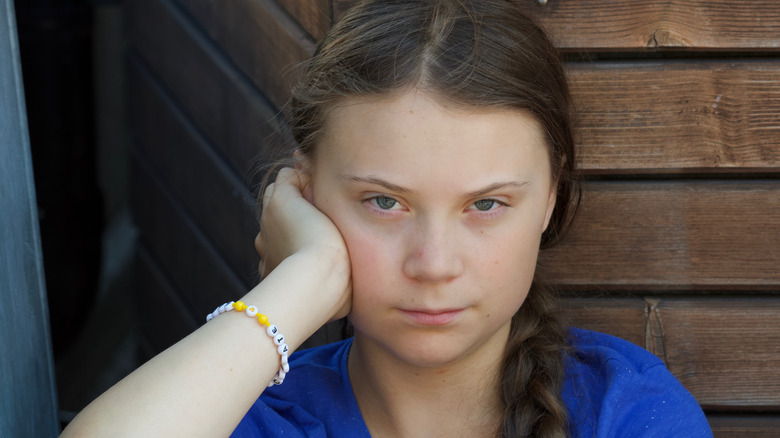 Liv Oeian/Shutterstock
Andrew Tate's explosive return to mainstream social media hit a sticky patch in December 2022, when the influencer and self-help guru with a taste for high-end sports cars decided to take on one of environmentalism's biggest voices: Greta Thunberg.
Thunberg herself is a hugely popular internet presence, having proven herself to be an effective activist in the fight against climate change. She is also divisive, with many internet users on the right taking issue with her environmentalist message and her methods of activism. And in typical fashion, Tate decided to gain some engagement by trolling Thunberg, tweeting at the environmentalist to inform her that he owns 33 cars, and naming some of the models. "Please provide your email address so I can send a complete list of my car collection and their respective enormous emissions[,]" Tate tweeted, in an obvious instance of trolling.
Thunberg, however, was ready with a response. "yes, please do enlighten me," she tweeted. "email me at smalld***energy@getalife.com[.]" The comeback prompted widespread hilarity on the social media platform, seemingly much to Tate's annoyance. He replied simply: "How dare you," but by then the damage was done. With more than 3.5 million likes, Thunberg's clap back became one of the most-liked tweets of all time, as of 2023, humiliating Tate in front of his followers.
The arrest of Andrew Tate
The day after Andrew Tate attempted to troll Greta Thunberg on social media, he posted a rambling video on Twitter in which he tried to pull apart her response to him. He also attempted to antagonize her further by eating pizza from a box he claimed wouldn't be recycled. Then, the unexpected happened: Tate was arrested.
The arrest took place at Tate's compound in Romania, with authorities announcing the influencer was being detained along with his brother Tristan and two others, all suspected of involvement in human trafficking and sexual abuse. Close to $4 million in assets were seized. Images published on many major news outlets showed Tate handcuffed and being led to jail by Romanian police, with rumors spreading that the authorities had been tipped off to his whereabouts by the video he had posted. As many noted, the pizza box was from a Romanian business.
"This is what happens when you don't recycle your pizza boxes," Thunberg quipped in yet another much-liked tweet, though Romanian authorities later denied that the pizza box in the video was the clue that sparked his arrest in the country, saying that it was the result of a lengthy investigation into his activities.
There was a previous investigation into similar accusations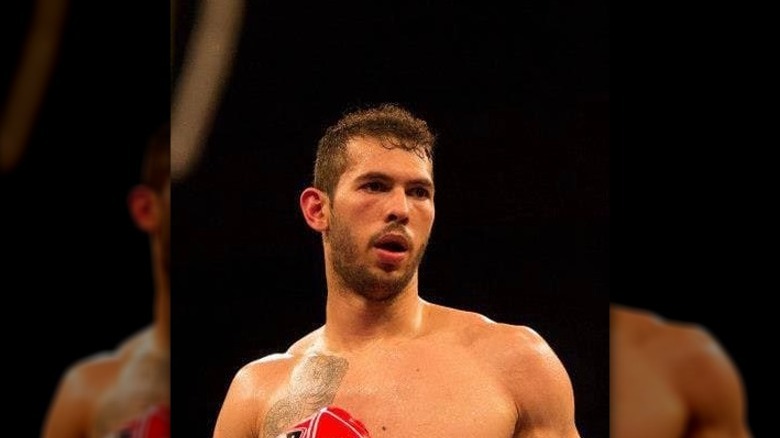 Lumared/Wikimedia Commons
Soon after the Tate brothers' arrest in Romania, Vice News published a report of an investigation into Andrew Tate's previous webcam business in the U.K., revealing that the former kickboxer had previously been investigated in the U.K. for similar crimes as early as 2015.
The report included testimonials from women who had been involved in Tate's early webcam business, who together described a campaign of sexual, physical, and emotional abuse that bore a strong resemblance to those which Romanian authorities outlined in December 2022. One of the women claimed that she had been witness to a rape. Two of the women reportedly took their story to the police, who had the investigation open for four years before handing it to the U.K.'s Crown Prosecution Service. However, it was deemed there wasn't enough solid evidence for prosecutors to build a case.
It was this shocking information that was provided to the TV producers of the British TV show "Big Brother," prompting Tate's removal. Despite this, Tate remained in the "Big Brother" house for five days before being removed, albeit under even closer observation.
[Featured image by Lumared via Wikimedia Commons | Cropped and scaled | CC BY-SA 4.0]
The repeat detention of the Tate brothers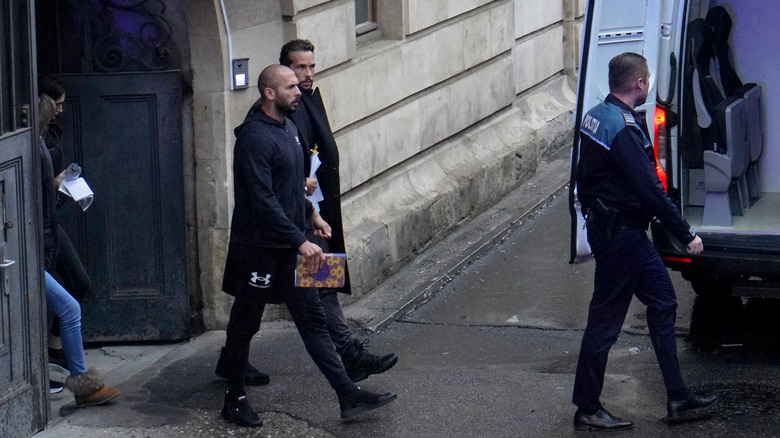 Andreea Campeanu/Getty Images
The days following the arrest of Andrew and Tristan Tate in Romania were characterized by widespread disinformation. Their supporters on social media, especially TikTok and Twitter, flooded the platforms with posts claiming that the brothers had been set up — that "the matrix" had made a move to silence them. Experts warned that such posts were at risk of undermining the authorities' investigation if social media companies left them unchecked. Countless other posts claimed that the Tate brothers had been released within hours without charge.
The reality was far different, with the Romanian authorities repeatedly applying to keep the Tate brothers behind bars while they cemented their case against them. They initially applied for a 30-day period of detention, and then extended it twice more.
The brothers were eventually released from detention, but kept under house arrest in Romania. There they continue to ply their trade online and plot their fightback against the investigation, which they characterize as a conspiracy intended to silence them. As of April 2023, the investigation into the alleged charges was still underway, and the case had yet to go to trial.
Reports have sounded the alarm about his influence on children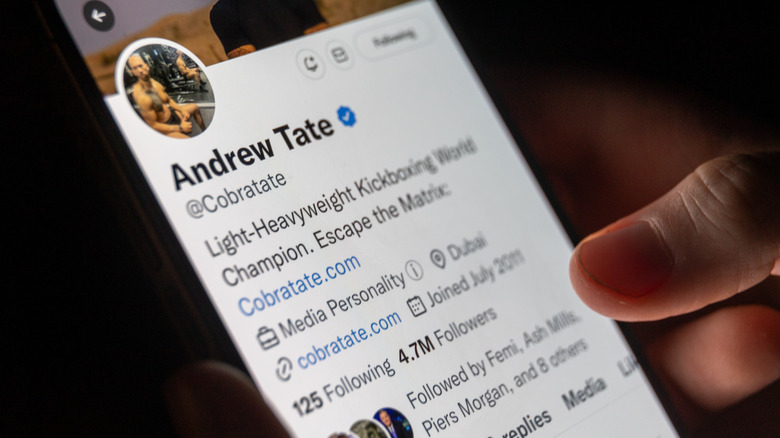 Matt Cardy/Getty Images
The criminal investigations into Andrew Tate's webcam operations, in both the U.K. and Romania, have highlighted the former kickboxer's alleged exploitation and abuse of the women involved. At the same time, commentators and school teachers alike have grown increasingly concerned about Tate's influence on children, especially young boys.
In the U.K., Tate has become a hot topic of the teaching profession, with teachers warning that young children are now using misogynistic language in school and airing Tate's extremist views. Many are reportedly attracted to Tate's apparently luxurious lifestyle, fame, and wealth, and while not all of his young fans are said to agree wholeheartedly with his more extreme pronouncements, many are willing to overlook them and continue to consume his content. Experts are worried that while parents fail to monitor what their children see online, impressionable children are being indoctrinated into Tate's worldview. Teachers are finding themselves in the unenviable position of having to challenge their students' beliefs in dangerous ideas encountered on social media.
One teacher in Belfast, Northern Ireland, told the BBC: "Parents need to wake up to the fact that if they don't teach their children about the world, then Andrew Tate will."