The Heart-Wrenching Death Of Tina Turner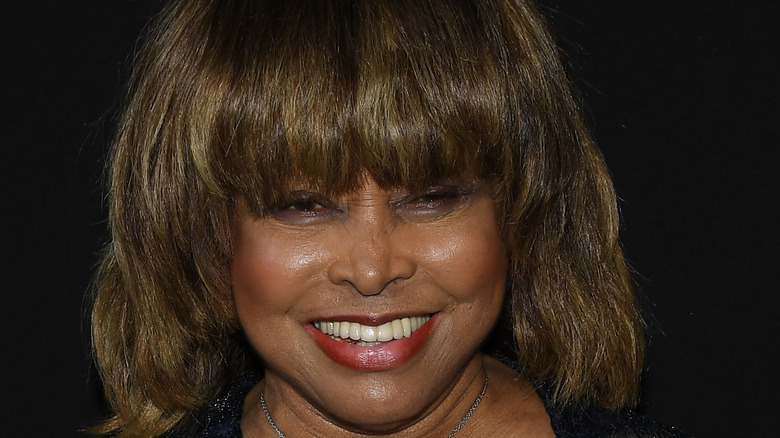 Pascal Le Segretain/Getty Images
On May 24, 2023, the world bid a heartbroken farewell to the potent, energetic, and everlasting voice and talent of Tina Turner (via Deadline). She was 83. 
"It is with great sadness that we announce the passing of Tina Turner," a post on her official Instagram account said. "With her music and her boundless passion for life, she enchanted millions of fans around the world and inspired the stars of tomorrow. Today we say goodbye to a dear friend who leaves us all her greatest work: her music. All our heartfelt compassion goes out to her family. Tina, we will miss you dearly."
If anyone is deserving of being called an "absolute legend" or "queen," it's Tina Turner. "What's Love Got to Do with It," "We Don't Need Another Hero," "Private Dancer," her perfect cover of Creedence Clearwater Revival's "Proud Mary," the what-ought-to-be-self-describing "The Best" — these songs speak for themselves and live on as a testament to Turner's talent, performative bravado, energy, and power. She lived and sang as though nothing could hold her back, not even herself. Over her 50-plus-year career, the "Queen of Rock and Roll" produced nine studio albums, sold over 200 million records, was nominated for 25 Grammys and won eight, including three Grammy Hall of Fame Awards and another Grammy Lifetime Achievement Award, as The Talko cites.
In a 2005 Tina Turner tribute attended by President George W. Bush and Robert Redford, among others, Beyoncé spoke about the profound impact Turner had on her life (available on YouTube). Never had she seen a woman "so powerful, so fearless, so fabulous ... and those legs!" Turner was integral to a musical legacy of blues and soul that went back to Sister Rosetta Tharpe in the 1950s and extends all the way to the present. Anytime a female vocalist gets behind the mic and cuts loose, whether in the vein of Whitney Houston, Janet Jackson, Rihanna, Beyoncé, or others, they're a part in Turner's lineage.
From humble roots to international megastar
Born to sharecroppers in 1939 in Brownsville, Tennessee, Anna Mae Bullock (Tina Turner) and her sister were raised by their grandmother until she passed away in the early 1950s, as Biography recites. Turner headed to St. Louis in 1955 to be with her mother and got involved in the club scene there, where she and her sister saw Ike Turner and his band The Kings of Rhythm. As Dig! shares, Tina Turner got ahold of the mic at some point and Ike signed her almost on the spot. By 1960, Ike had rebranded then-Anna-Mae as "Tina Turner," supplying for her stage name his surname and the first name Tina because it rhymed with Sheena from the comic book "Sheena: Queen of the Jungle." For over a decade they toured as the duo "Ike and Tina Turner," and enjoyed tremendous success both in the U.S. and abroad.
At the same time as their professional lives were taking off, Ike and Tina's personal life was falling apart. They'd gotten married in 1962, had a son, but Ike had been physically abusive, had multiple affairs, and abused alcohol and drugs. They got divorced in 1978, and Tina was left with nothing more than "36 cents and a gas station credit card." From this, she forged her own career and identity through the 1980s, within a few years adopting the punkish, glammed-out appearance and ferocity that went on to become her trademark the world over.
A citizen of Switzerland who rocked it her entire life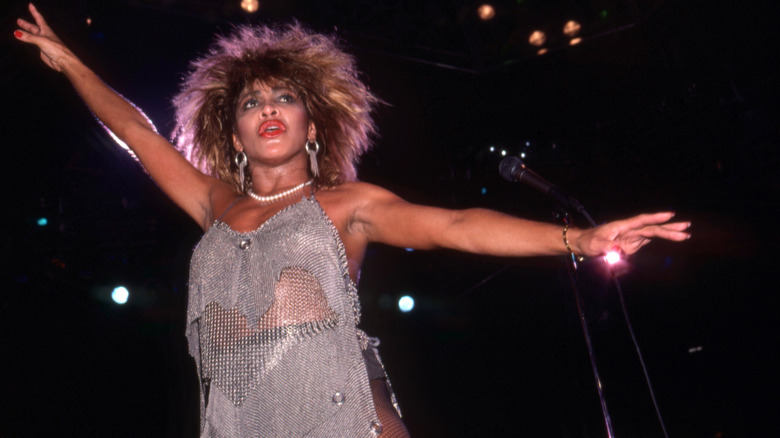 Icon And Image/Getty Images
Turner continued to perform and rock the stage late into her life, as international performances such as "The Best" and "Proud Mary" from 2009 illustrate. She formally retired from the stage that same year. Since then, Turner became an ambassador for the digital music platform Beyond Music, a Swiss-based project.
In 2013, in fact, Turner relinquished her U.S. citizenship and became a Swiss citizen, per the Washington Post. Since 1995, she'd been living in Küsnacht, a suburb of Zurich, saying in an article on Swiss Info, "Switzerland felt like home right away. It's just perfect. People respect each other's privacy here, take care of each other." In 2013 Turner also married German music producer Erwin Bach, whom she met in 1985, becoming fluent in German along the way. In 2018 "The Tina Turner Musical" launched in London, a biographical mashup of Turner's life and music.
Besides her son with Ike Turner, Turner had another son Craig from a prior relationship who tragically died by suicide in 2018, as Biography says.