The Upsetting Reason You Shouldn't Touch Wildlife In Parks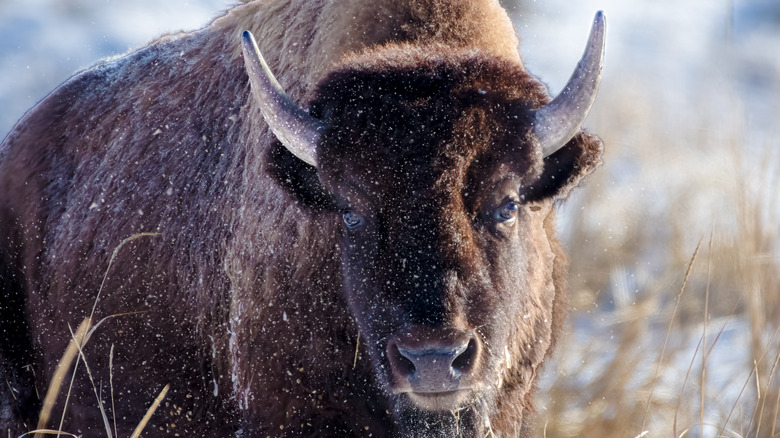 Vndrpttn/Getty Images
A possible good deed went wrong at Yellowstone National Park in late May 2023 when a tourist helped a young bison calf out of the Lamar River in northwestern Wyoming, NPR reports. Because of that human interaction, the calf was rejected from the herd and was euthanized, according to park officials. After the Lamar River incident, the orphaned calf also approached groups of humans and vehicles, creating a safety hazard.
The unfortunate sequence of events underscores the National Park's noninterference policy in an animal's natural life cycle — even for young creatures in distress. In a statement, the National Park Service said (via CBS News), "Approaching wild animals can drastically affect their well-being and, in this case, their survival. ... The safety of these animals, as well as human safety, depends on everyone using good judgment and following these simple rules."
National Park visitors caught interacting with park animals can be fined, and that contact can sometimes lead to injury for the person and even death, the NPS statement read. As of this report, park officials sought information about the individual captured on camera rescuing the newborn bison from the river.
Park officials tried to reunite the calf with its herd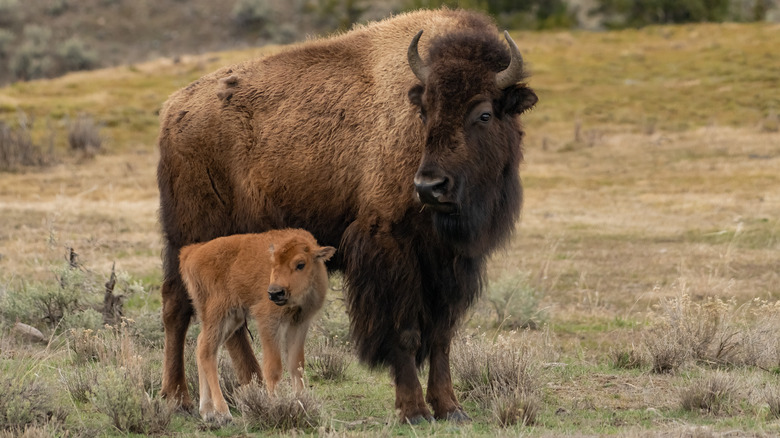 John Morrison/Getty Images
In 2023, the bison herd had reportedly crossed the Lamar River when the newborn calf was separated from it mother. In 2016, another couple was ticketed for putting a bison calf in their car because it seemed "cold and uncomfortable," according to Montana Public Radio. Shamash Kassam, who was involved in the 2016 incident, later said he feared the young bison would die without his help. Kassam received a $135 citation (per ABC7).
As in 2016, park officials made repeated attempts to reunite the young animal rescued from the Lamar River with its herd, but it was rejected. According to the VioVet website, when young animals make human contact, the human scent can sometimes confuse the mother, causing her to not recognize her own offspring. Unpredictable wild animals also sometimes carry dangerous and deadly diseases for humans, per the NPS website. For these reasons, park policy mandates staying at least 25 yards away from animals like bison, and at least 100 yards away from predators like wolves and bears.
Interfering with National Park wildlife is a Class B misdemeanor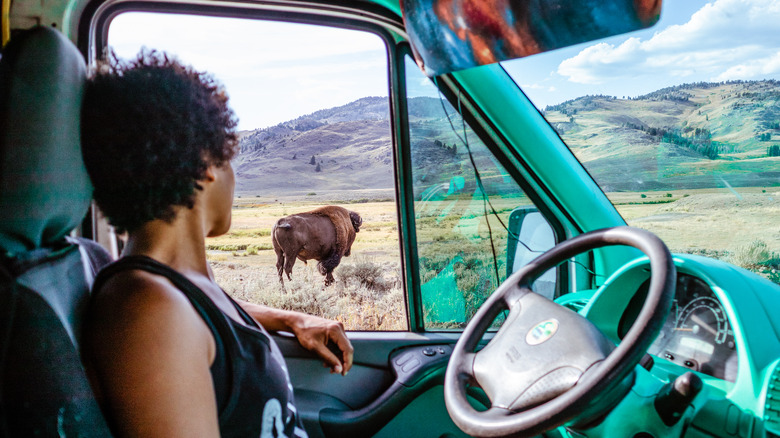 Abigail Marie/Shutterstock
The man caught on camera trying to help a newborn bison calf from the riverbanks of the Lamar River in Yellowstone could be charged with a Class B misdemeanor, according to Boise State Public Radio. Those charges could include approaching and disturbing wildlife and disorderly conduct for creating hazardous conditions. If found guilty, he could face a $5,000 fine and spend up to six months in jail, a national park spokesperson told the outlet.
After almost going extinct, 2023 estimates suggested there are as many as 5,000 bison living in Yellowstone. The National Park Service lists the Lamar Valley among the best places for tourists to observe the animals from a safe distance. In 2022, a woman in her 70s was gored by a bison at Yellowstone, the second bison attack that same week, and the third incident that year, CNN reports. At that time, Yellowstone Park officials said that swift-moving bison were among the most dangerous wild animals in the park.