Chas Newby's Brief Stint As The Beatles Bassist Explained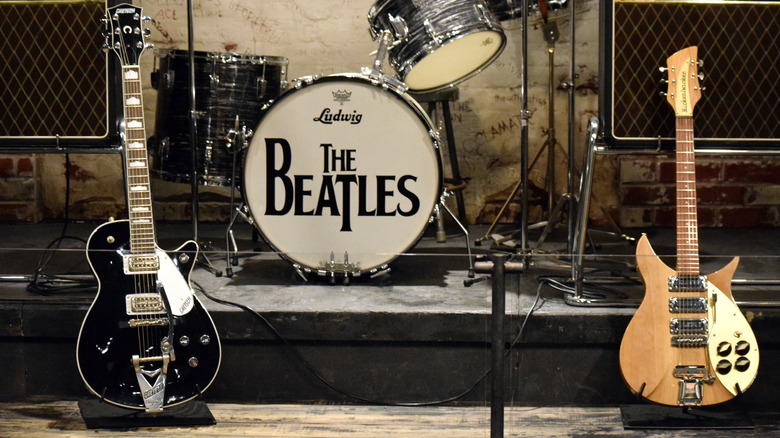 Jayssan/Shutterstock
Chas Newby, former bassist for The Beatles, died in late May 2023 at the age of 81, according to Fox News. Unless you've been living in a yellow submarine since the 1960s, chances are you're well aware that none other than Sir Paul McCartney played bass for The Beatles, and in conversations about who might be the potential "fifth Beatle," names like Stuart Sutcliffe — who played bass before McCartney, or possibly Pete Best, their first drummer — are most often mentioned.
Granted, Newby only played a few gigs with the future Fab Four in Liverpool as a Sutcliffe stand-in after John Lennon and the boys returned from Germany, and he's not even mentioned in some Beatles band bios on sites like Biography. (Rather than come home, Sutcliffe chose to stay behind in Germany to focus on art, as Ultimate Classic Rock points out.) Though now largely forgotten in Beatles lore, Newby really did form one-half of the Beatles rhythm section for a short time, but in 1960, when the Beatles returned to Germany, he was nowhere to be found.
He knew the gig was only temporary
When Chas Newby briefly played with The Beatles, the group was a quintet with Paul McCartney, George Harrison, and John Lennon on guitar and vocals. At that time, Pete Best was on drums. In a 2020 interview with Rock & Roll Globe, Newby said he and Best knew one another from another Liverpool group they played in called The Blackjacks. 
With the band back in town and Stuart Sutcliffe left behind in Germany, The Beatles needed a bass player for four gigs, two of which happened at the legendary Liverpool venue, the Casbah. One gig Newby played with the group at Litherland Town Hall in Litherland, England, has been retroactively designated the start of Beatlemania.
Around that same, Newby was in his second year at university. "I was asked to play bass as a temporary replacement for Stuart [Sutcliffe]. I knew it was short term," Newby said (via Rock & Roll Globe). Soon after the last Liverpool gig with Newby on bass, it was time for the group to return to Hamburg, and Newby stayed behind. "I had imagined that Stuart would return by the beginning of January 1961," Newby said. Sutcliffe died from a brain hemorrhage in 1962.
Newby never wanted to be a professional musician
With Chas Newby gone from The Beatles, the course of musical history was changed — but how could he have known The Beatles would become the legendary group they are today? To hear Newby tell it, he had no intention to stay with the group in the first place.
Speaking with Rock & Roll Globe in 2020, Newby said that he "knew I would be back at college" by 1961 and "had no desire to be a professional musician." And in 2012, Newby told Birmingham Mail, "Music was never going to be a living for me. ... I wanted to do chemistry. John, Paul and George, they just wanted to be musicians. I did the four gigs and went back to my college course the week afterwards." 
And according to Newby, "[The Beatles] were getting £1 each per show, which was no living. I was working and having my education paid for." Soon enough, McCartney adopted bass-playing duties in the group, according to Bass Player Magazine, finalizing the band's most famous lineup. 
Newby went on to complete his degree in chemistry and become a math teacher, Guitar World writes. Newby didn't completely give up on music, though. From 2016, he performed and toured in a reformed tribute lineup of The Quarrymen — the name The Beatles went by early on — according to the official Quarrymen website.