The Tragic 2012 Death Of Swamp People's Mitchell Guist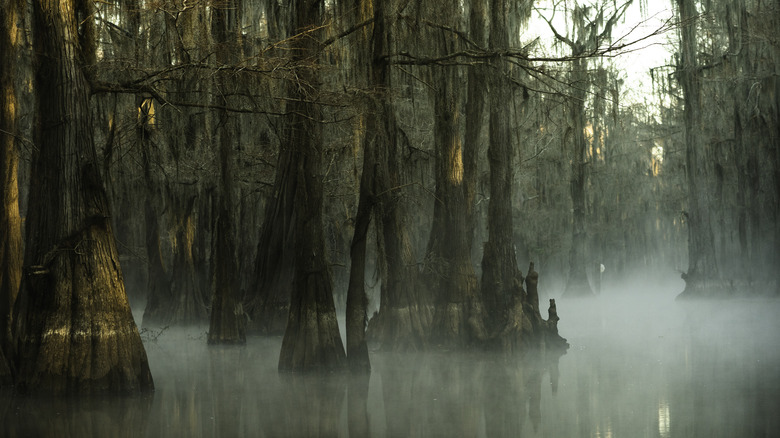 Wanderluster/Getty Images
The hit History Channel reality TV series "Swamp People" follows a group of rugged individuals as they struggle to survive and make a living in the inhospitable, alligator-infested swamps of Southern Louisiana. The show premiered in 2010, and it's still in production today. From its second season, Mitchell Guist and his brother Glenn quickly became two popular characters. Both colorful brothers were known to hunt squirrels for dinner from the front porch of their swampland home (via KJEF Cajun Radio).
From their long, unkempt hair to grizzled and overgrown salt 'n' pepper beards, Mitchell and Glenn also fit the part. For this reason, Mitchell's sudden death in 2012 at age 47 came as a blow for many "Swamp People" fans. It was ruled to be from natural causes, as The Hollywood Reporter points out. 
For some consolation, Mitchell died doing what he loved: traversing the Belle River in Louisiana in his own boat. After his brother's death, Glenn appeared on "Swamp People" until Season 9 — in 2018 before he, too, left the show.
Early on, some thought Guist had a stroke
At first, it was unclear exactly what caused Mitchell Guist to fall from his boat in the Belle River, and some thought Guist (pictured) may have experienced a stroke or possibly a seizure, the Los Angeles Times reported the year he died. Guist was not alone when it happened, and an unnamed individual reportedly managed to get him back in his boat. He was then brought back to a nearby boat landing where emergency services were called, and CPR was administered, CNN reports.
According to the South Carolina news outlet the Aiken Standard, when 911 was called by the person with Guist, the 911 operator said, "You say he's in cardiac arrest?" to which that person responded, "Yes sir, we're blowing and pumping the guy's chest right now. It looks like he may have had a heart attack." The person with Guist when he died was not  Mitchell's brother, Glenn, the local sheriff's office confirmed, but chose to remain anonymous in the press.
An episode of Swamp People was dedicated to Guist's memory
Mitchell Guist was pronounced dead at Teche Regional Medical Center in Morgan City, Louisiana, and according to WAFB, he's buried at Lusk Cemetery in Gonzales, Louisiana. A 2012 episode of the hit reality TV series that Guist starred in — "Voodoo Bayou" — was dedicated to Guist's memory. For the second tragedy to hit the series, "Swamp People" star Randy Edwards also died in 2018 in a car wreck, WAFB also reports.
When Guist died, "Swamp People" producers — the History Channel and Original Media — released a statement, which read (via The Hollywood Reporter), "We are extremely saddened to report that our friend and beloved member of the Swamp People family, Mitchell Guist, has passed away earlier today. Mitchell passed on the swamp, doing what he loved. We appreciate your respect for the Guist family's privacy and hope you join us in sending our thoughts and prayers to his brother, Glenn, and the rest of the Guist family." Glenn and Mitchell Guist are pictured together above.