The Tragic 2017 Murder Of Makeva Jenkins And Her Unborn Child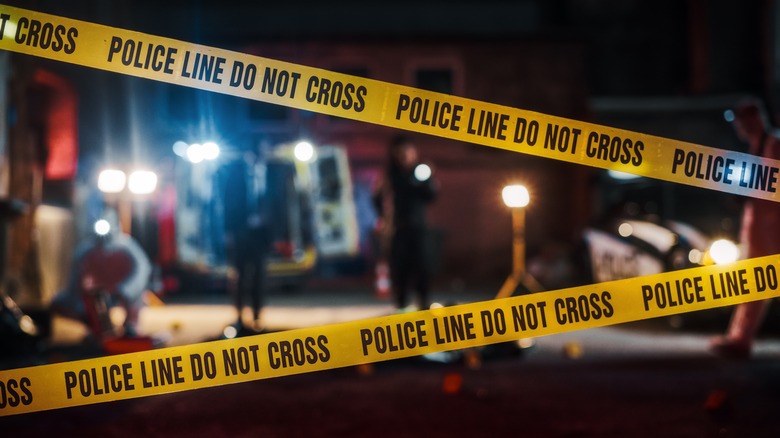 Gorodenkoff/Shutterstock
The terrible plot to collect on a valuable life insurance policy unraveled soon after the murder took place. In 2017, a masked man broke into the Florida home of Makeva Jenkins, who was pregnant. Makeva was shot in the head while she slept, killing her and her unborn child. At first, it seemed like a possible home invasion robbery gone wrong. Details soon emerged, though, that Jenkins' husband, Euri Jenkins, hired a hitman, Joevan Joseph, to murder his wife. Euri hoped to cash in on Makeva's $500,000 life insurance policy.
The plan failed. After the killing, Euri learned someone else was named the beneficiary on Makeva's policy — her grandmother. Three men were arrested in connection with Makeva's killing: her husband, Euri; the triggerman, Joseph; and Dametri Dale, who reportedly put Euri in contact with Joseph to arrange the homicide, according to Law & Crime. In 2022, Euri was convicted of first-degree murder and sentenced to life in prison, The Palm Beach Post reports. 
That same year, Dale served 15 days of a 45-day prison sentence and received 15 years probation with a monitoring device (via CBS 12). In a plea deal, Joseph was convicted on second-degree murder charges and sentenced to 15 years in prison, The Palm Beach Post writes. Joseph was reportedly paid $10,000 for the crime and expected another $10,000 once Makeva died.
A masked man entered their home, Euri Jenkins said
According to CBS 12, early on in the investigation of Makeva Jenkins' 2017 murder, her husband, Euri Jenkins, reported to the police that a masked man entered their home around 1:30 a.m. and forced everyone inside — including an unnamed friend and the couple's three children — to the upper level of the house. After the children were allowed to leave by the assailant, Euri said he and his wife were ordered to lie down on the floor. At that time Makeva was shot in the head. "I held her in my arms; she was alive. I will never forget," Euri said.
As was later revealed, the person who was in the home with the Jenkins family at the time was Dametri Dale, who later said he drove Joevan Joseph to the scene (via CBS 12). Dale had also reportedly worn a wire when Joseph informed him of the plot and later supplied the recording he made of their conversation to state authorities. Dale also admitted he introduced Joseph and Euri. 
Reports of exactly how much Joseph was offered upfront for the crime vary. When asked on the stand why he killed Makeva, Joseph said (via Yahoo! Finance), "Because I was trying to finish the job." Joseph also testified Euri was at the scene of the crime but did not interfere.
Makeva Jenkins had asked for a divorce — then changed her mind
During the investigation into Makeva Jenkins' murder, it was also revealed that Makeva had asked her husband for a divorce, but changed her mind when she learned of her pregnancy. According to a friend of the couple who spoke with investigators, Euri Jenkins was upset to learn Makeva was pregnant, and he had an alleged history of marital infidelity. 
After Euri's 2022 sentencing his defense attorney, Gregg Lerman, announced he would file for an acquittal hearing over what he called improper testimony from both Dale and Joseph. As of this report, no development has been made in that area. After Euri's trial, Lerman said (via The Palm Beach Post), "I think we're shocked by the outcome. It was clear that these two witnesses, these cooperating defendants, were the ones that committed this crime, caused it to happen, and took the stand and perjured themselves," referring to Dale and Joseph.
During Euri's trial, Makeva's brother, Marquavious Greer, said (via The Palm Beach Post), "He did a very heinous crime. He did a very selfish crime. No one even would have ever thought that he would do something like this."