The Tragic Reason Sandra Dee And Bobby Darin Divorced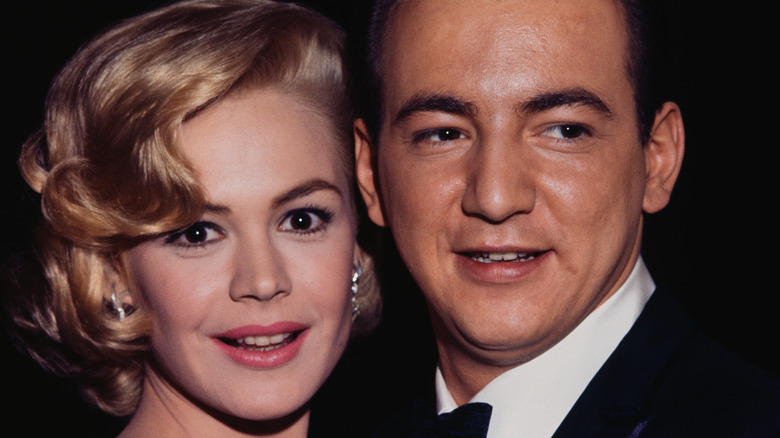 Archive Photos/Getty Images
The following article includes allegations of child sexual assault.
Bobby Darin, a dashing crooner with a string of hits including "Mack the Knife," met Sandra Dee, a Hollywood actress who had already achieved the status of "America's Sweetheart" while still a teen, on a film set in Italy in the summer of 1960, according to "Bobby Darin: A Life." But it wasn't love at first sight, at least not for Dee. "She hated me and I loved her," Darin would later quip (via the Daily Mail). As described in "Bobby Darin: A Life," Darin was "brash and cocky" while Dee was still largely under her domineering stage mother's thumb. Darin managed to convince her mother that he was "such a sweet boy" and he and Dee started spending more time together. Following a whirlwind romance, after just two months the co-stars knew they wanted to marry each other. Steve Blauner, who was in Italy during the couple's romance said, "They were on completely different wavelengths. Everything about them was totally opposite."
Yet the two married that December. Dee was only 19, Darin 24. "Their story, it looked glamorous, it looked perfect from the outside — but it was far from it," their son, Dodd Darin told Closer Weekly. By 1967, Dee and Darin had divorced. Over time she became addicted to amphetamines and alcohol, had health problems brought on by anorexia, and had past trauma from being sexually molested by her stepfather for years, per Vanity Fair. Darin was ill-equipped to handle his wife's issues. He was obsessed with becoming a legendary singer, believing he was destined to die young, and was insanely jealous. 
Tragic pasts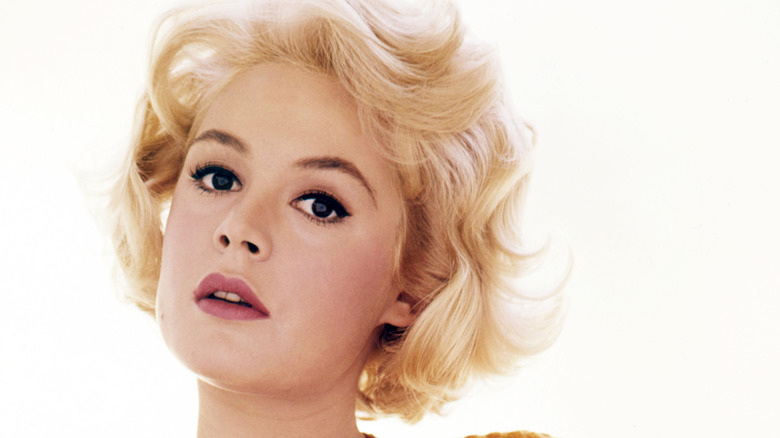 Silver Screen Collection/Getty Images
Sandra Dee was born Alexandra Zuck on April 23, 1942, in Bayonne, New Jersey, per Biography. Her mother, Mary, after divorcing her husband when Dee was an infant, spent an inordinate amount of time and energy on her daughter, including pushing her into a modeling career when Dee was 8, according to Vanity Fair. Mary spoon-fed the child until she was 6, planting the seeds for Dee's lifelong anorexia. Mary's second husband, Eugene Douvan, began raping Dee when she was 8. After his death in 1958, Dee made the jump to Hollywood and by 17 had two hit films under her belt — "Gidget" and "A Summer Place," according to Biography. Those films cemented her place as the sun-kissed teen idol who outwardly embodied good-natured youth. 
Bobby Darin, born Walden Robert Cassotto, on May 14, 1936, in New York City, per Britannica, also had a traumatic childhood. He had four bouts of rheumatic fever that damaged his heart. He would later learn as an adult that the woman he believed was his mother was actually his grandmother. His actual mother, who he grew up believing was his older sister, had given birth to him out of wedlock and the family hid the truth from Darin for years, per Vanity Fair. 
Love and death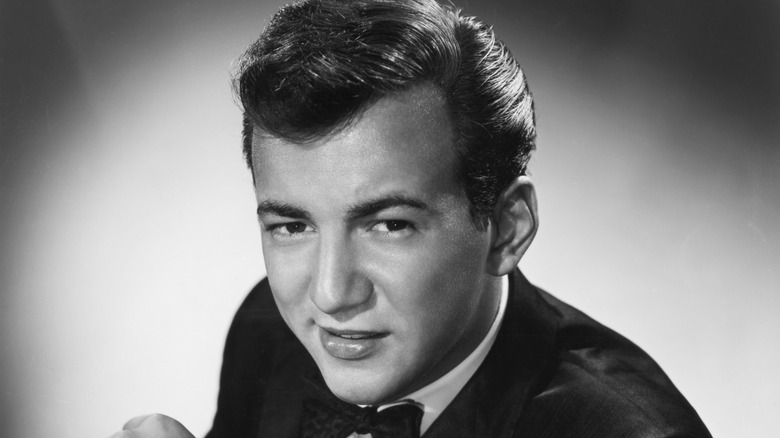 Bettmann/Getty Images
Sandra Dee and Bobby Darin's relationship at first appeared to be the exception in Hollywood, where marriages often didn't last under the pressures of stardom and media scrutiny. "I do remember my thoughts that first morning when I woke up in bed with my husband," Dee told her son Dodd (via Vanity Fair). "I thought I had never felt so safe in my life as I felt with Bobby."
But that soon changed. Dee's film career took a backseat to Darin's musical aspirations. She spent much of her time in Las Vegas where Darin often performed and began drinking and gambling out of boredom. Later, after their son Dodd was born, Dee became addicted to the amphetamines her doctor prescribed her, per the Daily Mail. Darin, believing his wife was having an affair with one of her costars, broke it off, but the two soon reconciled. In 1967, he filed for divorce and died of a heart attack six years later at age 37, according to Vanity Fair. "Her baggage was a big factor in their split," Sue Cameron, a friend of both stars, told Closer Weekly. Dee, who never remarried, died of complications from kidney disease related to her anorexia in 2005.
If you need help with an eating disorder or know someone who does, help is available. Visit the National Eating Disorders Association website or contact NEDA's Live Helpline at 1-800-931-2237. You can also receive 24/7 Crisis Support via text (send NEDA to 741-741).
If you or anyone you know has been a victim of sexual assault, help is available. Visit the Rape, Abuse & Incest National Network website or contact RAINN's National Helpline at 1-800-656-HOPE (4673).