Tragic Details Found In Aaron Carter's Autopsy Report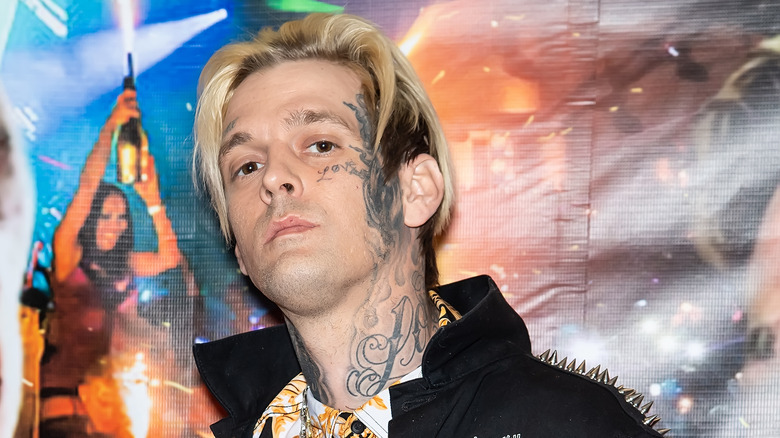 Gilbert Carrasquillo/Getty Images
Aaron Carter died from an accidental drowning caused by compressed air and alprazolam intoxication, more commonly known as Xanax, according to an autopsy report released by the Los Angeles County Medical Examiner. The singer and actor was found unresponsive at his home in Lancaster, California on November 5, 2022, and was pronounced dead at the scene, USA Today reports. Prescription pill bottles and cans of compressed air were found nearby.
Carter's autopsy report indicates pulmonary edema and congestion, an often fatal build-up of fluid in the lungs. The report lists no life-threatening traumatic injuries, consistent with initial police claims that there were no signs of foul play, according to the NME. The former child star was famously tattooed on his face and body, and each one was listed in detail in his autopsy report. 
Those tattoos include a butterfly on the right side of his forehead, and piano keys on his left forearm. In his autopsy, Carter's height is listed as around 5-foot-6-inches, and he weighed 133 pounds. At around 900 grams each, Carter's lung weight was above the average of 1000 grams total (via Science Direct). Carter was 34 years old when he died, his autopsy states. Among other major bodily systems, Carter's cardiovascular, gastrointestinal, respiratory, and central nervous systems appeared normal. 
Also found in Carter's toxicology report were anti-histamines and quetiapine metabolites. Quetiapine is an anti-psychotic drug used to treat bipolar disorder and other mental health issues.
Carter faced many mental health challenges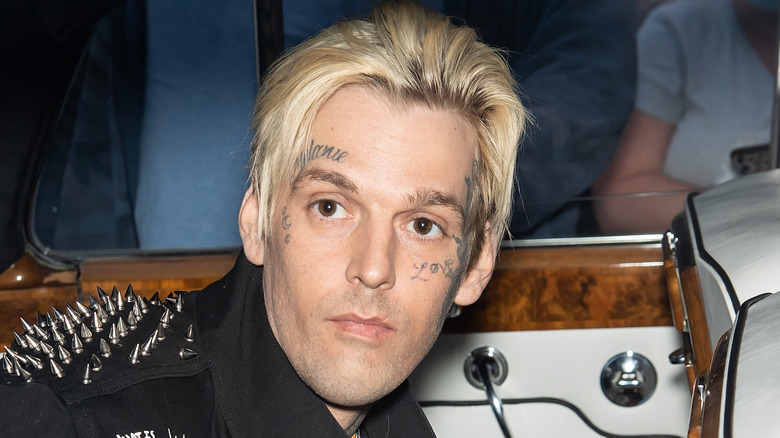 Gilbert Carrasquillo/Getty Images
According to Aaron Carter's autopsy, difluoroethane — or compressed gas — is most often used for commercial and industrial purposes and has an intoxicating effect when inhaled, an act referred to as "huffing." Difluoroethane is also known to cause heart arrhythmia and sudden cardiac arrest. As mentioned, Carter had also taken alprazolam, or generic Xanax, a central nervous system depressant. Carter likely became incapacitated by those two substances, slipped under bathwater, and drowned, according to his autopsy.
In the past, Carter spoke openly about his many mental health challenges and substance use issues. In 2017, he appeared on the syndicated talk show "The Doctors" and tested positive for marijuana, opiates, hydrocodone, and benzodiazepines, and later said he checked himself in for mental health treatment, according to Entertainment Tonight. Carter sought substance use treatment on and off up until shortly before his death, TMZ also reports. 
In a 2019 "The Doctors" return appearance, Carter revealed his many mental health challenges, including multiple personality disorder, schizophrenia, acute anxiety, and manic depression, all treated with prescription medications, he said (via CNN reports). Carter reportedly missed an online rehab therapy session the night before he died. He was found dead when authorities performed a welfare check after fans grew concerned he'd relapsed.
Also in 2019, Carter came clean about the nature of his huffing addiction, a drug he was introduced to the drug by his sister, Leslie, who also died from an overdose in 2012. According to Carter, his huffing addiction began when he was just 16 years old. 
Those close to Carter were concerned about his health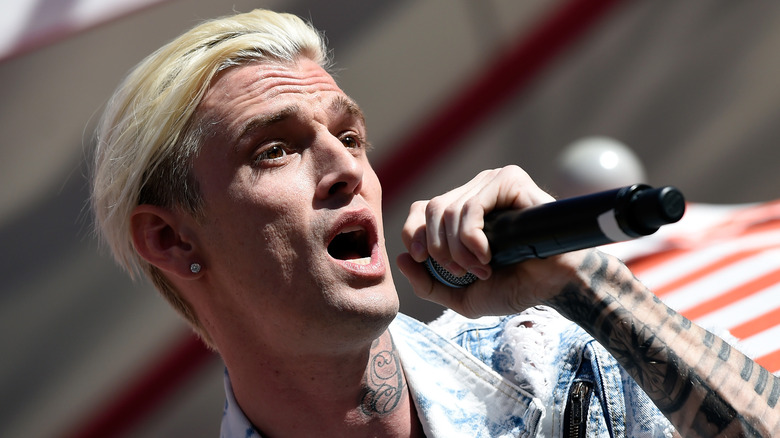 David Becker/Getty Images
In Aaron Carter's 2019 "The Doctors" interview (via People), he said he purchased compressed gas at places like Staples and Office Depot, "buying it with cash so it wouldn't be reported on receipts or anything like that, so no one could trace me." Carter admitted he huffed as self-medication, but more than anything he said he "was huffing because I'm a drug addict. ... It's something that I've kept secret from the whole world until now."
In 2017, Carter said those close to him were gravely concerned for his health. "[P]eople tell me I look like I have AIDS or I look like I have cancer or I look like I'm dying," he said (via ET). He later said his health had improved. After Carter's autopsy was revealed, Carter's ex-fiancee and mother of one of his children, Melanie Martin, disputed the report, per TMZ. Carter was found fully dressed when found submerged in water, Martin explained. "[T]his report only has us asking more questions," she said.
Carter had a long career in entertainment and came from a large family, many of whom also worked in music, film, and TV. Most notably, Nick, Aaron Carter's older brother, sang and performed with the bestselling boy band Backstreet Boys. Carter's debut self-titled album came out in 1997, and he opened for the Backstreet Boys while on tour at the age of 9. He later acted and appeared on the reality TV show "House of Carters."
If you or anyone you know needs help with addiction issues, help is available. Visit the Substance Abuse and Mental Health Services Administration website or contact SAMHSA's National Helpline at 1-800-662-HELP (4357).