The Real Meaning Behind Here Comes The Sun By The Beatles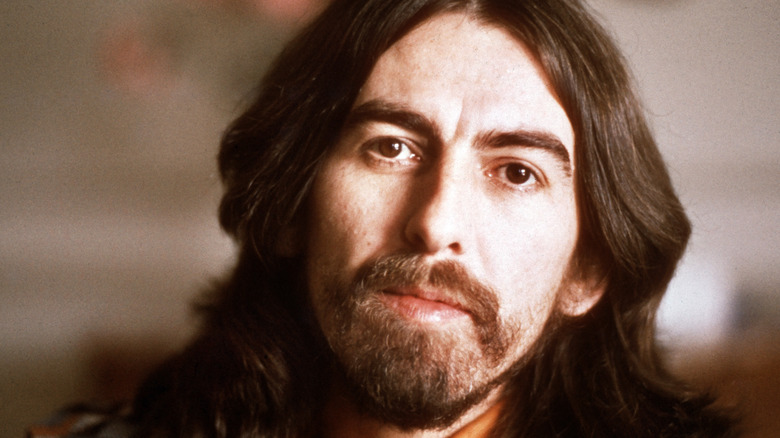 Michael Putland/Getty Images
The beginning of 1969 in London, weather-wise, was a miserable affair. February and March were the coldest they'd been all decade, and spring seemed like it would never come. George Harrison's mental state mirrored the frigid weather, per "All Together Now: The Abc of the Beatles Songs and Albums." He had temporarily quit The Beatles during a recording session for the album "Let It Be," frustrated by Paul McCartney's controlling nature, among other issues, according to Newsweek. Then he got tonsillitis and temporarily lost his singing voice before being busted for marijuana possession, which at the time meant a possible prison sentence. 
But by April, things seemed to be changing for the better. The weather transformed, and spring arrived. Harrison got away with a $600 court fine for possession, per the Associated Press. One day he decided to play hooky from the business of being a rock star and headed down to Surrey to see his friend Eric Clapton. Hanging out in Clapton's garden with an acoustic guitar and warmed by the sun, Harrison felt a sense of relief from his troubles and began to compose "Here Comes the Sun."
A sun-filled afternoon with a friend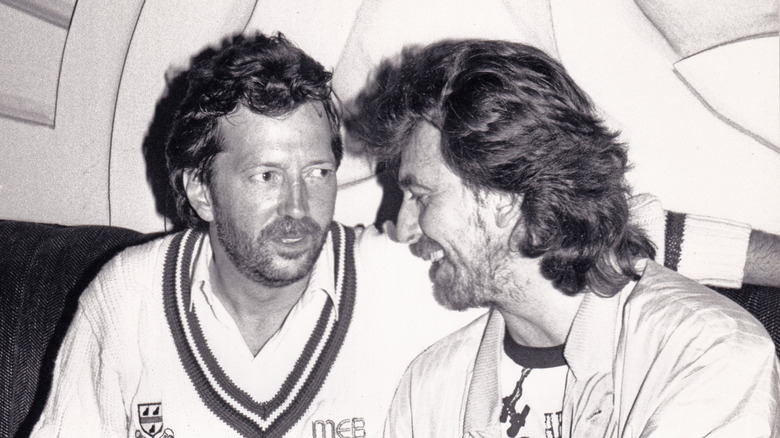 David M. Benett/Getty Images
Besides the in-fighting The Beatles were experiencing at the time, the company they had recently launched, Apple Corps, meant they were no longer just musicians. Apple Corps put out music by other musicians, among other things, but was mostly a tax dodge, according to NPR. It was also a time suck for Harrison and the others. According to "I, Me, Mine," George Harrison thought of Apple as having to attend school "where we had to go and be businessmen" who had to "sign this and sign that."
Per "Story of 'Abbey Road' and the End of the Beatles," Eric Clapton later recalled that it "was a beautiful spring morning" and he and Harrison were sitting in a big field at the back of his garden on his country estate. They were strumming their guitars and singing "de da de de, it's been a long cold lonely winter." Between the sunshine and Harrison's relief at "not having to go see all those dopey accountants" a new song began to take shape. Harrison later finished the lyrics during a holiday with his wife Pattie in Sardinia in June, per "The Beatles' Recorded Legacy, Volume 2" and "The Beatles Book." That summer, Harrison played the new tune for his bandmates for the first time.
A positive reaction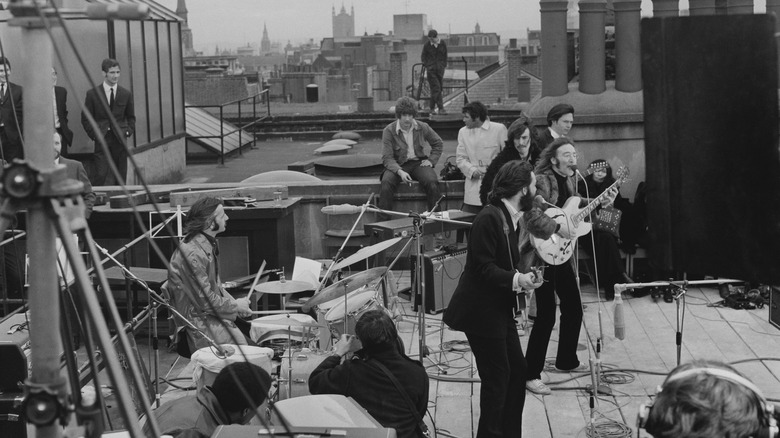 Evening Standard/Getty Images
On Monday, July 7, 1969, in what was a much more relaxed recording session than previous ones around that time, George Harrison played "Here Comes the Sun" for Paul McCartney and Ringo Starr, who both loved it. John Lennon wasn't there that day because he was recovering from a car accident he'd been involved in while visiting Scotland less than a week earlier, per AP and The Beatles Bible. The band, minus Lennon, recorded the song over two days, with production being completed in August, per "The Beatles' Recorded Legacy."
"Here Comes the Sun" appeared on the album "Abbey Road," which came out that September, and was the last album they recorded together, per The Beatles. The song — along with "Something," Harrison's other songwriting contribution to the album — received a lot of attention. In an October 1969 interview with the BBC Harrison mused that while the song was "a bit more commercial" than other of his earlier compositions that appeared on Beatles albums, he didn't see "what the fuss" was all about. About the song's composition, Harrison told the interviewer: "It was just a really nice sunny day. And I picked up the guitar, which was the first time I'd played the guitar for a couple of weeks because I'd been so busy. And the first thing that came out was that song."