Why The Red Widow, Marguerite Steinheil, Was Acquitted Of Murder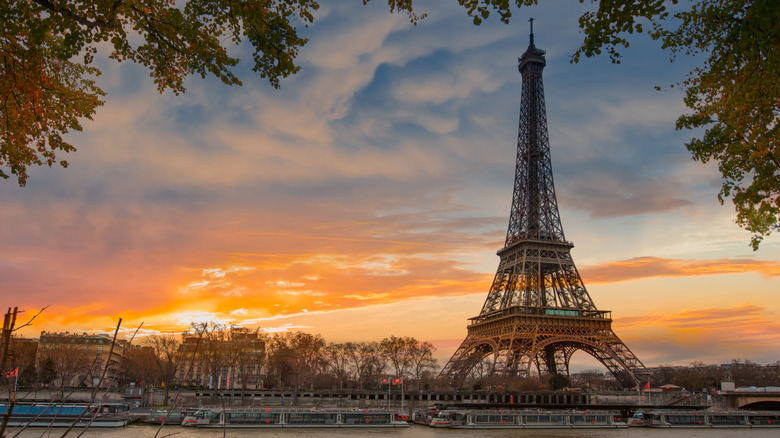 muratart/Shutterstock
It was past 1:00 a.m. on November 13, 1909, when the jury returned to the Paris courtroom where one of the most sensational criminal trials in French history had taken place over 11 days, according to The Fortnightly. Marguerite "Meg" Steinheil — the "Red Widow," as the press had dubbed her — had been on trial for her life, accused of murdering her husband and mother. Steinheil, a courtesan (what today might be called a high-class sex worker), had been in prison for more than a year awaiting trial and had told many different versions of the events that left her waiting to hear her fate.
On the morning of May 31, 1908, Steinheil's servant discovered her tied to her bed, her husband — a mediocre painter — strangled to death in the hall, and her mother dead in another room, per The Baltimore Sun. All of Paris debated her guilt or innocence. When it came down to the all-male jury, the majority initially believed she was guilty, but a few holdouts turned the tide. In the end, it was seven for acquittal and five for conviction. In France at the time, a jury didn't require a unanimous verdict to convict or acquit, only a majority. "And thus I was acquitted after being for so long, without knowing it, so near to ... the scaffold," Steinheil wrote in her 1912 book "My Memoirs."
Death of a French president
Marguerite "Meg" Steinheil was born Marguerite-Jeanne Japy in April 1869 into a wealthy industrialist family in Eastern France, according to "The Red Widow: The Scandal that Shook Paris and the Woman Behind it All." She eventually married a much older man, Adolphe Steinheil, and moved to Paris during the height of La Belle Epoque. She soon became popular, holding a literary and artistic salon in her fashionable home that drew the likes of the famed novelist Émile Zola, per The Wall Street Journal. When she discovered her husband was homosexual she agreed to stay with him for the sake of their daughter — with the stipulation she would be free to pursue other men.
She eventually became the mistress of French President Felix Faure, who was married. In February 1899, they were together in bed when he had a cerebral hemorrhage and died clutching her hair. The story was hushed up, and Steinheil, it was rumored, used the potentially explosive scandal to her advantage, according to the Burlington Daily News. But then came the murders.
Murders and another marriage
According to Meg Steinheil, on the night of May 30, 1908, three men dressed in black robes and a red-headed woman broke into her family's Paris residence, tied her up, beat her, and stole money and jewels. They didn't kill her, she said, because they mistook her for her teenage daughter, per The Baltimore Sun. In the following days and weeks, she changed her story several times and tried to pin the murders on her servant by hiding a pearl from her husband's ring in his wallet and later alleged her cook's son had committed the crimes.
The police and prosecutors believed Steinheil, with the help of an unnamed accomplice, was behind the murders. She killed her husband, they reasoned, to get out of her marriage and marry one of her rich lovers, according to the Detroit Free Press. After her acquittal, Steinheil wrote her memoirs, married a British baron, and moved to England, where she died in 1954 at age 85, per the Vancouver Sun. The murders remain unsolved.