What Happened To The Cast Of Happy Days?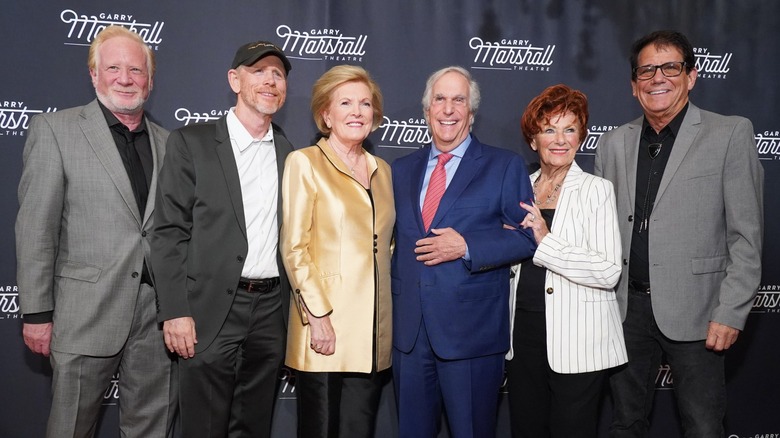 Rachel Luna/Getty Images
Spanning 11 seasons over 11 years, "Happy Days" was one of the most beloved of American sitcoms of the 1970s and 1980s. The series revolves around the Cunningham family, primarily consisting of patriarch Howard and his wife Marion, and their children Richie and Joanie. Early episodes also have an elder sibling, Chuck, but he gets written out after season 2 with no appreciable explanation. This gave rise to the now infamous "Chuck Cunningham Syndrome,"  which is used to describe TV characters who disappear from shows without an explanation.
Along with the Cunningham family, other major characters include high school dropout Arthur "The Fonz" Fonzarelli, Richie's best friends Warren "Potsie" Weber and Ralph Malph, and in later seasons, Joanie's love interest: Chachi Arcola. For the first seven seasons of "Happy Days," the plots largely revolve around Richie and The Fonz. However, following Richie's departure at the end of season 7, The Fonz and other characters like Joanie began to take on more prominent roles.
"Happy Days" has an all-star cast of actors, including Ron Howard, Henry Winkler, Tom Bosley, Al Molinaro, Scott Baio, and Pat Morita. During its run, the cast and crew were nominated for nine Primetime Emmys, of which they won one. The show's original run lasted from 1974–1984, and it has been off the air for some time. More than three decades later, here's what happened to the cast of "Happy Days."
Ron Howard: Richie Cunningham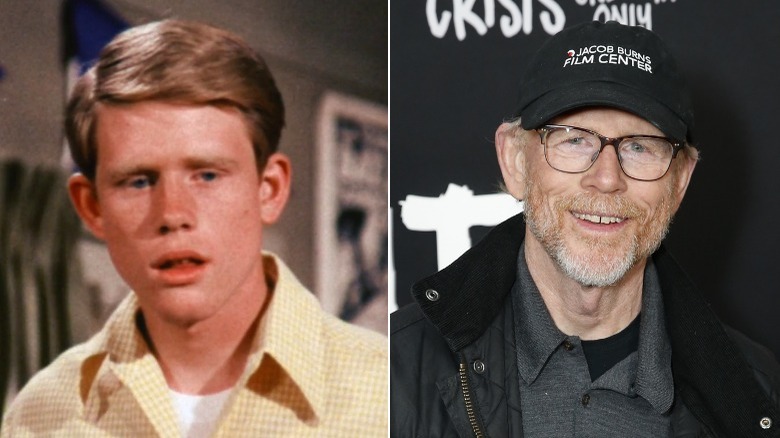 ABC & Rob Kim/Getty
For the first seven seasons of "Happy Days," Ron Howard starred as the main protagonist of the show, Richie Cunningham. Richie starts the series out in high school, before eventually graduating and attending college. He is best friends with Warren "Potsie" Weber, Ralph Malph, and Arthur "The Fonz" Fonzarelli, and Joanie Cunningham is his sister. Richie and his friends are always trying to meet women, and he eventually marries Lori Beth Cunningham (nee Allen). 
Richie leaves the show after season 7, being written out to join the United States Army with Ralph. He does return for the final season, briefly reconnecting with his family before moving to Los Angeles. Off-screen and outside of "Happy Days," Howard has had one of the most legendary careers in Hollywood. He got his start prior to playing Richie in the 1950s, appearing on shows like "The Twilight Zone." In the 1960s, he famously played Opie Taylor on "The Andy Griffith Show" for more than 240 episodes. 
After "Happy Days," Howard's career as a director and producer started to take off, and that is where he has found most of his success. Some of his most popular films include "Apollo 13," "How the Grinch Stole Christmas," "A Beautiful Mind," the Robert Langdon series, and "Solo: A Star Wars Story." He is widely considered one of the most influential men in Hollywood history and is still producing films through 2023.
Henry Winkler: Arthur The Fonz Fonzarelli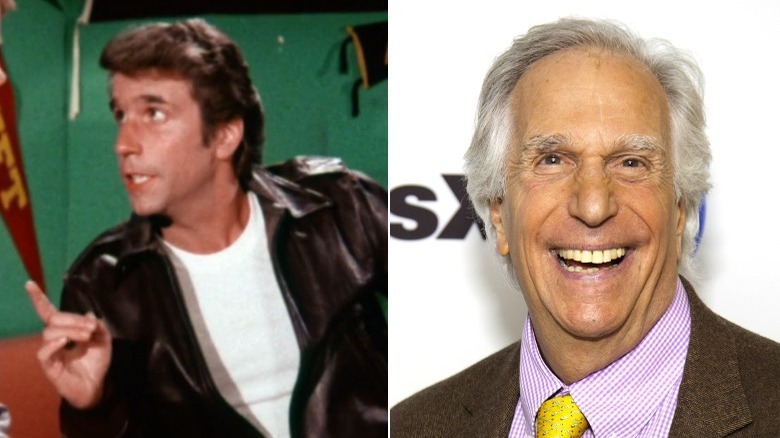 ABC & Santiago Felipe/Getty
For 11 glorious years from 1974–1984, Arthur "The Fonz" Fonzarelli on "Happy Days" was the epitome of cool on TV. Portrayed by Henry Winkler, The Fonz can start a jukebox just by punching it, has the slickest dance moves, drives an iconic motorcycle, and is a massive sex symbol. The Fonz is best friends with Richie Cunningham and plays a father-figure role to his cousin Chachi Arcola. He lives above the Cunningham's garage and is the archetypal Italian-American 1950s greaser, and he has incredible success with women and strikes fear in the heart of his enemies.
In contrast, Winkler is a graduate of Yale University, and "Happy Days" was truly his breakout role. He starred on the show for all 11 seasons and more than 250 episodes, as well as on spin-offs "Laverne and Shirley" and "Joanie Loves Chachi." After his role as The Fonz ended, Winkler continued to act and has put together an immensely successful career. Some of his most memorable titles include "The Waterboy," "Holes," "Arrested Development," "Royal Pains," and "Barry."
For his work on "Barry," Winkler earned three Primetime Emmy nominations, including one win in 2019 for outstanding supporting actor. This was in addition to his three nominations during his time on "Happy Days." Winkler is still active and has several projects scheduled through 2023.
Scott Baio: Chachi Arcola
Long before he stole hearts as Charles on "Charles in Charge," Scott Baio had a memorable turn as Chachi Arcola on "Happy Days" for more than 130 episodes. Chachi is The Fonz's younger cousin, and they develop a lovable bond over his time on the show. At first, Chachi is just a recurring character, but he eventually gets more screen time as the show progresses and his character becomes more popular.
For a brief period, both Chachi and his on-screen love interest Joanie Cunningham leave "Happy Days" from 1982–1983 for the spin-off "Joanie Loves Chachi," but they return after its short and unsuccessful stint. As soon as "Happy Days" ended, Baio found himself with a leading role on "Charles in Charge," which he would play for 126 episodes through 1990.
In the 2000s, Baio played Bob Loblaw on "Arrested Development" for a total of five episodes, which reunited him with his "Happy Days" co-stars Henry Winkler and Ron Howard. In 2018, multiple former co-stars of Baio accused him of sexual assault during their time working together on "Charles in Charge." Baio denied the accusations, and no charges were filed. Some of his most recent work was in 2021, where he starred in "Courting Mom and Dad" alongside Kristy Swanson.
Beatrice Colen: Marsha Simms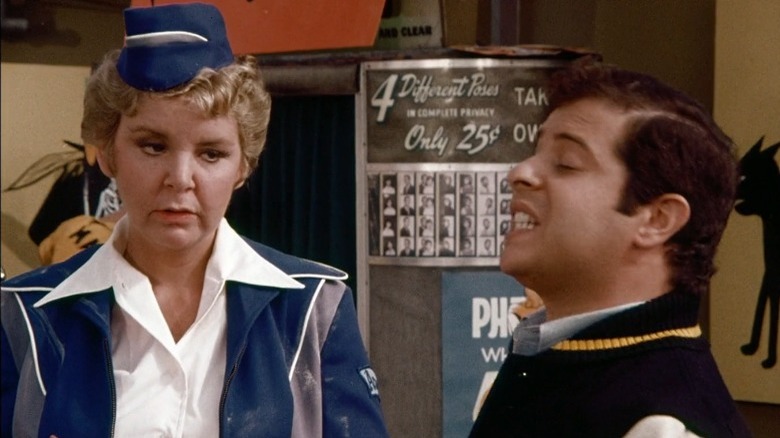 ABC
Over the first three seasons of "Happy Days," fans got to know Marsha Simms, the roller-skating carhop who works at Arnold's Drive-In. She is played by actress Beatrice Colen, and in addition to working at Arnold's she is also a waitress at a coffee shop at nights. Marsha's coworker is Wendy, and the two have constant interactions with Richie Cunningham and his friends Warren "Potsie" Weber and Ralph Malph. Simms' character is largely written out of the show after season 3, though she does make a few appearances later, sometimes with a different actress playing her.
For Colen, "Happy Days" was her breakthrough, and it led to a role on "Wonder Woman" from 1976–1977. After leaving the show, Colen had minor roles on huge TV shows like "Baywatch," "Night Court," "CHiPs," and "Mr. Belvedere," as well as Mel Brooks' film "High Anxiety." In addition to her time on the big screen, Colen also worked prominently in theater.
Colen's last film credit was an appearance on the Nickelodeon show "The Secret World of Alex Mack." She played Ms. Tucker during the season 4 episode "The Switch" in 1997. Colen passed away on November 18, 1999, from lung cancer, at the age of just 51.
Anson Williams: Warren Potsie Weber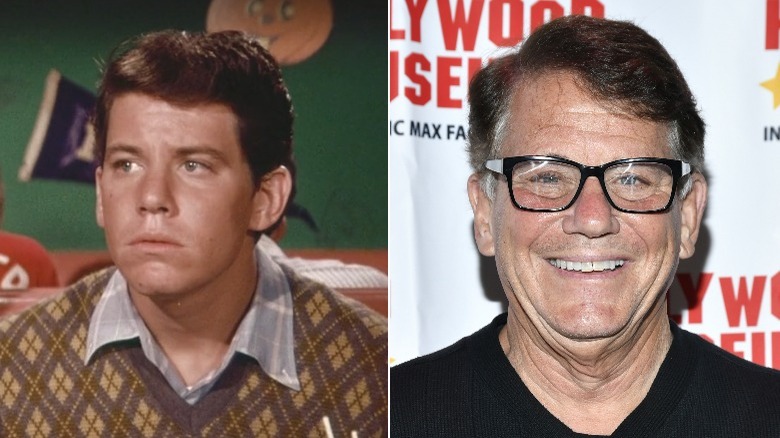 ABC & Michael Tullberg/Getty
Anson Williams played Warren "Potsie" Weber on "Happy Days" for more than 200 episodes. Potsie is one of the few to appear as a regular character in every season of "Happy Days." He even stays around after both of his best friends Richie Cunningham and Ralph Malph leave to join the army at the end of season 7. Potsie is known for being somewhat dimwitted but caring and is constantly scheming with Ralph on all kinds of plots. For Williams, he struggled to find success as an actor after "Happy Days" and has only appeared sporadically over the past four decades since its end, most notably in "Boy Meets World" and "Baywatch," and on "Sabrina the Teenage Witch" where he reprised his role as Potsie. 
In addition to acting, Williams also began a directing career in the 1980s and has directed a number of episodes of TV shows. These include four episodes of "Diagnosis Murder," which starred former castmate Scott Baio, as well as episodes of "Love Boat" and "Beverly Hills 90210." From 2008–2013, Williams directed 31 episodes of "The Secret Life of the American Teenager." Outside of Hollywood, Williams also tried his hand in politics. In 2022, he ran for mayor of Ojai, California, in Ventura County, but he lost the election by only 42 votes.
Tom Bosley: Howard Cunningham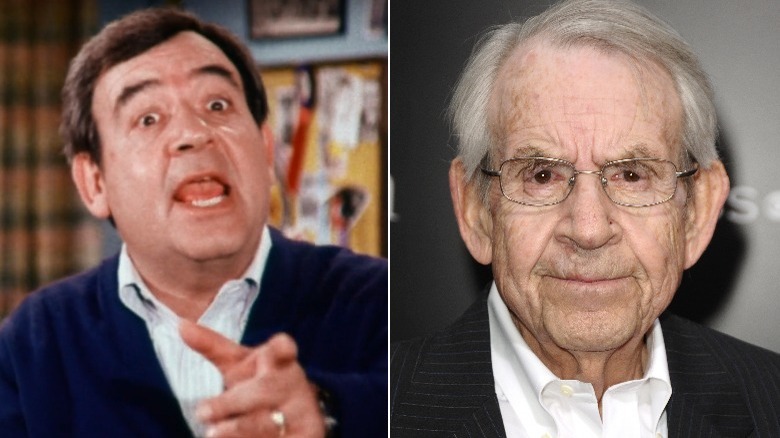 ABC & Jason Laveris/Getty
Affectionately known as "Mr. C" by his son's friends, Tom Bosley played family patriarch Howard Cunningham on "Happy Days" for all 11 seasons and 255 episodes. Mr. Cunningham is the father of Richie and Joanie Cunningham, and husband to Marion. He owns his own store, "Cunningham's Hardware," and drives a beloved DeSoto car for most of the series. Much of the time, Mr. Cunningham can be seen reading the daily newspaper, and he is known for his humorous outlook on his son Richie's generation of youngsters.
Outside of "Happy Days," Bosley had success both onstage and the silver screen. His first appearances on TV came in the mid-1950s. However, most people knew him from "The Dean Martin Show" and from his role as Fiorello La Guardia in the Broadway musical "Fiorello," for which he won a Tony award. After "Happy Days," Bosley's biggest successes came as Sheriff Amos Tupper on "Murder, She Wrote," and on "Father Dowling Mysteries."
During his time on "Happy Days," Bosley was also nominated for a Primetime Emmy Award in 1978. He continued to act through 2010, mainly on TV, playing a variety of characters and doing animated voiceover work. Bosley died on October 19, 2010, from cancer.
Marion Ross: Marion Cunningham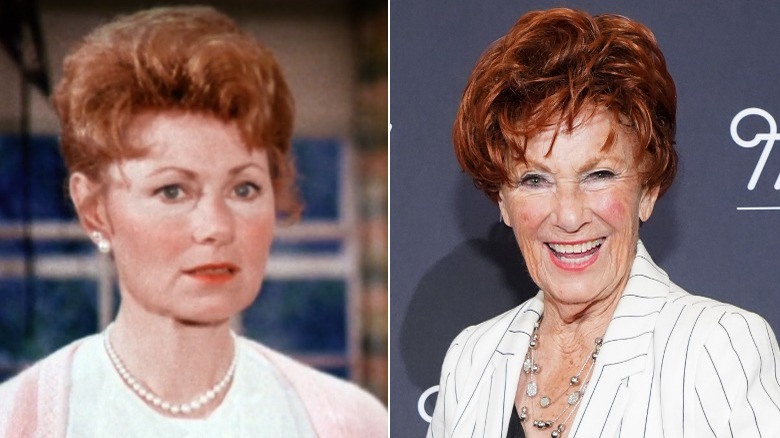 ABC & Rachel Luna/Getty
As the wife of Howard Cunningham and the mother of both Richie and Joanie Cunningham, Marion Cunningham had a lot on her plate during her 11 seasons on "Happy Days." Largely playing the role of a 1950s homemaker, Mrs. Cunningham is warm, friendly, and incredibly caring towards her family. Like her husband, Arthur "The Fonz" Fonzarelli refers to her by her initial, "Mrs. C," and in turn she is the only one who calls him by his first name of Arthur. She is sympathetic when it's needed, but she is also not afraid to step up and put her family in line when necessary.
For the entire 255-episode "Happy Days" run, Marion Ross played the role of Mrs. Cunningham, and Ross got her start acting in the mid-1950s. She played many roles on TV and in movies, and from 1965–1966 she appeared in more than 150 episodes of the soap opera "Paradise Bay" as Mary Morgan. After playing Mrs. Cunningham, Ross has continued to regularly act on TV and in movies, including 33 episodes as Sophie Berger on "Brooklyn Bridge."
In the 1990s, she appeared as Grandma Foreman on "That '70s Show," and in the 2000s she became Grandma SquarePants within the "SpongeBob SquarePants" universe. During her career, Ross has racked up five Primetime Emmy nominations, and she has her own star on the Hollywood Walk of Fame. Ross was still acting through the early-2020s, playing Marion in "Senior Entourage" in 2021.
Don Most: Ralph Malph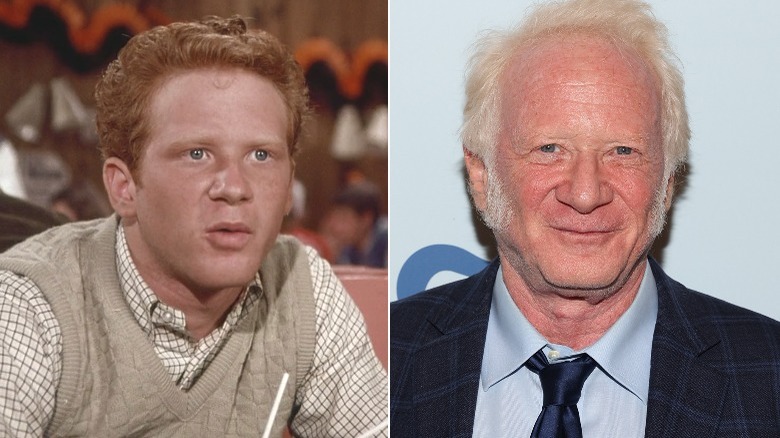 ABC & Jesse Grant/Getty
Playing the role of lovable redhead Ralph Malph on "Happy Days" for 167 episodes was Don Most. Ralph is best friends with Richie Cunningham and Warren "Potsie" Weber and is known for playing practical jokes. Ralph is also always trying to scrounge up a date, but he doesn't always have the best success. When Richie joins the army at the end of season 7 Ralph does too, only briefly reappearing in the final season. 
Like most of the other younger actors on the show, Most had a few roles before "Happy Days," but his portrayal of Ralph was his big breakthrough. He has regularly acted on TV through the 2020s, including voicing Stiles in the animated "Teen Wolf" from 1986–1987 and also starring in a few episodes of "Murder, She Wrote." From the 2000s on, Most had roles on "Sabrina the Teenage Witch," "Glee," and the 2016 "The Odd Couple" reboot. 
In addition to acting, Most has also directed four films, and he won a 2007 Newport Beach Film Festival award for his film "Moola." Most is still acting in films as of early-2023, including a role in the 2023 Italian film "Vicino al Verbo." In 2011, Most, along with former co-stars Erin Moran, Anson Williams, Marion Ross, and the estate of Tom Bosley, filed a lawsuit against CBS, which was eventually settled the next year. The lawsuit alleged CBS owed the actors millions over merchandise, and the settlement terms were not publicly disclosed.
Erin Moran: Joanie Cunningham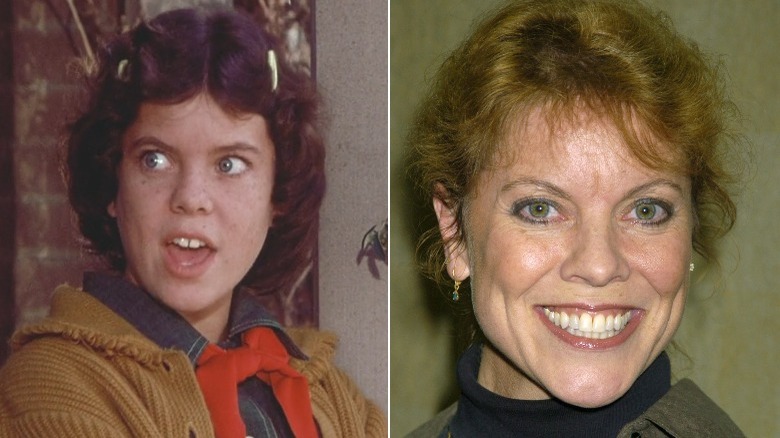 ABC & Robin Platzer/Getty
One of the biggest fan favorites on "Happy Days" was undoubtedly the youngest of the Cunningham clan, daughter Joanie Cunningham. Joanie is known for being sarcastic and sassy and also for interrupting her older brother Richie Cunningham at the least opportune times. In addition to Richie, Arthur "The Fonz" Fonzarelli also takes an older brother-like role with Joanie, even calling her "Shortcake" as an affectionate nickname. Joanie eventually falls in love with Chachi Arcola after years of rejecting him, and they get married in the series finale.
Erin Moran played the role of Joanie Cunningham for the entire series. During season 10, she and co-star Scott Baio played their "Happy Days" characters on the spin-off "Joanie Loves Chachi," but they returned to the show after it got canceled. Moran acted sporadically the next few decades after her role as Joanie ended, most notably in "Dickie Roberts: Former Child Star" and in the parody flick "Not Another B Movie."
In 2011, Moran was part of the group of "Happy Days" actors and actresses who sued CBS for unpaid merchandising fees, which was later settled out of court. In 2017, Moran died from cancer at the age of just 56.
Al Molinaro: Al Delvecchio
One of the most lovable secondary characters on "Happy Days" was Al Delvecchio, the proprietor of "Arnold's Drive-In." He was played by actor Al Molinaro for eight seasons and 146 episodes. Molinaro also played Al's twin brother, Father Anthony Delvecchio, for two episodes. Al took over Arnold's following the departure of Matsuo "Arnold" Takahashi in season 3 and held onto the restaurant until the end of season 9. It was then that Al's character left "Happy Days" to be on the ill-fated "Joanie Loves Chachi," and he would only return to "Happy Days" as a guest in the future.
Prior to playing Al, Molinaro had established himself in Hollywood through his portrayal of Officer Murray Greshler on "The Odd Couple" from 1971–1975. He had a few roles after "Happy Days," including starring as Joe Alberghetti on the short-lived TV show "The Family Man." His final role was a reprisal of Al from "Happy Days" for the band Weezer's music video for the song "Buddy Holly." Molinaro died on October 30, 2015, after complications with his gallbladder. He was 96 years old.
Pat Morita: Matsuo Arnold Takahashi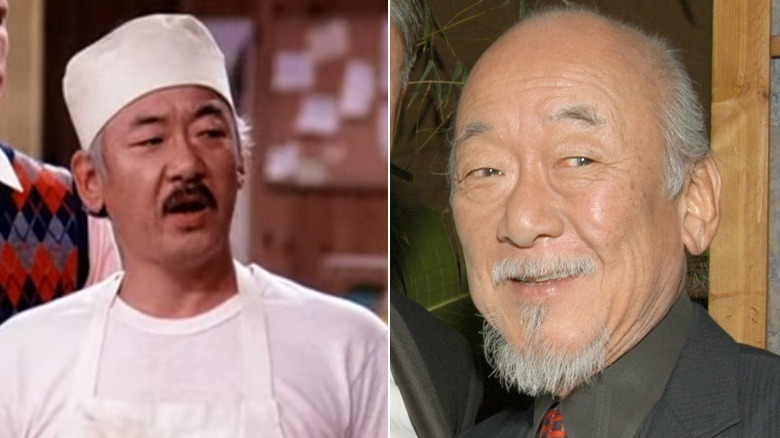 ABC & Mark Sullivan/Getty
Though his character did not make a ton of appearances on "Happy Days," Pat Morita's portrayal of Matsuo "Arnold" Takahashi was both memorable and funny. Hilariously, his character is not actually named Arnold but rather takes the moniker after purchasing the restaurant "Arnold's Drive-In" and becoming the proprietor. Everyone thinks the restaurant is named after him, and eventually he resigns himself to it being his nickname. Arnold left the show after season 3, selling the restaurant to Al Delvecchio, but he did return for a few guest appearances in the final few seasons.
Morita began his career in acting in the 1960s, appearing on shows like "M*A*S*H," "Hawaii Five-O," "The Odd Couple," and "Columbo." In the two decades after "Happy Days" went off the air, Morita found regular work both on TV and in the movies. Arguably, he is most well known for his turn as karate expert Mr. Miyagi in the original "Karate Kid" tetralogy. For his role in the "Karate Kid" films, Morita was nominated for an Oscar and a Golden Globe, as well as a Razzie. Morita received a star on the Hollywood Walk of Fame in 1994.
After nearly 40 years in the business, Morita passed away on November 24, 2005, in Los Angeles, California. He was 73 years old, and he died of natural causes.
Cathy Silvers: Jenny Piccolo
Jenny Piccolo made her first appearance on "Happy Days" during the opening episode of season 8, but her character was already well known to many fans. For the prior seven seasons, she had been frequently mentioned as the best friend of Joanie Cunningham but was never actually given an on-screen persona. Jenny was eventually portrayed by Cathy Silvers, and she appeared on the show for 55 episodes over four seasons. Jenny was always interested in boys, something she and Joanie would constantly talk about.
Off-screen, Silvers is the daughter of famous actor Phil Silvers, and "Happy Days" was her acting debut. After the show ended, she continued to act through the 1980s and sporadically in the 1990s. Some of her biggest titles include a starring role on "Foley Square," and supporting roles in "Encino Woman," and in "Sgt. Bilko" with Steve Martin. Silvers has not acted since 1996. In 2007, she released a "Happy Days" themed cookbook, "Happy Days Healthy Living: From Sit-Com Teen to the Health-Food Scene," which played on her time as Jenny.