What Happened To The Playing Card Killer?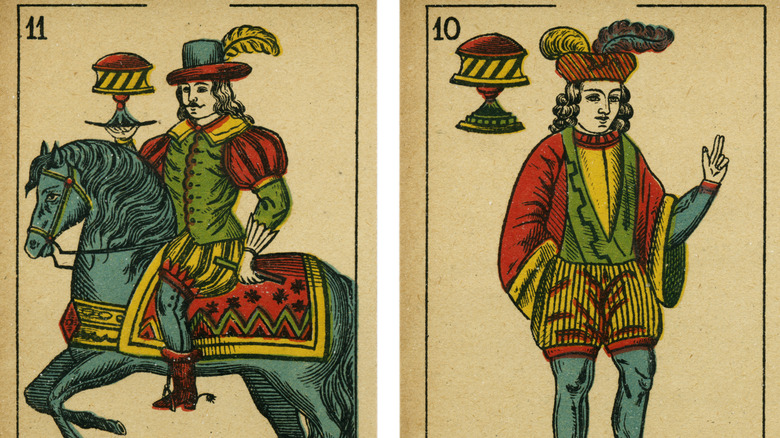 Whiteway/Getty Images
In 2003, the Spanish capital city, Madrid, was terrorized by a string of nine seemingly random nighttime shootings; six people died as a result, and three others were seriously injured, according to the 2023 Netflix true crime documentary "The Playing Card Killer." Common to each crime was a playing card, left at the scene by the shooter, which became the serial killer's dark nickname once that fact was picked up on by the press. A short time later, Alfredo Galán, the notorious "Playing Card Killer" turned himself into the Spanish authorities and reportedly confessed.
Though Galán's story would change, he was convicted of the high-profile shootings and murders and sentenced to 142 years in prison, The Scotsman reports. According to The Guardian, the cards left at the scene were all of the suit "cups," from the traditional Spanish deck. A motive for Galán's senseless crimes was never determined, nor was there any known connection between his victims. A veteran of the Spanish military with a history of mental health challenges, Galán's first brutal killing happened simply when the "moment was right," according to Expatica.
Galán later retracted his confession
Although at first Alfredo Galán reportedly confessed to the nine shooting attacks in Madrid and six killings he later retracted his confession and claimed he was innocent. The first person Galán killed was Juan Francisco Ledesma, after a home invasion, and in front of the victim's toddler son. Some survived gunshots by Galán at point-blank range attack, and would later help identify their assailant. It was eventually learned that everyone who was shot was chosen at random.
Besides the playing card pattern, another aspect common to the Playing Card Killer's crimes was the gun: a Soviet-style, 7.6mm Tokarev pistol, according to Scenic Rights. Galán had served in the Balkans. According to Galán, he later said he only confessed because a neo-Nazi allegedly warned he would kill Galáns sisters unless he confessed to the shootings. He also said the Tokarev pistol was sold to the same unnamed neo-Nazi.
Galán had a cartridge matching the gun used in the crime spree in his possession which was also found in close proximity to clothing matching crime scene evidence. Before Galán's confession, another veteran of the Spanish military was arrested in connection with the killings. He was later determined to be innocent and released.
There was a blue dot on each card
As Frank A. Arencibia writes in his 2003 book, "Spain: Paradox of Values/Contrasts of Confusion: A Foreigner's Personal Perspective," there was an uptick in violent crime in the Spanish capital around the time of Alfredo Galán's shooting spree, and Galán's spate of seemingly senseless murders had the city's population on edge. Surprisingly, when Galán confessed, it took some time before the Spanish authorities believed him, Arencibia writes. A detail from each card left at the scene helped convince them.
A detail only the killer would know finally convinced the Spanish authorities that Galán was indeed responsible for the killings: There was a blue dot on each card he left behind. According to Galán he never intended to leave a card at each crime scene, but only did so after the first murder when the media picked up on a card being found near a victim and the subsequent media attention it received, per Arencibia's book.
According to Galán's legal representation, he was only guilty of illegal possession of a firearm. After his initial confession, Galán denied all charges against him. Still, he was convicted of the crimes and the 2003 Madrid murder spree ceased after his arrest.