The Iron Sheik's Time In The Olympics And Beef With The IOC Explained
Jason Merritt/Getty Images
The Iron Sheik was not happy and he let the International Olympic Committee know it. "If I see anybody on the street that work from the IOC I swear to the Jesus I suplex them put them in camel clutch break their back make them humble," he told TMZ in 2012 when he heard the IOC was considering removing wrestling from the Olympic Games.
The infamous professional wrestler, born Hossein Khosrow Ali Vaziri in Iran in 1942, had once been a competitive Greco-Roman wrestler who nearly made his country's Olympic team for the 1968 summer games in Mexico City before going on to become an assistant coach with the 1972 U.S. team, according to ABC News and KION. He couldn't stand the idea of the ancient sport being removed. The IOC did eventually heed the Iron Sheik's threats (or more likely the massive amount of backlash from the decision) and backtracked. Both Greco-Roman and freestyle wrestling were featured in the 2021 Summer Olympics in Tokyo, Japan, per the Olympics.
Olympic hopeful to WWE villain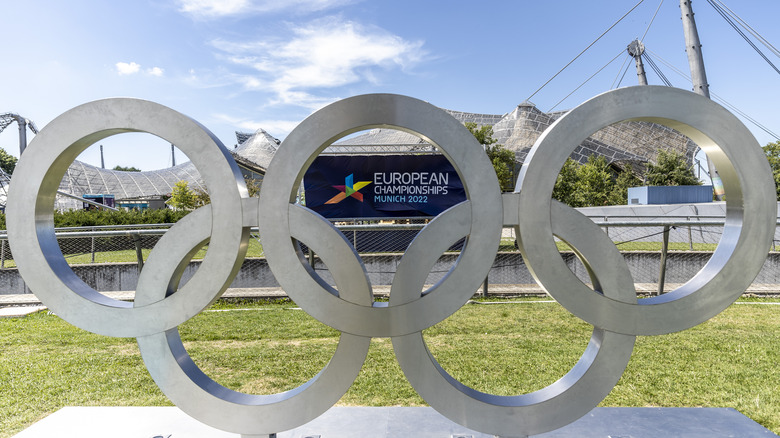 Maja Hitij/Getty Images
Before he was the Iron Sheik, Hossein Khosrow Ali Vaziri was an amateur wrestler in Iran as well as a bodyguard for the last shah of Iran, Mohammad Reza Pahlavi, per ABC News. Vaziri moved to the U.S., won an Amateur Athletic Union Greco-Roman wrestling championship, and then went on to be an assistant coach for the U.S. Olympic wrestling team that participated in the 1972 Summer Olympics in Munich, Germany.
He began his professional wrestling career that same year and joined the World Wrestling Federation in 1979 with his trademark look of a shaved head, handlebar mustache, and shoes that curled at the end. He had his heyday in the 1980s when he played foil to Hulk Hogan and later Sgt. Slaughter, per KION. He was retired from wrestling but was still active on social media when the IOC became the target of his ire in 2013. "I live my life in the mat, and it break my heart for next generation for them not to be learning the art of the freestyle wrestling," he told Bleacher Report. The Iron Sheik died on Wednesday, June 7, 2023, at age 81.