The Inspiration Behind Hey Jude By The Beatles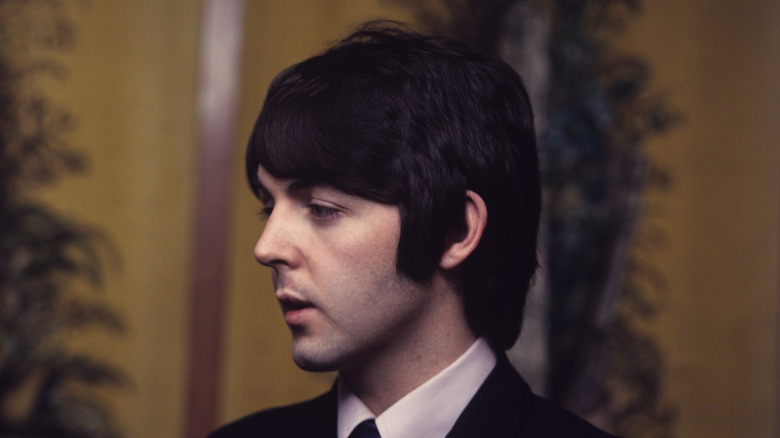 David Redfern/Getty Images
The Beatles had a lot of hits — a hell of a lot of hits. So much so that their greatest hits album, "1," released in 2000, was made up simply of 27 singles that hit the top of the charts in either the U.S. or the U.K. But even in among The Fab Four's discography some songs reign supreme. One of these is "Hey Jude," the uplifting ballad/singalong smash found on their 1968 self-titled album, aka "The White Album." Released as the first single of The Beatles' new Apple Corp. record label, it sold 5,000,000 copies within six months and spent nine weeks at the top of the Billboard Hot 100. It was the biggest seller of their career.
The key to the seven-minute-long chart-topper is found in the name used in the early drafts instead of Jude. As noted in the Barry Miles biography "Paul McCartney: Many Years from Now," the song was originally "Hey Jools." Jools is a reference to Julian Lennon, the son of John Lennon whom McCartney was reportedly on his way to visit, writing the song in his head as he drove.
Though credited to both John Lennon and Paul McCartney on the album sleeve, "Hey Jude" is almost entirely the work of McCartney alone. Lennon distanced himself from the song while exclaiming his admiration for it as a masterpiece of their canon, saying in the last interview he gave before his murder in 1980: "'Hey Jude' is a damn good set of lyrics and I made no contribution to that" (via "All We Are Saying").
A song written on the road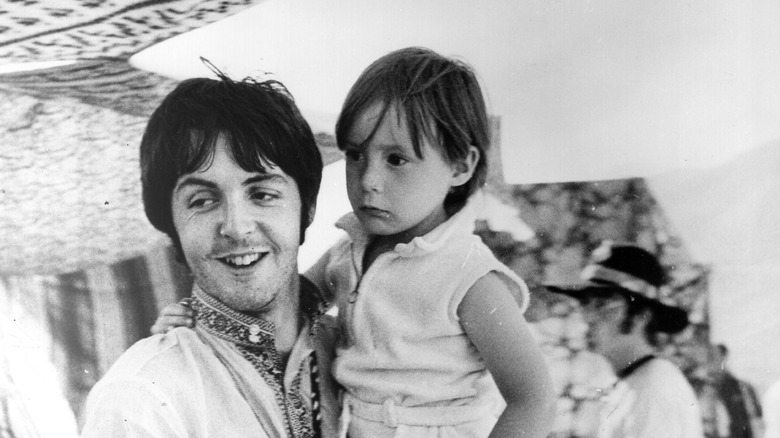 Central Press/Getty Images
Bands often return from months traveling the world and performing to their fans with a bevy of new material that they have sketched out in the back of tour buses. And "Hey Jude" is certainly a song written on the road while McCartney himself was driving.
In 1968, the marriage of John Lennon and his first wife Cynthia was falling apart, with the Beatle having begun a whirlwind affair with Japanese conceptual artist Yoko Ono. Trapped in the middle of the marriage breakdown was Lennon's young son, Julian (pictured, with McCartney), whose relationship with his famous father was already troubled and distant. It was Julian that McCartney claims to have had in mind for the song, the outline of which he put together in his head while driving to visit the child and his mother to offer them some support. "Hey Jude" is McCartney's way of attempting to soothe Julian as he deals with his parents' imminent divorce. ​​
As McCartney himself explained in "The Beatles Anthology": "I thought, as a friend of the family, I would motor out to Weybridge and tell them that everything was all right ... I had about an hour's drive. I would always turn the radio off and try and make up songs ... I started singing: 'Hey Jools — don't make it bad, take a sad song, and make it better...'"
Lennon's imaginative interpretation of Hey Jude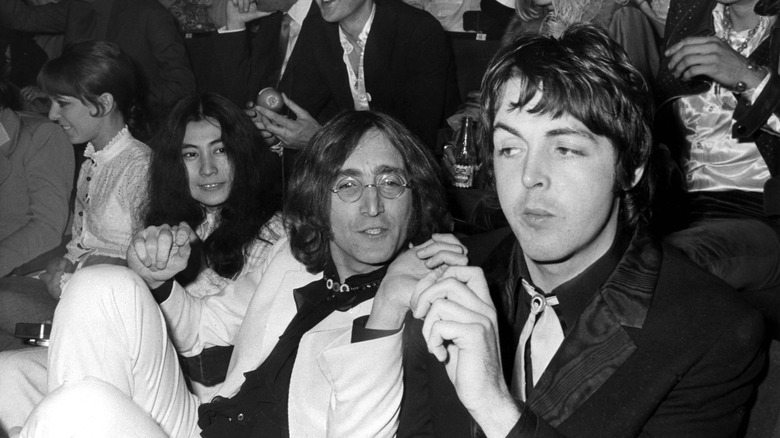 Cummings Archives/Getty Images
As previously mentioned, Paul McCartney's primary songwriting partner was effusive in his praise for "Hey Jude." McCartney recalled to his biographer Barry Miles that Lennon was even more confident in the quality of the lyrics of "Hey Jude" than McCartney himself. In particular, McCartney says that Lennon admired the line "the movement you need is on your shoulder," which McCartney himself originally thought was "crummy" and needed to be replaced. Lennon convinced McCartney to keep the line in, saying it was the best lyric in the song. McCartney states that for him, this line is now the emotional core of the song, which reminds him of his relationship with his friend and collaborator.
In the "Beatles Anthology," Lennon himself said he accepted that McCartney's hit song was about his son, Julian, and that McCartney had been a strong force in the child's life. However, he also believed that "Hey Jude" had a hidden subtext, and interpreted it as being about his own relationship with his new love, Yoko Ono. Lennon believed that "Hey Jude" was a codified "Hey John," and that the line "Go out and get her" was McCartney subconsciously giving his blessing to his fellow Beatles to leave their songwriting partnership and start a new life with the woman he loved.