The Untold Truth Of Hollywood's Giants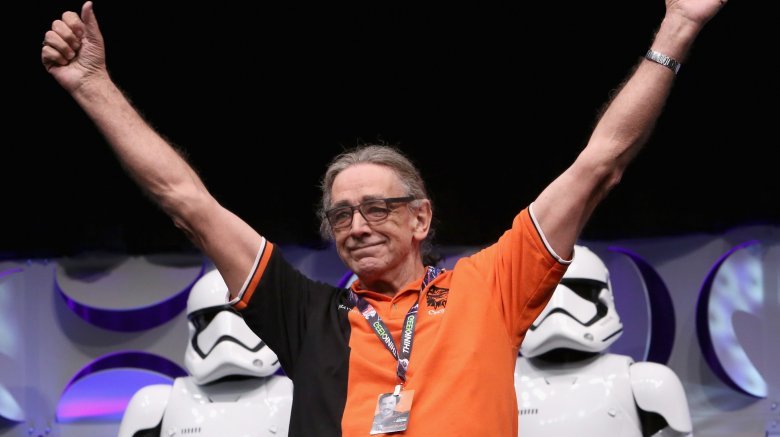 Getty Images
No matter how talented they may be, the first thing people notice about a giant actor is that, well, they're giant. It's hard for anyone over 7 feet to blend in anywhere, and that includes the big screen. Whether their role in a movie is big or not, their size alone means they'll stand out and get noticed.
But many of these Hollywood actors have stories far beyond being awesome at reaching the top shelf and terrible at climbing into Lamborghinis. Whether it's fascinating tales from their childhood, how they got their big breaks, oddball claims to fame, weird jobs they held before the bright lights of Tinseltown shone too brightly to ignore, or obscure blurbs on their resume you never hear about, these giants have more going for them than mere size. These are the untold truths behind some of the (literally) biggest stars in Hollywood history.
Matthew McGrory had the biggest feet in the world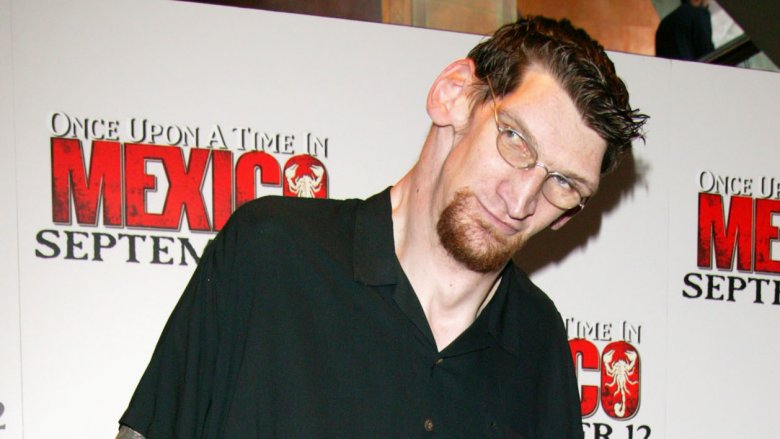 Getty Images
Even compared to other giants, Matthew McGrory was pretty darn big. At 7'6", McGrory towered over just about everybody, to the point where he was set to portray none other than Andre The Giant in a biopic about the famous wrestler. Unfortunately, heart disease took McGrory from us in 2005 at the far-too-early age of 32, so the Andre film never happened.
McGrory had a bizarre claim to fame beyond movies and just being incredibly tall: his feet were so big, they got him into the record books. In 1994, as a college student at West Chester University in Pennsylvania, McGrory saw the Guinness World Record for biggest feet and just knew he could beat it. So he contacted Guinness and, after his doctor wrote Guinness a note verifying his patient's enormous dogs, the world record company officially recognized McGrory's feet as the largest on any living person at the time.
They were actually two different sizes, as McGrory's right foot was 16.5 inches while his left was 17.5 inches. This gave him a size 22 shoe, larger than the previous record holder. As you might expect, with leg-hands that large, shopping for socks wasn't easy. Instead, his mother would sew two regular socks together to make one super-sock, and suddenly her son had a way to keep his feet warm without stuffing blankets in his shoes.
Peter Mayhew got big thanks to Marfan syndrome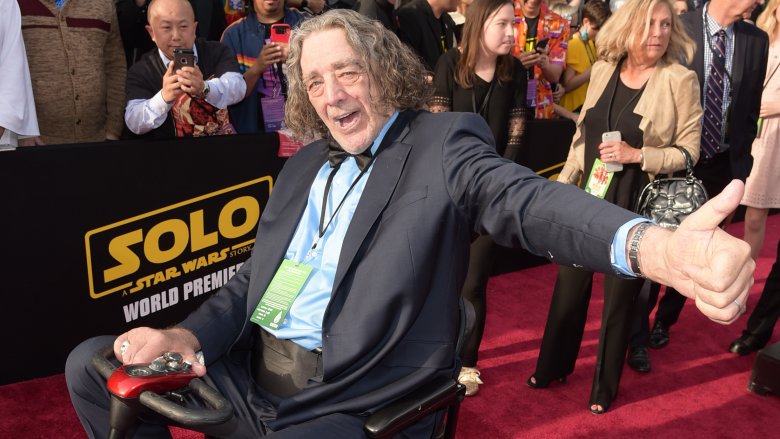 Getty Images
At 7'2", Peter Mayhew is best known to fans as Chewbacca, or more recently "Chewbacca consultant." He, like so many others his size, didn't get huge because he ate all his vegetables. Rather, a disease caused him to get that way. His disease, however, is more unique than some.
Many giants get big thanks to gigantism which, if untreated, becomes acromegaly. Mayhew, meanwhile, never had that. He was super-sized thanks to a disorder called Marfan syndrome. This is a connective tissue disorder that mutates an important protein called fibrillin-1, resulting in it not getting made properly. This creates an excess of another protein called transforming growth factor beta. True to its name, TGF-beta can cause people to grow more than they should, until they get big enough to believably portray a large, furry, ridiculously strong space alien.
Like acromegaly, Marfan syndrome can be debilitating as the patient gets older. But Peter Mayhew has survived and stayed healthy well into his 70s, overcoming a bout with pneumonia and only recently giving up the role of Chewbacca to somebody else. For that alone, he deserves the medal poor Chewie never got.
Robert Maillet had a 20-year pro wrestling career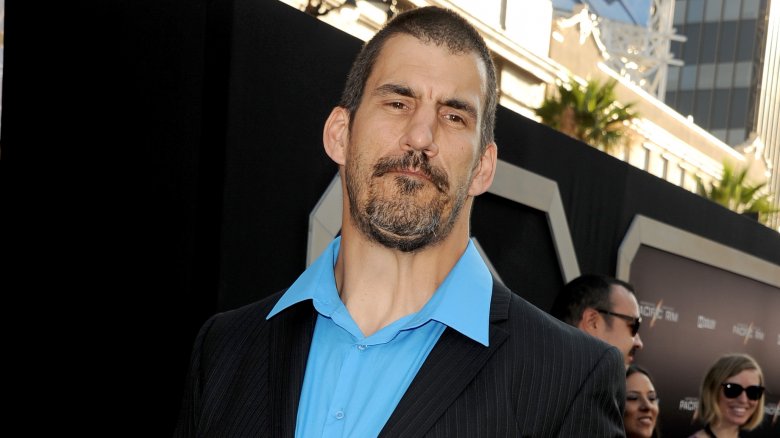 Getty Images
Robert Maillet is an intimidating sight indeed, mainly because he's not oddly skinny like some giants. Instead, he's over 320 pounds. There's a reason he's put in time in hard-hitting action flicks like 300, Pacific Rim, and Hercules, and films like Sherlock Holmes and Deadpool 2 that need a hulking big man to convincingly chuck around much smaller folks.
One reason Maillet's so big and tough is that, for over 20 years, that was his job. He was a professional wrestler, though casual fans have likely never seen him in the ring. After debuting in 1990, he mostly hit the international scene, wrestling in Canada along with the occasional Japanese show. If casual fans know him at all, it's probably thanks to the three years he spent in the World Wrestling Federation as Kurrgan. He started out as part of a South African militia group called the Truth Commission. He was their interrogator and, after seeing him in full-blown kill-you mode, you can see why.
After that act ran its course, he joined a group called the Oddities, who dressed and acted ... oddly. The Insane Clown Posse would rap them to the ring and everything. That lasted until early 1999 or so, when the WWF gave Kurrgan his walking papers. Undeterred, he continued wrestling on the independents until Hollywood became a smarter investment. He hasn't grappled since 2011, but the movies have kept him and his giant frame plenty busy since.
The truth behind Andre the Giant and Samuel Beckett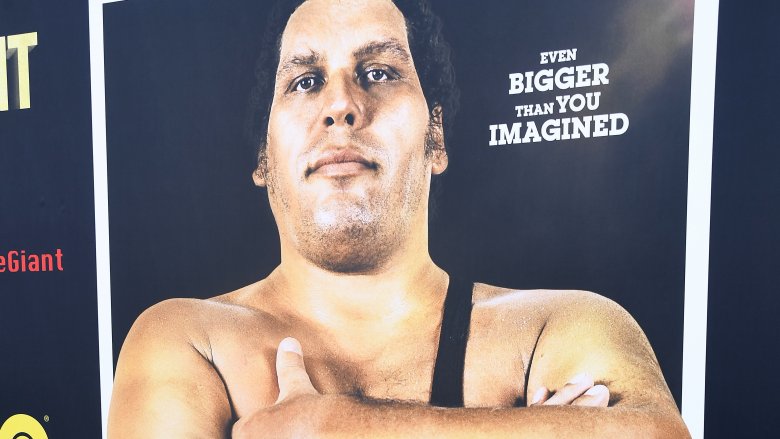 Getty Images
Perhaps you've heard how, as a child, famed wrestler and actor Andre the Giant would get rides to school from Master Playwright Samuel Beckett back when he was just Regular Guy Samuel Beckett. Usually, that story includes details like Beckett owing Andre's father a favor, Andre being too big for the school bus, and the pair forming a special bond during their rides together. It's a Hollywood-worthy legend, but it's not quite the real deal.
According to Snopes, none of the extra details about Driving Mr. Andre are true. The legend grew thanks to Andre's Princess Bride co-star, Cary Elwes, relating it in a 2000 interview for the Bride DVD. According to him, Andre personally told him the story, but a 2018 documentary about the former WWF Champion revealed Andre was simply doing what wrestlers do best: making things up.
Beckett did indeed give young Andre rides to school. However, according to both Andre's brother and his childhood friend, Beckett only gave Andre rides because he gave all the kids rides. He didn't owe Papa Giant a favor — in fact, the family barely knew Beckett. Andre didn't get too big for the bus, because there wasn't a bus in their small French village. And despite Andre's insistence that he and Beckett talked tons about cricket, Beckett apparently formed no actual bond with the original Dre.
On its own, two famous people interacting pre-fame is an interesting story. The fantastical details, while fun to think about, are simply unnecessary.
John Aasen got his start in circus sideshows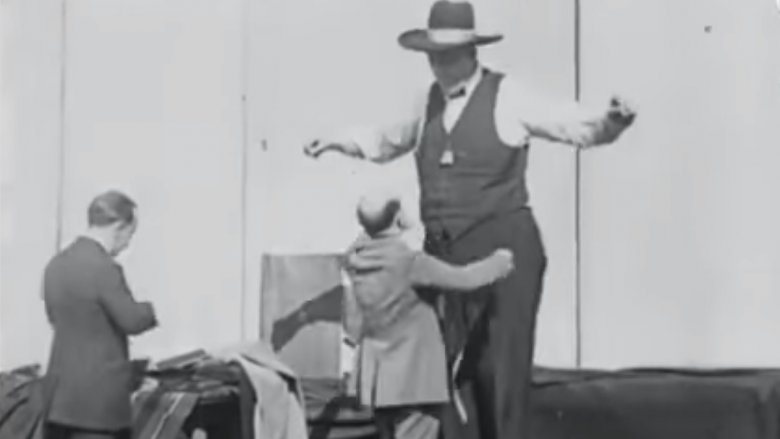 YouTube
If you're a '20s kid, first, congratulations on figuring out the internet. Second, you might remember John Aasen, the humongous silent film actor who was regularly billed at an inhuman 8 feet 9 inches. More realistically, he was probably about 7'4", according to both his official website and the book American Sideshow. Even still, that's big enough to get people's attention, especially when Aasen would stand next to his 3-foot best friend.
Back in those days, physical anomalies could make a name for themselves in circus sideshows (or "freak shows," if you want to be crude). Aasen did just that, touring the world with various circuses as "Johnny The Gent," or sometimes simply his real name. He was billed as having come from an entire race of Norwegian giants, and to make himself seem even bigger he would frequently bring along his small friend for size comparison. What else are friends for?
This life lasted until about 1922, when a fellow giant named George Auger died just before filming a movie called Why Worry? Aasen took the part, and his movie career took off. He continued acting up until his death in 1938. By then he had broken away from the sideshows, making his name in a more dignified manner.
Kevin Peter Hall became the Predator on no notice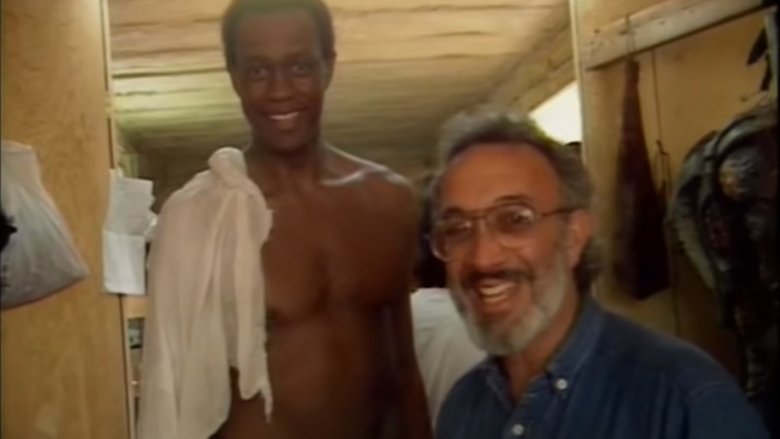 YouTube
Kevin Peter Hall isn't really a household name, mostly because his two biggest roles kept him completely concealed. Not only was he Harry the Sasquatch in Harry and the Hendersons, but he was also the Predator. Hall was such a good actor that he played the gentle, loving creature and the murderous alien head-hunter simultaneously in the summer of 1987, filming Predator one week and Harry the next.
But even great actors need a stroke of luck to get somewhere and, as the Telegraph recalls, Hall got lucky thanks to the actions of another, more famous actor: Jean-Claude Van Damme. Originally, Van Damme was to portray the Predator, but after just a couple days of filming he lost patience. Apparently, he thought he'd be onscreen more, and it would be his big break. Once he learned the Predator was virtually unseen until the end (and that the body suit he wore was incredibly hot), he made himself a royal pain. Within days he was fired, and the film crew needed a new Predator fast.
Luckily, Kevin Hall was available, so he took the role with little notice or prep time. But being the consummate professional he was, he adapted quickly, gave the character psychology that Van Damme probably couldn't have dreamed of, and never complained about the hot suit. The head came off so he could cool down between takes, and besides, he had a job to do and he did it.
Mark 'Conan' Stevens is trained in ballet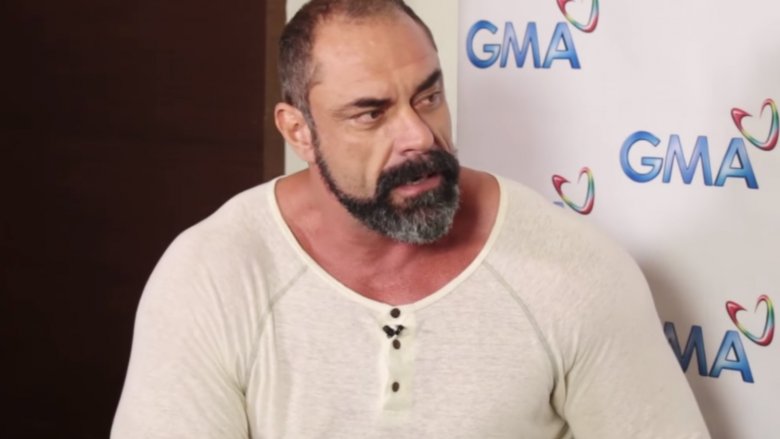 YouTube
The original Mountain from Game of Thrones, Mark "Conan" Stevens definitely looks the part. He's just over 7 feet tall, more than 300 pounds, and has the air of a complete bruiser. It would seem like the only dancing he does is the kind where he stomps on your head, but as it turns out, he's also one heck of a ballet dancer.
As his website explains, Stevens was a professional dancer with the Sydney Dance Company, thanks to a chance mid-'90s meeting with SDC director Graeme Murphy. Impressed by the big man, Murphy designed a dance around Stevens that became a ballet called Berlin. The play was a huge hit and Stevens performed it for three years, according to his interview with HBO Watch. He also wrestled during that time, but sadly, we never got to see him in the Nutcracker, smashing the Mouse King over the head with his title belt.
His ballet past likely helped him become the Mountain. The stoic character gets by almost entirely on movement, and Stevens' knack for remembering choreography was key to nailing the role. Plus, ballet unquestionably got him another job, in 2005's Man-Thing. The casting crew wanted someone large who could dance, and after he reminded his agent of his time in Sydney, she immediately snagged him an audition. He won the title role, though the movie flopped badly, so he'd likely rather you focus on his run in the Seven Kingdoms.
Ian Whyte plays tons of Game of Thrones characters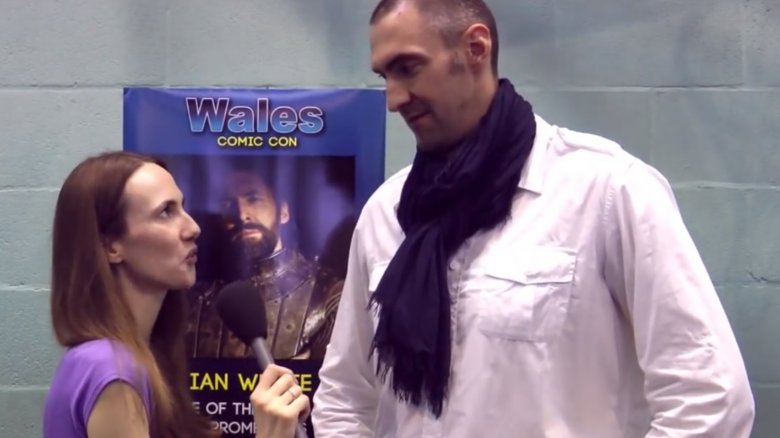 Speaking of Game of Thrones, one of the series' MVPs is a guy you likely haven't heard of. Ian Whyte, at 7'1", has played more characters than basically anyone, working to hold the show up far more than Kit Harington and his measly one role.
Starting in Season 1, Whyte played, appropriately enough, a White Walker. He was an important one, too – as he told the Independent, "I think I was responsible for either the first or the second beheading." Basically, he was the evil ice zombie version of the cool guy who knows how to get a party started. Then, come Season 2, he took over the role of the Mountain from the departing Conan Stevens. For seasons 3 and 4, he played a giant called Dongo the Doomed, who really should've had a talk with his parents about that name.
For seasons 5 and 6, he took on the role of Wun-Wun, who got a memorable death scene in Season 6's "Battle of the Bastards." His death played a role in helping Jon Snow take back Winterfell, so the big man didn't die in vain. According to Whyte, he didn't get the traditional heads-up that his character was toast, like other actors do. As he explained, "I've died before. Nothing would have surprised me."
Currently, he's playing a couple unnamed giant wights. Considering how the White Walkers are looking for a fight, Ian Whyte should have plenty to do.
Richard Kiel cowrote a historical novel about an abolitionist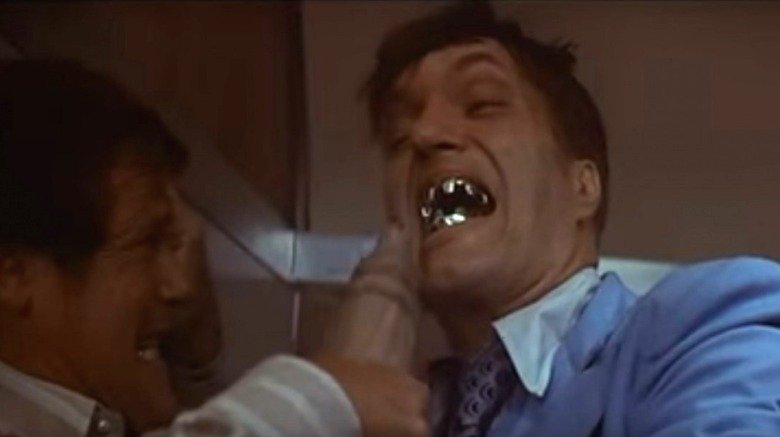 To most of us, Richard Kiel is known mainly in Hollywood for his portrayal of Jaws, the metal-mouthed bad guy who gave James Bond a frighteningly rough go in The Spy Who Loved Me and Moonraker. But he's much more than a 7'2" mass of evil. Kiel is actually an educated man with abolitionists on his mind.
In 2007, Kiel coauthored The True Story of Cassius Clay: Kentucky Lion, about a white man from the 1800s who knew slavery was wrong and worked to change other white people's minds about it. Cassius Clay (not to be confused with Muhammad Ali) did so by assuming public office, speaking to the overwhelming majority of white Southerners who didn't own slaves but were broke and jobless because slaves did all the work for free. Kiel didn't just slap his name on the cover for a vanity credit, either — his heart was fully into the creation of this book. He said in a statement, "Reading Kentucky Lion will cause people to think differently about the South. ... Cassius Clay is a forgotten hero, and I am pleased to tell his story in a way that will capture readers' attention and imaginations."
To further show how much Kiel cared about telling Clay's story, and furthering his legacy, half the proceeds went straight to charity. The fund in question would help poor students attend Berea College, the school Clay founded in 1855 as the nation's first fully integrated college. If only Bond knew how good this man was before electrocuting him and kicking him off a moving train.