Patrick Swayze's Final Words Before He Died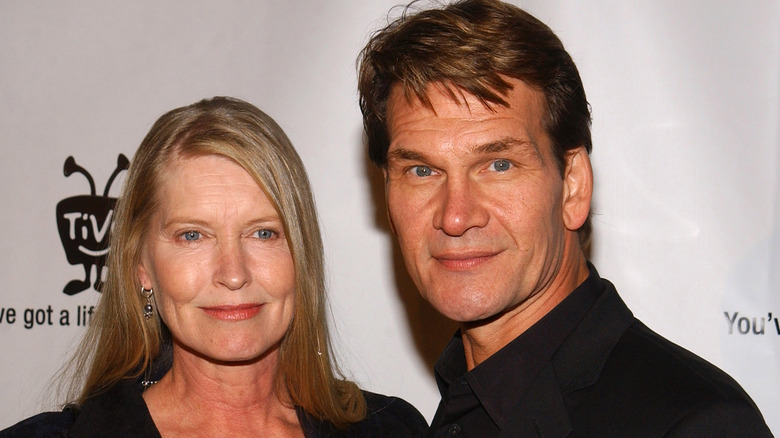 Jean-paul Aussenard/Getty Images
Patrick Swayze died at the young age of 57, and his final words to his widow, Lisa Niemi, add a sad footnote to his untimely passing. The "Dirty Dancing" star died in 2009 from advanced pancreatic cancer, Fox News reports. And his final words to his wife — "I love you" — were revealed in Niemi's 2012 memoir, "Worth Fighting For." Swayze lived with pancreatic cancer for less than two years before he died. Most advanced pancreatic cancer patients die within six months of their diagnosis.
Shortly before her husband died, Niemi told Barbara Walters (via Access) her husband's diagnosis was like "a nightmare you couldn't wake up from." She and her late husband met when they were only teenagers and married in 1975. Their marriage was rocky at points, but Niemi and Swayze always reconciled. As a teenager, Niemi took dance lessons from Swayze's mother, and the couple met performing together on stage. Recalling that moment in 2019's "I Am Patrick Swayze," Niemi said (via Entertainment Tonight), "I looked in his eyes, it was like everything came alive."
As well as "Dirty Dancing," Swayze was known for roles in hit films like "Ghost," "Point Break," and "Road House." For her part, Niemi was also an actress and director — she appeared in "She's Having a Baby," among other films, and in 2003, she directed and acted in "One Last Dance," which she starred in alongside her late husband. Recalling the early days of their relationship, Niemi told Today in 2023, "We had such an unlikely start because we were both very cautious ... [W]e ended up falling in love."
She wrote about Swayze's final moments in her book
United Archives/Getty Images
In addition to Patrick Swayze's final words to her, Lisa Niemi also wrote about what the "Ghost" actor's last few days were like. In her 2012 memoir, Niemi wrote, "I cherished our time alone, holding his hand, listening to music, sleeping with my arm around him, my head on his shoulder, wordlessly." According to Niemi's book, Swayze's final words to her were spoken on a Friday night. She wrote, "My last words to Patrick? 'I love you,' and those were his last words to me. After I brought him home, things went very fast." 
After speaking one final time to his wife, Swayze slipped into a coma and never recovered. He died early the next Monday morning. In her book, Niemi went on to add, "In the quiet of Monday morning, September 14 ... I looked at his face and listened to the tiny sips of air he was taking ... There was something delicate, childlike about it. I knew it was time."
Swayze died at his ranch in the Los Angeles area, and alongside Niemi, his brother, Donny, was there, ABC News reports. Swayze and Niemi had no children together. Swayze was cremated, and his ashes were spread at the New Mexico ranch, according to Radar Online. After Swayze's death, his "Ghost" co-star Demi Moore tweeted (via Daily Star), "I love and will miss you. You are loved by so many and your light will forever shine in all of our lives."
Niemi remarried, but her love for Swayze remains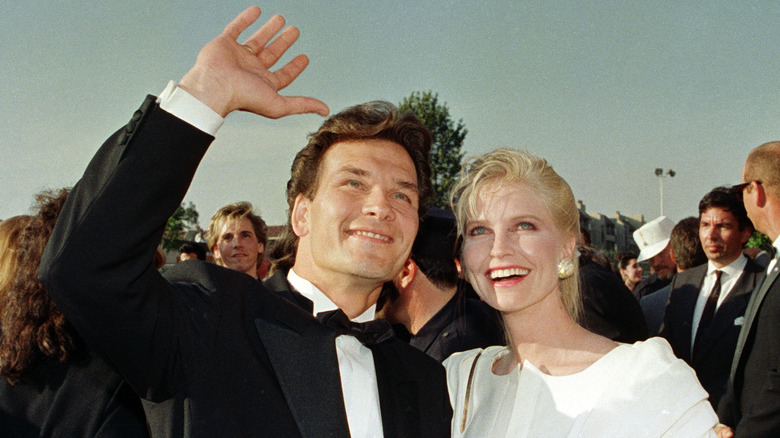 Bob Riha Jr/Getty Images
Though Patrick Swayze's widowed wife of more than three decades remarried jeweler Albert DePrisco in 2014, her love for her late husband remained. "Just because you lose someone doesn't mean love stops," Lisa Niemi told "Good Morning America" in 2022 (via Fox News). Referring to her new husband, DePrisco, Niemi said they felt blessed to find each other. "[W]e still have a lot of love to give, and it's wonderful to find someone to give it to," she said.
Along with her 2012 book "Worth Fighting For," in 2009, Niemi and Swayze co-wrote "The Time of My Life" about their life together and Swayze's experience living with pancreatic cancer. That book was published posthumously. In 2019, Niemi also contributed to the Swayze documentary, "I Am Patrick Swayze," USA Today reports. 
In 2023, Niemi opened up about what her life was like without her late husband (via Today), "Just because somebody's gone doesn't end your relationship with them. We spent 34 years together, and that's always going to be a part of my life and who I am." Also in 2023, Niemi spoke of her work with Pancreatic Cancer Action Network, a U.S.-based pancreatic cancer research and support advocacy nonprofit.
Speaking with Today Niemi said, "I still care, and I know how tough Patrick's and my journey was with this. Cancer may have taken him, but it didn't beat him. And I'm continuing his fight for him."