Deadliest Catch: The Tragic Sinking Of The Scandies Rose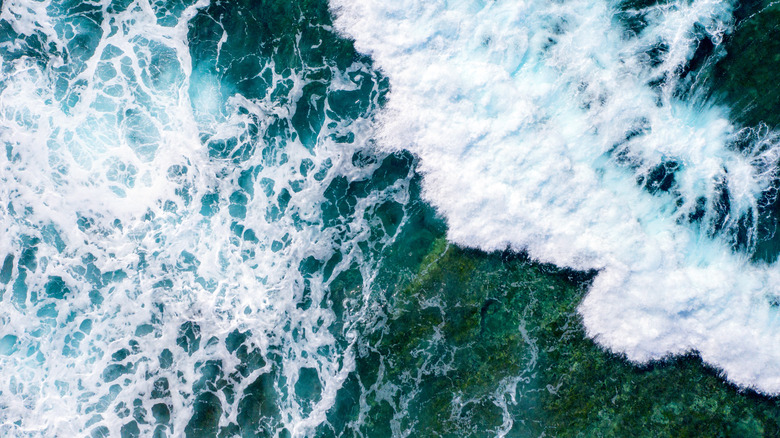 Maxiphoto/Getty Images
On New Year's Eve 2019, the captain and crew of the Scandies Rose set off into the dark and choppy waters of the Bering Sea to get a head start on the new year's crab fishing season. Only two of the seven men on board were ever heard from again. Around 10 p.m., the Coast Guard received a distress signal from roughly 170 miles southwest of Kodiak, near Sutwik Island. But when help arrived, no trace of the Scandies Rose could be found, the National Fisherman reports.
In high winds, rough waters, and freezing conditions, the vessel capsized and sank, killing five of the seven crewmen aboard her. It was the worst disaster for fishermen associated with the hit reality TV series "Deadliest Catch" since 2017, when the F/V Destination sank. No one from the Destination survived. (Built-in 1978, the Scandies Rose was never on the show, but several crew members were featured). Scandies Rose crew member Dean Gribble Jr. was one of two men who made it out alive, along with John Lawler.
In a YouTube video about that horrible night, Gribble Jr. said (via National Fisherman), "[W]e just started listing really hard on the starboard side ... everybody was trying to get out. We're in 20-foot seas, it's blowing 40, icing conditions, worst possible conditions. I've fished for 20 years, I know you do not make it. Everybody can die in those situations, and I knew that was what we were going into." 
The conditions were worse than expected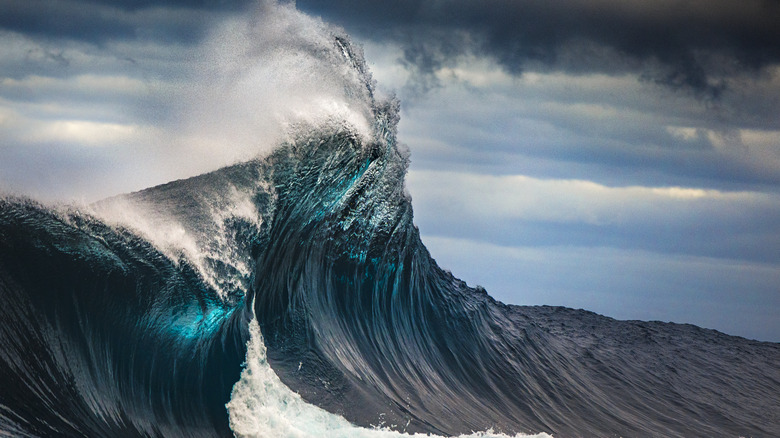 Philip Thurston/Getty Images
After a 16-month investigation the National Transportation Safety Board (NTSB) released its findings as to what likely caused the Scandies Rose disaster. In worse-than-expected conditions, excessive ice accumulated on one side of the 130-foot boat. That, along with reportedly inadequate stability instructions, contributed to the accident, according to the NTSB. 
Any culpability on the part of Captain Gary Cobban Jr. or any other crew member was ruled out, though. Nor were there any signs that Cobban Jr. or anyone else on the boat was overly fatigued or intoxicated when it happened. Captain Cobban Jr. sent the sole Mayday call from the Scandies Rose before it slipped beneath the water, and he was reportedly in contact with his girlfriend earlier that same night, according to Anchorage Daily News (via National Fisherman). 
In their conversation, Cobban Jr. mentioned the ice buildup and that his boat was listing to one side, but they proceeded anyway. "He didn't sound scared," his girlfriend said. By the time Cobban Jr. spoke with another captain out on the water that night, though, his mood had changed, according to the NTSB investigation. Around 9:45 pm that night, the Scandies Rose retreated back toward Sutwik Island, but it was too late.
News of the Scandies Rose wreck was shared in Season 16 of 'Deadliest Catch'
Early on, no one knew just how bad the sinking of the Scandies Rose was. When "Deadliest Catch" Captain Sig Hansen of the Northwestern learned what happened in Season 16, Episode 8, he said (via People), "There's reports that the Scandies Rose has gone down, and that it's missing. I don't know if they're on board or made it in the water." Another captain, Scott Campbell Jr., added (via People), "There's always a chance in the next hour or two that they might be able to find the guys. ... [I]f they don't find them in a couple of hours, the odds of them surviving are not good." 
As mentioned, two of the seven men aboard the fishing vessel did manage to don their survival suits and make it to one of two life rafts that deployed automatically as the boat sank. One of those men, Dean Gribble Jr., later recalled the ordeal (via National Fisherman). "We were in the raft for like five hours or so. ... I just wish the other guys had made it. I feel bad that I'm here and they're not," he said. 
The bodies of the five men who perished in the accident — Captain Gary Cobban Jr.; his son, David Cobban; Seth Rosseau-Gano, Arthur Ganacias, and Brock Rainey — were never found (via Alaska news outlet KTOO). In 2020, survivors and families of those who died were awarded a $9 million settlement from the owners of the boat, The Seattle Times reports.