Here's Who Inherited Stan Lee's Estate After He Died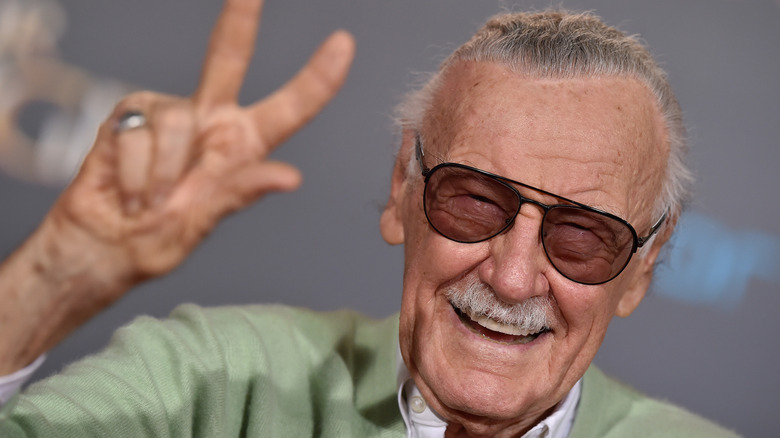 Axelle/bauer-griffin/Getty Images
On November 12, 2018, the legendary comic book creator Stan Lee died of heart and respiratory failure in his sleep. He was 95 and had amassed a fortune estimated at between $50 and $70 million, according to AARP The Magazine, through the iconic characters he co-created, including Spider-Man, Black Panther, and the X-Men. In his final days, he had allegedly suffered elder abuse and been ripped off by several people in his inner circle, per The Hollywood Reporter. There were also several related lawsuits making their way through court.
With Lee's death, his daughter, Joan Celia Lee, known as J.C., inherited his estate but continued to pursue various legal actions attempting to get "everything that's mine. I want my museum, I want to do a restaurant — Stan Lee's Super Subs — I want to do a big Spider-Man Stan monument to put my family's ashes somewhere," she told AARP. But in 2020, one of those lawsuits, against Pow! Entertainment regarding her father's intellectual property ended up being thrown out of court for being "meritless" and Lee was sanctioned $1 million, per the court opinion (via casetext).
A tangled web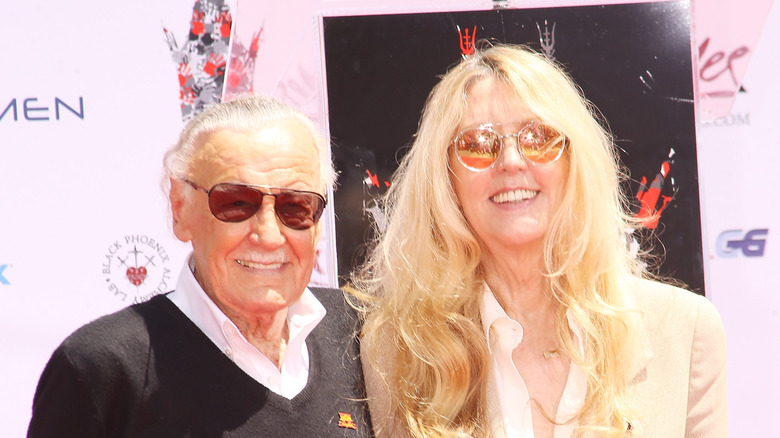 Michael Tran/Getty Images
Stan Lee was born Stanley Martin Lieber on December 28, 1922, in New York City to Romanian immigrant parents, per The New York Times. After high school, he fell into the comic book business when he was hired at Timely Comics as an errand boy. In the 1960s, he helped launch the golden age of comics via Marvel. He married Joan Boocock in 1947 and their daughter J.C. was born in 1950, per Metro. A second daughter, Jan, came three years later but died in infancy.
Until her death in 2017, Joan kept a steady hand on the rudder of the family's assets, according to AARP The Magazine. But J.C. wasn't very good with money, according to Stan Lee. He and Joan created a trust to prevent her from burning through her inheritance before her parents died. The control of Stan Lee's fortune allegedly led to J.C. shouting and physically abusing her elderly father.
Fears after death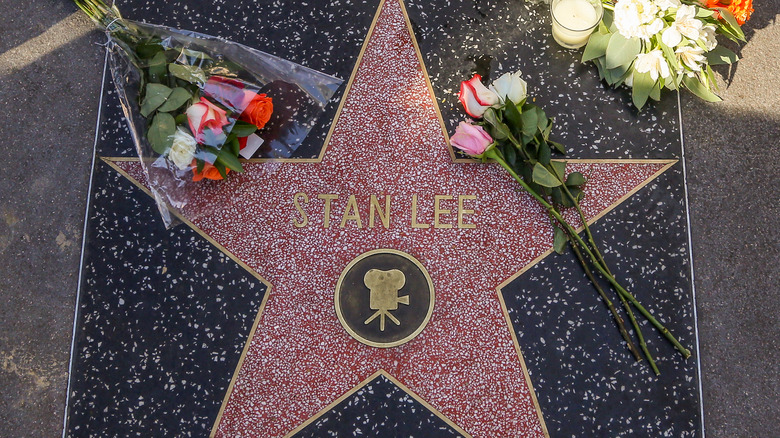 Gabriel Olsen/Getty Images
In February 2018, Stan Lee filed a notarized declaration with his attorney Tom Lallas, in which he stated his daughter would often rack up credit card charges of $40,000 a month and that when the two disagreed about money, Lee stated she "typically yells and screams at me and cries hysterically if I do not capitulate," per The Hollywood Reporter. He feared that "after my death, she will become homeless and destitute" if he changed the stipulations of the trust. The declaration blamed Jerardo "Jerry" Olivarez, Keya Morgan, and J.C.'s attorney, Kirk Schenck, for unduly influencing Stan Lee's daughter in order to "gain control over my assets, property, and money."
Days later, Stan Lee repudiated the declaration and he, or someone close to him, fired his attorney. Sten Lee sued Olivarez and Lee's former attorney Uvi Litvak, six months before his death, alleging both men had taken advantage of the 95-year-old for their own monetary benefit. In July 2022, Stan Lee's estate settled the case against Olivarez out of court (but not with Litvak), per The Daily Beast. In November 2022, a judge dismissed a criminal case against Morgan following a mistrial, per Gizmodo. He had been facing charges related to the alleged theft of about $200,000 from Lee.