The Rise And Fall Of Andre The Giant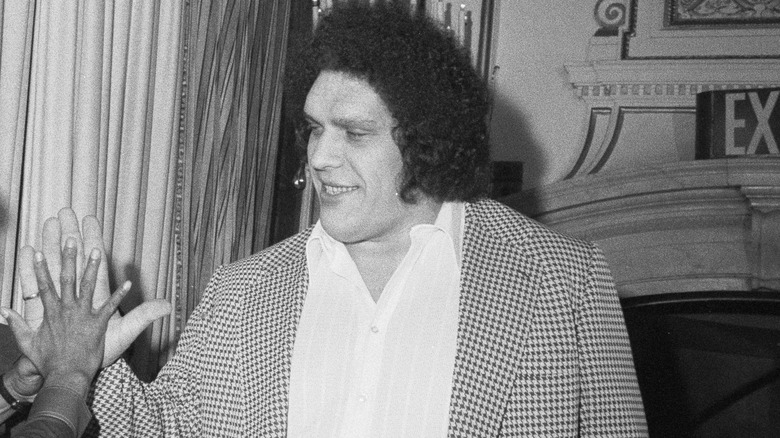 Bettmann/Getty Images
Billed at 7-feet-4 and more than 500 pounds, André the Giant was literally — and figuratively — a huge in-ring attraction as a professional wrestler. Best known for his time in what was then known as the WWF, the Frenchman was a staple of 1980s wrestling, feuding with a number of would-be icons such as Big John Studd, Hulk Hogan, and Jake "The Snake" Roberts. And he pulled off many of his wrestling achievements despite dealing with acromegaly, a condition caused by the overproduction of growth hormones, as per the Mayo Clinic. This condition, aside from often leading to gigantism, can cause joint or muscle weakness, fatigue, limited mobility, and other unpleasant physical symptoms that could compromise one's quality of life.
With that in mind, it's even more impressive that André was still an effective performer and one of the WWF's biggest draws in his late 30s and early 40s. But André's rise to big-time wrestling superstardom was followed soon after by a precipitous fall and an untimely death just a few months after he wrestled his last-ever match.
The early years: From Europe to Japan to North America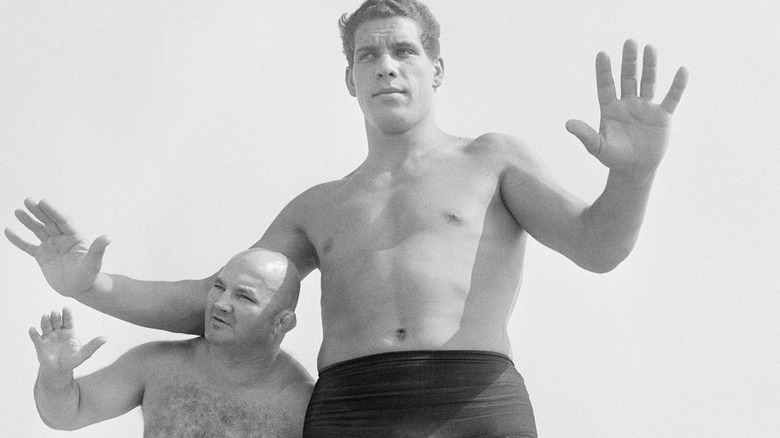 Universal/Getty Images
Born on May 19, 1946, in Coulommiers, France, and raised in the village of Molien, André René Roussimoff was always large for his age. At 12 years old, he was already 6 feet tall, and by the time he was 18, he had reached the 7-foot mark. It was around then that the young man started training as a pro wrestler, and from 1966 to 1971, he wrestled across Europe under the ring name Jean Ferre. 
In 1971, André — now known as Monster Roussimoff — took his talents to Japan's International Wrestling Enterprises, or IWE. At that early point in his career, he was known for being quick for his size, and he had yet to develop the burly frame that most fans nowadays are familiar with. His ability to work the crowd and his opponents as a heel was also developing quickly. However, it was also in Japan where André first learned he had acromegaly, though he would refuse treatment multiple times for his condition.
André's work in Japan helped him gain the attention of North American promoters, and by the summer of 1971, he was working matches in Canada and for Verne Gagne's American Wrestling Association (AWA). By 1973, he had again switched ring names to André the Giant and started making appearances for the WWE — then owned by Vincent J. McMahon (aka Vince McMahon Sr.) and known as the WWWF.
A fan favorite in North America's territories, a monster heel in Japan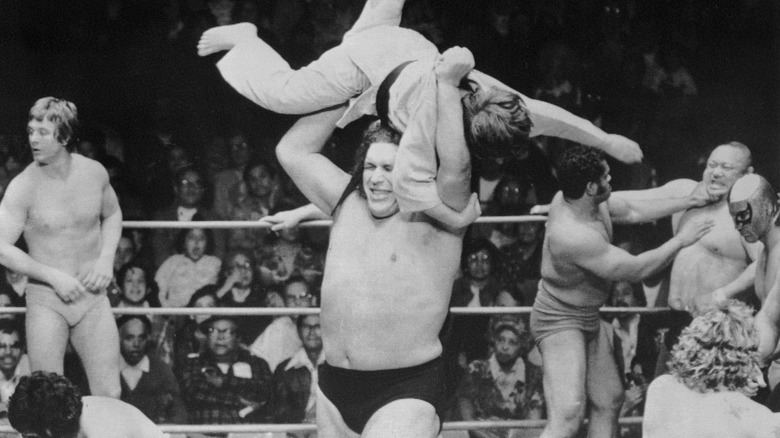 Bettmann/Getty Images
The next decade or so of André the Giant's wrestling career in North America was spent across various territorial promotions as a special attraction. Sometimes, he was booked to help boost ticket sales at major events, or as a top babyface's surprise tag team partner. Other times, he was brought in as the biggest man in a territory's battle royal. So dominant was André in this match type that he was considered the "king" of the battle royal.
Speaking to CBS Sports for its career retrospective on André, former NWA World Heavyweight Champion Dory Funk Jr. looked back on the Frenchman's time as a battle royal standout. "Every night we'd set up two rings and we'd have a giant battle royal," Funk recalled. "He did fabulous business for us. I actually called Vince McMahon Sr. and I asked him 'How much should I pay Andre?' because we were doing such super business."
André also did tours for New Japan Pro-Wrestling (NJPW) in the '70s and '80s. Whereas he was booked as a fan favorite in the territories, André was positioned as a monster heel in NJPW, where his now-superb in-ring psychology, combined with his size, made him look like a convincing bad guy. Sadly, that was the same year when André began dealing with injuries; he suffered two broken ankles, including one that he sustained while getting out of bed. Though he would achieve greater things in the years to come, this particular injury apparently slowed André down for the rest of his career.
He became one of WWF's first big stars following its expansion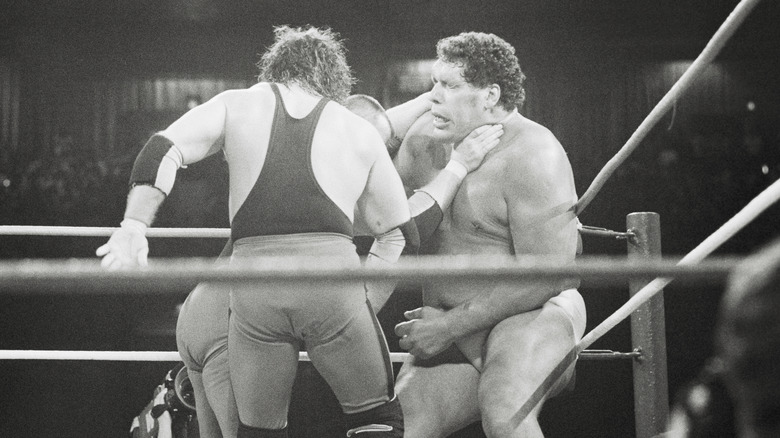 Bettmann/Getty Images
Vince McMahon bought the company now known as WWE from his father, Vince McMahon Sr., in 1982, and while he had his sights on Hulk Hogan becoming the company's top star as part of the company's expansion, André the Giant was very much in his creative plans. No longer a special attraction in any given wrestling territory, the Frenchman was a key component of the then-WWF's roster, taking part in a long-running feud with Big John Studd that started in 1983 and included a bodyslam challenge at the first WrestleMania in 1985, which he won.
At WrestleMania II in 1986, André reprised his role as the man to beat in battle royals, and beat 'em all he did. The "Eighth Wonder of the World" emerged victorious in a 20-man battle royal featuring a mix of WWF and NFL stars, with the latter group most notably including touchdown-scoring, Super Bowl-winning Chicago Bears defensive lineman William "The Refrigerator" Perry. It wasn't a world championship match, but it was a great showcase for André's size and strength.
André underwent back surgery later that year as his body continued breaking down, and in an effort to cover up the back brace he had to wear, he was given a new costume as Giant Machine, the latest member of a masked stable that included other disguised WWF superstars. Fans easily saw through the charade, and the gimmick was seen as a failure.
Andre was notorious for his unbelievable alcohol consumption
As André the Giant's wrestling notoriety ramped up, so did the stories of his alcohol consumption. Though it's natural to expect someone as large as André to consume much more alcohol than an average-sized person, the wrestler took his drinking to dangerous levels, with some claiming he could down more than a hundred beers in one sitting. "Every bit of it's true," former WWF/WWE referee Tim White told CBS Sports. "He could do it as much as he wanted, when he wanted."
According to WWE Hall of Famer Gerald Brisco, André would even drink before matches. "Andre used to ask me to get him six bottles of Mateus wine and ice them down," Brisco told the Tampa Bay Times. "He would drink those before we went to the ring and no one could tell."
On the other hand, it seemed André's drinking was his means of coping with the intense pain he was suffering as a result of his in-ring injuries and acromegaly. "Andre didn't drink for the sake of drinking," the wrestler's "The Princess Bride" co-star Cary Elwes said in an interview with Vanity Fair. "Andre was in a lot of pain, God bless him ... He was due to have an operation right after the shoot, and his doctor didn't know what kind of pain medication to give him because of his size, so the only way that he could deal with the pain was to drink alcohol."
Acting in The Princess Bride exposed him to mainstream audiences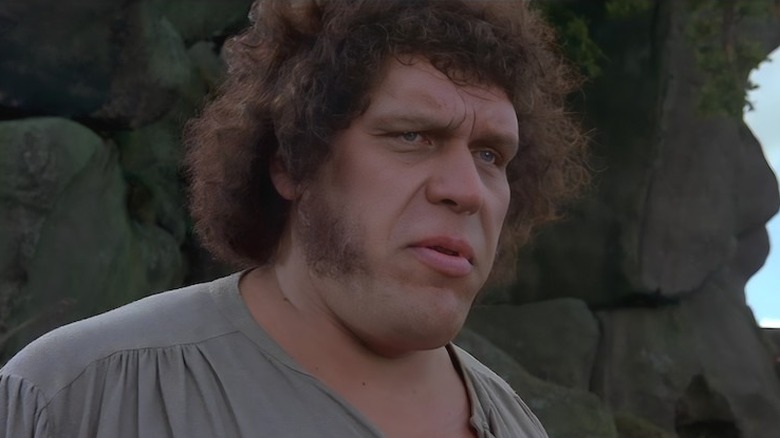 20th Century Fox
The 1987 film "The Princess Bride" saw André the Giant play the now-iconic role of Fezzik, the giant from Greenland who accompanies Westley (Cary Elwes) and Inigo Montoya (Mandy Patinkin) in their quest to rescue Buttercup (Robin Wright) from the dastardly Prince Humperdinck (Chris Sarandon). The film gave André a good deal of mainstream exposure outside of the wrestling scene while earning him the respect of his castmates for being a gentle giant on- and off-screen.
In a Twitter post commemorating the 35th anniversary of "The Princess Bride," Patinkin recalled one particular act of kindness from André toward their castmate Wallace Shawn during one moment when they were riding a prop forklift. "Wally had a fear of heights," the actor shared. "But we get on the thing and the forklift starts to go up, and Wally starts to clearly have issues with being lifted off the ground and the height. And André just puts his arms around him like a baby, and he says to Wally, 'Don't worry. I'll take care of you.' And I'll just never forget it."
For his part, André saw his appearance in "The Princess Bride" as a huge achievement. "He was proud of being a box office attraction in wrestling, but he was also very proud of his acting skills," Dory Funk Jr. told CBS Sports.
His feud with Hulk Hogan made him a red-hot heel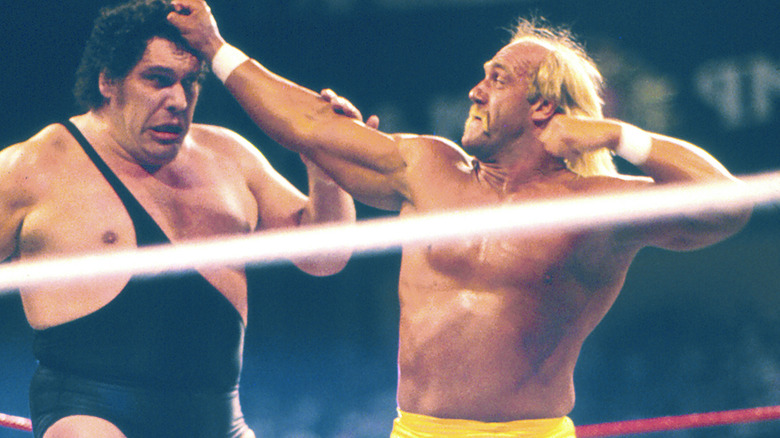 Jeffrey Asher/Getty Images
When done right, a heel turn could do wonders for an erstwhile babyface's push, and that was the case with André the Giant in the lead-up to WrestleMania III in 1987. Jealous over Hulk Hogan receiving a much larger trophy for his third year as WWF Champion than the one he got for being undefeated as the storyline, André teamed up with villainous manager Bobby Heenan and demanded a title shot from Hogan, ripping off the Hulkster's crucifix from his neck to let everyone know he wasn't playing around.
Hogan and André got to face off for the title at WrestleMania III in a match that has since become famous for Hogan bodyslamming his 500-plus-pound opponent — supposedly making him the first man to do so — and winning the match cleanly. The fan reaction at the Pontiac Silverdome in Michigan underscored how satisfying it was to see Hogan triumph over one of WWF's top bad guys — if not the top bad guy. 
"Andre made Hulk Hogan, in my opinion," WWE Hall of Famer Ted DiBiase told CBS Sports. "Here comes this guy that has everything going for him, you know, Hogan. His size, his whole deal, his look. But you know, somebody's gotta make him a star. And Andre the Giant more than anybody, I think, is the guy who helped Hogan become a star, and I think Hogan would tell you that."
Andre won his only WWF world title in bizarre fashion
Interestingly, André the Giant held the WWF/WWE Championship but once in his illustrious career. While this would be the crowning moment in the career of almost any given wrestler, André's title reign was of the blink-and-you-miss-it variety, with dubious storyline circumstances leading to the victory.
The championship victory took place during the February 5, 1988, edition of "The Main Event," and it involved André pinning erstwhile champion Hulk Hogan despite the fact Hogan kicked out at the count of three. Turns out there was some twin magic involved — while Dave Hebner was supposed to be the referee for the match, it was actually his twin brother, Earl Hebner, who was giving André the tainted win, having been paid off by "The Million Dollar Man" Ted DiBiase. And in an even more bizarre twist, André immediately presented the WWF Championship belt to DiBiase, who was almost immediately stripped of the title by the company's kayfabe president, Jack Tunney.
With the WWF Championship declared vacant, a tournament was held to determine the new champion at WrestleMania IV in March. Neither Hogan nor André advanced to the finals, as they fought to a double disqualification in the second round. André spent the next several months feuding with the tournament's winner, "Macho Man" Randy Savage, but all his attempts were futile, as their matches typically ended with one man (or both) getting disqualified.
He spent much of 1989 putting others over but enjoyed some tag team success
It may sound unusual to think of someone like André the Giant as a "jobber to the stars" — a wrestler with name value who is usually booked to lose to established talents to make them look strong, or to younger grapplers to help build their reputation. But that's how he spent most of 1989, as he regularly lost to wrestlers such as Jake "The Snake" Roberts and Big John Studd. His rivalry with Roberts, which culminated with a loss at WrestleMania V, was notable because it was based on the giant's fear of snakes — not exactly what you'd expect from a man of his stature. 
In August, André entered a feud with The Ultimate Warrior for the latter's Intercontinental Championship. Though most of their matches were not televised, André was regularly squashed — or dominated — in about a minute or less. This helped cement Warrior's status as a future champion but consequently made André look weak and past his prime due to how easily he was defeated. Not helping was the fact he was a heel who would have been expected to benefit from the illegal shenanigans of his faction, the Heenan Family.
Thankfully for André, his push got a much-needed lease on life in the final months of 1989 as he moved to the tag team division and partnered with Heenan Family stablemate Haku. Together, they formed the Colossal Connection, and on the December 13 television taping for "Superstars of Wrestling," André and Haku won the WWF World Tag Team titles from Ax and Smash, aka Demolition.
Andre was not able to capitalize on his WrestleMania VI face turn
Although André the Giant was successful as one-half of the Colossal Connection, his move to the tag team division was a necessity, as the aging big man was finding it harder and harder to perform in the ring; as such, Haku did most of the in-ring work for the duo. That was also the case at WrestleMania VI on April 1, 1990, where the Colossal Connection dropped the WWF World Tag Team Championships back to Demolition. Following the match, André attacked his manager, Bobby Heenan, setting a babyface turn into motion. Unfortunately, he wasn't able to capitalize on the momentum.
Instead of resuming the feud on WWF television as a good guy, André was out of action for close to half a year and only resurfaced in September in All Japan Pro Wrestling, where he took part exclusively in tag team matches. At this point, his age, his acromegaly, and the years of wear and tear he endured as an active wrestler severely compromised his ability to perform in the ring. But he wasn't done with wrestling just yet, and the WWF had big plans for what should have been his return in early 1991.
His wrestling career ended with a painful whimper
André the Giant's WWF return was advertised ahead of the 1991 Royal Rumble pay-per-view, where he was apparently in consideration to be booked as the winner of the show's titular main event battle royal. But as then-WWF backstage producer Bruce Prichard recalled in 2018, André's failing health caused him to be pulled from the Royal Rumble. "It was health issues, it was the thought that we're not going to get Andre beyond this," Prichard told Wrestling Inc. "[We thought] maybe we do one where he wins it, but health issues just weren't going to allow him to be able to compete in it. Even bringing him out at number 30 wouldn't have been pretty."
Save for a few untelevised matches in the spring of 1991, André was done as an active WWF competitor, though he did get a storyline where various heel managers tried to lure him back to the dark side, only for them to be rejected in embarrassing ways. Furthermore, his physical condition had deteriorated to the point that he needed crutches to get around. 
André's next stopovers were in Japan and Mexico, where he continued working in six-man tag team matches that were designed to limit the amount of time he spent in the ring. At that point, his physical decline was more apparent than ever. In fact, during his time in Mexico, it was evident he had put even more weight on his already massive frame.
His tragic death
Jeffrey Asher/Getty Images
André the Giant wrestled his last match ever on December 4, 1992, in Tokyo, where he teamed up with Giant Baba and Rusher Kimura to win a six-man tag team match at the Nippon Budokan. Not long after flying back to the U.S., he spent some time with Tim White in January 1993; the veteran referee told CBS Sports that his friend seemed happy despite his poor physical condition. "He was in terrible shape," White said. "The back, everything. He looked bad. But he cheered right up when I was there."
André then flew to France after receiving word that his father, Boris Roussimoff, was severely ill. He let his friends in the U.S. know that he would be staying home in France for his father's funeral, and later to celebrate his mother's birthday on January 24. "I saw pictures of him at his mother's birthday party and I was shocked," said another longtime friend, Jackie McAuley. "His skin was gray and powdery and his eyes were so deep."
On January 27, 1993, André René Roussimoff, aka André the Giant, died of heart failure in his Paris hotel room at the age of 46, shortly after he had spent most of the day catching up with childhood friends from his hometown of Molien. In 1994, André was rightfully enshrined into what is now the WWE Hall of Fame as its first-ever inductee.