The Only Pro Basketball Players To Achieve This NCAA And NBA Victory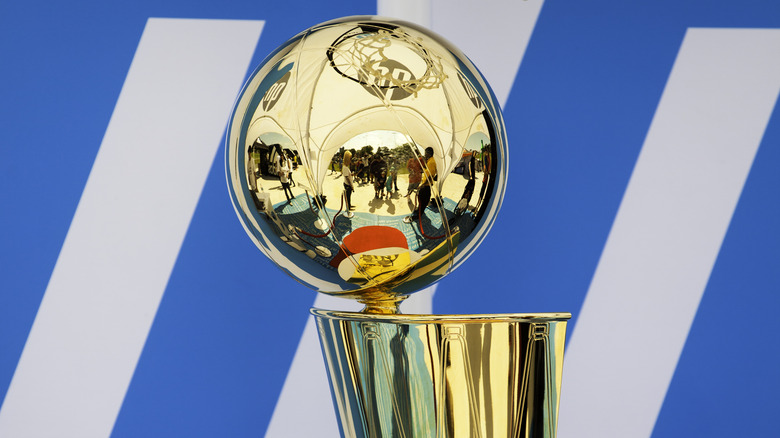 Tomeng/Getty Images
The Denver Nuggets 2023 NBA championship win was notable for a number of reasons. It was the team's first finals appearance in franchise history, and Nuggets' rookie guard Christian Braun earned more than just a ring — he joined an exclusive club of NBA players who won both an NBA and NCAA title in consecutive seasons.
The last player to do so was forward Billy Thompson in the 1986-87 NCAA and NBA seasons with the Louisville Cardinals and Los Angeles Lakers, respectively. Elsewhere, legendary point guard Magic Johnson accomplished back-to-back title wins at Michigan State in 1979 and again in LA with the Lakers in 1980.
Basketball luminary Bill Russell also won a college title in 1956 with the San Francisco Dons, and then again in 1957 with the Boston Celtics. Guard Henry Bibby did it in 1972 and 1973 with the UCLA Bruins and the following season with the New York Knicks. All combined, those four players are esteemed company for the 22-year-old Denver guard to keep.
Christian Braun won an NCAA title with the Jayhawks
Jamie Squire/Getty Images
Christian Braun's 2022 Division I championship win was with the University of Kansas Jayhawks, who defeated the North Carolina Tar Heels that year 72–69. Braun averaged 11.2 points and 7.3 rebounds in the tournament and finished second that year in Big 12 field goal percentage. Braun played three seasons at Kansas before entering the 2022 NBA draft after his junior season.
In that year's draft, Braun was picked 21st by Denver and averaged 4.7 points, 2.4 rebounds, and 15.5 minutes in six starts and 76 game appearances during his rookie outing. Referring to Braun, Kansas head coach Bill Self said (via The Kansas City Star), "He is tough. He can guard anybody. He's athletic. He provides energy. He doesn't turn it over. He is smart and plays his butt off every possession."
And on the potential to become the fifth NBA player to win back-to-back NCAA and NBA titles, Self added (via The Star), "That'd be quite an accomplishment from a youngster from Kansas City ... It hasn't been done in a while."
Braun's 2023 NBA championship was his fifth title in seven years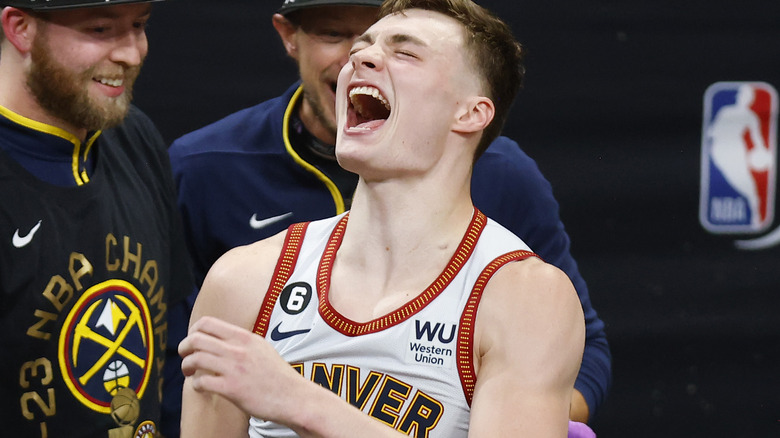 Justin Edmonds/Getty Images
Adding further distinction to Christian Braun's 2023 NBA championship with the Nuggets, Braun won three straight state championship titles in Kansas at the high school level, giving Braun a championship win at every level of the game. Bill Russell and Magic Johnson also accomplished title wins at all levels of the sport. Meanwhile, Braun also joins Lakers center Kareem Abdul-Jabaar in that category. 
On his 2023 NBA championship win, Braun said (via The Kansas City Star), "It feels great ... I'm blessed to be in this position. I meant to win it for the guys in this locker room. That's what I'm most proud of. To be around a group like this and to win this ... (the) accomplishment feels great." Braun scored seven points, had three rebounds, one assist, and one block in 24 minutes of gameplay to help the Nuggets beat the Miami Heat 94–89 in Game 5 of the series (via NBA).