Wife Of OceanGate Founder Has Familial Ties To Titanic Victims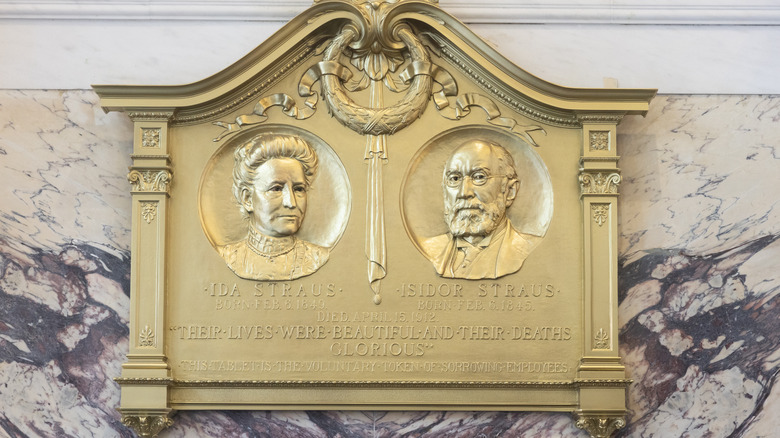 Bloomberg/Getty Images
The sad irony was plain to see: Five people missing in a commercial submersible called Titan en route to view the Titanic, among the most famous shipwrecks in history. According to The New York Times, though, there's yet another connection between the Titan submersible and the Titanic: Wendy Rush — the wife of Stockton Rush, CEO of OceanGate, the company that built the Titan — is the great-great-granddaughter of two famous people who died when the Titanic sank. What's more, Wendy's wealthy relatives, Isidor and Ida Straus, were immortalized in the 1997 Hollywood blockbuster "Titanic" as a fictionalized elderly couple embracing each other as cold Atlantic ocean waters flood their cabin. 
Stockton was also on board the Titan when contact was lost and is now believed to be dead. The small Titan submersible disappeared on June 18 with a 96-hour oxygen reserve. Alongside Stockton on the experimental underwater craft was world-renowned Titanic authority Paul-Henri Nargeolet, British billionaire Hamish Harding, and wealthy Pakistani businessman Shahzada Dawood and his son, Suleman (via The New York Times). According to an OceanGate statement (via CNN), all Titan occupants lost their lives in a catastrophic implosion.
Isodor Straus turned down a seat on a Titanic lifeboat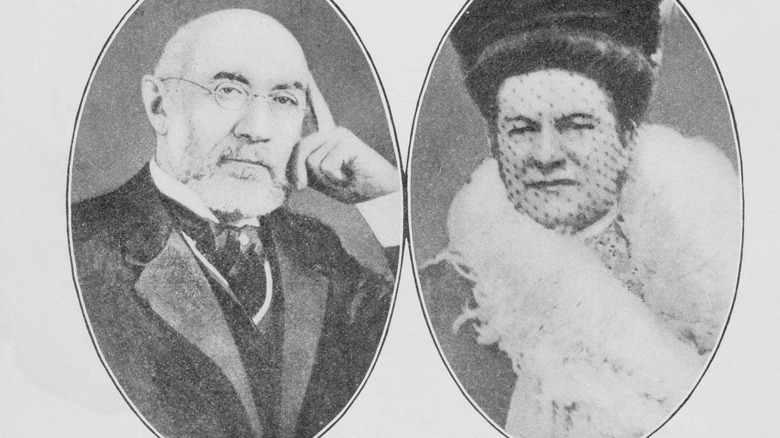 Bettmann/Getty Images
Wendy Rush is reportedly the direct descendent of one of Isidor and Ida Straus' daughters, Minnie Straus, who later married Dr. Richard Weil. Rush's great-great-grandfather Isidor co-owned Macy's department store and for a time represented New York in the U.S. House of Representatives, according to NPR. The couple were reportedly on their way back to the U.S. from Europe when the Titanic famously struck an iceberg and sank. Titanic wreckage was later discovered some 13,000 feet below the surface.
In 2017, the Straus' great-grandson and Rush's relative, Paul A. Kurzman, told TODAY that Ida gave up her chance to survive the sinking as women and children boarded lifeboats. She chose instead to remain on board with her husband. A notable VIP, Isidor was given a seat on a lifeboat, but as was custom, turned down the opportunity until all women and children escaped, Kurzman said. Kurzman reportedly learned what happened to his relatives on board the boat from the Straus' eldest daughter, Sara Straus Hess. 
According to Kurzman, Ida said, 'We have lived our whole life together and if you are going to remain on the boat and to die as the boat sinks, I will remain on the boat with you. We will not leave one another after our long and wonderful marriage together." Ida's body was never found. Isidor's remains were later pulled from the water.
Isidor Straus' locket was also found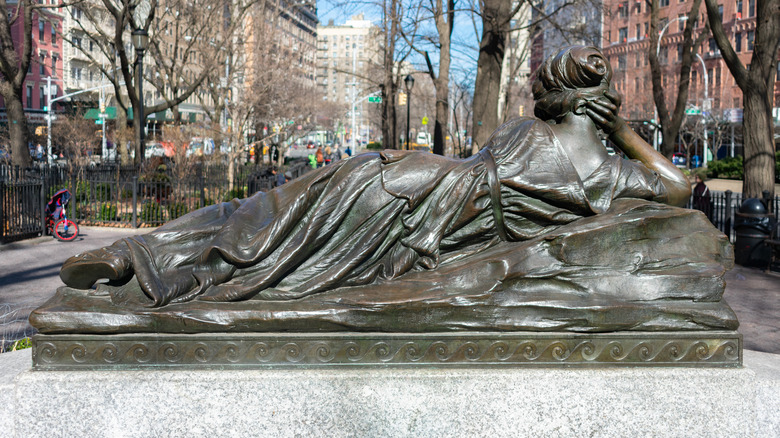 James Andrews1/Shutterstock
Also recovered with the body of Isidor Straus was a locket with a picture of the Straus' eldest son, Jesse, and another photo of their daughter Sara Straus, Paul A. Kurzman told TODAY. Ida also reportedly gave her full-length mink coat to her maid, Ellen Bird, as Bird escaped on a lifeboat. The coat, Ida said, would help keep Bird warm until she was rescued. Ida was 63 when she died and Isidor was 67, according to Insider.
Also in 2017, Paul A. Kurzman told Country Living, "Isidor wrapped his arms around her. Then, a great wave came over the port side of the ship and swept them both into the sea. That was the last time they were seen alive." The Straus' romantic sacrifice has been fictionalized in a number of film adaptations of the Titanic story. Thousands attended the memorial service for Ida and Isidor Straus following the Titanic disaster, and a memorial park was dedicated to the couple near their home in New York. A Straus memorial statue also stands at a Bronx cemetery (seen above).
Wendy Rush married OceanGate CEO Stockton Rush in 1986. She also participated in three OceanGate journeys to view Titanic wreckage in the years preceding the Titan submersible disaster. A debris field was discovered in the search area that included a part of the Titan, at which time all five aboard the craft were declared dead, according to The New York Times.