What Ray Lewis' Time In Jail Was Really Like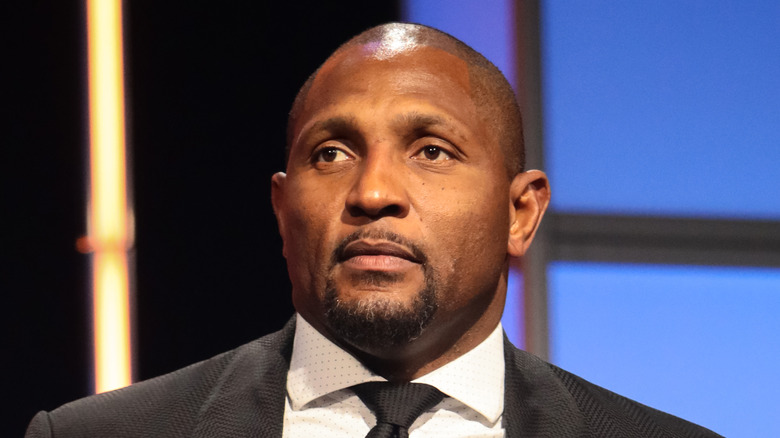 Tiffany Rose/Getty Images
Baltimore Ravens middle linebacker Ray Lewis spent two weeks in jail in the year 2000, accused of stabbing and killing two men outside of an Atlanta nightclub, NPR reports. Sixteen years later, the NFL hall-of-famer opened up to Cigar Aficionado (via TMZ) about what those fifteen days in jail were like. Lewis was in Atlanta for Super Bowl XXXIV between the St. Louis Rams and Tennessee Titans. No one was ever convicted of Jacinth Baker and Richard Lollar's double murder, according to USA Today.
Once freed on bond, Lewis pled guilty to misdemeanor obstruction of justice charges for misleading statements made to the police about his whereabouts the night the killings happened, and in return, the murder charges were dropped. The Super Bowl MVP received 12 months probation, and the NFL fined Lewis $250,000, per Yahoo! Sports. Lewis also agreed to testify against two friends and one-time co-defendants in the case: Reginald Oakley and Joseph Sweeting. Oakley and Sweeting were acquitted.
In 2016, Lewis recalled his brief time behind bars. For the first week or so, Lewis said, "I never ate anything outside of orange halves. If you saw the moldy bologna and things that they were trying to ... I was not an animal. And I was not going to succumb to that." As Lewis went on to recall, his friend snuck in oranges, instead. "What happened to me, those 15 days, I will live with for the rest of my life. And I'm okay with that," he said.
He spent time at the Atlanta City Detention Center and Fulton County Jail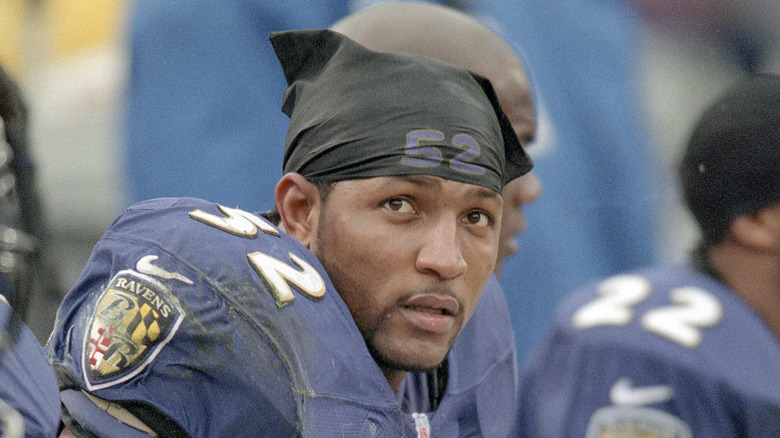 Focus On Sport/Getty Images
Once arrested, Ray Lewis was taken to the Atlanta City Detention Center (ACDC), a 17-story tall, nearly 500,000 square foot facility with room for 1,300 detainees built in the 1990s (via City of Atlanta). Before he was taken into custody, the athlete called his mother, Sunseria Keith, twice: First to tell her he was questioned, and again, when he was about to be arrested.
According to Keith, her son said (via Sports Illustrated), "Mama, I've got to talk to you," before reportedly dropping the receiver. Keith then heard her son say, "Hey, don't do that! Don't put those handcuffs on me, man! I didn't murder nobody! I didn't do nothing! You got the wrong guy!" Though Lewis would eventually pay his bond and be released, it seemed clear at that point that he would spend at least two weeks in jail despite his attorney's best efforts.
From the start, Lewis' mother insisted her son was innocent. "They have nothing on Ray. Nothing," she said. "There's no doubt in my mind that he's sitting in jail for what somebody else did." Once released, Lewis said (via The New York Times), "Thank God to be out!" The NFL star's lawyer, Ed Garland, said, "I never expect [Lewis] to set foot in a jail again, unless it's to do charity."
Lewis referenced his prison time in a 2017 interview
Seventeen years after the murder of Jacinth Baker and Richard Lollar, Ray Lewis appeared on "In Depth with Graham Bensinger." When asked what he thought about his time behind bars, Lewis said if there's something in your life that needs changing, "make sure you change it before God changes it." While incarcerated, Lewis had extra time to himself, and the lesson he learned was, "Sometimes you may find yourself in the wrong place, simply at the wrong time."
Lewis said what he went through in jail "saved my life." In his Bensinger interview (pictured), he maintained he was falsely accused of Baker and Lollar's double murder. And according to Lewis, the prosecution knew from day one he wasn't involved. "I learned a lot" from the experience, Lewis went on to add. "Put your trust in no man, definitely put your trust in no system." In 2004, the football star settled civil lawsuits with the victims' families for undisclosed sums, paid out of love — not as a sign of guilt — the former Raven said (per USA Today). 
In 2013, Lewis' one-time co-defendant in the case, Reginald Oakley — who along with Joseph Sweeting was accused and later acquitted of the crimes — claimed self-defense, USA Today wrote that year. Baker and Lollar tried to rob Lewis, Oakley alleged. "They exchanged words ... and it just went from there," he said, expressing his belief that Lewis was a target of the purported robbery "because of the way he was dressed."