Why Wagner Group Leader Yevgeny Prigozhin Was So Dangerous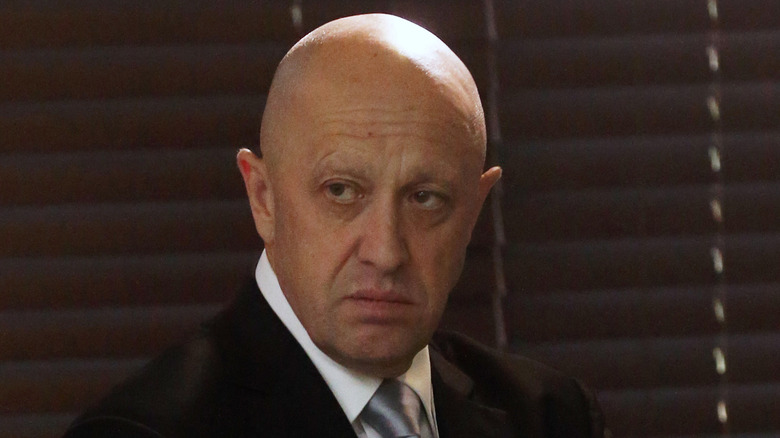 Mikhail Svetlov/Getty Images
In late June 2023, it seemed Yevgeny Prigozhin, head of the private Russian military contractors the Wagner Group, might become an ally of Ukrainian forces and Western interests in Ukraine. Up to that point, the Wagner Group had played a significant role in Russia's aggression toward the small, neighboring country that began some 14 months earlier. According to a series of statements from members of the United States Congress, though — both Democrat and Republican — Prigozhin couldn't be trusted and may, in fact, be worse than Russian President Vladimir Putin, a long-time Prigozhin associate.
In a social media message, Prigozhin suddenly questioned the justification for the Russian war in Ukraine and claimed Russian defense minister Sergei Shoigu purposefully attacked Wagner forces, Al Jazeera reported. According to The New York Times, Prigozhin then ordered his men to leave Ukraine and march on Moscow, as Russian officials charged Prigozhin with treason. In a deal brokered by Belarusian President Aleksandr Lukashenko, Wagner troops turned back, and the Kremlin dropped charges. Prigozhin would be exiled to Belarus, and shortly after a deal was made, a jet linked to Prigozhin landed in the Belarus capital city, Minsk, NPR reported.
Though Prigozhin's challenge failed, it was the most credible threat to the Russian president in decades, as was widely reported in Western media and by some inside Russia, benefiting those interested in ceasing Russian hostilities in Ukraine. However, as U.S. Representative Jason Crow, a Democrat from Colorado tweeted, despite some potential short-term gain, "Prigozhin is nobody's friend," and just as — if not more dangerous — than Putin.
Prigozhin, however, died in a plane crash on August 23, 2023 (via NBC). 
Wagner Group does the Kremlin's dirty work across the globe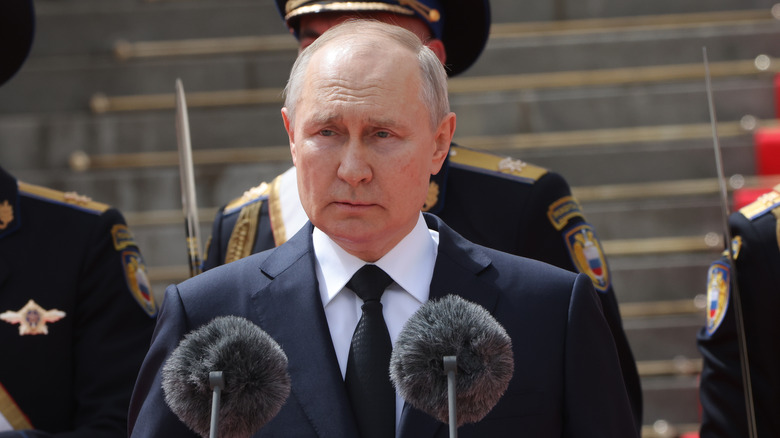 Contributor/Getty Images
Supporting the chorus of U.S. congressmen in the aftermath of the thwarted Wagner Group challenge against the Kremlin, Yevgeny Prigozhin's private army has a long history of representing Russian interests in places like Africa and the Middle East (via the New York Post). Wagner Group has also been involved in a number of the Ukraine war's most brutal offensives in places like Bakhmut, according to the Associated Press.
For their long history of covert aggression on the Kremlin's behalf, in 2021, the European Union announced sanctions on the Wagner Group over "serious human rights abuses, including torture and extrajudicial, summary, or arbitrary executions and killings, or in destabilizing activities in some of the countries they operate in, including Libya, Syria, Ukraine (Donbas) and the Central African Republic," the Associated Press reported that year.
Calling Prigozhin's private army a "proxy" for the Russian state, the EU said the Wagner Group sent operatives "to conflict zones around the world to fuel violence, loot natural resources, and intimidate civilians in violation of international law, including international human rights law." According to EU foreign policy chief Josep Borrell (via the Associated Press), the Wagner Group represents "a threat" and creates "instability in a number of countries around the world."
After Prigozhin's attempt to foment rebellion, Texas Democrat Joaquin Castro, a U.S. Representative, put a finer point on it when he tweeted, "Yevgeny Prigozhin is a ruthless, bloodthirsty mercenary who is as bad as, arguably worse than, Putin."
Prigozhin admitted he interfered in the 2016 U.S. presidential election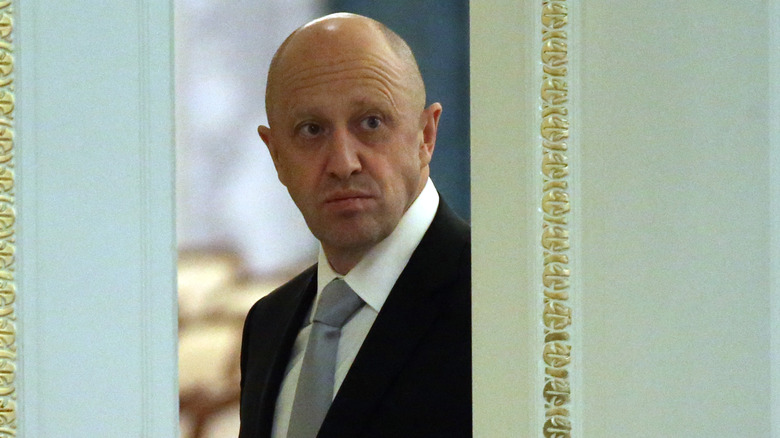 Mikhail Svetlov/Getty Images
Perhaps most germane to United States interests, in 2022 Yevgeny Prigozhin admitted he had a hand in 2016 U.S. election interference, the Associated Press reports. Also on social media, at that time Prigozhin said, "Gentlemen, we have interfered, are interfering and will interfere. Carefully, precisely, surgically and in our own way, as we know how to do." Prigozhin also admitted his link to the Wagner Group — after years of denying his involvement both in election interference and the private Russian proxy army. 
According to Biden administration White House Press Secretary Karine Jean-Pierre, these 2022 Prigozhin revelations came as no surprise. "Entities associated with Yevgeny Prigozhin have sought to influence elections around the world, including the United States. The U.S. has worked to expose and counter Russia's malign influence efforts as we discover them," she said. Prigozhin and others were also indicted for election interference in Robert Mueller's Russian election interference investigation. 
Despite briefly challenging Putin's power in a short-lived Wagner Group uprising — which Prigozhin later characterized as a protest, per Fox News — Arkansas Republican Senator Tom Cotton echoed others when he called Prigozhin a "would-be strongman" on Twitter, adding, "Neither Putin's survival nor his fall would change our main interests which are deterring Russian aggression against NATO allies and helping Ukraine recover territory lost to Russia." Or as Republican New York Representative Nick LaLota tweeted, no matter what, "The Wagner Group & Yevgeny Prigozhin are not our allies."