What We Know So Far About NASCAR Star Jimmie Johnson's Family Tragedy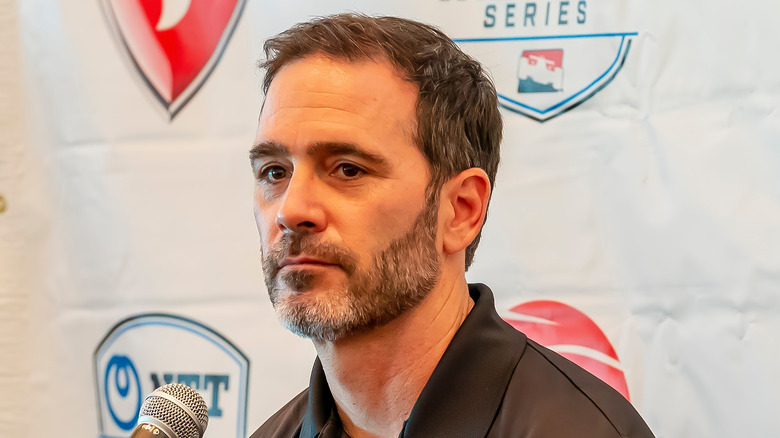 Grindstone Media Group/Shutterstock
Race car driver Jimmie Johnson's mother-in-law, father-in-law, and their grandson were all found dead inside their home in Muskogee, Oklahoma on Monday, June 26, 2023. Their deaths are being investigated as a murder-suicide. According to Muskogee police spokesperson Lynn Hamlin, Terry Janway, 68, is suspected of killing her husband, Jack Janway, 69, and their 11-year-old grandson, Dalton. Gunshots killed all three.
According to a statement from ​​Legacy Motor Club, which Johnson co-owns, the club elected to withdraw Johnson's car, the No. 84 Carvana Chevrolet from the upcoming NASCAR Cup Series in Chicago after the tragedy. "The Johnson family has asked for privacy at this time and no further statements will be made," the statement said (via Fox Sports). Jimmie and Chandra, the Janway's daughter, were married in 2004.
Johnson, 47, is a seven-time NASCAR Cup champion who retired from stock car racing in 2020, according to The New York Times, and then returned to racing part-time. He and Chandra and Johnson have two daughters together, Genevieve and Lydia, TMZ Sports reports. 
In a Fox23 News interview, Muskogee Mayor Marlon Coleman who knew the Janway family said, "It was traumatizing to find out that a long-standing family who had made so many contributions to our community were involved in this type of incident. It was even more bone-chilling to find out there was a child involved."
A woman called 911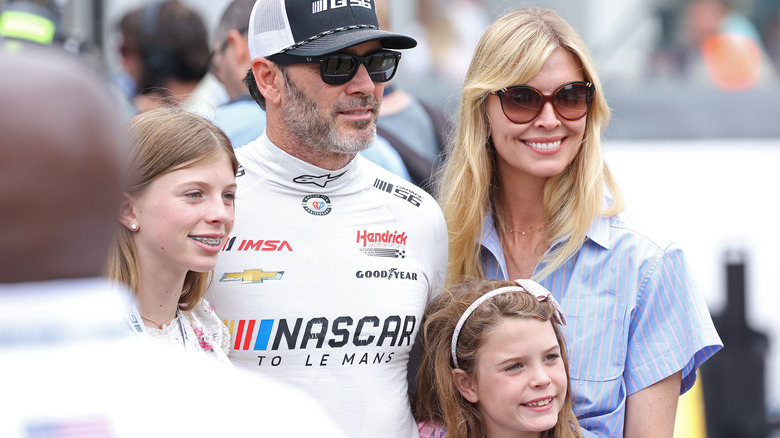 Marc Piasecki/Getty Images
Police arrived at the Janway home after a woman called 911 at 9:05 p.m. to report someone with a gun and then hung up. They found one body in the hallway and heard gunshots from inside the home. Upon further investigation, they found two more bodies after announcing they were inside the house. The order in which the victims were found was not disclosed, nor was it clear if the woman who called 911 was Terry Janway. 
At the time the tragedy was announced, there was no known motive, nor was there believed to be any further threat to the community. Speaking with Fox23, Muskogee Mayor Marlon Coleman said, "I knew Dr. Janway. Dr. Janway has worked on me, we've been acquaintances for a very, very long time since I've been in Muskogee. Just knowing that it was him and his family took a different toll on me."
The Janways' other tragedy
The Janway family has suffered tragedy before. In 2014, Chandra Janway's brother, Jordan Janway died in a skydiving accident, USA Today reported that year. Dalton Janway, a fifth-grader when he was killed, (pictured, left, with Jack Janway on the right) was Jordan's nephew. 
Referring to the killings, NASCAR said in a statement, "We are saddened by the tragic deaths of members of Chandra Johnson's family. The entire NASCAR family extends its deepest support and condolences during this difficult time to Chandra, Jimmie, and the entire Johnson & Janway families."
Speaking with Fox23 Muskogee Mayor Coleman said, "One thing I want to say to my community right now is that more than ever, we need to love each other. We need to be concerned about each other enough that if we identify issue with family or friends, that we talk to them and get them the help that they need."
If you or anyone you know is having suicidal thoughts, please call the National Suicide Prevention Lifeline​ by dialing 988 or by calling 1-800-273-TALK (8255)​.