Musical Cameos Performed By Major Stars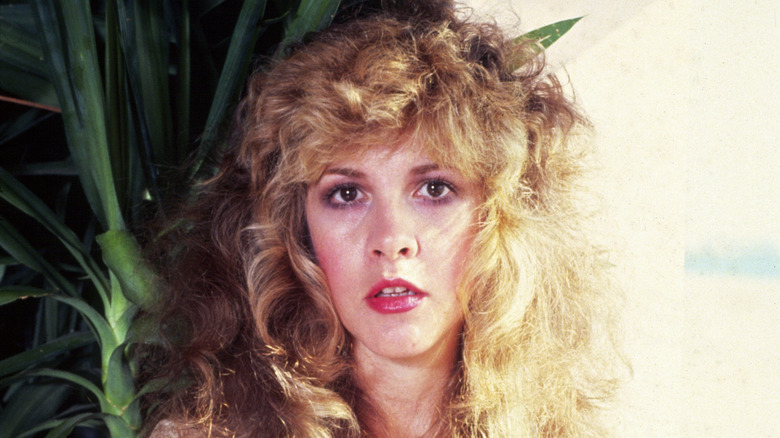 Chris Walter/Getty Images
Today's musical landscape is absolutely lousy with mashups, mixtapes, and featured appearances; one might think that all of the really famous artists live together in a great big dorm, and pop by each other's rooms from time to time to drop hot verses on their buddies' songs and guest star in their videos. (If this is not the case, it probably should be.) If you purchase an album by one artist, it helps to be a fan of the six to eight others who are bound to appear on said album — and if you're not, the executives behind those artists are definitely hoping you soon will be.
In years past, though, this was not exactly the status quo. Sure, incredibly huge stars did often show up on their friends' records — but they tended to be a lot sneakier about it, eschewing video appearances and sometimes even credit. Further, these musical cameos were often not even of the vocal variety, and unless you have a spectacularly sharp ear, it could be tough to tell who was tickling those ivories or laying down that smokin' guitar solo. 
Prince - Stand Back by Stevie Nicks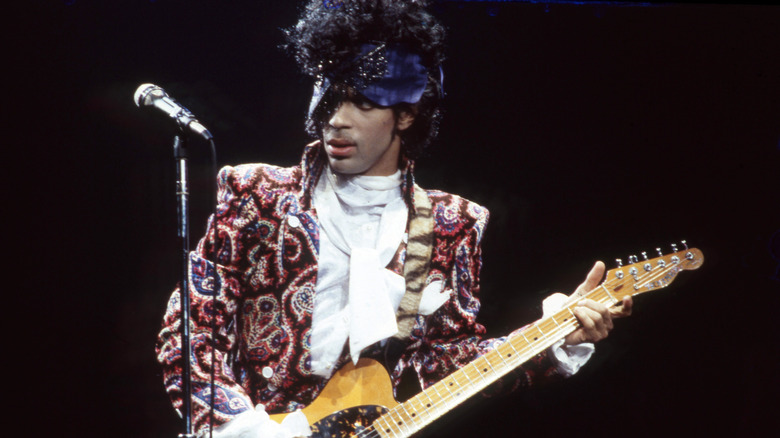 Icon And Image/Getty Images
Prince was not exactly a physically intimidating man, but he was certainly the type of guy you didn't want to make mad — because he was just so mind-blowingly cool, and ticking him off would make you feel like the world's biggest dweeb. This was true even for Stevie Nicks, who in the early '80s had temporarily departed Fleetwood Mac, one of the biggest bands in the world at the time, to embark on a successful solo career. You've heard her 1983 smash hit single "Stand Back" a billion times, but you may not have noticed that it bears a striking sonic resemblance to His Royal Badness' "Little Red Corvette," which you now can't unhear.
Speaking with Billboard, Nicks recalled that she was struck by inspiration while jamming to Prince's tune, and that as "Stand Back" was nearing completion in the studio, that inspiration was blindingly obvious — so, she called up Prince to essentially get his blessing. "I didn't have to call and tell him that I kind of ripped off his song," Nicks explained, "but I did because I'm honest." Twenty minutes later, Prince materialized in the studio, proclaimed the song to be good — and added his own spice to it by way of a keyboard riff. In the 1991 book "Rock Lives" by Timothy White, Nicks said that the experience was just as surreal as it sounds. "[He] walked over to the synthesizers that were set up, was absolutely brilliant for about 25 minutes, and then left," she said. "[He was] uncanny ... he spoiled me for every band I've ever had."
Tom Petty - Girls by Dwight Twilley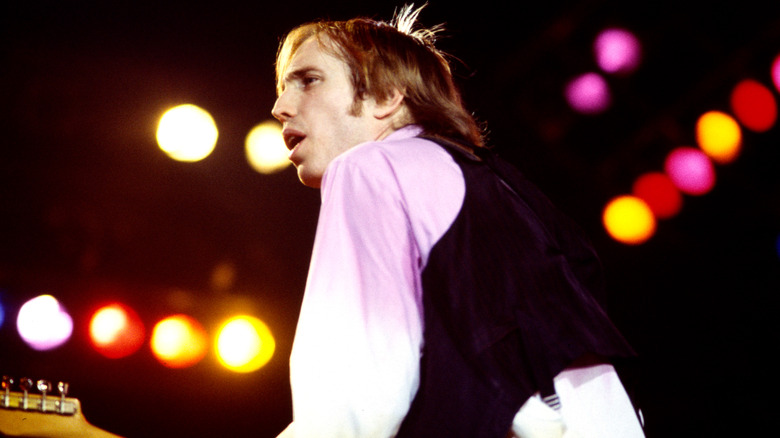 Gary Gershoff/Getty Images
Dwight Twilley is a legend on the Tulsa music scene who has had a couple of brief flirtations with mainstream stardom — which is not quite what one might have expected from a very talented songwriter who began his career as a label mate of some dude named Tom Petty. Twilley has had exactly two top 20 singles, the first of which, "I'm on Fire" from 1975, kicked off a run of bad luck. The label sidelined the follow-up single, "Shark," to avoid the perception of a tie-in with the blockbuster movie "Jaws," and problems with the band's label and distribution combined to effectively sideline Twilley himself for the better part of a decade. For Twilley's 1984 solo LP "Jungle," his old buddy Petty decided that enough was enough, and stepped in with an assist on the lead single "Girls" to virtually guarantee a hit.
Combined with an R-rated edit of the video that aired on cable networks like The Playboy Channel, the gambit worked. Petty's ultra-distinctive counterpoint vocal on the song's chorus helped to propel the song to No. 16 on the Billboard chart, and while Twilley failed to parlay the hit into further mainstream success, he still looks back on the period, and his relationship with Petty, fondly. Speaking with Tulsa World in 2017, he acknowledged Petty's influence and songwriting chops and referred to the '80s as a time when the possibilities for artists like him seemed endless; it was, he said, "kind of a magic and special time."
Eddie Van Halen - Beat It by Michael Jackson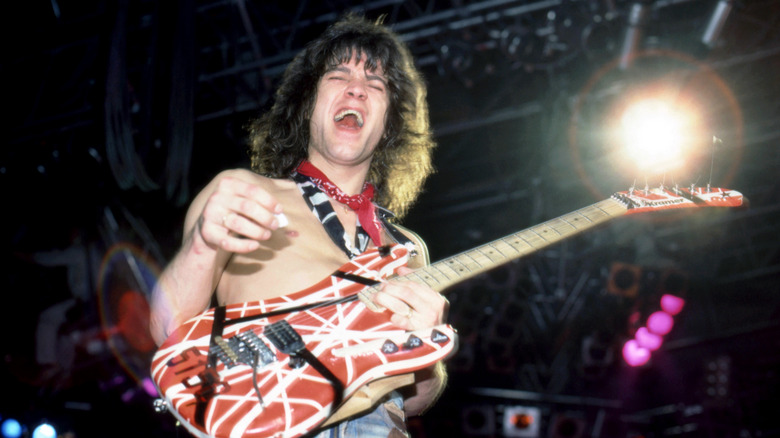 Icon And Image/Getty Images
When Michael Jackson's landmark album "Thriller" dropped in 1982, there seemed to a kind of immediate, collective understanding among pop fans that it was a once-in-a-generation release. As such, there was no shortage of rumors swirling around it — that "Billie Jean" was based on a real person, for example, or that it was guitar virtuoso Eddie Van Halen who played that brain-melting solo on "Beat It." As it happened, that last one was true — as were pretty much all of the story's most fantastic elements, such as Van Halen laying down the solo in all of 20 minutes and getting paid only in beer.
The cameo came about because, while Van Halen had sworn to his bandmates never to take a side job, he simply couldn't resist working with producer Quincy Jones, who had specifically requested that he take part. Speaking with Billboard in 2015, Van Halen made it clear that he had no idea the magnitude of the record he had agreed to perform on, and wanted neither payment nor credit. "It was 20 minutes of my life. I didn't want anything for doing that," he recalled. "I literally thought to myself, 'Who is possibly going to know if I play on this kid's record?'" (Spoiler alert: Everyone knew, because nobody played guitar like Eddie Van Halen.) It may be the most relaxed attitude to appearing on a smash hit single anyone has ever had, but then, it's not like Van Halen didn't rack up a few of those himself.
Sting - Money for Nothing by Dire Straits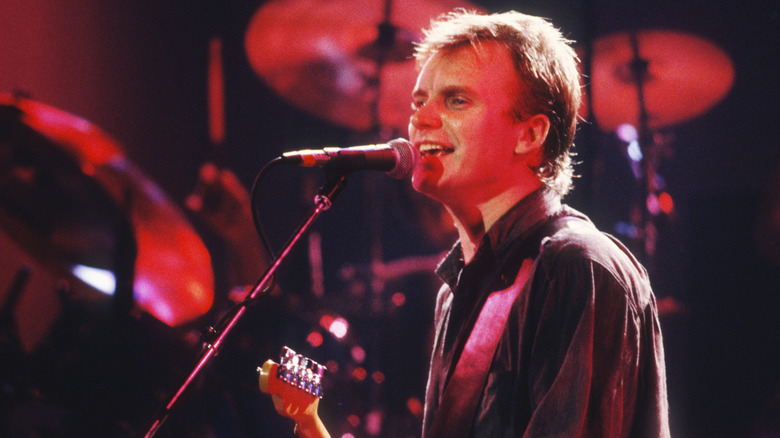 Gie Knaeps/Getty Images
Roots rockers Dire Straits dropped their first album in 1978, but in their first seven years, they scored only one top 10 single, with "Sultans of Swing," in 1979. That all changed with the release of the 1985 LP "Brothers in Arms" and its lead single, "Money for Nothing," featuring lyrics that were basically a humorous paraphrasing of a conversation frontman Mark Knopfler had overheard between two employee in an appliance store about how ridiculous famous musicians are. A number of factors combined to make it a No. 1 hit: namely, a then-cutting edge computer animated video, one of the most blaring, kickass guitar riffs in all of rock, and a guest vocal from one of the biggest stars on the planet.
That would be Police frontman Sting, whom Knopfler says inspired the song by way of his band's hit single "Don't Stand So Close to Me." In the documentary "Under the Volcano," Knopfler explained that while recording the song at Montserrat's AIR Studios, he remarked that he sure wished Sting was around to sing a snatch of lyrics, the melody for which was blatantly modeled after the Police tune. It just so happened that Sting was around, vacationing with his future wife Trudie Styler — and while he agreed to sing on the song, he didn't exactly see its potential at first. "Trudie said to me, 'You know, that's gonna be such a huge hit,'" he said. "I said, 'Eh, I don't know, it's okay.'"
Stevie Nicks - Gold by John Stewart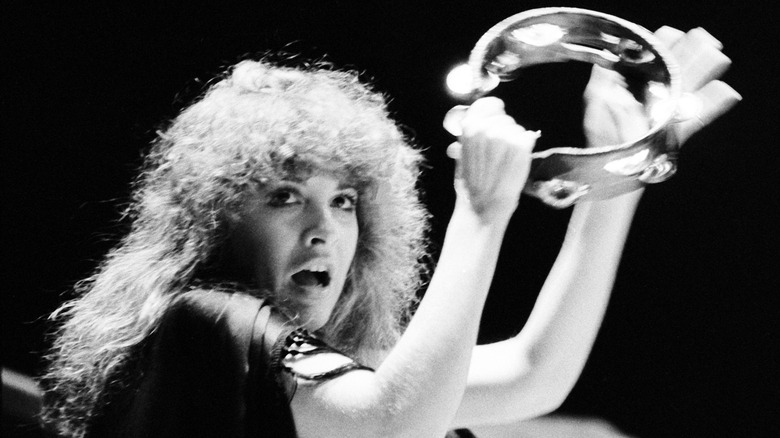 Bob Riha Jr/Getty Images
Folk musician John Stewart, not to be confused with comedian, host, and brutal interviewer Jon Stewart, is not exactly a household name. His musical pedigree, though, is enviable — he's a former member of the Kingston Trio, he wrote the smash tune "Daydream Believer" for the Monkees, and while his first nine solo albums (!) largely went nowhere, his 10th, 1979's "Bombs Away Dream Babies," cracked the top 10 thanks in part to the contribution of Fleetwood Mac's Lindsey Buckingham, who produced the record and played some guitar on it. Its atmospheric lead single, "Gold," likewise went to No. 5 on the pop chart — largely due to the presence of Buckingham's girlfriend, Stevie Nicks, who sang backup on the tune.
Stewart's rugged vocal delivery meshed perfectly with Nicks' signature smoky croon, and one would think that it'd be nice for the participation of two key members of an insanely huge band to hand you your only top 10 hit — but Stewart, who included the tune in his live shows for years, stopped doing so later in his career, reportedly insisting the song was "vapid" and "empty." After his brief bout with mainstream recognition, Stewart went back to making folk records and relentlessly touring; he passed away in 2008.
Grandmaster Melle Mel - I Feel for You by Chaka Khan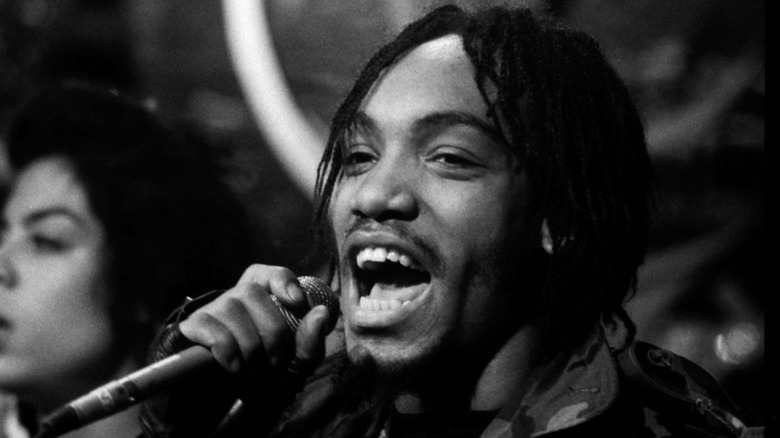 David Corio/Getty Images
Ace vocalist Chaka Khan is an absolute legend, but for a strong subset of her fans, the mention of her name calls to mind a deep, smooth male voice, repeating that name over and over, before launching into a lightning-paced rap about how deeply he feels for her. This is because, while Khan scored several top 10 hits with her band Rufus in the '70s, she has only managed one as a solo artist: 1984's "I Feel for You," which had the benefit of being penned by none other than Prince, and which featured that earworm-y rap by Grandmaster Melle Mel, perhaps the greatest MC of his era.
The lead rapper of icons and Rock and Roll Hall of Fame inductees Grandmaster Flash and the Furious Five, Mel's nimble, ultra-confident delivery served as an introduction to rap itself for a large segment of the pop crowd, propelling the single to No. 3 on the Billboard chart. Speaking with NPR, the song's producer Arif Mardin recalled that the repetition of Khan's name to open the song wasn't exactly calculated. "As we were mounting the recording onto the main master, my hand slipped on the repeat machine," he said. "So it happened to be, 'Chaka — Chaka — Chaka — Chaka — Chaka — Chaka Khan,' and we said, `Let's keep that. That's very interesting.' And it was an accident." A happy one, but in recent years, Khan has admitted to being sick of excited fans repeating her name at her.
Eric Clapton - While My Guitar Gently Weeps by the Beatles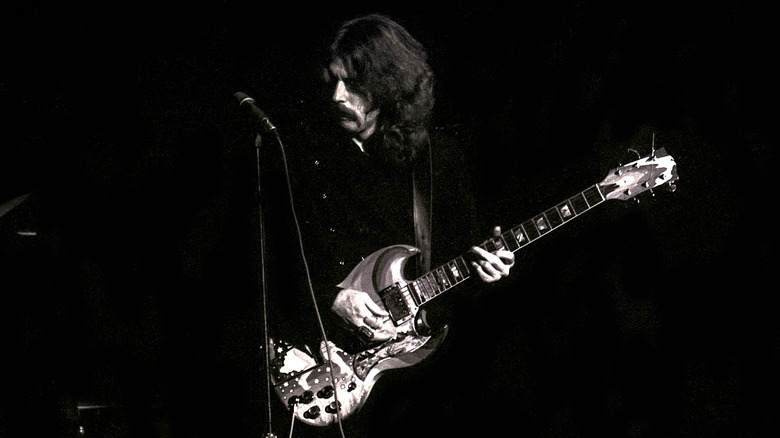 Icon And Image/Getty Images
It's fairly well known that Paul McCartney and John Lennon, the primary songwriters behind the Beatles, tended to... well, crap all over the songwriting of their lead guitarist, George Harrison. During the recording of the band's 1968 self-titled double album (known as the "White Album"), Harrison was becoming frustrated with the pair's attitude toward a tune he had written, one that he considered to be a banger: "While My Guitar Gently Weeps." (For the record, Harrison was right. Stone cold banger.) To remedy the problem, Harrison brought in an outside influence: his friend, legendary guitarist Eric Clapton.
In the book Beatles Anthology, Harrison explained that the mere presence of a non-Beatle in the studio made everybody "cool out," and sure enough, everyone suddenly dialed in to Harrison's song. "Paul got on the piano and played a nice intro," he remembered, "and they all took it more seriously." Clapton contributed the blistering, dizzying solo that closes the song — only to be one-upped when, decades later at Harrison's memorial concert, Prince sauntered onstage during the song to casually peel off what might be the single greatest guitar solo ever played by anyone.
Mick Jagger - You're So Vain by Carly Simon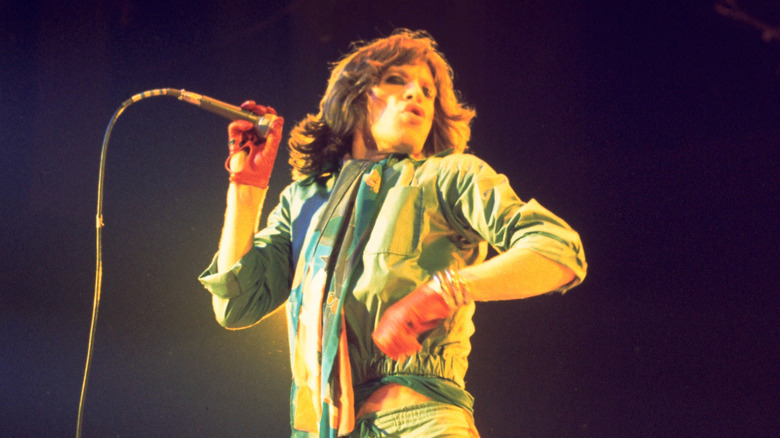 Chris Walter/Getty Images
Carly Simon's 1972 No. 1 smash single "You're So Vain" is just as well known for being a really awesome song as it is for the total mystery around who its subject is. (As has forever been speculated, Simon finally admitted in 2015 that, yeah, it's pretty much Warren Beatty.) Upon its release, though, fans were asking themselves another question: "Is that Mick freaking Jagger singing backup?" The answer, of course, is "Yes, who else sounds like that?"
According to Simon's memoir "Boys in the Trees," Simon was slightly distracted during ther recording of the tune at AIR Studios by the phalanx of famous people who were present, including Paul and Linda McCartney and Harry Nilsson. Someone handed her a phone, and Jagger was on the other end, inquiring as to whether he might pop by. Simon obviously agreed, and while she was a touch star-struck, the pair's instant chemistry was undeniable. "Mick was a natural at singing backup," she wrote. "The energy was choreographed by the heavens." In 2016, Simon revealed (via Rolling Stone) that she and Jagger recorded a simple, piano-backed duet during the same session, one that was lost to the mists of time — until two years later, when a collector stumbled upon it among his artifacts. Hey, here it is on YouTube!
Michael McDonald - Ride Like the Wind by Christopher Cross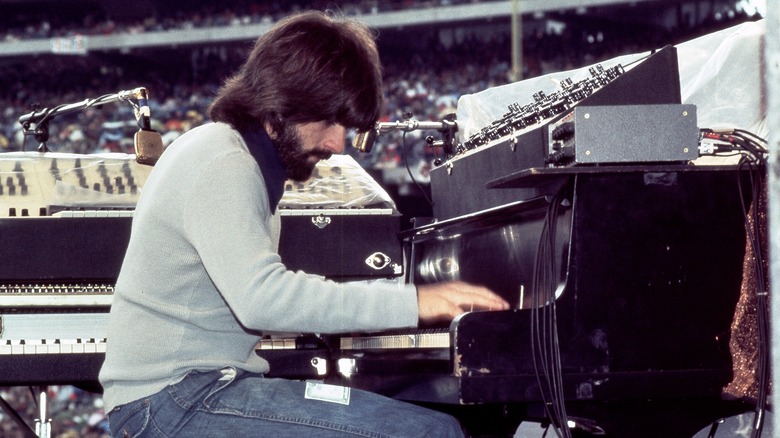 Richard Mccaffrey/Getty Images
A giant of what would one day be known as "Yacht Rock," Christopher Cross came out of nowhere in 1979 to drop a self-titled debut album which shot to No. 6 on the charts, yielded two top 10 singles, and won four major Grammy Awards – a pretty impressive feat for some guy in a fedora whom nobody had heard of a year or so earlier. There were a couple of major industry players, though, who weren't terribly surprised — namely Eagles drummer and lead singer Don Henley, who contributed backing vocals, and Michael McDonald, who lent his instantly recognizable voice to a counterpoint vocal on the No. 2 hit "Ride Like the Wind."
In an interview with Songfacts, Cross revealed that the cameo was the idea of his producer Michael Omartian, who knew McDonald from his previous work with Steely Dan, with whom McDonald had sat in. Having just departed the Doobie Brothers, McDonald had some time on his hands. "Michael came down and listened to the stuff we were doing, and he liked it a lot," Cross recalled. "Working on 'Ride Like the Wind,' we came up with the answer part. We thought Mike would be great on that, so we called him in." Cross acknowledged that having titans like Henley and McDonald on his record helped his chances with radio stations, so maybe he ought to have kicked them each down with one of those Grammys.
Mick Fleetwood and John McVie - Werewolves of London by Warren Zevon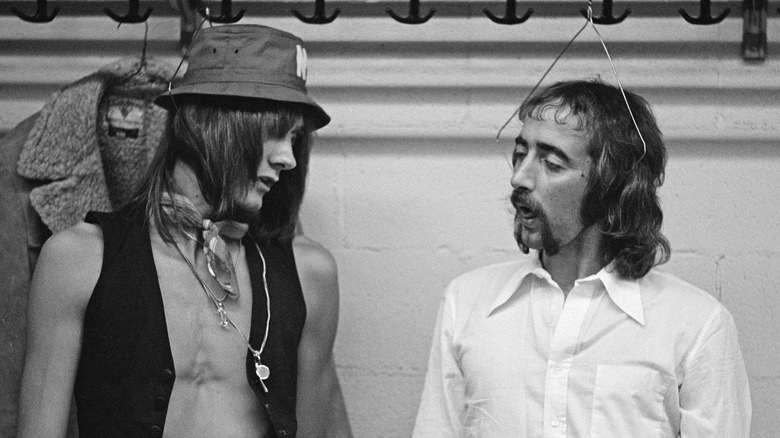 Fin Costello/Getty Images
Few artists have ever been as singularly unique as Warren Zevon, and even before he achieved success with his 1978 breakout LP "Excitable Boy," superstars like Jackson Browne and Linda Ronstadt were singing his praises — and also, his songs. Ronstadt scored a top 40 hit in 1977 with the Zevon-penned "Poor Poor Pitiful Me," and long before it was recorded, Browne was known to break out "Werewolves of London," which would become one of Zevon's signature tunes, in concert.
While recording "Excitable Boy," Zevon used a slew of studio musicians — and during work on "Werewolves," it just so happened that those megastars Fleetwood Mac were doing some recording of their own in the same studio. After banging their heads against the tune over tons of takes with the great Russ Kunkel on drums and Bob Glaub on bass, Zevon and guitarist Waddy Wachtel still felt the song was missing some punch — so in came Mac drummer Mick Fleetwood and bassist John McVie, who immediately knocked out the version we all know and love. (Just kidding. It took an additional 50 or so takes.) McVie's job, the ultra-repetitive bassline, was a pretty thankless one — but once you know that's Fleetwood on drums, his heavy-handed, idiosyncratic style is tough to mistake for anyone else's.
Stevie Wonder - There Must Be an Angel (Playing With My Heart) by Eurythmics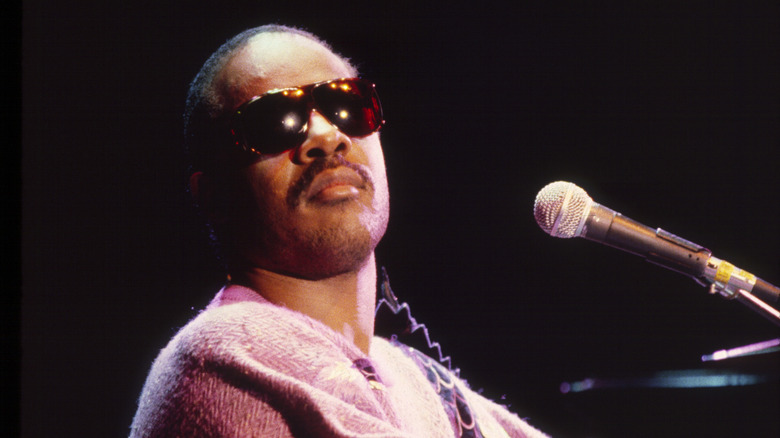 Chris Walter/Getty Images
British synthpop duo Eurythmics scored a raft of top 40 hits in the '80s, thanks to the talents of multi-instrumentalist and producer Dave Stewart and the pristine, powerful vocals of singer Annie Lennox. For their 1985 single "There Must Be an Angel (Playing With My Heart)," the pair desired a bit of extra star power — so they shot their shot with the unrealistically talented Stevie Wonder, who agreed to come on down to the studio, only to leave them hanging until the wee hours of the morning. 
Speaking with Q Magazine (via Smooth Radio), Lennox recalled, "It was getting very late and we were getting pessimistic whether he'd even turn up at all." When Wonder finally did turn up, he got down to business recording a harmonica solo for the song — only for his hair beads to complicate the process by making too much noise, requiring the intervention of an assistant. All the hassle, of course, turned out to be totally worth it. "The man is a supreme musician," Lennox said — and in 1999, Wonder graced the duo with his presence at the BRIT Awards, where he performed the song live with them for the first and only time.
Elton John - Black GIves Way to Blue by Alice in Chains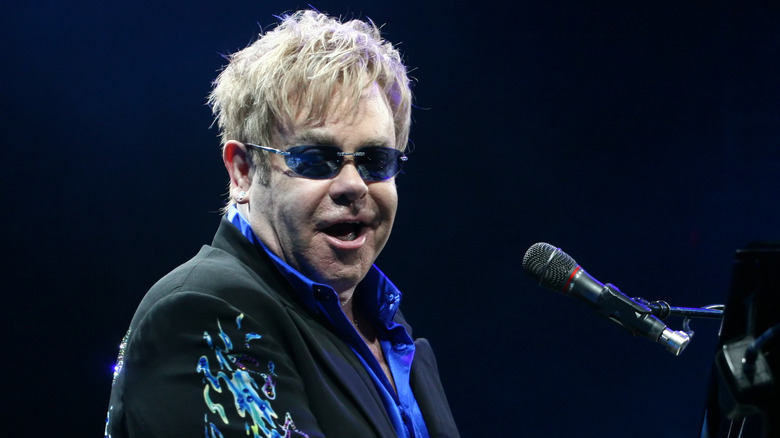 Mazur Travel/Shutterstock
Iconic grunge outfit Alice in Chains were left devastated by the 2002 death of frontman Layne Staley, and even at that time (due in large part to Staley's struggles with addiction), they hadn't released an album in four years. So, it came as a bit of a surprise to their fans when, in 2009, the outfit re-emerged with the comeback album "Black Gives Way to Blue," the title track of which dealt with the band's processing of their grief over Staley's loss. Guitarist and vocalist Jerry Cantrell recalled to Louder Sound that while recording that somber piece, he felt it was missing a vital component — one that came courtesy of Sir Elton John, of whom all of the band members were huge fans.
"I sent that song to Elton John and I asked him to play piano on it," Cantrell remembered. "He's probably my earliest influence as far as wanting to be in a band or be a songwriter." To his shock, John agreed, and the band flew to Las Vegas to meet him in the studio, where they found that John had already been at work practicing his part with the aid of sheet music — and as they watched, star-struck, he laid it down. "It meant the world to us," Cantrell said. "He's been a friend that we've gotten closer and closer to ... It was a pretty heavy deal."
If you or anyone you know needs help with addiction issues, help is available. Visit the Substance Abuse and Mental Health Services Administration website or contact SAMHSA's National Helpline at 1-800-662-HELP (4357).