The Real Story Behind The New Beatles Song That Uses AI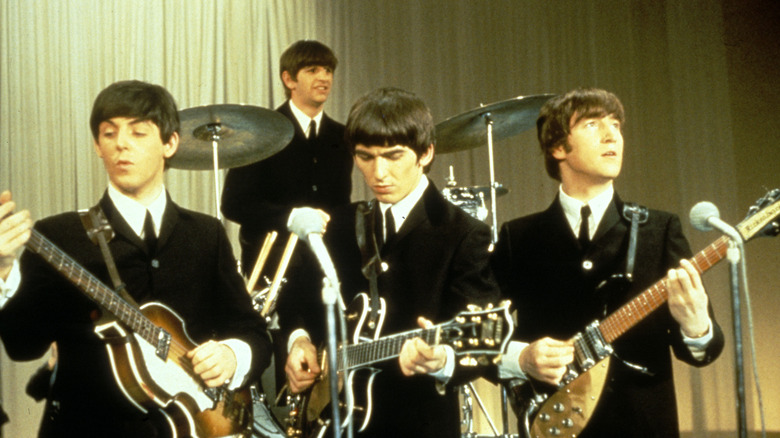 Avalon/Getty Images
It's not every day that Beatles fans are teased with the promise of new material from the Fab Four. Various demos and studio offcuts have been released over the years, such as the legendary "Esher Demos" that had their first official release as part of the sprawling "White Album" box set in 2018. But even those had circulated as unofficial bootlegs and were made up mainly of songs that would later be polished up for studio release. The most notable "new" post-break-up Beatles material came in the 1990s, when two new songs — "Free as a Bird" and "Real Love" — were released as singles in support of the sprawling retrospective "Anthology" project. The package contained three audio archives of rare material, a book, and a TV series. Both songs were created by the three surviving Beatles recording new instrumentation and incorporating a demo recorded by John Lennon in the late 1970s, shortly before his tragic murder. Despite mixed reviews for both songs, "Free as a Bird" hit the Top 10 in both the U.S. and the U.K.
That was over a quarter of a century ago. But in June 2023 interview Paul McCartney did for BBC Radio 4's "Today" program, he revealed a new Beatles song to look forward to — which, sources say, is a third song from the same tape that has remained unreleased, titled "Now and Then." McCartney also raised eyebrows among Beatles fans for claiming that artificial intelligence (AI) has been used in the creation of the new song, though he said that anxieties around the use of modern technology in the release are misguided.
The cutting-edge technology behind Get Back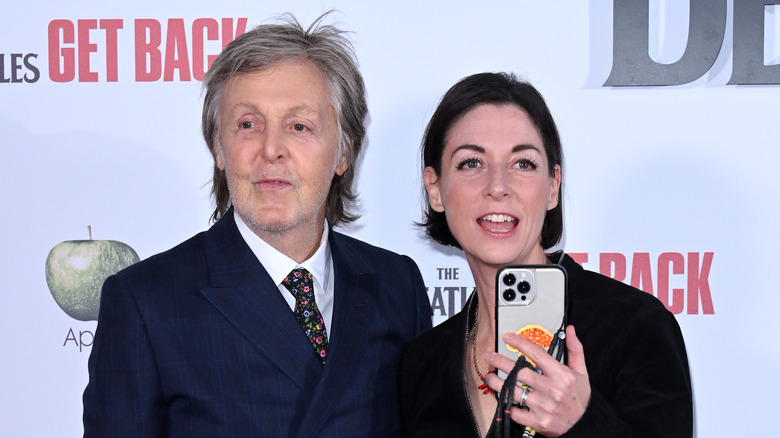 Karwai Tang/Getty Images
The forthcoming "last" Beatles single isn't the first time the Fab Four have received AI treatment. "Get Back," the critically acclaimed three-part documentary series created by Peter Jackson, employed AI technology too.
A monumental project spanning four years and 60 hours of documentary footage, "Get Back" employs film and audio gathered by filmmaker Michael Lindsay-Hogg — for his own 1970 documentary film "Let It Be" — to offer a rare candid portrait of the seminal group at work. The material in question was impressively sharpened and restored using modern digital technology.
Jackson's dialogue editor, Emile de la Rey, successfully employed AI to create new stems of audio taken from half-century-old tapes of the band playing and talking together, which separate out the dialogue and background noise for the first time. As Paul McCartney explains in his BBC interview, the "Get Back" team was "able to extricate John's voice from a ropey little bit of cassette. "We had John's voice and a piano and he could separate them with AI," he said. "They tell the machine, 'That's the voice. This is a guitar. Lose the guitar.'" It was the same technology, McCartney explains, that allowed him to finally extract a clean vocal for the last Beatles song — technology that was also reportedly used to create his warmly received virtual duet with John Lennon at England's Glastonbury Festival in 2022.
AI and the 'last' Beatles song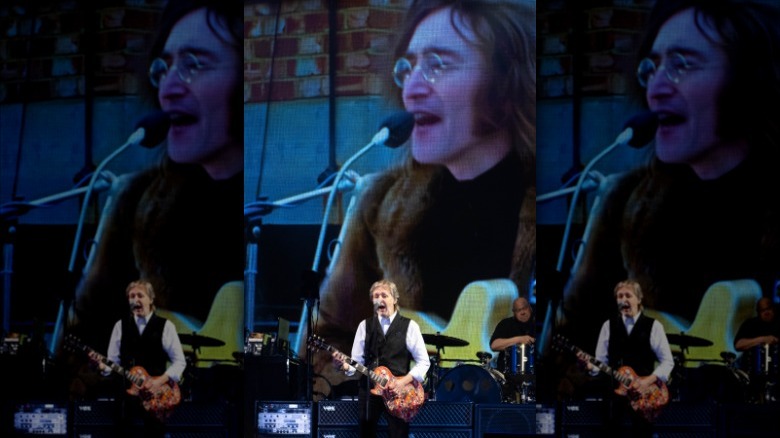 Harry Durrant/Getty Images
Unsurprisingly, Paul McCartney's interview with BBC Radio 4's "Today" program generated a great deal of interest from music fans online — for two reasons. First, he dropped the bombshell that there is a new Beatles song due for release in 2023 and that the single is definitely the "last Beatles record." Second, his interview drew some concern from fans and critics alike for the suggestion that AI had been used in the composition of the forthcoming song.
Amid the backlash, McCartney was forced to clarify exactly how AI had been employed in the creation of the first new Beatles material in nearly three decades, reassuring fans that nothing on the record would be computer-generaled. In a statement on Twitter, McCartney wrote: "Been great to see such an exciting response to our forthcoming Beatles project. No one is more excited than us to be sharing something with you later in the year. We've seen some confusion and speculation about it. Seems to be a lot of guess work out there. Can't say too much at this stage but to be clear, nothing has been artificially or synthetically created. It's all real and we all play on it. We cleaned up some existing recordings — a process which has gone on for years. We hope you love it as much as we do. More news in due course — Paul."
Talking about the use of AI in general, McCartney told the "Today" program: "There's a good side and then there's a scary side. So we'll just have to see where that leads!"