What Happened To The First Rock & Roll Hall Of Fame Inductees?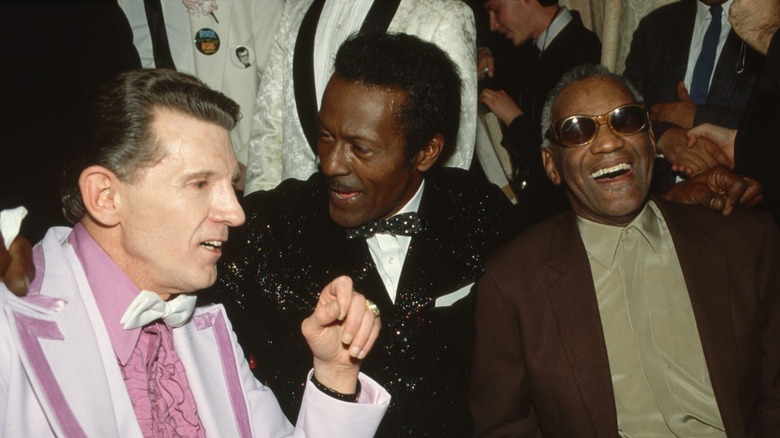 Lynn Goldsmith/Getty Images
Since it first opened its doors in the 1980s, the Rock & Roll Hall of Fame has become a right of passage for the most popular and influential rock bands. While it has certainly not been without controversy, many people still view the rock hall as the ultimate measure of recognition. Today, some of the biggest legends are in the hall, and many of them have even been inducted multiple times for different bands.
The first Rock & Roll Hall of Fame class was inducted in 1986, and it featured some of the most important and significant names in music history. Not all of them played rock and roll, and some of them weren't even musicians, but they all made huge impacts on its development and expansion. The list of 16 inductees was very diverse and included the likes of Chuck Berry, James Brown, Jerry Lee Lewis, Sam Phillips, Elvis Presley, Little Richard, and others.
Unfortunately, with Jerry Lee's passing in 2022, the entire inaugural Rock & Roll Hall of Fame class is now deceased. Still, they are prominent in the minds of rock and rollers everywhere, and their music still receives heavy airplay on many rock and roll stations. Four decades later, here's what happened to the first Rock & Roll Hall of Fame class.
Chuck Berry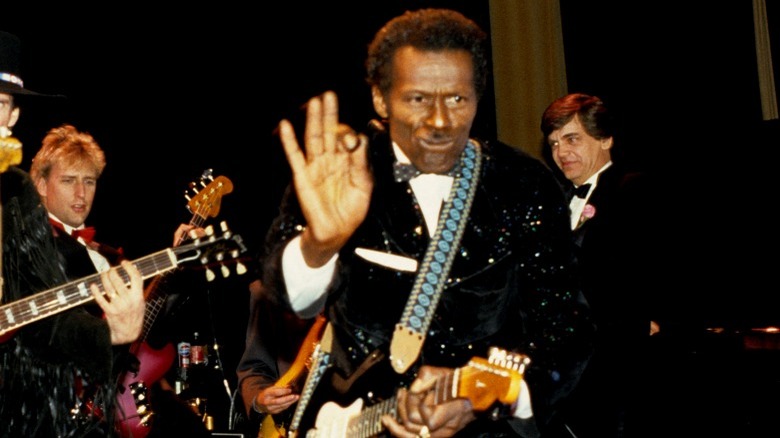 Ebet Roberts/Getty Images
For many people, Chuck Berry was the definition of rock and roll. Born in 1926 in St. Louis, Missouri, Berry first found success in the 1950s on the back of hits like "Maybellene," "Johnny B. Goode," and "Roll Over Beethoven." His virtuoso guitar skills, iconic "duck walk," and relatable lyrics made him an instant staple among rock and rollers. Berry managed to break color barriers with his music, and he is widely considered one of the progenitors of modern rock and roll. For decades, guitarists have idolized Berry and his incredible ability to create memorable rhythms and awe-inspiring leads.
Keith Richards, the guitarist of the Rolling Stones, was Berry's presenter for the hall. During his speech, Richards called Berry "the gentleman that started it all, as far as I'm concerned," and he spoke with incredible admiration and respect. As part of the celebration, Berry took the stage along with other greats Richards, John Fogerty, and Billy Joel. They played a number of Berry's hits together, including "Rockin' and Reelin" and "Roll Over Beethoven."
Despite some legal troubles, Berry kept rocking for many years following his induction. He regularly played shows and collaborated with many different artists, and he even wrote an autobiography. Berry was planning on releasing another studio album when he passed away in 2017 at the age of 90.
James Brown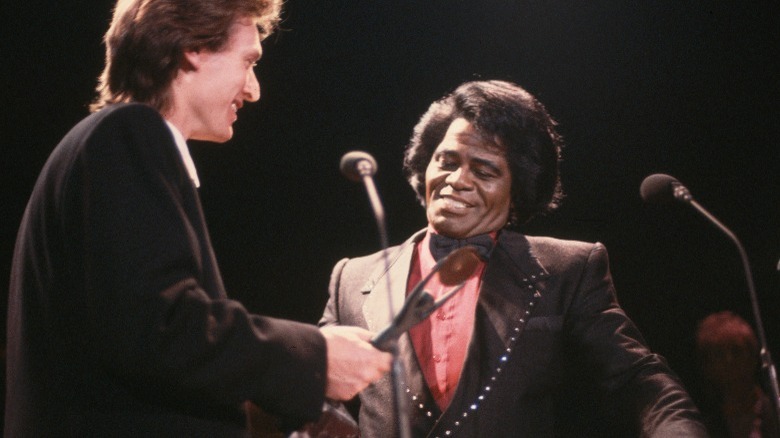 Lynn Goldsmith/Getty Images
Known as the "Godfather of Soul" and the "Hardest Working Man in Show Business," James Brown was one of the true legends of rock and roll. Brown was born in 1933 in Barnwell, South Carolina, but spent much of his life impoverished and growing up in Augusta, Georgia. As a kid, he learned how to perform gospel music, and he formed his first group as a teenager. By the late 1950s, Brown was one of the top-billing acts in music, and had massive singles like "Please, Please, Please," "Try Me," and "Think." His 1963 album "Live at the Apollo" was a huge success, and fans loved his incredible voice or "scream," catchy music, impeccable work ethic, and his outstanding dance moves.
His inductor for the Rock & Roll Hall of Fame was Steve Winwood, who spoke about Brown's incredible impact on the entire music industry. Always the showman, after his acceptance speech, Brown gave the audience a quick show of his dance moves, before departing the stage and giving the crowd a kiss goodbye.
During his career, Brown created more than 50 albums despite lengthy legal troubles, and his final album was 2002's "The Next Step." He had a massive influence on the development of rock and roll, and is still revered today. Brown died in 2006 at the age of 73, but before his death he was also honored with both a Kennedy Center Honor and a Grammy lifetime achievement award.
Ray Charles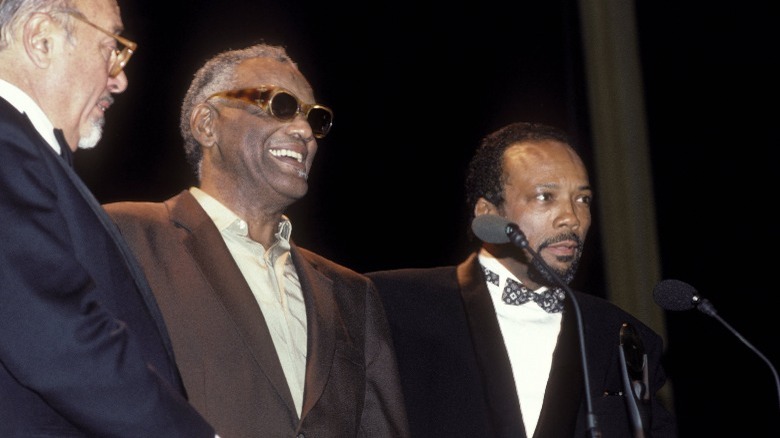 Ebet Roberts/Getty Images
Few stories in music history are as amazing and inspirational as that of Ray Charles. As a kid, Charles lost his vision, and by the time he was a teenager, both his parents had passed away. Resilient, he used his musical abilities to support himself, and he signed with Atlantic Records in his 20s. It was during his time with Atlantic that Charles is credited with inventing "soul" music, which was a new hybrid of gospel and the blues. His music still receives generous airplay today on many soul, jazz, and rock stations, and his biggest hits included "What I'd Say," "Hit the Road Jack," "Georgia on My Mind" about his home state, and "I Got a Woman."
Charles was born in 1930 in Albany, Georgia, and he died in 2004 at the age of 73. Longtime music industry executive Quincy Jones inducted Charles, and during his acceptance speech, Charles said he was "touched" and "overwhelmed" by the honor. Charles continued to put out music following his induction into the hall in 1986, and he received the National Medal of Arts in 1993.
Though he was most well known for his soul, jazz, and rock music, Charles' music transcended many different genres and boundaries. He supplemented his music skills with occasional acting appearances, and many people still know him today as the "father of soul."
Sam Cooke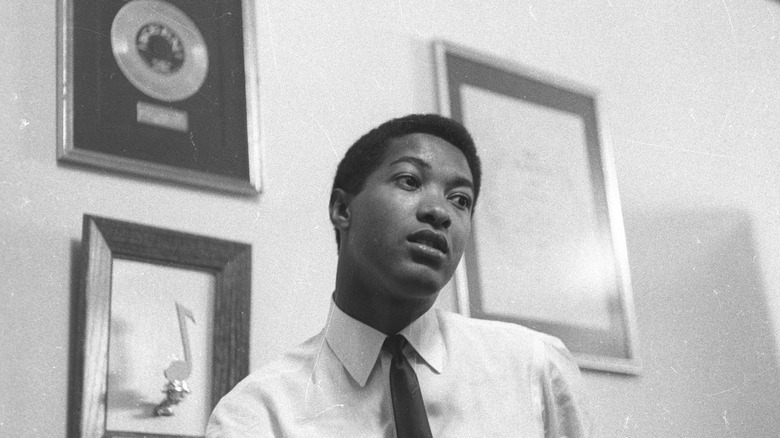 Michael Ochs Archives/Getty Images
His career was short, and his mainstream peak was even shorter, but Sam Cooke will forever be remembered for his incredible impact on rock and roll. Cooke was born in Clarksdale, Mississippi, in 1931 during a time of heavy segregation and racism. He first began his music career as a gospel singer in the early-1950s, switched to pop by the end of the decade, and by the time of his death, was one of the progenitors of rock music. He was an important member of the Black community during his career, and broke many racial boundaries with his delicate brand of pop music.
Unfortunately, Cooke's career came to an end when he died at just 33 years old, and before he could make more of an impact. In addition to being inducted into the Rock & Roll Hall of Fame, Cooke also posthumously received a Grammy lifetime achievement award.
For his induction, Cooke's presenter was Herb Alpert, and he spoke glowingly about their prior work together. Since Sam could not be there himself, his widow Barbara Cooke and his father, Rev. Charles Cook, accepted the award on his behalf. It's truly a tragedy that Cooke's life ended so prematurely, but the fact that he still made the hall despite such a short career is a real testament to his rock and roll genius and impact.
Fats Domino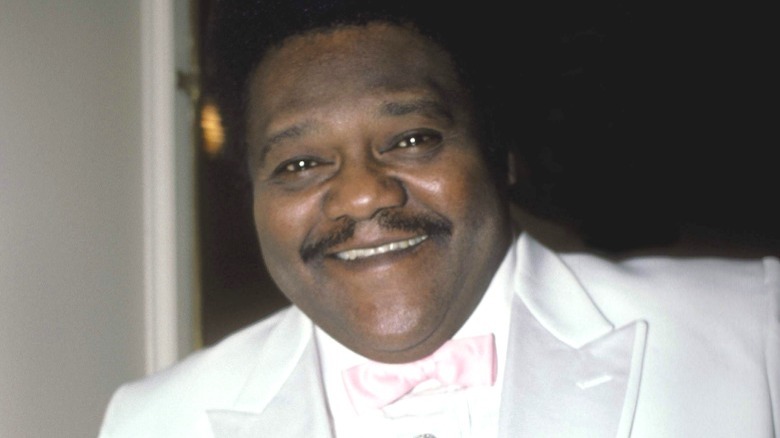 Ebet Roberts/Getty Images
Born in 1928 in New Orleans, Louisiana, Fats Domino was one of the most influential piano players in R&B and rock and roll history. He learned how to play the piano by himself in the 1930s–1940s, and soon began his music career performing in local clubs. He became widely known for his "boogie-woogie" style of piano playing, which brought his music a unique sound to pair with his soulful voice. He did not invent "boogie-woogie," but even today, his name is still synonymous with it due to his incredible impact.
In the 1950s, he started to first taste commercial success, and soon he was selling records by the tens of millions. Domino was one of the early creators of rock and roll music, and he broke racial barriers with his music and performances. He also appeared in movies in the 1950s, and some of his biggest hits were "Blueberry Hill," "Blue Monday," and "Ain't That A Shame."
Domino's presenter for induction into the Rock & Roll Hall of Fame was none other than Billy Joel. An influential piano player and singer in his own right, Joel credited Domino with inspiring him to play rock and roll piano. Following his induction, Domino continued to perform for many years, though pretty much exclusively in his home state of Louisiana. Domino died in 2017 near his home in the Big Easy; he was 89 years old.
The Everly Brothers
Ebet Roberts/Getty Images
The Everly Brothers were Don and Phil Everly, and in the late-1950s and early-1960s, they were some of the best representations of southern-inspired rock and roll. The Everlys first hit their peak in 1957 after signing with Cadence Records, and they soon moved to Warner Bros. in 1960. While they had some success at first with Warner Bros., their commercial success did not last long stateside. However, they were able to pull in audiences in other countries, at one time had their own TV show, and they performed together until 1973.
They reunited in 1983, just a few years before their Rock & Roll Hall of Fame induction, but mostly stuck to playing old hits for the rest of their careers. Neil Young was their presenter for the hall, and he explained how much their iconic harmonizing influenced his own career when he was just starting out. Young spoke for countless others that night when he spoke, as the Everly Brothers' vocals are some of the most cherished and famous in all of rock and roll history.
Both of the Everlys have since passed, with Phil going first in 2014 due to chronic obstructive pulmonary disease. After Phil's death, Don still performed up until his own passing in 2021. Still beloved today, the Everly Brothers' music is truly as timeless as it gets.
Alan Freed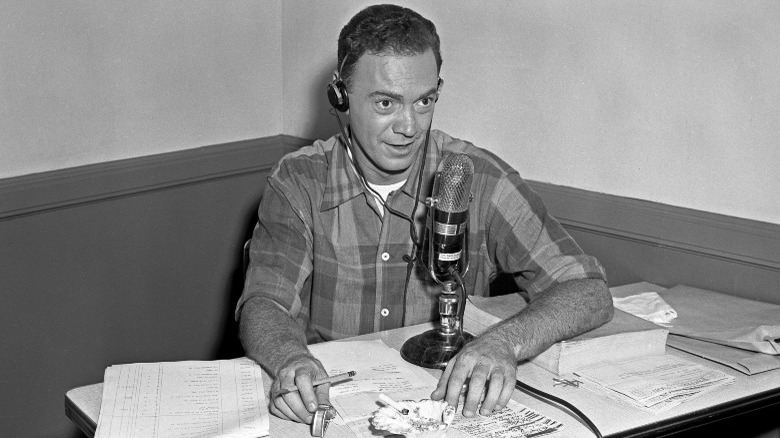 Donaldson Collection/Getty Images
Sometimes it can be easy to forget, but without people like disc jockeys and radio hosts, the music of rock pioneers never would have had the chance to flourish and expand across the country. One of the most important disc jockeys in early rock and roll was that of Alan Freed. Freed first came to prominence on the radio in Akron in the 1940s, before eventually moving on to a radio station in Cleveland in 1950.
Within two years, he was already starting riots with his choice of music, and his nickname was the "King of the Moon Doggers." At a time of strict segregation, especially in the music business, Freed was playing Black artists on his radio shows. He drew accusations of "race-mixing" from critics, but his work breaking down racial barriers was immensely important for the foundation of rock and roll. Speaking of which, many people hold Freed as being responsible for the rise of the term "rock and roll," which he frequently used on his radio show.
Unfortunately, Freed's career and reputation were tarnished for his role in the payola scandal, where he admitted he accepted bribes in return for playing and promoting certain records on the radio. Freed died in 1965 at the age of 43, long before he was inducted into the Rock & Roll Hall of Fame. His posthumous inductors were Scott Muni & Norm Nite, and he made it in through the Ahmet Ertegun Award category.
John Hammond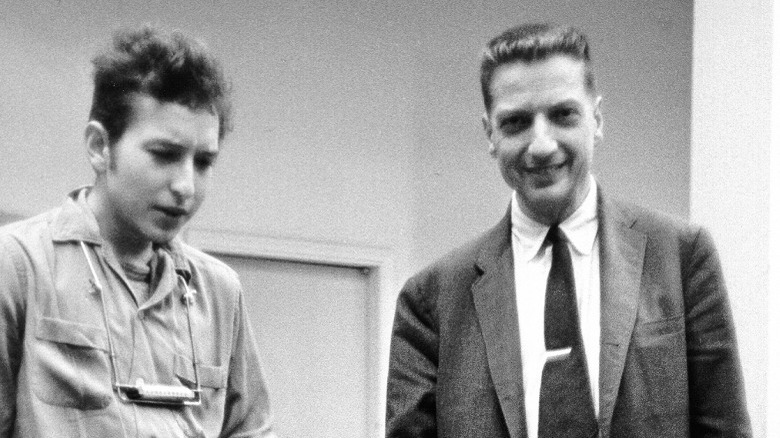 Michael Ochs Archives/Getty Images
Often unheralded and at times even forgotten, talent scouts are in many ways the lifeblood of the music industry. In the age before social media gave anyone with a smartphone access to millions of ears at the click of a few buttons, talent scouts were responsible for finding the next big thing. Some of them succeeded, and some of them failed, but few were as legendary as John Hammond. Hammond found himself one of just three non-musicians to be a part of the inaugural list of Rock & Roll Hall of Fame inductees, and it was for very good reason.
Without Hammond's keen eye for talent, rock and roll would sound completely different than it does today. Hammond discovered, among others, Bob Dylan, Aretha Franklin, Bruce Springsteen, Pete Seeger, and Billie Holiday. Born in 1910 and a dropout of Yale, Hammond began his career in the 1930s and quickly found success. He played a big role in breaking down early racial color barriers in music, and was one of the few white executives to work for integration.
Hammond's presenter for the hall was the rock hall's co-founder Ahmet Ertegun, and he was inducted in the Ahmet Ertegun Award category. While Hammond was alive for his induction, he passed away a short time later in 1987, at the age of 76. He might not have the most recognizable name in rock and roll, but it's impossible to doubt his impact.
Buddy Holly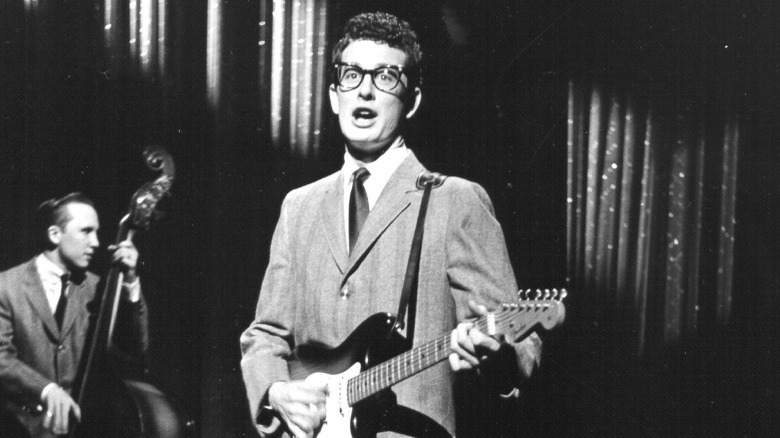 Michael Ochs Archives/Getty Images
For fans of rock and roll across the world, few things are sadder than the death of icon Buddy Holly. Holly's career was just beginning when he died along with other greats Ritchie Valens and The Big Bopper in a tragic 1959 plane crash. The crash was later immortalized in the Don McLean song "American Pie," and is known as "The Day The Music Died." Instantly recognizable from his large spectacles, Holly was born in 1936 in Lubbock, Texas, and his career began in the 1950s. However, things would not take off until the release of his single "That'll Be the Day" in 1957, which shot him into rock superstardom.
With his band The Crickets, Holly changed the face of rock and roll with his unique and catchy guitar lines and inspired vocals. The band became internationally acclaimed on the back of '50s hits like "Peggy Sue," "Oh Boy," and several others. Holly's peak lasted less than two years, as his fatal airplane accident happened just when he was getting started. Still, his limited work is widely revered today, and is some of the most memorable in all of rock and roll history.
Holly was inducted into the Rock & Roll Hall of Fame by John Fogerty, and he credited Holley with inspiring him to first pick up a guitar. Holley was only 22 years old at the time of his death, and was one of the brightest young rock and rollers to have his career cut short.
Robert Johnson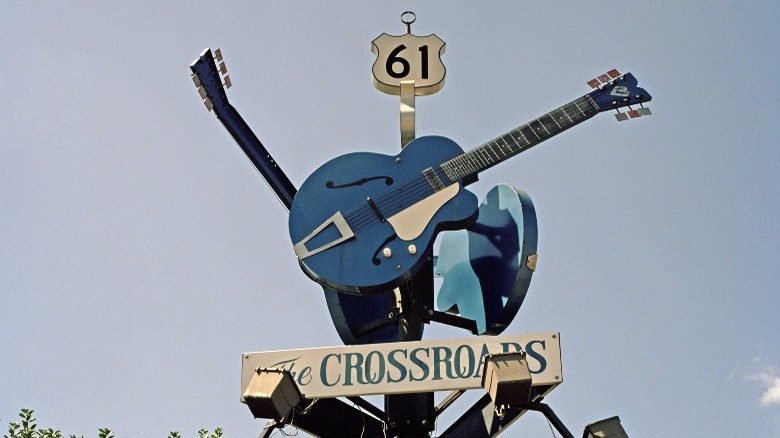 Louis Quail/Getty Images
Born in 1911 in Hazlehurst, Mississippi, few legends carry the respect of Robert Johnson. Johnson was one of the finest blues guitarists of the 1930s, and his music heavily influenced the generation that would become the first rock and rollers. He was not particularly successful commercially during his lifetime, and it was only decades after his death that he would finally get the recognition he so richly deserved. He is the only musician to be inducted in the inaugural classes of both the Rock & Roll Hall of Fame and the Blues Hall of Fame.
It has long been said that to write his songs Johnson had made a deal with the devil, early in his career at "The Crossroads," and the folklore has always added to his mythical stature. Sadly, due to the era he was playing in, his relative lack of commercial success, and his early death, Johnson never had a chance to produce a large catalog of recorded music like those he would influence. Still, his surviving songs have made him a legend, and he is an inspiration to countless guitar players even today.
Robert Palmer served as Johnson's inductor for the hall, and Johnson entered as part of the Early Influences category. Even though he did not play rock and roll, it's impossible to understate Johnson's impact on the genre. Johnson died in 1938, and it's not too much of an overstatement to say that without Johnson, there would be no rock and roll.
Jerry Lee Lewis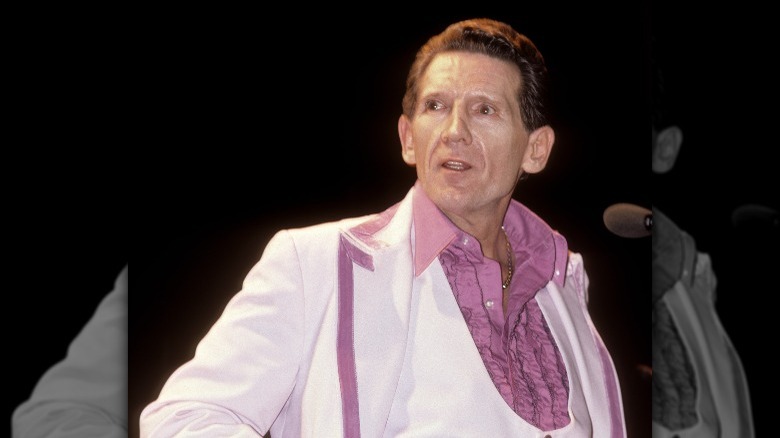 Ebet Roberts/Getty Images
If it wasn't for some of his more controversial personal choices, we might today be looking at Jerry Lee Lewis the same way we look at legends like Elvis Presley or Little Richard. Born in 1935 in Ferriday, Louisiana, Lewis became a sensation in his early 20s due to his virtuoso rockabilly piano playing and energetic theatrics. He was known for going wild on stage, and some of his antics gave new meaning to his song "Great Balls of Fire." Yet, for as much success as Lewis experienced in 1957 with his string of top-10 hits, within two years, everything would come crashing down.
When word got out about his marriage to his adolescent cousin, the press had a field day, and his comments in defense only made things worse. Lewis never again reached the success in rock music that he had before the scandal broke, but he did, however, manage to find a lot of success in country music.
Lewis' presenter for the hall was country music star Hank Williams Jr., and as part of the celebration, Lewis joined fellow inductee Chuck Berry on a performance of "Roll Over Beethoven." Lewis made it into the Country Music Hall of Fame in 2022, just months before passing away at the age of 87. He will forever be remembered as an important part of rock's creation, and few pianists are as deserving of inclusion into the hall as himself.
Sam Phillips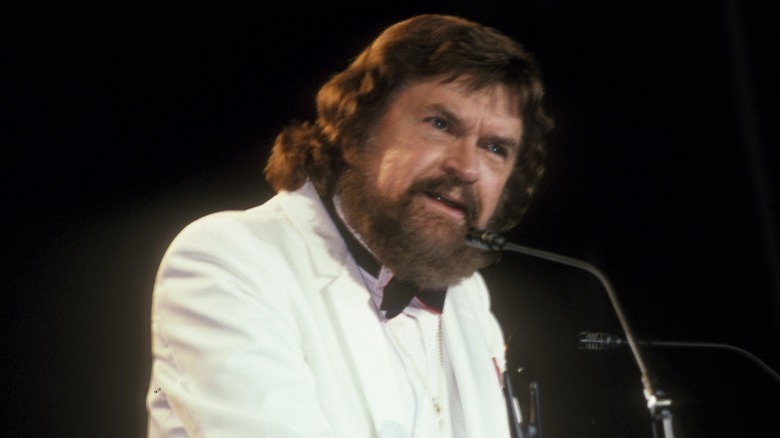 Ebet Roberts/Getty Images
It's rare for a music executive to reach the level of fame that performers do, but then again, nothing was exactly normal about the career of Sam Phillips. Phillips was born in 1923 in Alabama, and he is most renowned for founding one of the greatest and most famous record labels in rock and roll history: Sun Records. Based in Memphis, Tennessee in the 1950s, through Sun, Phillips was instrumental in the recording of some of the best-selling albums in rock and roll history. Among others, he worked with stars like Johnny Cash, Carl Perkins, Roy Orbison, and Jerry Lee Lewis.
In addition, perhaps Phillips' best work was reserved for his time with Elvis Presley. Phillips was the one who discovered Presley, and he helped bring his music to millions and millions. Without Phillips, we might not have Presley, and that would surely have been one of music history's greatest losses. For his induction into the Rock & Roll Hall of Fame, Phillips' presenter was Ahmet Ertegun, the hall's co-founder. 
Besides being a rock hall inductee, Phillips is also a member of the Alabama Music Hall of Fame, Country Music Hall of Fame, Blues Hall of Fame, and the Rockabilly Hall of Fame. Phillips played a huge role in the creation and development of rock and roll music, and he is a more than deserving inaugural inductee. Phillips died in 2003 from respiratory failure; he was 80 years old.
Elvis Presley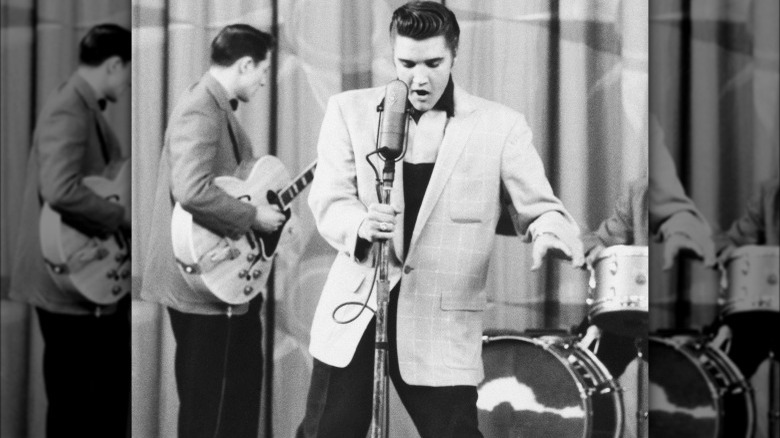 Bettmann/Getty Images
Really, it would have been irresponsible of the Rock & Roll Hall of Fame not to include Elvis Presley on their inaugural list of inductees. There is probably no name in American history as synonymous with rock and roll as Presley's, and for good reason, too. A native of Tupelo, Mississippi and born in 1935, Presley was the true "King of Rock and Roll." After being discovered by Sam Phillips at Sun Records as a teenager, within a few years Presley was creating his own new brand of music — which became known as rockabilly.
Presley's music propelled him into superstardom, but that wasn't the only thing fans adored. In addition to his guitar playing and smooth voice, Presley also infatuated audiences — especially teenage girls — with his evocative performances that featured sensual crooning combined with spirited hip-gyrations. Countless songwriters and musicians have since labeled Presley as one of their biggest influences, and he was the first true rock and roll star.
However, by the mid-1970s Presley was a shell of his former self, and he died in 1977 from a heart attack. Sean and Julian Lennon, the sons of John Lennon, inducted Presley into the Rock & Roll Hall of Fame. Looking back today, it's almost impossible to fathom how much of an impact Presley made on rock and roll, and Americana, during his career. He was a true legend of rock and roll, and the one and only, "King."
Little Richard
Images Press/Getty Images
Along with Elvis Presley, few men can claim to have had the impact on rock and roll as Little Richard. Richard was responsible for recording such huge hits as "Long Tall Sally," "Tutti Frutti," and "Good Golly Miss Molly," which are some of the most widely covered songs in music history. He was born in Macon, Georgia, in 1932, and first found success in the 1950s. Besides his incredible piano playing, Richard was most well known for his eccentric and wild vocals, which combined shrieks and yells with beautiful singing.
Yet, for a time beginning in 1957, Richard seemed to give up rock and roll, as he found religion and started a new career as a preacher — following in his family's tradition. He still created music, but it was a much different gospel style. He returned to the fold in 1964 when bands like The Beatles, The Rolling Stones, and Bob Dylan, began to play his songs, bringing his music to a newer and younger generation.
Though he was no longer as popular as he was during his heyday in the mid-1950s, Richard still performed up until his retirement in 2013. Richard died in 2020 at the age of 87 from bone cancer. His presenter for the Rock & Roll Hall of Fame was Roberta Flack, and she noted the incredible impact Richard made in rock and roll for black performers. Richard opened new doors for many with his rock, and his impact will be forever everlasting.
Jimmie Rodgers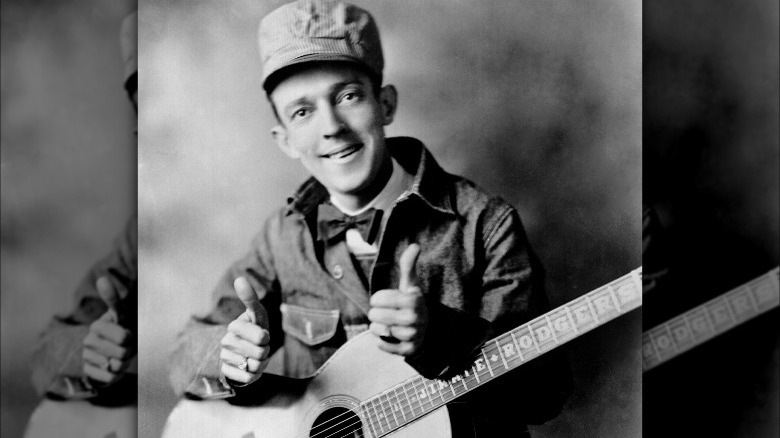 Michael Ochs Archives/Getty Images
While his name might not be familiar to many today, country music star Jimmie Rodgers was one of the most influential songwriters and singers of all time. Rodgers was born in 1897 in Meridian, Mississippi, and was known as the "Singing Brakeman" during his career. This was due to his time spent working the railroads before his singing career really took off. Tragically, Rodgers' career lasted only about 6 years, but he was able to make some incredible music during his time.
Rodgers died in 1933 from tuberculosis, but his impact was felt for decades. Even though he passed away long before rock and roll music was invented, Rodgers' guitar playing and songwriting served as inspiration for countless future rockers. Rodgers was inducted into the Rock & Roll Hall of Fame in the Early Influences category, and his presenter was longtime Atlantic Records executive Jerry Wexler.
Rodger's peak from 1927–1933 was very important for the development of rock and roll. Incredibly, he was able to produce more than 100 recordings during his short career, and he was also inducted into the Nashville Songwriters Hall of Fame and Country Music Hall of Fame. Rodgers is the only person inducted in the inaugural classes of both the Rock & Roll and Country Music Halls of Fame, and he was truly a special talent.
Jimmy Yancey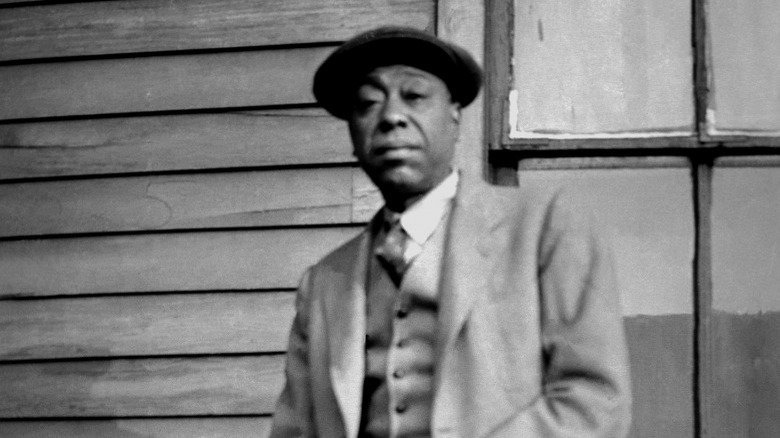 Jp Jazz Archive/Getty Images
The final inductee of the inaugural 1986 Rock & Roll Hall of Fame class was none other than blues legend Jimmy Yancey. Yancey made it into the hall in the Early Influences category, and his presenter was hall co-founder Ahmet Ertegun. Unfortunately, Yancey was long deceased by the time of the induction ceremony, and he never really received recognition for his innovation during his lifetime.
Yancey was born in Chicago, and he was giving performances for the king of England when he was just a teenager. His big contribution to music was his major role in creating the "boogie-woogie" style of piano playing, which would later be used by other pianists, like fellow hall inductee Fats Domino. "Boogie-woogie" piano involves using the left hand to play the bass pattern, while the right hand incorporates riffs or licks. It came up largely from African American piano players in the early-20th century, and is one of the most recognizable styles of jazz today.
As an adult, Yancey split his time between playing music and playing professional baseball in the Negro Leagues. He died in 1951 from diabetes just a few weeks after suffering a stroke. Yancey's name might not be the first one you think of when you think of rock and roll influences, but his innovations paved the way for future players like Domino and others to make "boogie-woogie" an integral part of rock's development.