Where Is Disgraced American Ninja Warrior, Drew Drechsel, Now?
"American Ninja Warrior" on NBC follows contestants as they compete in a number of physical challenges and overcome obstacles. Their objective is to become the next "American Ninja Champion." Drew Drechsel, who first appeared on the show in Season 3, earned that honor in Season 11 of "American Ninja Warrior," but by Season 12, NBC cut all ties with the star, and Drechsel's customary return appearance as champion was edited from the show, The Wrap reported in 2020. 
By that point, Drechsel, from Florida, had been arrested on federal charges related to child-sex offenses. Among other charges, "Drechsel sought to have sex with a minor girl and traveled to New Jersey with the intent to engage in illicit sexual conduct with that minor," according to the U.S. Department of Justice. Drechsel had also been a mentor on NBC's spinoff "American Ninja Warrior Junior," featuring teen and pre-teen competitors, according to NBC News.
At first, Drechsel planned to plead not guilty but inJune 2023, it was reported that he agreed to plead guilty on two counts, according to court documents obtained by Reality Blurred. At that time Reality Blurred wrote that Drechsel waived his right to prosecution by indictment and consented to prosecution by information, which are often the first steps of a plea agreement, according to Michael B. Cohen Law Firm. As of June 2023, Drechsel, now 34, was held in a Federal Detention Center in Philadelphia.
Drechsel claimed he didn't know the victim's age
Drechsel met the victim of his abuse when she was 14 years old. The victim filed a complaint when she was 19, and said the abuse continued from around the ages of 15 to 17. The victim reportedly told her mother about what happened when she was 15, around 2015, when Drechsel was 26, and once confronted by the victim's mother, Drechsel admitted the sexual contact but claimed he was unaware of the victim's age. Drechsel and the victim continued contact after that time.
According to court documents, the victim threatened self-harm if her mother informed the authorities before she decided to file a police report herself, at the age of 19. The Department of Justice claims Drechsel "enticed and coerced a minor to travel to Connecticut to engage in illicit sexual conduct," and "engaged in online sexual communications with a minor and induced her to manufacture sexually explicit images of herself and send them to Drechsel." 
Each charge Drechsel faced carried from 20 years at minimum to life in prison, and each count carried a potential maximum fine of $250,000. Upon learning of Drechsel's arrest, NBC Universal said in a statement, "Moving forward, the 'American Ninja Warrior' brand will sever all ties with Mr. Drechsel, including his appearance on future seasons of the show." Drechsel was 31 years old at the time of his arrest.
ANW is now more rigorously selects their athletes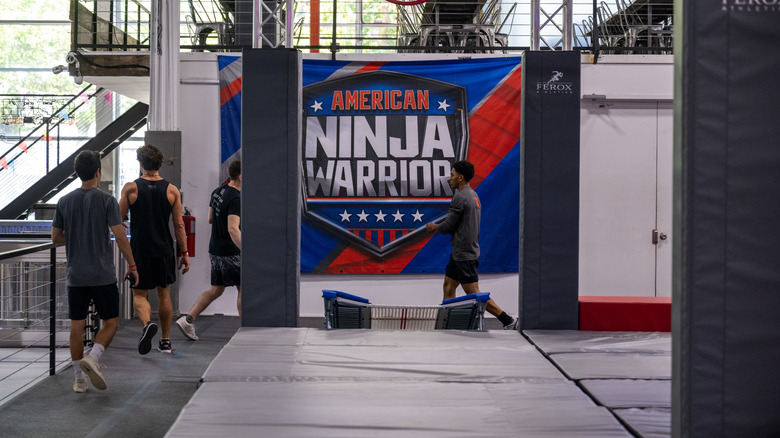 Alexi Rosenfeld/Getty Images
On whether the Drew Drechsel controversy changed anything about how "American Ninja Warrior" gets casted going forward, showrunner Anthony Storm told Reality Blurred, "We're a little bit more rigorous in the way that we evaluate our athletes. That said, you're talking about an individual and not someone that is representative of the community. I think it's extremely unfortunate that Drew did use his celebrity in that way." 
Per the rules of "American Ninja Warrior," each season concludes with either a "Last Ninja Standing" or an overall champion. In the history of the show, only two competitors have been named champion, Drew Drechsel in Season 11 and Isaac Caldiero in Season 7. As of June 2023, NBC scrubbed Drechsel's Season 11 win entirely from the list of past American Ninja Warrior champions. Drechsel had been "Last Ninja Standing" on two seasons of the show prior to his Season 11 championship and subsequent arrest. 
At the time of his arrest, Drechsel's attorney Frank J. Riccio II tweeted, "Mr. Drechsel is presumed innocent of the charges and that presumption will remain throughout the pendency of his case. It is respectfully requested that you respect the privacy of Mr. Drechsel and his family." Though they never married, Drechsel was widely reported to be romantically linked with April Beckner, a physical trainer. The couple had one child together, confirmed in a since-deleted social media post from Beckner (via Distractify).
If you or someone you know may be the victim of child abuse, please contact the Childhelp National Child Abuse Hotline at 1-800-4-A-Child (1-800-422-4453) or contact their live chat services.