The Jewel Thief: Empress Sisi's Gem From The Hulu Documentary, Explained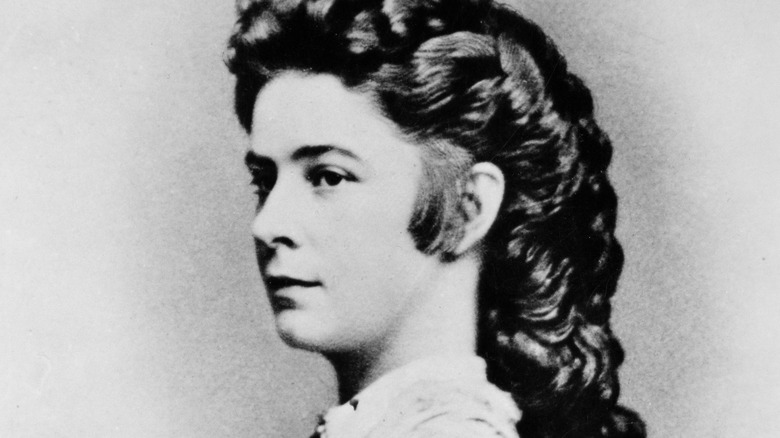 Brandstaetter Images/Getty Images
Hulu's 2023 documentary "The Jewel Thief" tells the story of Gerald Blanchard, a real-life jewel thief extraordinaire. As the film relates, perhaps Blanchard's most notable heist came in 1998, when he managed to purloin a priceless pearl and diamond hair accessory called the Köchert Pearl and Diamond Star, sometimes called "Sisi's gem" or "Sisi's star." The item once belonged to Empress "Sisi" Elizabeth of Bavaria, according to The Royal Watcher, considered a great beauty in her time with long, flowing hair (seen above).
While on display at Vienna's Schönbrunn Palace, Blanchard brazenly stole the famous jewel from its display case, replacing that "Sisi's gem" with a gift-shop replica. Blanchard's ruse went unnoticed for two weeks. In 2007, the "Sisi's gem" or "Star of Sisi" was recovered in Canada, still in Blanchard's possession, stashed for safekeeping in the wall of his grandmother's home near Winnipeg, The Seattle Times reports.
Canadian authorities returned the stolen Sisi's gem to Austria where it is now on permanent display at the Sisi Museum in Hofburg Palace. Empress Elizabeth was known to wear the gems both in her hair and on diadems and brooches, among other methods. Born in 1837, Empress Elizabeth married Emperor Franz Joseph I of Austria in 1854 and was assassinated in a random anarchist attack in 1898, Cosmopolitan writes.
Empress Sisi's stars were 'on trend' in 1865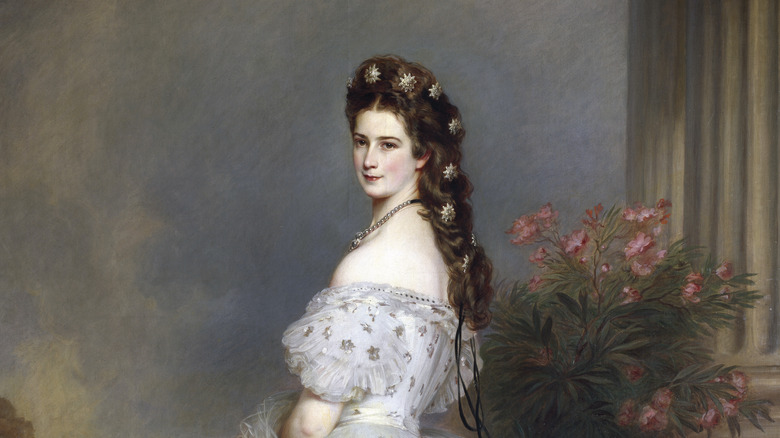 Leemage/Getty Images
The Sisi's gem stolen by notorious jewel thief Gerald Blanchard was just one of at least 27 similar items Empress Elizabeth commissioned from Austrian court jeweler Köchert, and the Viennese jeweler, Pioté. The items can be seen in an 1865 painted portrait of Elizabeth by Franz Xaver Winterhalter (pictured), and as that image spread around Europe similar jewel-encrusted stars for women's hair became the must-have fashion accessory in European high society. Elizabeth also appeared with the stars in her hair at several notable royal functions.
Over time, the collection was dispersed to Elizabeth's ladies-in-waiting while some were given away to her family members, according to The World of Habsburgs. Eventually, many — but not all — of Elizabeth's collection of original diamond stars were lost. Among the last known originals still in private hands was put on display in Vienna on the 100th anniversary of Empress Elizabeth's assassination and then stolen by Blanchard.
In 1902, a descendent of Empress Elizabeth and a member of the Austrian royal family purportedly received a collection of 27 stars as a wedding present but by 1963, those gems were no longer in the family's possession, according to estate records. (The Köchert stars were just one of two sets of stars she commissioned in her lifetime.)
[Featured image by Art UK via Wikimedia Commons | Cropped and scaled | CC BY-NC-SA 4.0]
Countess Anna Theresa wore Sisi's stars at her 2017 wedding reception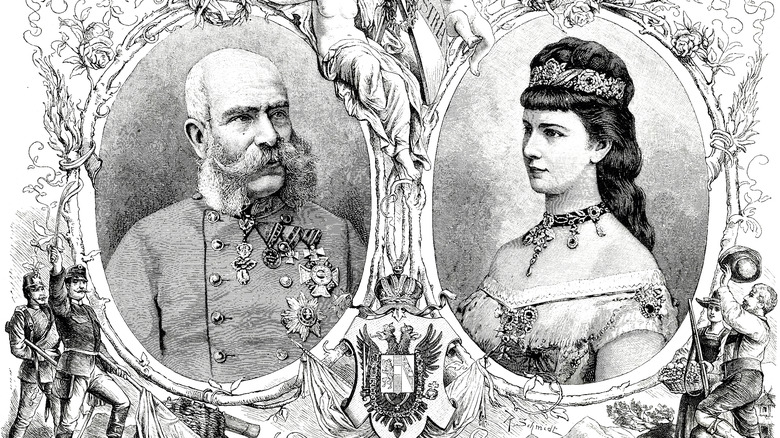 Clu/Getty Images
In the past, other possible Sisi's gems showed up in a 1910 portrait of Princess Elisabeth Marie of Bavaria. More Sisi's stars still in a royal collection surfaced in 2017 at the royal wedding reception of Countess Anna Theresa von und zu Arco-Zinneberg of the Austrian royal family, who wore them in her hair, with a picture of the rare jewel posted on Twitter. Otherwise, Sisi's descendants inherited eight original Köchert Pearl and Diamond Star, and seven remain in the family of one of her personal assistants, according to Travel Potpourri.
When the stolen Sisi's gem was recovered, Blanchard was under investigation for running a local crime ring responsible for a number of bank robberies among other offenses in the area. According to The Seattle Times, an object of public fascination, thousands flocked to see Sisi's gem before it disappeared from its display. During visiting hours, Blanchard and his accomplices simply removed the top of the display case and snatched it. According to Franz Sattlecker of the Vienna's Schonbrunn Palace, where the jewel was on display (via The Seattle Times), "We couldn't figure out how they could have done it. It was definitely very clever."
[Featured image by Österreichische Nationalbibliothek via Wikimedia Commons | Cropped and scaled | CC-PD-Mark]