What Happened To J. Robert Oppenheimer's Children?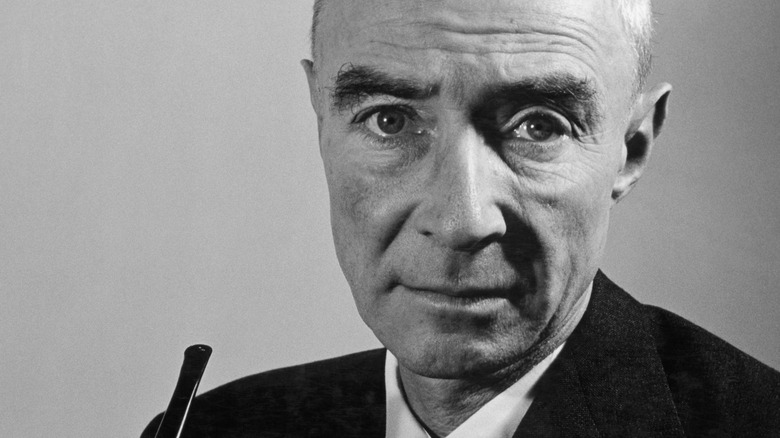 Bettmann/Getty Images
J. Robert Oppenheimer was more than just "the father of the atomic bomb," as he's sometimes called. He was also the father of two children: Peter and Katherine "Toni" Oppenheimer. Robert had both Peter and Toni with Katherine "Kitty" Oppenheimer, whom the theoretical physicist met while she was still married to her third husband, Richard Harrison, according to the American Heritage Foundation (AHF).
Robert and Kitty married on the same day her divorce from Harrison was finalized in 1940, and Peter, their first child, was born a short time later, the National Park Service (NPS) writes. In 1944, Toni was born on the Los Alamos Laboratory site in New Mexico, where the atomic bomb was developed as part of the Manhattan Project under her father's supervision.
Kitty Oppenheimer's personal issues and ties to the Communist Party caused problems for her children throughout their life, as they did for Robert. As of 2023, Peter lived a secluded life in rural New Mexico, per the AHF. Meanwhile his sister, Toni, sadly died young by suicide in 1977 at the age of 33 (via the AHF).
Despite those trouble spots, in a 2015 interview with Charles Oppenheimer and Dorothy Vanderford — Peter's son and daughter, and Robert and Kitty's grandchildren — Charles recalled how his father characterized his own childhood (via the AHF). "[Peter] doesn't agree with this perception that they were some terrible family ... We have an extremely close family, and that was passed down from my dad," Charles said.
Peter Oppenheimer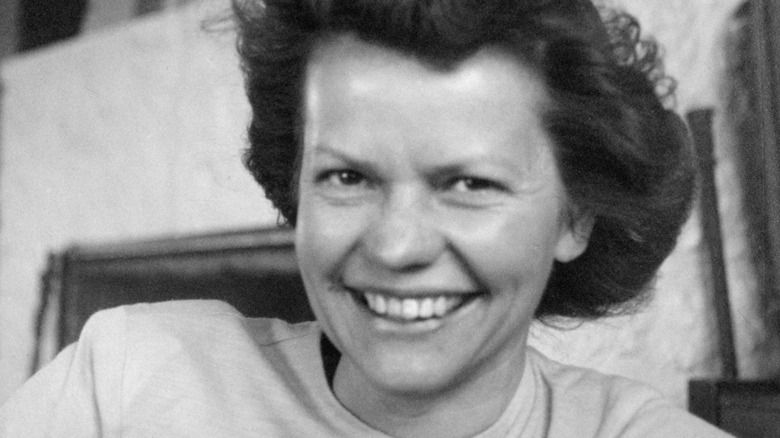 Historical/Getty Images
Though loving, by most accounts, some suggest that J. Robert Oppenheimer, who died in 1967 from throat cancer, never fully connected with either one of his children, and that lack of communication affected his son (per AHF). The same could be said for both Toni and Peter's troubled relationship with their mother Kitty (pictured), who lived with alcohol use issues, and died in 1972 from a pulmonary embolism.
Kitty felt Peter's pregnancy early on in her relationship with Oppenheimer strained her fourth and final marriage, and as a result, she was tough on Peter, who was shy like his father. According to "109 East Palace: Robert Oppenheimer and the Secret City of Los Alamos," a friend of Kitty's mentioned she married Oppenheimer the old-fashioned way: "She got pregnant" and Oppenheimer was "just innocent enough to go for it."
Peter was born so soon after his parents married, and his father reportedly nicknamed him "Pronto," according to "109 East Palace." Unlike his father, Peter never excelled in academia, both at private and public school, where he wrote on a chalkboard that members of the U.S. government who accused his father of Communism should "go to hell." Later in life, Peter reportedly worked as a carpenter, and he has three children of his own. 
Today, Peter lives at the Perro Caliente ranch in New Mexico his father purchased when he was a boy. In a 2015 interview (per the AHF), Peter's son Charles said when his father was a teenager, he told his own dad, "I'm going to take care of it."
Toni Oppenheimer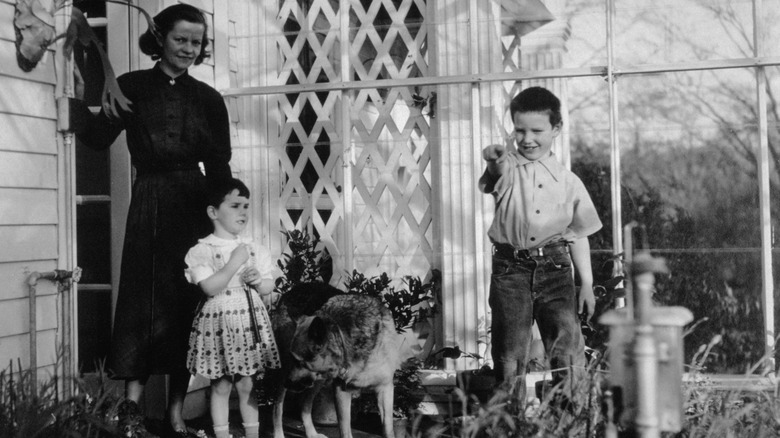 Historical/Getty Images
Unlike her brother, Peter, Robert Oppenheimer's daughter, Toni, was a good student. In 1966, she graduated with a B.A. from Oberlin College. Born at Los Alamos, Toni had polio while young and struggled to cope with her mother Kitty's worsening alcoholism, as well as her father's aloof personality. In her childhood, Toni and Kitty Oppenheimer were always "at each other's throat," according to a friend of the family (via the AHF).
Through her polio treatment, Toni was introduced to St. John, a remote spot in the U.S. Virgin Islands, where she enjoyed life in isolation — much like how her brother, Peter, reportedly still lives as of 2023. Also like Peter, Toni pushed back on her father's purported Communist ties at the height of McCarthyism. Those alleged Communist sympathies costed her a job as a translator for the United Nations. On top of her professional issues late in her life over lingering suspicions of Communism, Toni was seemed greatly affected by her father's death. 
At the end of her life, Toni returned to St. John where she spread her mother's ashes, near where her father's remains are also spread. Toni died by suicide in St. John shortly after her 33 birthday and the dissolution of her second marriage. She died in the home her father built on the island, according to "109 East Palace." Dorothy Vanderford — Peter's daughter and Toni's niece — drove to New Mexico to inform her father his sister died. (Kitty, Peter, and Toni Oppenheimer are pictured together, above.)
If you or anyone you know needs help with addiction issues, help is available. Visit the Substance Abuse and Mental Health Services Administration website or contact SAMHSA's National Helpline at 1-800-662-HELP (4357).
If you or someone you know is struggling or in crisis, help is available. Call or text 988 or chat 988lifeline.org