Sketchy Things Professional Tennis Wants You To Forget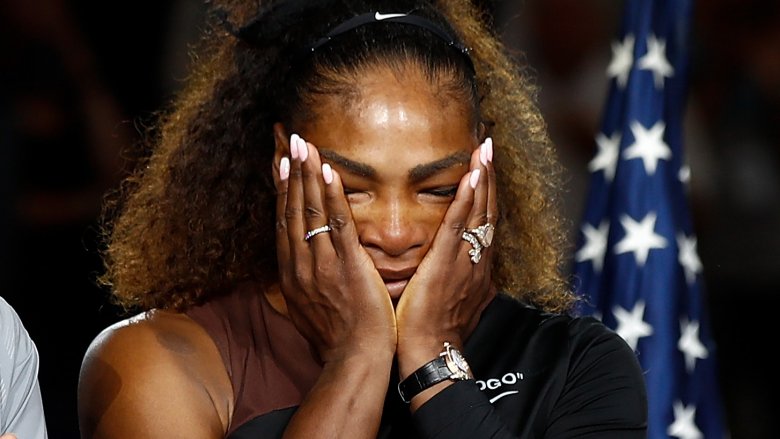 Getty Images
People like sports because it's fun to get worked up about the best athletes in the world while sitting on your couch. The tribalism involved makes us feel good when our favorite team or player wins. And while the game itself is fun to watch, it's the crazy drama that occurs around it that's really exciting. Tennis is no exception when it comes to things that bring the sport into disrepute, things those involved would probably rather you forgot about.
Whether it's terrible decisions by umpires, or players failing drug tests, or allegations of match-fixing, tennis has a lot of the same issues as other sports. But then you have stuff like mysterious poisonings, violent outbursts, and the disturbing predilections of one of its all-time greats that takes tennis to its own ridiculous level. There's so much more about it to enjoy than just watching some people hit a ball back and forth.
The never-ending policing of women's tennis outfits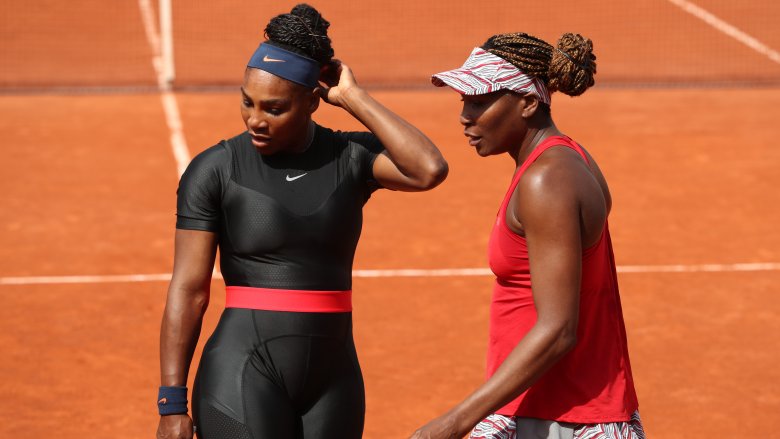 Getty Images
In 2018, Serena Williams stepped out on the court at the French Open wearing an awesome catsuit. Not only did it look fabulous, it actually had a medical use, according to The Cut: Ever since giving birth the year before, Williams had suffered from blood clots, and she said wearing pants improved her circulation. But shortly after that, French Tennis Federation President Bernard Giudicelli announced the French Open would suddenly have a dress code. The only outfit he mentioned that was an issue was Serena's. There was immediate backlash, with tennis legend Billie Jean King speaking out against the unfairness and star Andy Roddick calling the decision "dumb."
But this was far from the only time women's tennis outfits have been policed. The Independent reports that in 1949, Gussie Moran played at Wimbledon wearing a short skirt that showed her underwear. While this is the standard look for female players today, at the time it completely shocked the tennis world. She was accused of bringing "vulgarity and sin" into the game, and the issue was even debated in Parliament.
Then in 1958, Karol Fageros wore gold lame underwear to the French Open and was temporarily banned from playing at Wimbledon because of it. In 1985, Anne White threw on a catsuit very similar to Williams', and it was found to be "unfit for competition" by Wimbledon officials. They weren't happy with the jacket covered in tennis balls that Bethanie Mattek-Sands wore onto the court in 2011 either, giving her an official warning.
Alize Cornet took off her shirt for a split second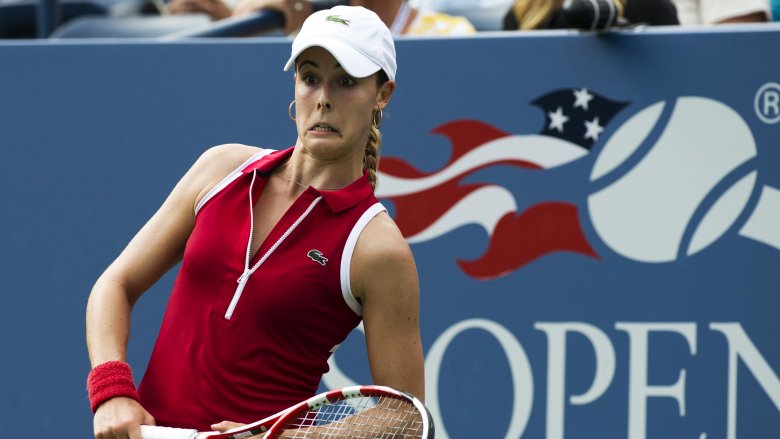 Getty Images
During the 2018 U.S. Open, Alize Cornet returned from a break in play and realized she had put her shirt on backward. According to the Australian Broadcasting Corporation, she walked to the back of the court and quickly took it off and put it on the right way. Under her shirt she was, of course, wearing a very covering sports bra. Despite this, she was given a code violation from the umpire, assumedly for wantonly showing off her body like some kind of loose woman.
The world, thankfully, realized this was ridiculously sexist. Male tennis players famously take off their shirts all the time, lounging around between sets with their six-packs out for everyone to admire. They take their shirts off to cool down, or to grab less sweaty ones. It's a normal part of their game. But a woman showed some skin for three seconds and suddenly the umpire wants everyone to think of the children or something.
Twitter was full of side-by-side comparisons of Cornet and male players topless, showing the hypocrisy. The Women's Tennis Association called the decision "unfair," while two-time U.S. Open finalist Victoria Azarenka said it was "ridiculous." A writer for the Chicago Tribune said it was comparable to someone being offended by public breastfeeding.
The U.S. Open was quick to clarify its rules, saying Cornet should not have been penalized. Technically, she should have waited to change her shirt during a set break, but other than that she'd done nothing wrong.
Andre Agassi used meth and got away with it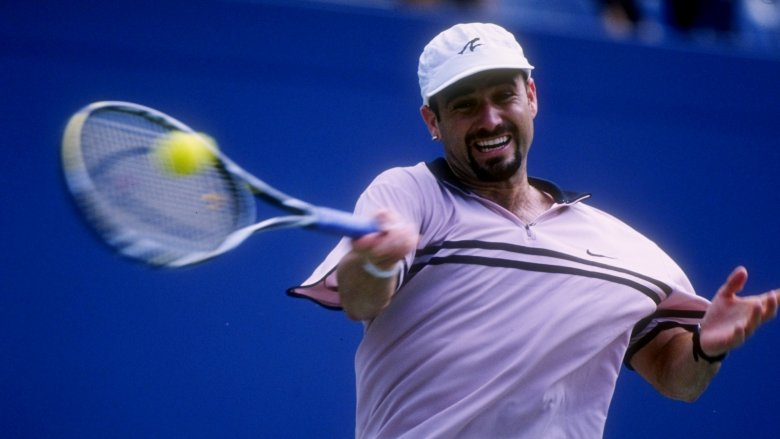 Getty Images
These days, drug-taking in sports is a huge deal. The World Anti-Doping Agency was founded in 1999, and since then has made keeping sports clean almost a religion. But before that, it was easier to get away with taking a banned substance. Exhibit A: Andre Agassi.
According to ESPN, in 1997, during a dip in his career, Agassi failed a drug test. He wrote a letter to the Association of Tennis Professionals saying he was very sorry, but it hadn't been his fault. He had an assistant that was into crystal meth, and Agassi had accidentally drunk from one of his spiked sodas before he was tested! He asked them to pretty please forgive him, and amazingly, they did. The ATP took Agassi at his word, the positive test was thrown out, and he suffered no consequences.
So it was probably seriously annoying for the ATP to read in Agassi's 2009 autobiography that the whole letter had been a lie. Well, the bit about a meth-using assistant was true — he got Agassi into it. The first time Agassi snorted meth he said he immediately regretted it, but that was quickly replaced by a "tidal wave of euphoria" and a desperate desire to clean his house.
Agassi also said he'd "never felt such energy," which might explain why the year he first used he went from No. 141 in the rankings to the top 10, the biggest one-year jump in tennis history. Still, don't do drugs, kids.
Daniel Koellerer was involved in match-fixing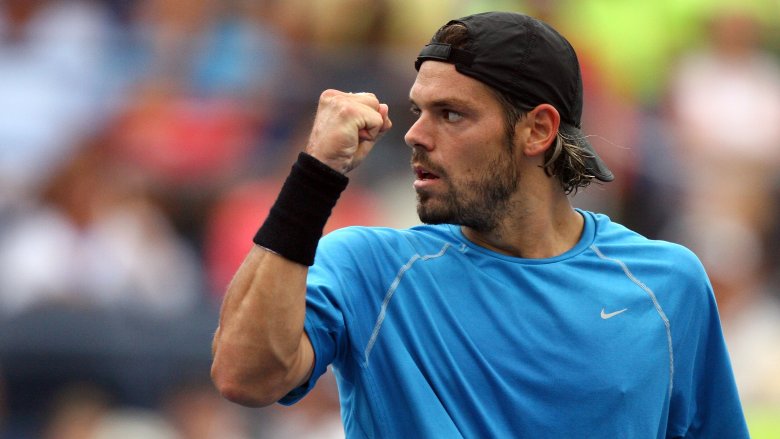 Getty Images
It didn't take long for Daniel Koellerer to make a name for himself in tennis. Unfortunately, that name was "Crazy Dani." Known for his outbursts on the court, according to Tennis.com, in both 2004 and 2006 he was given a fine and a ban for bad behavior while playing. In 2010, he was so verbally abusive to Stefan Koubek during a match that Koubek choked him. Despite being the one who was attacked, it was Koellerer who was booed as he left the court.
So it's not that surprising a guy like that might also be up to other bad stuff. In 2010, Koellerer got two years' probation for "facilitating betting" on tennis. He wasn't even subtle about it; he listed the odds for matches on his personal website and helpfully included links for people to sites where they could place bets.
Then in a completely separate but virtually concurrent investigation, it was discovered Koellerer was involved in match fixing. The Tennis Integrity Unit found him guilty of "fixing two matches involving other players and one match of his own" in 2011. This was enough to get him slapped with a $100,000 fine as well as a lifetime ban from the sport. It was the first time such an extreme punishment had been handed down for that offense.
Koellerer, for his part, completely denied the charges. He called them a "giant shock" and said the accusations were "total nonsense."
Maria Sharapova used a performance-enhancing drug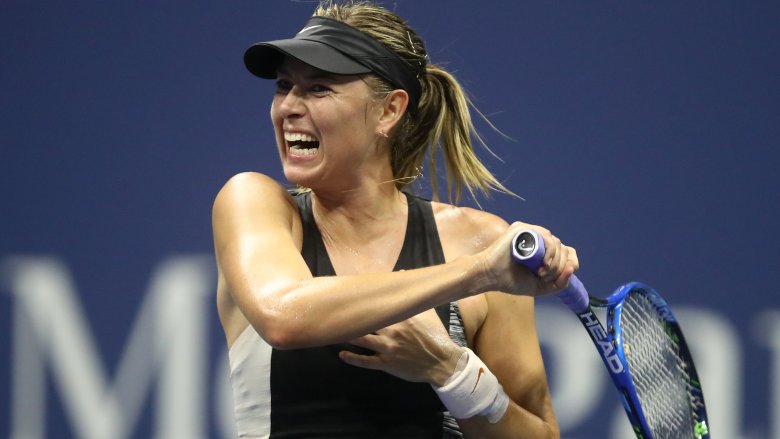 Getty Images
In 2016, Maria Sharapova was banned from playing tennis for 15 months. It was a serious punishment; she missed the Olympics and seven Grand Slams. But she'd been caught using a recently banned performance-enhancing drug and the whole situation was more than a bit questionable.
Sharapova had already been using meldonium for ten years when it was added to the banned substances list, according to The Guardian. The World Anti-Doping Agency suddenly frowned upon it because they said it enhanced performance by carrying more oxygen to muscle tissue. But Sharapova claimed her use was totally innocent: that her doctor had prescribed it to her because of a family history of diabetes and an irregular heartbeat. (Those issues must be a real problem for Russian athletes because "scores" of them tested positive for meldonium in 2016.)
Her claims were undermined by emails from her doctor telling her to up her dosage before key matches. Then there was the fact that she hid her use not only from WADA but from members of her own support staff. And saying she had no idea the drug had been banned seemed ludicrous, since athletes obsessively check the lists. Players like Andy Murray and Eugenie Bouchard openly criticized her.
And the evidence is that the drug probably helped her a lot. In the months after her ban ended she played almost comically badly, only making it to one quarterfinal in Grand Slam events, usually crashing out a lot sooner.
Tennis fathers are crazy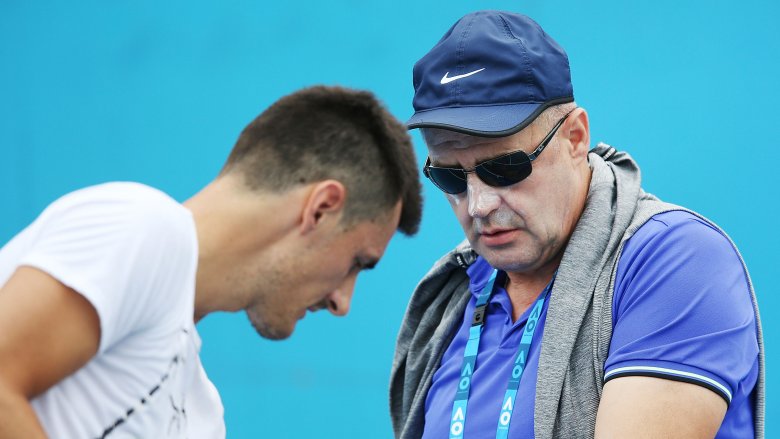 Getty Images
Stage mothers are notoriously horrible, but tennis fathers could give them a run for their money. According to Bleacher Report, dads of famous players can take things way too far. Walter Bartoli was so passionate about his daughter Marion's success that he gave up a career as a doctor to coach her. She once had to stop play at Wimbledon to demand he leave the stadium. But some fathers have been so much worse.
Stefano Capriati "dragged" his daughter Jennifer into professional tennis when she was just 13. He gained a reputation as a "bully" who saw his poor kid as "a ponytailed ATM." Stefano was so bad he lost Jennifer a place on the Fed Cup team in 2002 because of his conduct. Then there was John Tomic, father of Bernard, who was charged with assault when he got mad at his son's hitting partner. John took out his frustration by headbutting the guy in the face, knocking him unconscious and breaking his nose.
Jelena Dokic's father, Damir, accused the Australian Open of fixing the draw, was ejected from the U.S. Open for complaining about the price of salmon, and also thrown out of Wimbledon for breaking a journalist's camera. In non-tennis-related craziness, he said he would kill himself if Jelena came out as a lesbian and went to jail for threatening to assassinate an ambassador.
Finally, there's Jim Pierce who was so abusive when watching his daughter Mary play he was officially banned from attending all WTA tournaments.
Serena Williams was penalized for getting upset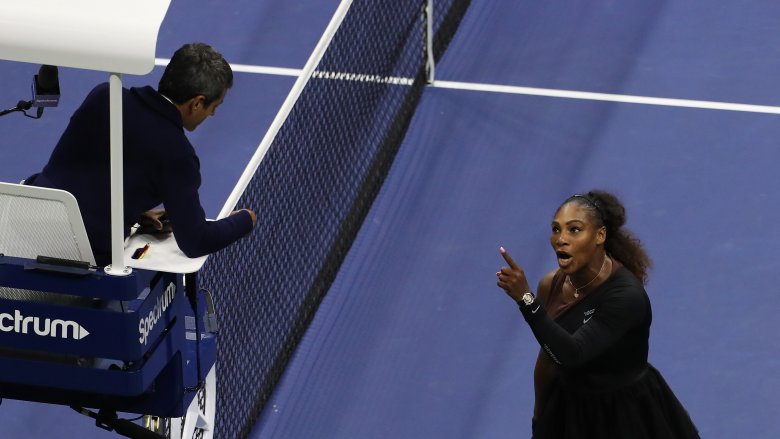 Getty Images
The women's final of the 2018 U.S. Open between Serena Williams and Naomi Osaka promised to be a great match. Instead, it descended into a farce.
According to Vox, first Williams was given a code violation from the umpire Carlos Ramos for allegedly receiving coaching, something that isn't allowed while playing. Williams vehemently denied it. Later she broke her racquet in frustration, drawing an official penalty. For this, Williams called the official a thief. She kept up the abuse later, saying he was a liar, which resulted in an even bigger penalty. By the time she was beaten by Osaka, Williams was in tears. She was fined $17,000 for her actions.
The world went crazy. The umpire drew accusations of sexism and racism. Male players throw fits all the time with no penalties, something pointed out by lots of people, including male tennis players. John McEnroe and Jimmy Connors made careers out of screaming at umpires. And Ramos had taken more abuse from Novak Djokovic, Andy Murray, and Rafael Nadal in recent matches but not penalized them for it.
In return, umpires threatened to boycott Williams' matches until she apologized to Ramos. And everyone got even angrier when an Australian newspaper published a cartoon that was blatantly racist, showing Williams with exaggerated features, throwing a tantrum. It was more proof that Williams became the GOAT in spite of ridiculous biases.
Gabriella Taylor's mysterious illness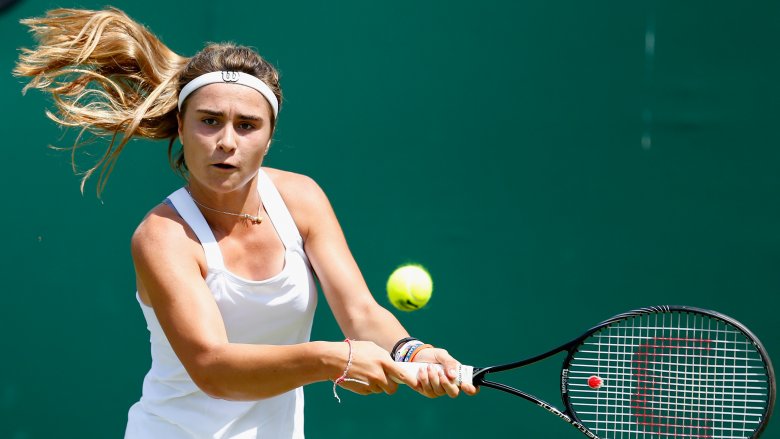 Getty Images
Eighteen-year-old Gabriella Taylor had to stop playing midway through her quarterfinal match in the girl's tournament at Wimbledon in 2016, when she realized she felt absolutely terrible. She was rushed to the hospital where her mother says she almost died, as reported in the Telegraph.
Taylor was in intensive care for four days, when doctors finally figured out she had come down with a rare strain of leptospirosis. This was extremely suspicious. Transmitted through rat urine, the disease is very uncommon in the U.K., only infecting about 40 people a year. So questions were immediately raised about whether this might have been done intentionally to knock Taylor out of the tournament.
Her mother said it "could not have been an accident" and that it was pretty much "impossible" for her daughter to get sick accidentally when she was so careful about what she put in her body. While medical experts said it was "far-fetched" that a would-be poisoner would choose such a weird way to do it, the police still got involved, taking away water bottles that Taylor drank from. They looked into the possibility that an organized crime betting syndicate might have been involved, or if it was a "malicious plot" by a rival player. It might sound crazy, but apparently the junior circuit really is that competitive.
It's not clear what conclusion the investigation came to, but no one seems to have been arrested, so the potential crafty rat urine poisoner could still be on the loose.
Monica Seles was stabbed by a nutcase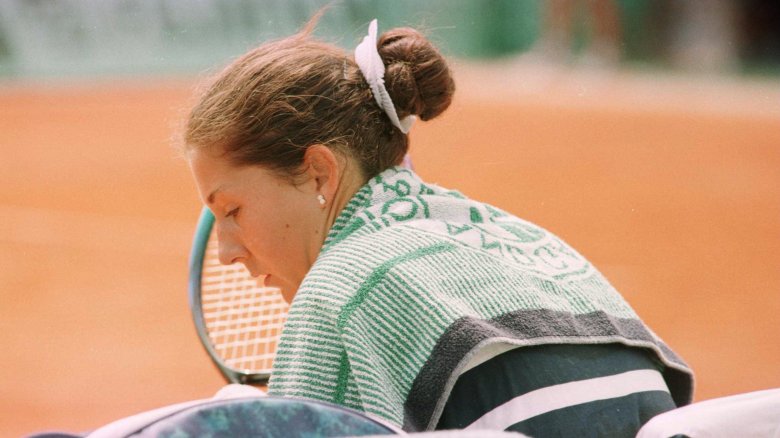 Getty Images
Just like any famous people, tennis players have crazy fans. And while that might mean hiring security off the court, one place they probably assume they're safe is out there playing on the court. But history has shown that amazingly this is not so.
According to Yahoo Sports, in 1993, Monica Seles and Steffi Graf were in the middle of a bitter rivalry and Seles had just knocked Graf out of the No. 1 spot. But Graf had an obsessed fan, an unemployed 38-year-old named Gunter Parche, and he decided the best way to end the rivalry and get Graf on top of the leaderboard again was to eliminate Seles.
So during the Citizen Cup, a very minor event in Germany, Parche made his move. Seles was sitting down between sets, toweling off and having a sip of water, when she felt a "horrible pain." Parche had just stabbed her in the back with a 9-inch knife. She turned to look at him and saw a sneer on his face as he lunged again but missed. Then security and spectators realized what was happening and tackled him. Amazingly, the knife didn't do any real damage. While Seles healed physically pretty quickly, she wouldn't return to tennis for two years. It didn't help her mental state that Parche didn't even end up doing any jail time.
And professional tennis still hasn't learned their security lesson. In 2009, a fan managed to charge at Roger Federer on the court at the French Open.
Bill Tilden's messed up personal life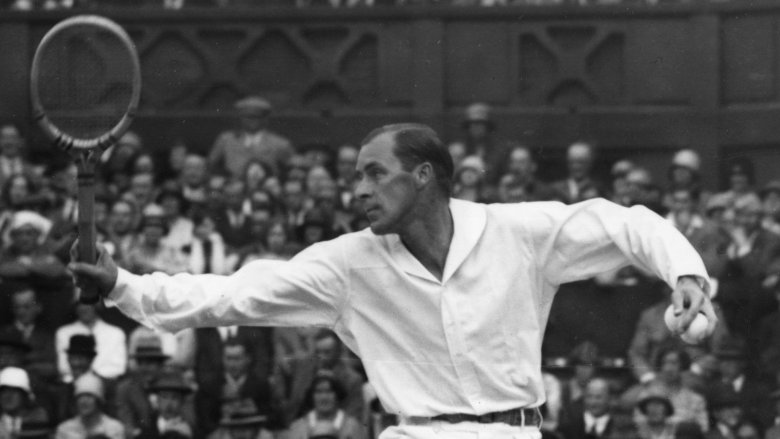 Getty Images
You probably haven't heard of Bill Tilden, but with his sporting achievements his name should be up there with other greats like Babe Ruth. The Weekly Standard says he completely changed the nature of tennis. In 1950, he was voted the best tennis player of the first half of the 20th century, and one famous sportswriter once called him the "greatest athlete in any sport."
So why isn't he famous? Well, professional tennis might want to keep quiet about one of their best because of his appalling personal life. Tilden was gay, which was obviously an issue at the time but would not be now in the slightest. The real issue was that he liked them young, illegally young.
His predilections were well known. A rival player once said how Tilden was always "soliciting little boys." And one journalist only let him give her son tennis lessons after he "promised to keep his hands off the boy."
Then in 1946, long after Tilden had stopped playing, a cop pulled him over for zigzagging all over the road. He found Tilden with his arm around a 14-year-old boy and the buttons on the kid's fly undone. He was convicted of "contributing to the delinquency of a minor" and got nine months in jail plus five years' probation.
Tilden didn't learn his lesson. Not even three years later he was arrested again, this time for sex with a minor boy. He spent a year in jail, and his reputation never recovered.