Times Fans Injured Musicians Onstage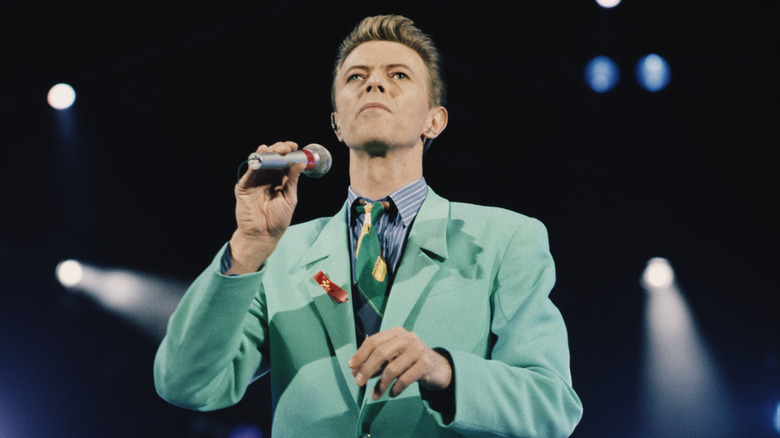 Michael Putland/Getty Images
Of all the different types of super-famous people, it's musicians who seem to have to deal with the most weirdness from their fans. You see, folks' identities are often very closely tied to the music they listen to as opposed to, say, the types of movies and television shows they watch. For example, your buddy might profess to be equally fond of Pink Floyd and kickass action movies — and he or she probably has a closet full of Floyd attire, and exactly zero Jason Statham T-shirts. Perhaps it's because many fans feel that, with a little luck, it could have been them up there onstage (nope, sorry), or that the relatable quality of their favorite artist's lyrics means that said artist, like, totally gets them (they don't) — but whatever the case, hardcore music fans tend to hop over the line from fandom to creepiness with considerable frequency.
As such, fans' interaction with their musical heroes can often be exceedingly weird or even shockingly violent, and there's a very specific type of interaction that combines the worst of both those worlds: the phenomenon of fans invading a musician's second-most sacred space (besides their home, presumably), the stage. Whether bum-rushing said stage or pelting it with foreign objects (a trend which has inexplicably picked up steam recently), these boneheaded fans are one of the reasons why it sucks to be a rock star — because when you're already baring your soul in front of thousands of people, why not add the element of physical danger just for kicks?
Kelsea Ballerini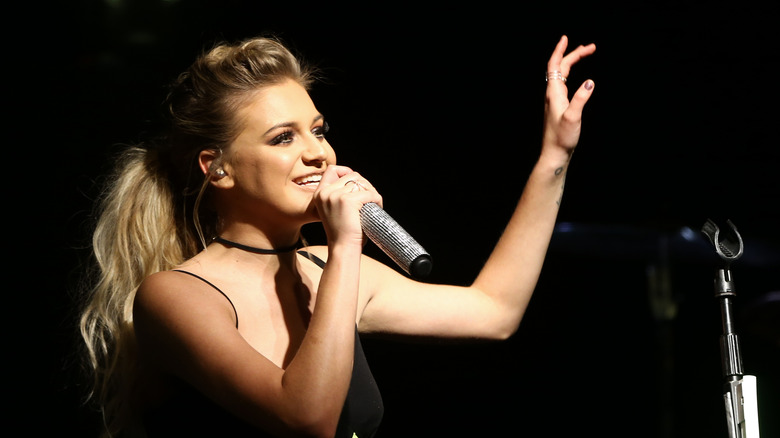 Debby Wong/Shutterstock
Kelsea Ballerini might be Taylor Swift's long-lost, more country twin. Honing her singing, songwriting, and guitar skills from a very early age, she burst onto the scene in 2015 with her debut LP "The First Time" at only 21 years old. In the intervening years, she's sold a boatload of records and garnered a huge fan base by basically ignoring the line separating country from pop — and like any hot young artist, her fans can get just a bit unruly. 
At a June 2023 concert in Boise, Idaho, Ballerini was in the middle of her hit song "If You Go Down (I'm Goin' Down Too)" when an object later determined to be a bracelet came flying out of the audience and struck her in the face. She stopped the song, and had one of her backing musicians briefly assess the injury before heading offstage. According to the Los Angeles Times, when she returned, she addressed the crowd, saying, "All I care about is keeping everyone safe. If you ever don't feel safe, please let someone around you know. If anyone's pushing too much or you just have that gut feeling, just always flag it." She then wrapped up the little heart-to-heart with some advice that should really be common sense: "Don't throw things, you know?" In a follow-up Instagram Story (via People), Ballerini explained that she had been hit in the eye by the accessory, but that she had been more startled than hurt.
Bebe Rexha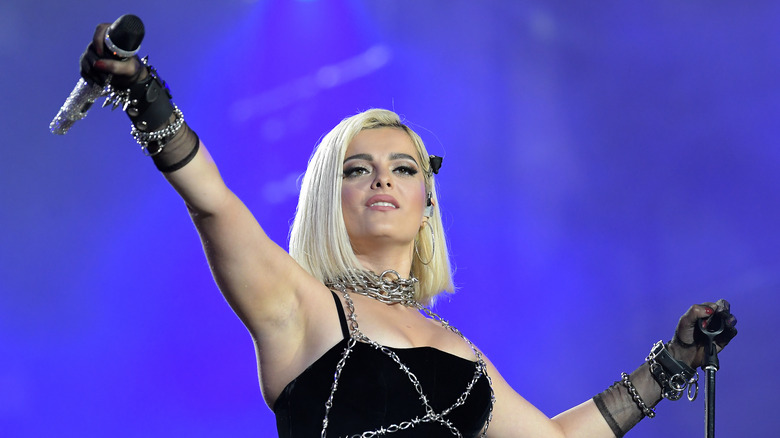 A.PAES/Shutterstock
Songwriter-turned-singer Bebe Rexha is an artist who probably cocks her head quizzically at the mention of the word "genre." Whether it's hip hop, country, electronica, or pop, she can do and has done it all; she's worked with artists as varied as Eminem, David Guetta, Nicki Minaj, and Florida-Georgia Line, and she's a million-selling recording artist in her own right. She also just seems like a totally cool chick, which may be why one obnoxious dude at a June 2023 concert in New York City thought it would be a funny prank to pelt her with a cell phone.
Near the end of Rexha's set, the "fan," 27-year-old Nicolas Malvagna, heaved the offending object, striking the singer in the face and causing an injury which actually required stitches, according to Rolling Stone. Was Malvagna hoping that Rexha would snap a selfie and throw it back to him? Nope — the Manhattan D.A.'s office reported that he told them, "I was trying to see if I could hit her with the phone at the end of the show because it would be funny." Hardy-har, dude. Malvagna was charged with two counts of assault, two counts of harassment, and one count of attempted assault. For Rexha's part, she updated fans by way of an Instagram post: a photo showing off her stitches and black eye, sporting a smile and giving a thumbs up, captioned simply, "I'm good."
Ava Max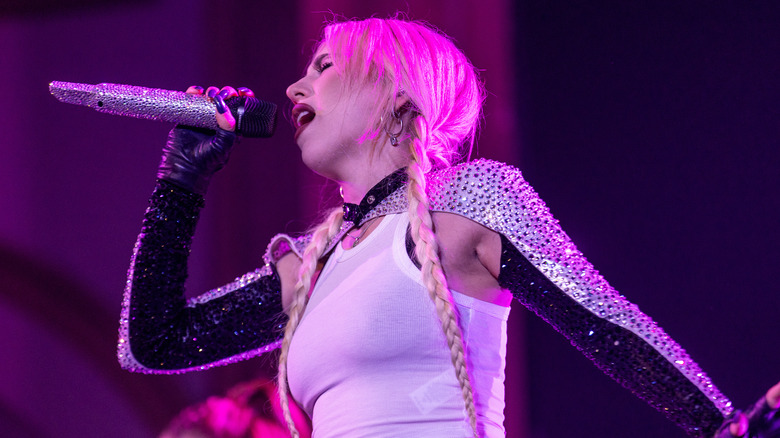 Mat Hayward/Getty Images
An arty, dancy pop belter in the vein of Lady Gaga and Dua Lipa, Ava Max has made a splash in recent years with a pair of albums, 2020's "Heaven & Hell" and 2023's "Diamonds & Dancefloors." A million-seller yet still a relative newcomer, her vocal style has drawn comparison to the likes of Gaga and Sia — and although she's barely a half-decade into her professional career, she's already had a truly alarming incident involving a fan befall her onstage.
During a June 2023 concert in Los Angeles, Max was nearing the end of her set when an unnamed male concertgoer leaped up onstage. Before security could react, he closed in on Max and slapped her right in the face before being grabbed by security and summarily, unceremoniously removed. To her credit, Max kept right on singing and dancing, although in a tweet after the show, she disclosed that the guy had somehow managed to scratch the inside of her eye with the blow. Apparently, no arrest was made — although Max did tweet that the guy was "never coming to a show again." That would probably be prudent.
Harry Styles (twice)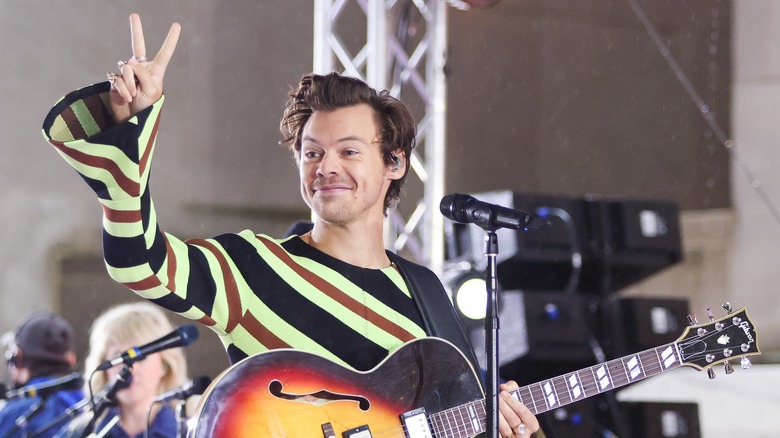 Debby Wong/Shutterstock
Pop stars don't come much more famous than Brit Harry Styles, the former One Direction singer who really, truly blew up after going solo. He's sold over 8 million records, won three Grammy Awards, and scored seven top 10 hits, including the No. 1 singles "As It Was" and "Watermelon Sugar." He's so darned famous, he's even branched out into acting, with flicks like "Dunkirk" and "Don't Worry, Darling" under his belt, as just one arena of fame was simply not enough to contain him. Nevertheless, even he is not immune to getting pelted with random objects onstage — in fact, this happened not once, but twice in the span of just a month.
In October 2022, Styles was performing in Chicago when an unidentified object sailed out of the crowd and nailed him in — well, in the groin-al area. Styles reacted to this the way any man would, by doubling over, before stating British-ly into the microphone, "Oh, that's unfortunate," and getting back to work. Then, in November of that year, Styles was getting down in Los Angeles when a fan got the bright idea to toss him a handful of Skittles, one of which struck him right in the eye. Styles managed to brush it off, but his drummer Pauli Lovejoy took to Instagram following the incident with a polite request for fans. "Do me a favor," he wrote, "don't throw no more Skittles onstage."
Arijit Singh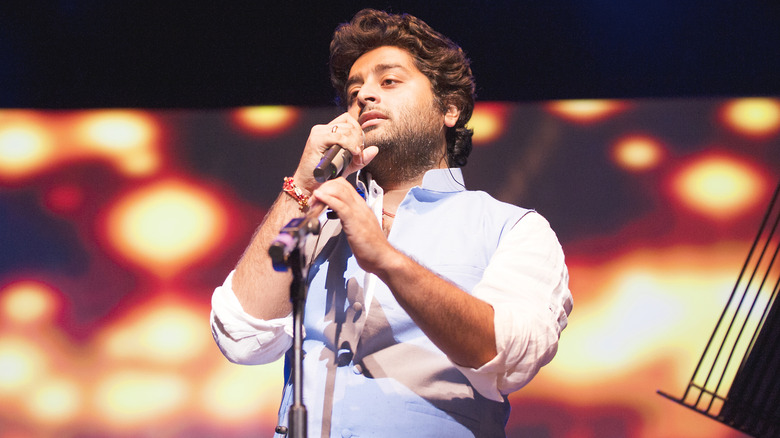 Robin Little/Getty Images
Vocalist Arijit Singh is a superstar in India, first having made a splash by way of appearances on reality TV before building himself a recording studio and beginning to drop tunes. He's won a slew of awards, many of them for his 2013 single "Tum Hi Ho" from the hit film "Aashiqui 2." He is a consummate professional, as evidenced by his reaction when he sustained a very strange injury in the course of a performance: While shaking hands with fans in the front row, one of said fans got just a touch too enthusiastic, and hurt Singh's wrist.
As reported by Manorama, the fan gave Singh's hand a good hard yank, causing the singer to stumble. Singh chose to take the opportunity to make it a teachable moment, saying, "You were pulling me ... see, my hand is shaking ... I can't move my hand," and admonishing the fan to be a bit more careful. After being briefly treated, he resumed the show, presumably leaving the overzealous fan staring at their shoes in embarrassment for the remainder of the performance.
Aerosmith (twice)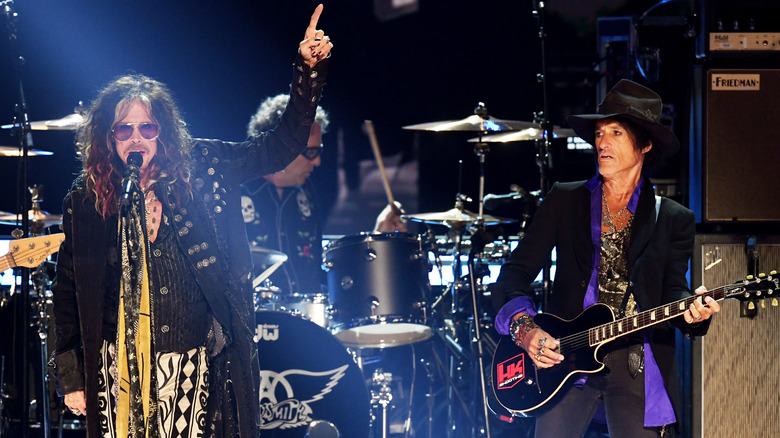 Kevin Winter/Getty Images
Classic rockers Aerosmith have been around the classic rock block a time or two, and they of "Dream On" and "Walk This Way" fame have likely seen just about everything. It may not come as a surprise, then, that they have sustained injuries due to onstage fan shenanigans twice. What may be a little more surprising, though, is that it happened in the same city both times — the City of Brotherly Love (and shenanigans), Philadelphia, as detailed in "Walk This Way: The Autobiography of Aerosmith."
In an October 1977 show in that city, the band were ascending the stairs for an encore when an M-80 came out of nowhere, exploding right in their vicinity. The blast injured singer Steven Tyler's eyes and somehow ruptured an artery in guitarist Joe Perry's right hand, which obviously necessitated quick medical attention for both. The band were understandably peeved about this, and refused to return to Philly for quite some time; when they finally did return over a year later, they were greeted with a sign in the stands reading, "WE'RE SORRY ABOUT LAST TIME, AEROSMITH. GLAD YOU'RE BACK!" A nice sentiment — but five songs into their set, someone lobbed a beer bottle from a seat in the balcony, which exploded into shards in the middle of the stage and once again injured Tyler's face. Amazingly, Tyler wanted to return to the stage after the incident, but was outvoted by the other band members — and that was the end of Aerosmith's triumphant return to Philly.
ASAP Rocky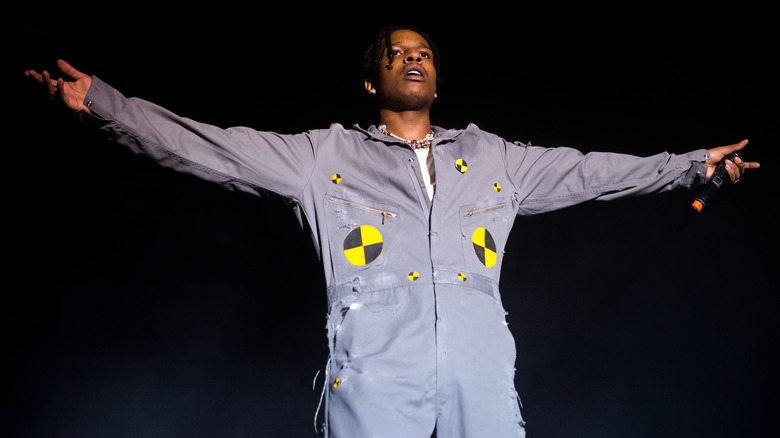 Christian Bertrand/Shutterstock
ASAP Rocky is one of the biggest rap stars of the past decade, and he is not afraid to act like it. (To be fair, his given name is Rakim Mayers, and when you share a name with a stone cold rap legend, you have a lot to live up to.) Rocky has scored two No. 1 albums and three top 10 singles, has worked with just about everybody, is in a long-term relationship with Rihanna, and works in a genre that places a premium on fame, wealth, and badassery — so when some guy started chucking beer cans onstage during his appearance at SXSW in 2012, it's unclear what he was expecting. If it was a hearty chuckle and a gentle admonishing, well, he didn't get that.
The first volley came into contact with one of Rocky's entourage, known as the ASAP Mob, and at that point, Rocky attempted to get both the Mob and the crowd to chill. The next can hit the rapper himself, and as Rocky started to get really irate, yet more detritus began flying toward the stage — so, Rocky and his pals flew into the audience, and not to give out high-fives. A melee ensued, police came, and the set was shut down — an egregious waste of valuable stage time, and also, beer. 
Diiverse
In April 2023, rising Canadian dancehall star Diiverse was doing her thing onstage, opening for fellow dancehall artist Valiant, when the situation suddenly became a lot less rocking and a lot more scary than such an event should be. As outlined by DancehallMag, an unknown guy — who is reportedly also an aspiring dancehall artist, although this has not been confirmed — rushed the stage, grabbed the mic from Diiverse, and threw it directly at the singer's face.
"He grabbed the mic and said something about him being tired of being styled or something like that," Diiverse told the outlet. "He ended up losing his footing and was falling so he flung the mic right in my forehead ... I was bleeding for a long time before I left the venue." The man was apparently never identified, as Diiverse explained to the Jamaica Star following the incident. "[I don't] know who [he] is," she deadpanned, "The only thing I know is that he has good aim."
Frank Zappa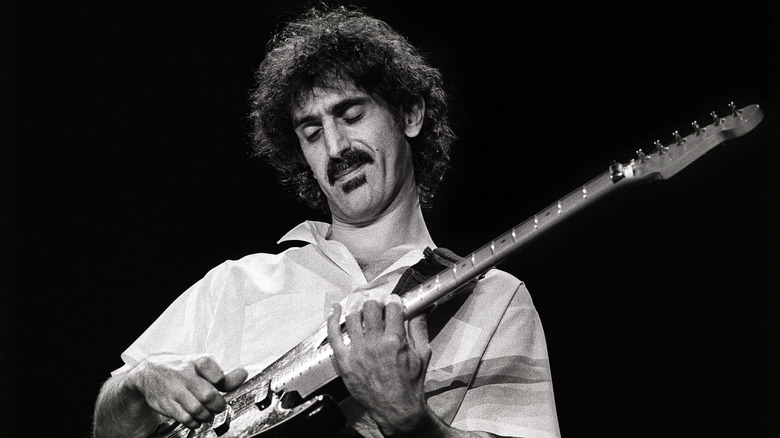 Rob Verhorst/Getty Images
The late, legendary Frank Zappa was the very definition of an idiosyncratic artist: Supremely talented, endlessly inventive, and prone to pushing every single musical boundary ever presented to him, Zappa's music could be a bit of an acquired taste. Fans who "got it," though, tended to be pretty hardcore — and it was due to the hardcore nature of one person's fandom that Zappa sustained a pretty serious injury during a December 1971 performance, not at the hands of said fan, but those of her jealous boyfriend, as detailed in the autobiography "The Real Frank Zappa Book."
While in the middle of performing a Beatles cover, Zappa was suddenly rushed by 24-year-old Trevor Howell, who would later tell police that he took this action for a very sensible reason: because his girlfriend said she "loved Frank." (She may not have been using that word in the romantic sense.) Howell punched Zappa, who tumbled off the stage and fell 15 feet into a concrete orchestra pit, sustaining some gnarly injuries: "My head was over on my shoulder, and my neck was bent like it was broken," he wrote. "I had a gash in my chin, a hole in the back of my head, a broken rib, and a fractured leg. One arm was paralyzed." Zappa would recover from his injuries, mostly — tragically, the hard fall also damaged his larynx, forever altering his vocal range. Howell spent a year in jail, and Zappa kept one souvenir from the incident — one leg that was shorter than the other, which he would humorously reference in his song "Dancin' Fool."
Tom Morello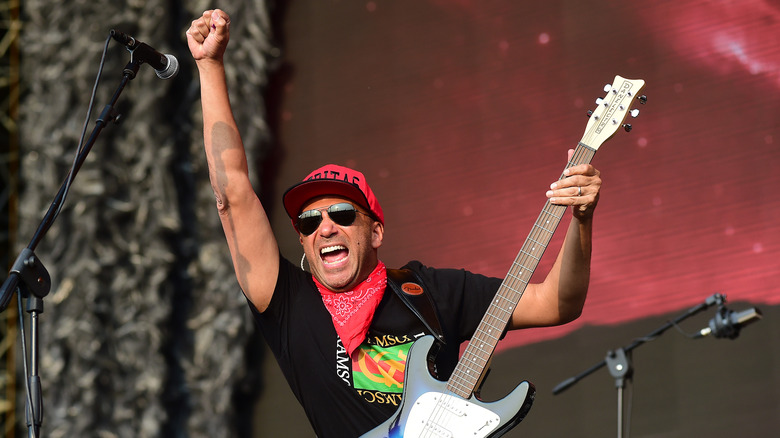 Roberto Serra - Iguana Press/Getty Images
In July 2022, Zack De La Rocha — frontman for the legendary rap-rock outfit Rage Against the Machine — suffered a freak accident during one of the band's comeback dates in Chicago, severely injuring his leg (an injury which he pushed through, seated, to finish the show, because he is a badass). Barely two weeks later, the band was still recovering from the shock of that incident when one unruly fan decided to spice up the proceedings during a show in Toronto, bolting onto the stage during a performance of the classic "Killing in the Name." An astute security guard immediately made a beeline for the guy, but unfortunately for guitarist Tom Morello, he was sort of in the way — which is how Morello ended up basically getting tackled by his own security.
The guard did succeed in pushing the fan off the stage, but he then bulled into Morello, causing the guitarist to exit the stage in exactly the same fashion. The crowd, perhaps still mindful of the misfortune that had recently befallen De La Rocha, held their collective breath — but Morello managed to get to his feet, dust himself off, and wave to them to assure them that he was none the worse for wear. He then proceeded to finish out the show, and the moral of the story is self-evident: Good luck ever getting Rage Against the Machine to stop rocking. It's just not going to happen.
Ian Anderson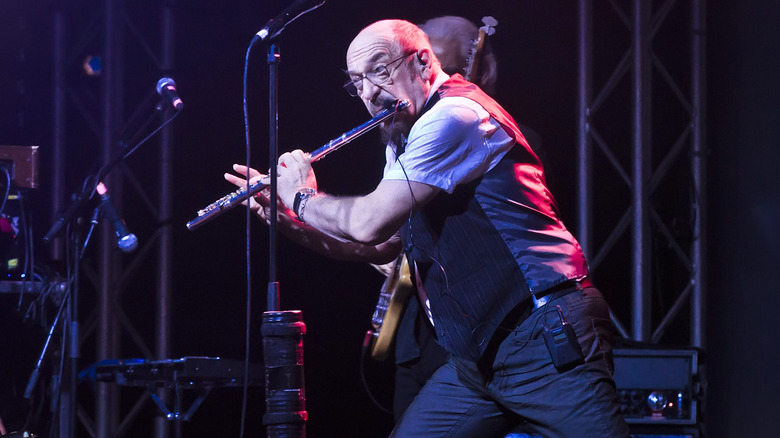 Frank Hoensch/Getty Images
There's probably a million or so alternate universes in which people suiting the description "Rock and Roll Flutist" are a dime a dozen, but in this universe there's just one, and his name is Ian Anderson. The Jethro Tull frontman has for decades rocked flagrantly hard in spite of (or perhaps because of) his choice of instrument, and it's not his fault that today, the band are perhaps best remembered for inexplicably winning the inaugural Grammy Award for best hard rock-metal performance (despite not being a metal band) over freaking Metallica (who most certainly are).
In 1979, during a performance at New York City's Madison Square Garden, Anderson sustained one of the most freakish injuries in the history of live music. Many of the details are lost to the mists of time, but what's known is this: At some point during the show, an adoring fan threw a rose onto the stage; this rose still had at least one thorn intact; said thorn made contact with Anderson's eye; and, as a result, Anderson sustained a serious enough wound to that eye that during future live performances, he was known to wear protective goggles. You know, just in case that same one-in-a-million circumstance happened to repeat itself. One can hardly blame him for being ultra-cautious, because it stands to reason that once you've taken a thorn to the eye, you're highly reluctant to ever put yourself in a position where that has even the slightest chance of happening again. 
David Bowie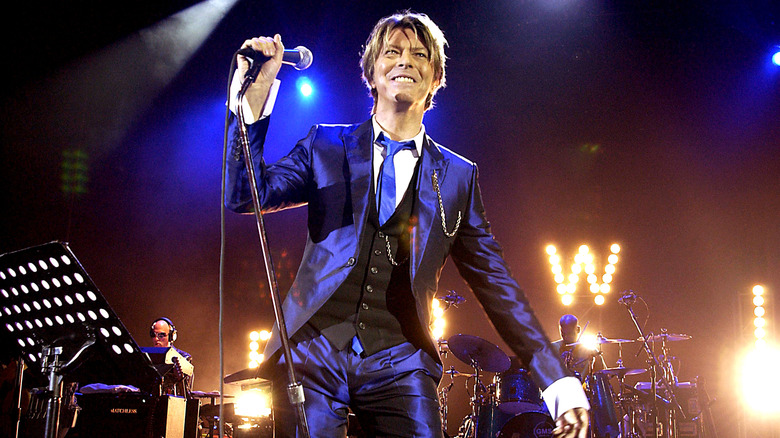 Dave Benett/Getty Images
The late, great, unrealistically awesome David Bowie may not have exactly been from this planet; for evidence, see his starring turn in the 1976 feature film "The Man Who Fell to Earth," in which he portrays an alien with alarming ease. His talent was simply otherworldly, as was his appearance — mainly owing to his eyes, which were mismatched due to one pupil being permanently dilated as a result of a youthful fight (or so he claimed). The last thing Bowie needed was any further damage to his eyes, but during a 2004 appearance at a Norwegian music festival, that came very close to happening.
The offending object: a lollipop, oddly enough, which came whinging out of the crowd to strike the iconic musician in the eye. In an unconfirmed audio recording of Bowie's reaction to the incident (one which sure does sound a lot like him), he goes on a profane tirade against the guilty party, who apparently had managed to disappear into the crowd. He then recovered his wits, and made the obvious joke: "Do remember I've only got one anyway. Fortunately, that's the one that works," he said. "The other one has just become a little more decorative than it was before." He then advised the audience to keep their "affection" (and lollipops) to themselves, before threatening them with an "even longer show" — at which point it's surprising that he didn't get an entire candy store chucked at him.